April 29, 2017 in Korean by thywhaleliciousfay
Running out of places to go to for Korean cuisine, I went onto instagram and got to learn about Guksu. I was attracted by pictures of the pork ribs with melted cheese dish. And it was all in the timing because my girlfriends requested to have Korean cuisine for our next meet up. Yeah! So yes, we arrived at Suntec City on a Saturday. Although we reached at a peak timing of 7pm, we were fortunate to be seated immediately. Thank goodness cause we were starving!
And from the dinner menu (pages 1, 2, 3, 4, 5, 6, 7, 8, 9), we ordered:-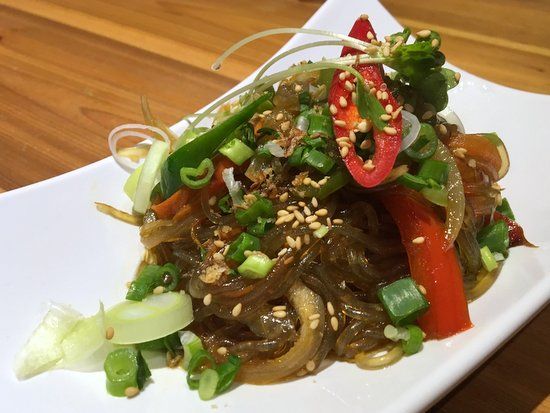 1) Jap chae, $8.90 (above) – Korean glass noodle stir fried with vegetables.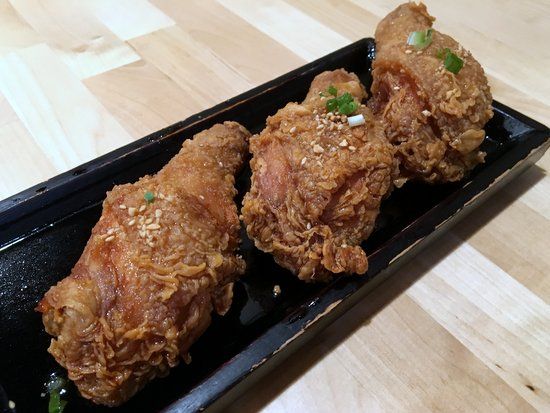 2) Soy drumstick, $11.50 (3 pieces) (above) – Crispy drumstick tossed in Korean soy sauce. – This was so good! Available in 1, 3 and 6 pieces, this is a must order. The skin was the stellar; Thin, crisp with no fats beneath. And we really liked the sauce. It's somewhat sweet yet savoury. I kept reaching out for more. Keke.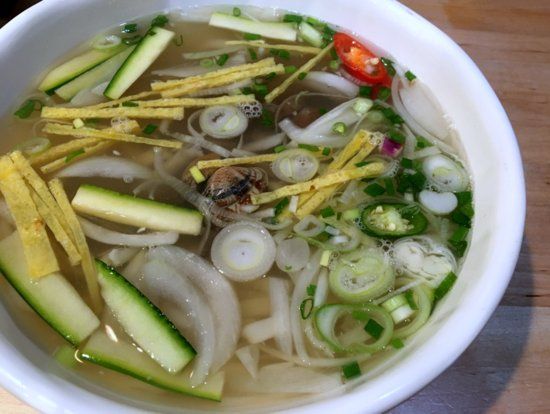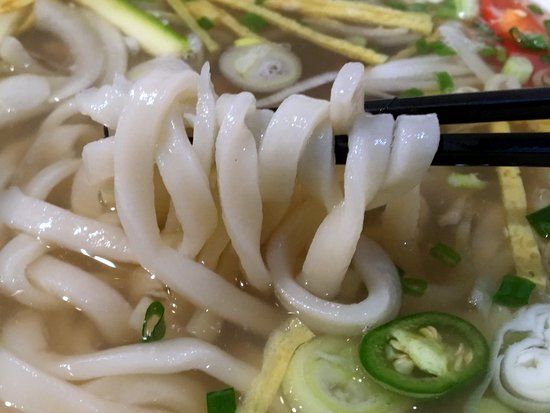 3) Basirak kalguksu, $14.90 (above) – Clam and knife cut noodle, clam soup with vegetables. Having a craving for noodles, I decided to get the kalguksu. However, this failed to satisfy my craving. It wasn't as hot as I wanted. The soup was lukewarm. And the bowl it was served in was too big. It gave the illusion the portion was small (or maybe it was small), and there was just too much soup. I couldn't slurp my noodles. Sob.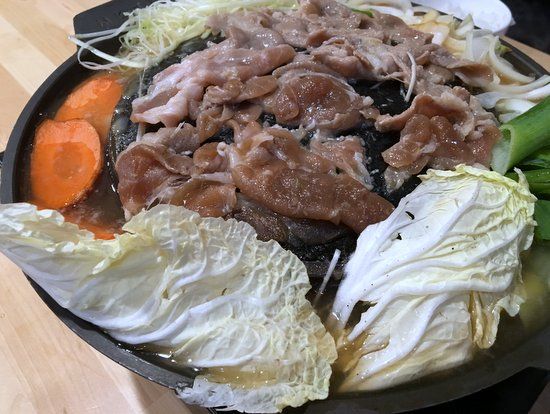 4) Daeji gogi jeongol, $45.90 (above) – Classic Korean stew, sliced pork, Korean sweet soy sauce, glass noodle, vegetables and mushrooms served with 2 bowls of rice. This was tricky to cook. The portion of the grill for the soup was thin and shallow. So it was ironic that our vegetables were served in big pieces. And when the soup boiled, it would spill onto the table. It certainly didn't help that our canister was low on gas. We raised our hands twice to enquire because we spied other tables' fires were big. But the staff insisted that was how it's supposed to be. So with that, our meat stayed uncooked for a good 20 minutes before a (female) staff caught us struggling and came up to help us.
5) Budae jjigae, $39.90 (above) – Korean traditional stew, beef broth, luncheon meat, pork ham, chicken sausage, kimchi, bean curd, Korean chili paste, instant noodle, rice cake, vegetables served with 2 bowls of rice. My girlfriend wanted army stew, so we ordered it from the tablet that's provided at every table. And we did that without checking the description on the menu properly. So yes, I didn't realise the broth was beef broth. I don't consume beef due to religious reason. So… Sob.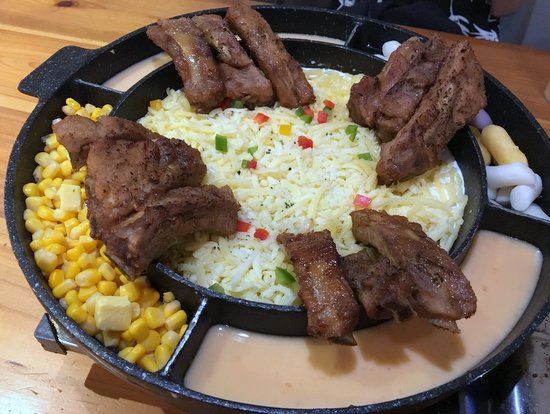 6) Cheese kalbi gui platter, $48 (above) – Korean roasted sweet soy flavoured pork ribs, creamy mozzarella cheese, egg, sweet corn, 4 types of rice cakes served in hot plate. The dish which I specifically came for! And it was exciting watching the cheese melt cause I couldn't wait to tuck in. But a word of advise, the staff would attempt to re-position the ribs onto the melted cheese. Do not let them! I suspect they went round doing that because the marinated pork ribs were cooked ahead of time. So in a bid to warm the ribs, the staff would place the ribs onto the warm cheese. That's what I think. I am not sure. Personally, I felt the right better way of enjoying this dish was to stretch the gooey cheese and twine it around the rib. And do remember to adjust the fire intensity halfway through the cooking as the cheese that's in contact with the grill will 'burn'. And since eating is subjective, my girlfriend preferred her cheese burnt. So she would place the rib onto the melted cheese and allow the cheese to harden around the rib.
If one noticed, I typically explore eateries that are not located in shopping malls. Don't ask me why. It's just so. But I was pleasant with our overall dining experience. Except for the canister that was low on gas and caused our dinner to end later than it should.
With so many restaurants that Suntec City has to offer, Guksu is a restaurant that I would recommend if one wishes to eat Korean cuisine. Lunch menu (pages 1, 2, 3, 4) is also available where the portion is smaller and suitable for individual consumption.
GUKSU RESTAURANT

3 Temasek Boulevard, Suntec City, #02-385, Singapore

Overall: 7

Opening hours:-

Food/Beverage: 7

Mon – Sun : 11:00 – 22:00

Ambience: 7

Value: 7

Service: 6