September 14, 2022 in Korea, Korean
My (fine dine) meals for my September '22 Korea trip were booked with much referencing to Michelin Guide Korea. With the exceptions of 2; Eatanic Garden and The Green Table. I got to learn about Eatanic Garden when chef-owner of Le Du (Bangkok, Thailand) posted his meal on Instagram just a few weeks before my trip.
That naturally piqued my interest. But I'll be honest… I dragged my feet in making the reservation because the restaurant name (ie, Eatanic Garden) made me imagine the meal will be vegetables-heavy. And I really ain't a vegetable person.
So I count myself very lucky that Eatanic Garden was able to accept my reservation just 2 days before. I strongly do not recommend anyone to follow my poor example. Purely because this place is still under (international) radar. It will be a challenge securing a reservation in future because I honestly foresee they'll be getting their Michelin stars with the next Michelin Guide Korea announcement.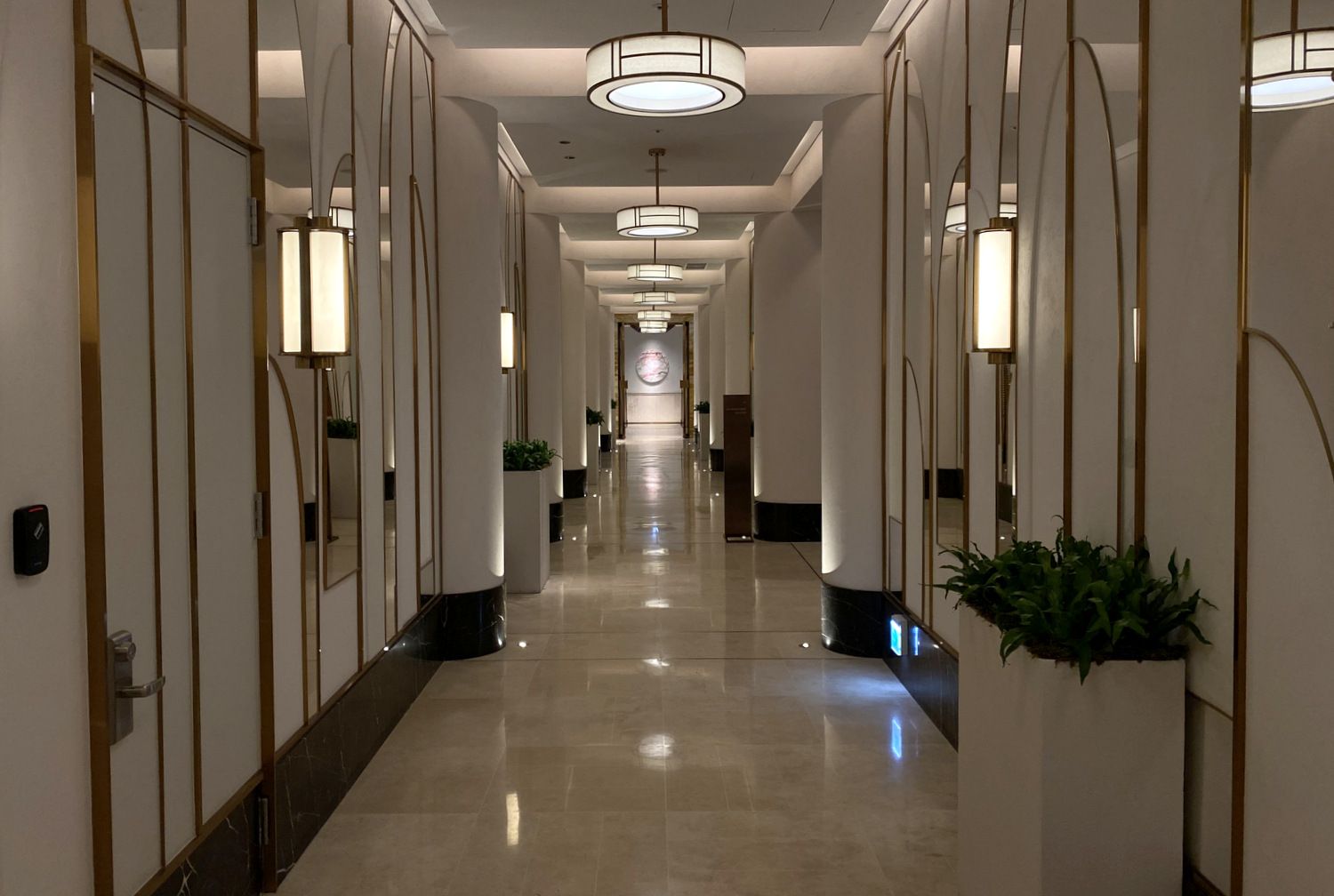 Eatanic Garden's website indicated reservation has to be made by phone. However my Korean SIM card did not allow outgoing calls. So I sent them a message on Instagram. They responded promptly and requested for my details (name and email address). Do note because of the very short notice, they accepted my reservation with the trust / good faith that I will not pull a fast one. Most (if not all) fine dine restaurants will require one to secure the booking with a (credit card) deposit.
Do dress appropriately because as the hotel name sounds (Eatanic Garden being located on level 36 of Josun Palace), the venue is very grand.
There are a few seating areas in Eatanic Garden; Dining hall of table seats, private rooms, balcony with couple sofa, and counter seats. I was glad to be given a seat at the counter. And may I add, the best seat too with straight view of the 'stage' where head chef Son Jongwon and his team do the plating.
Upon seated, the staff took my order for drinks (I went with just still water). And with that, I commenced my Autumn tasting dinner menu, ₩320,000 with:-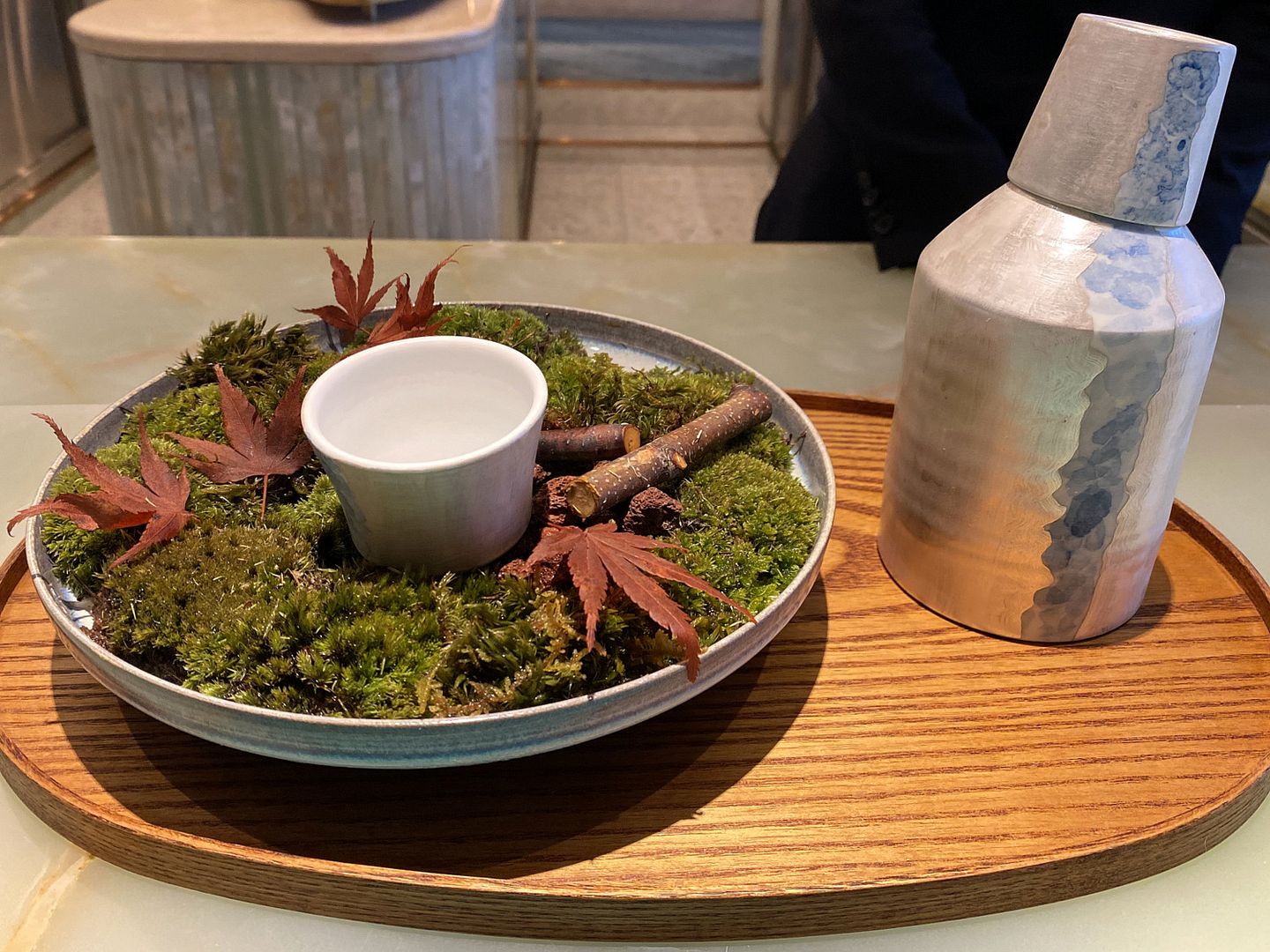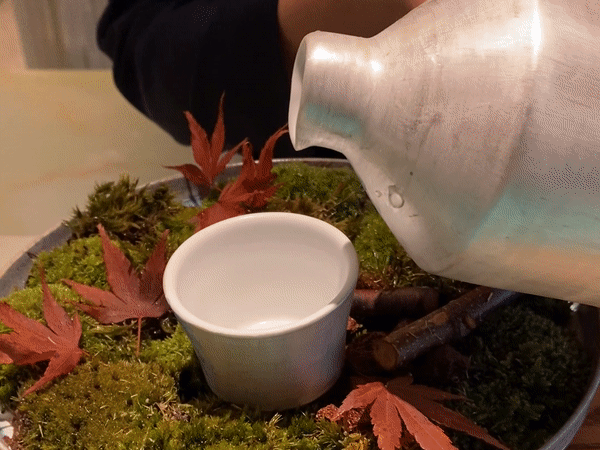 1) Welcome drink, Complimentary (above) – Sap water collected from birch trees. Wow.
2) Gamhong 감홍 (above) – Served in an apple-shaped hop (traditional Korean bowl), the texture of this apple dish was interesting. It's like a cross between soup and oat porridge.
3) Alcoholic drink, Complimentary – Was given a cup to enjoy with the apple (gamhong) dish.
4) Plum blossom 오얏꽃 (above) – Staff shared that back in the Joseon dynasty, plum tree blossom (oyat flower) was used to represent the imperial family of the Korean empire. So it's as though head chef Jongwon was expressing royalty through this really intricate 'glass chip'. And to be honest, I was blown away by its level of intricacy. I can't imagine the amount of preparation works that went into it. And beneath the gorgeous glass chip was roasted chestnut, chestnut purée, fermented plum and salmon roe.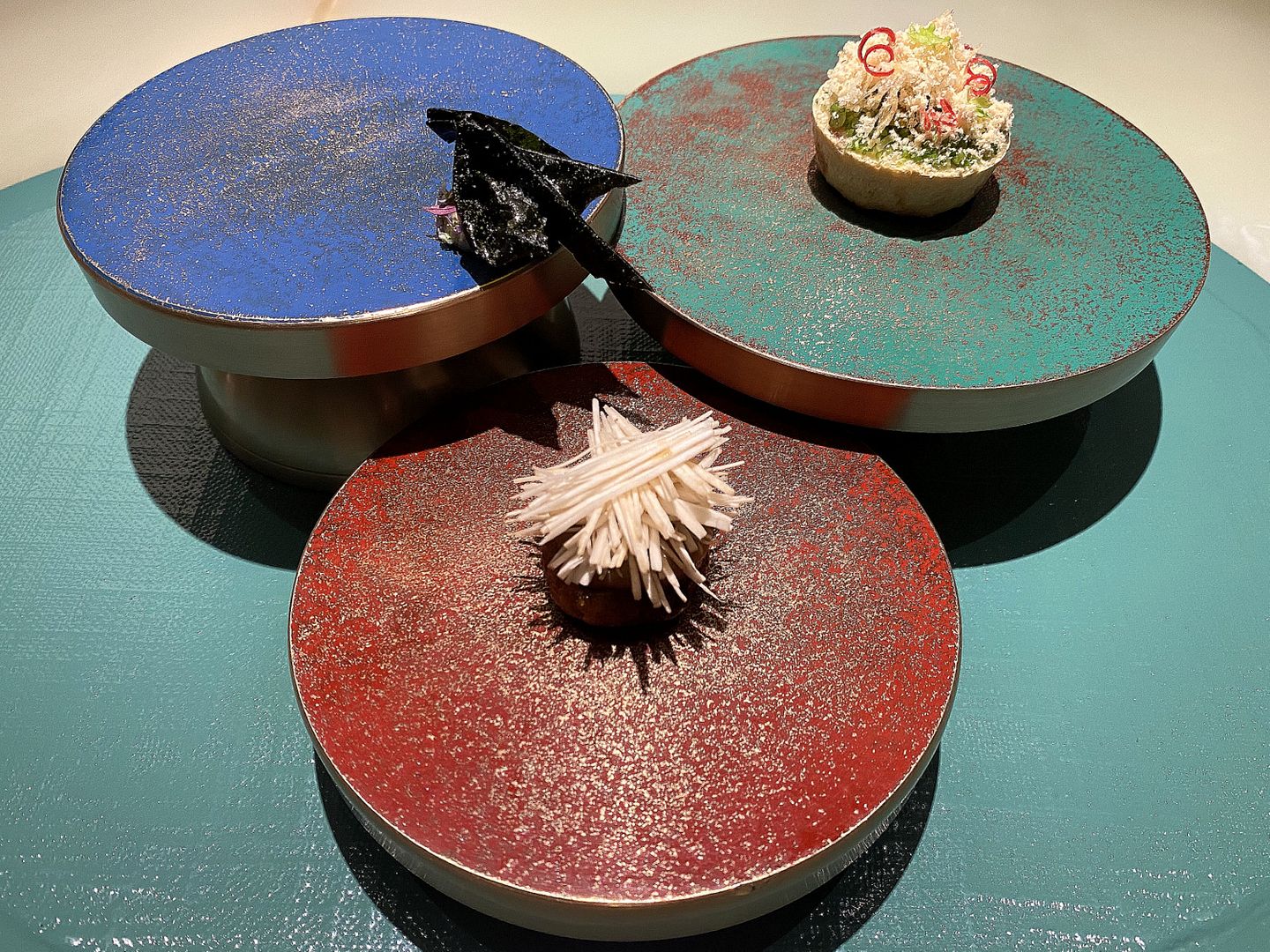 5) Jujeonburi 주전부리 (above) – Trio of small snacks; Chewy and sticky donut made with sweet rice and topped with pine mushroom, tart made with tofu and filled with potato egg salad and confit dried anchovies, and folded seaweed on parae seaweed (파래) paste. These were so good! I like that donut was fried such that it had a thicker crust, and I personally thought the tart was cleverly playful with different 'crunch' from the fried anchovy and thinly chopped vegetables. And again, I was blown away by the folded humming bird. I mean, origami with paper is hard enough. Origami with seaweed? Wow wow. Apparently it's made by drying and then frying, before it's folded into the shape of a humming bird which symbolises 'happiness'.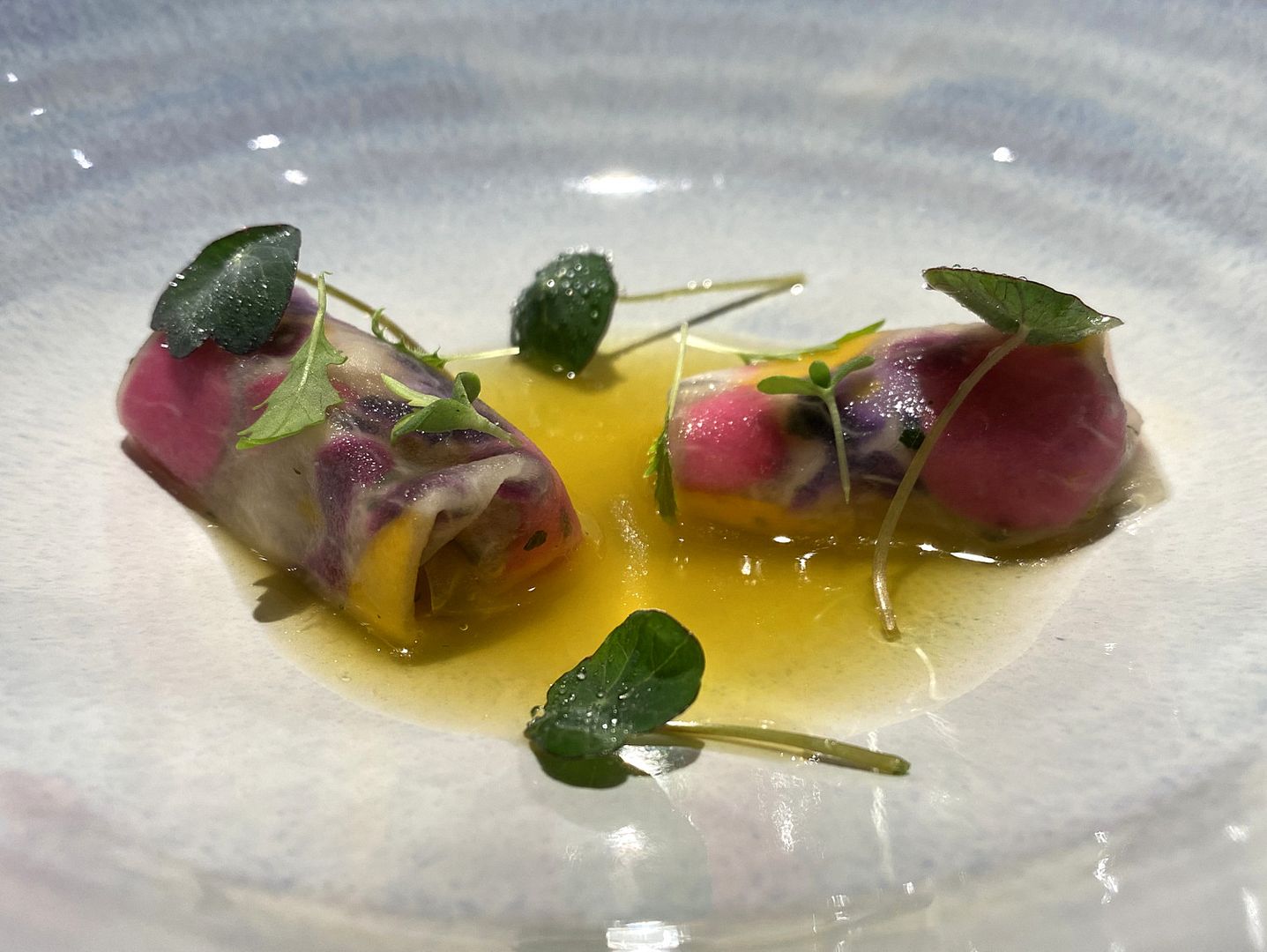 6) Hydroponic herbs 수경재배 허브 (above) – When the staff told me the skin was radish, my jaw literally dropped. For the colours to come through so vividly, the radish must be really thin yet big enough to be rolled up. Served in a tangerine vinaigrette, the roll also contained aged yellowtail (sashimi) and Korean pine nuts within. A very refreshing and light-on-the-palette dish.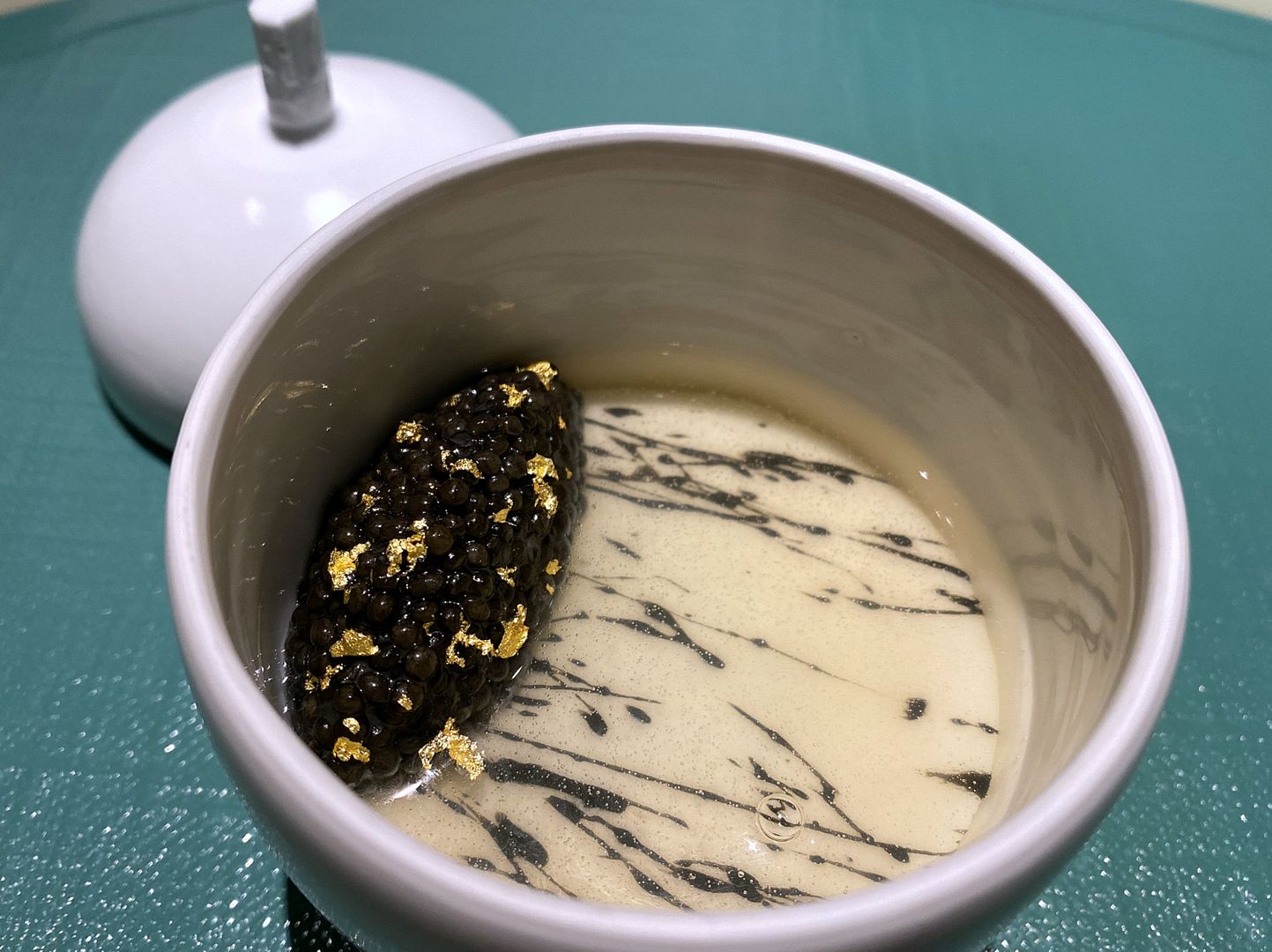 7) Soy bean 콩 (above) – By now, the staff noticed I take pictures of my food. And that I hadn't been very fast at it. Haha. So for this particular dish, the staff stressed the dish is very time sensitive because she really wanted me to enjoy it as per chef's intent. Smoked soybean curd beneath the egg veil and fermented shiitake mushroom glaze, and topped with Korean caviar. I listened well and tucked in after just 3 snaps. But what happened next was a total surprise and touched impressed me. Staff came out with a tin of the Korean caviar, showing it's specially curated for Eatanic Garden, and gave me a big scoop. She shared it's because she really wanted me to enjoy the soy bean dish with caviar of the right temperature. And indeed, the caviar that came served in the dish had turned warm and its taste was muted, whereas the freshly placed cold caviar was more salty. The cold caviar's sharper/more intense flavour was a great contrast to the soy bean which is usually bland on its own. Am grateful to have tasted the contrast of warm and cold caviars with the soy bean pudding. And it's learned from their menu card that this dish is an homage to freshly made 'dabu' (traditionally a dish made in front of diners at temple restaurant).
8) Cabbage heart 알배추 (above) – Heart of the Baechu cabbage done in 2 ways (pan-fried and chopped white kimchi), and served with charcoal-grilled sea perch. The fish was executed very beautifully, and the deceivingly plain-looking gochujang sauce was full of umami! "Secret", the staff said with a wide smile when I asked out of plain curiosity if fish broth was added into the sauce.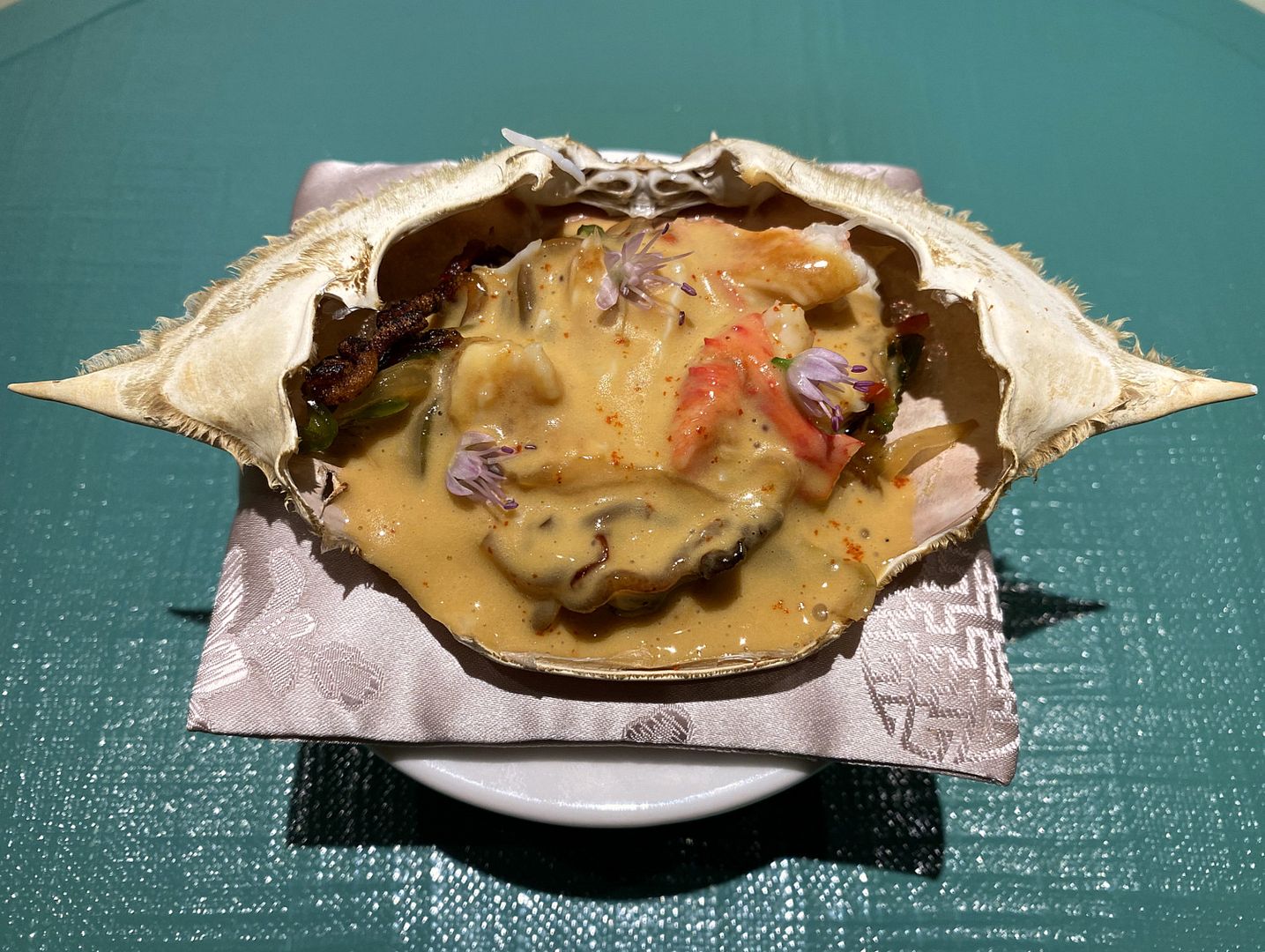 9) Burdock 우엉 (above) – And with every course, the staff would place a menu card informing us of the upcoming dish's main theme/ingredient. Was surprised when the card showed burdock but a crab was placed in front of me. Not that I am complaining. Hee. And mixed with the blue crab flesh was japchae (stir-fried sweet potato starch noodles). I thought it's interesting that the japchae was intentionally grilled to have some burnt crust (similar to scorched rice). And the vegetables (burdock included) in the japchae helped to cut through the heaviness of the creamy sauce, though maybe they could have gone a little easier on the sauce quantity.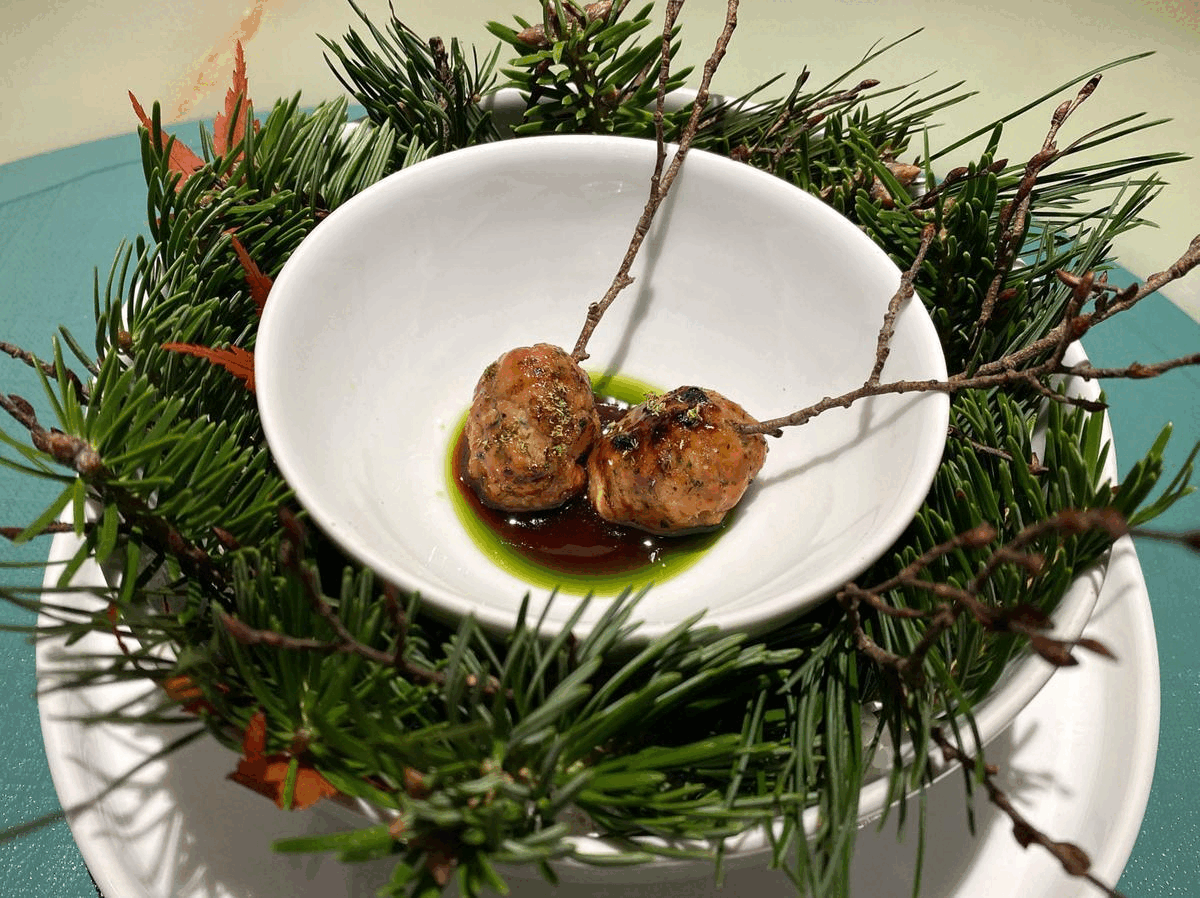 10) Pine needles 솔잎 (above) – Minced duck balls grilled over charcoal and smoked with pine needles. Served alongside a flavourful duck bone broth infused with pine needle oil.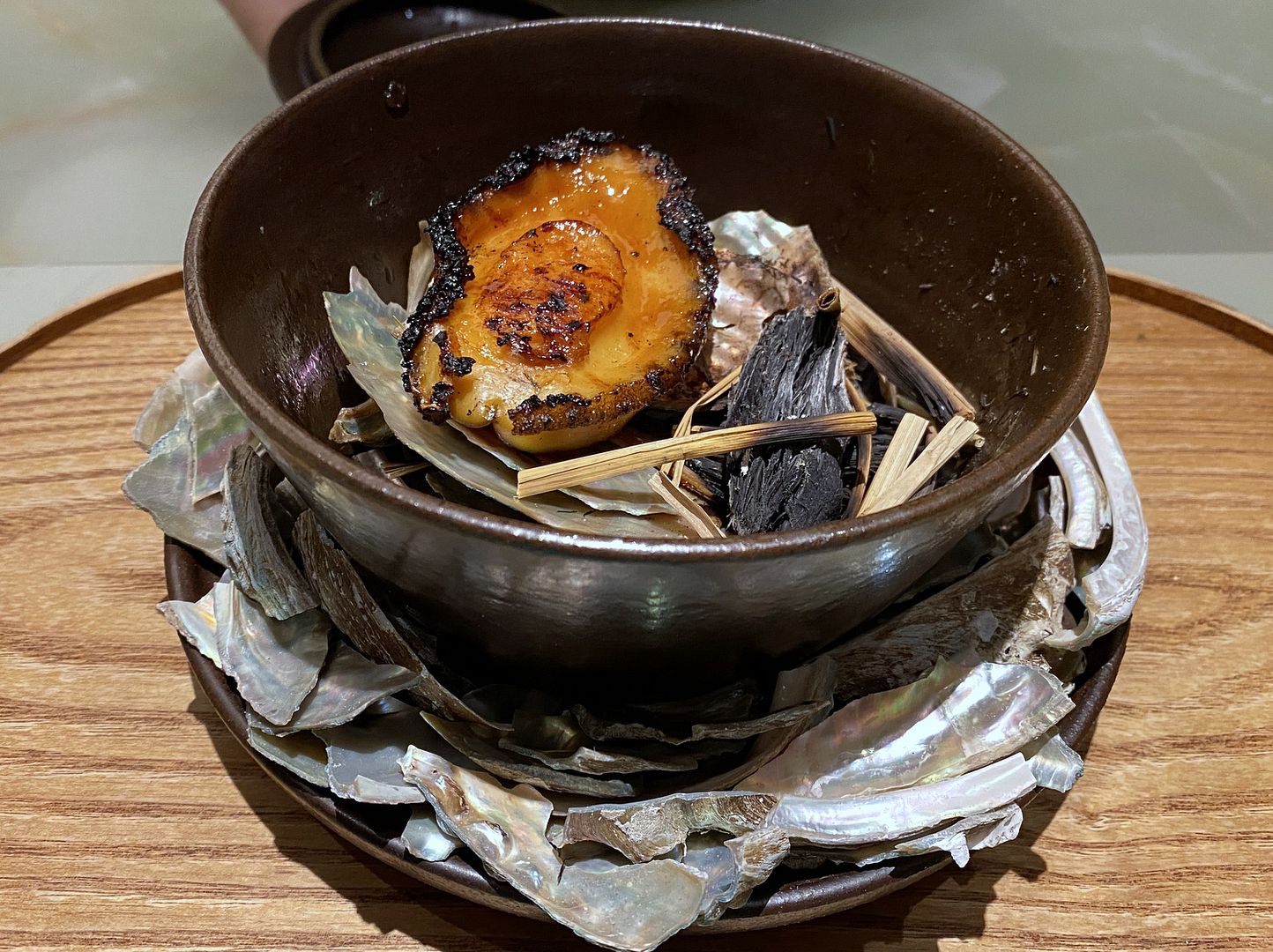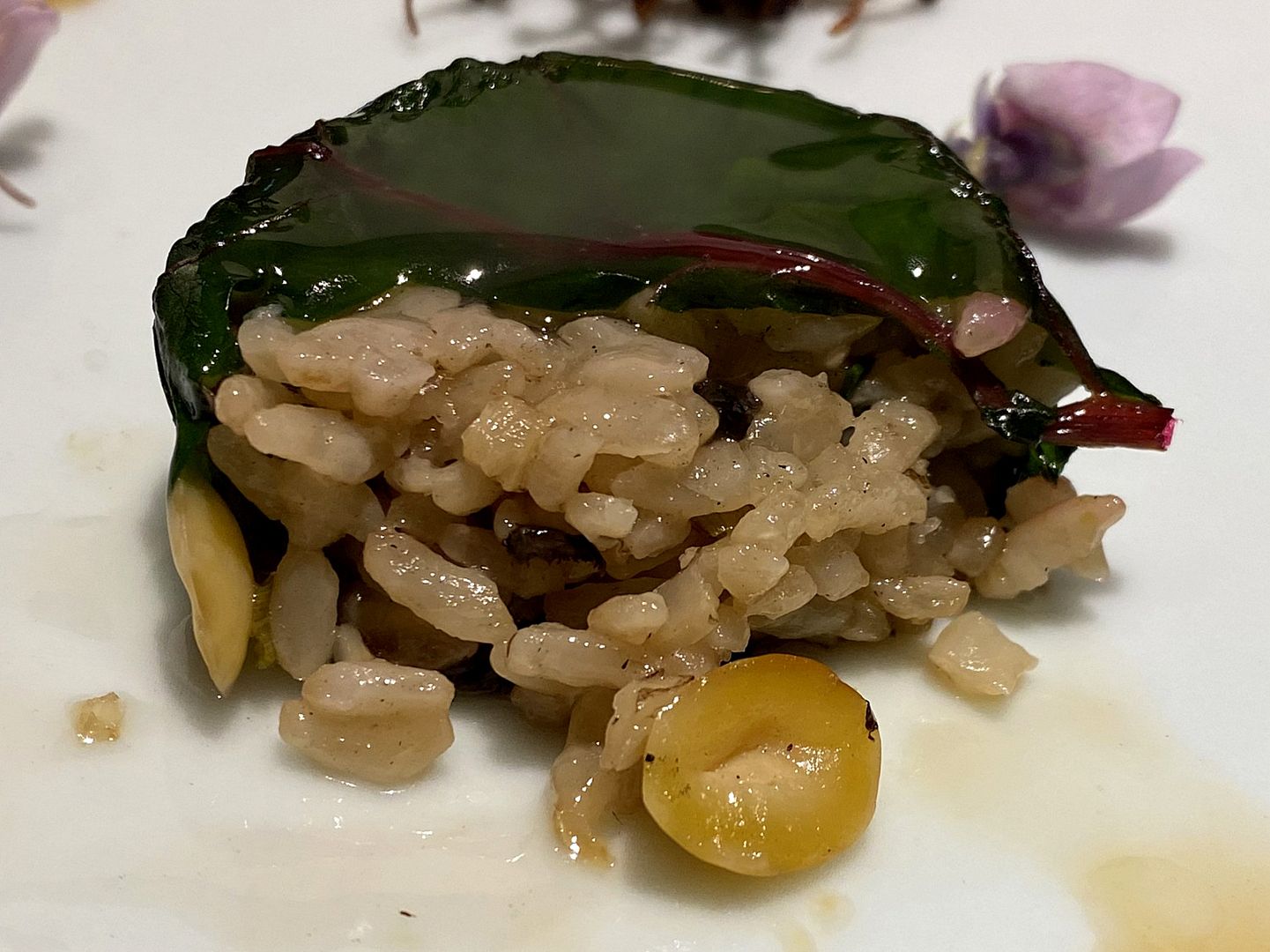 11) Autumn mushrooms 가을 버섯 (above) – Seven types of Korean autumn mushrooms prepared in various ways, served with abalone that was steamed before charcoal-grilled. Head chef Jongwon came out to personally introduce the dish, and I think he mentioned starch water was also used for the glutinous rice wrapped in chard leaf. And what a surprise when I chewed into it to realise the bottom of the rice was grilled to obtain the same crunch as scorched rice. Nice!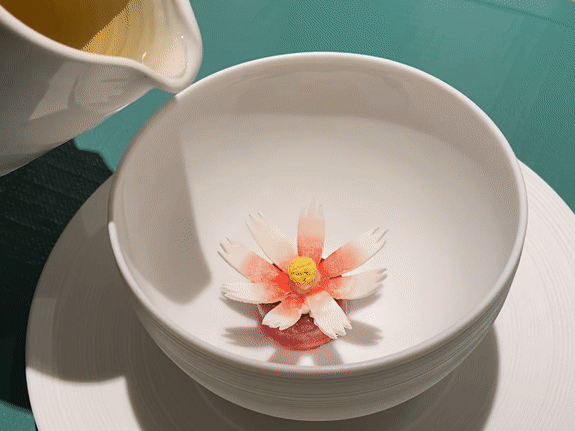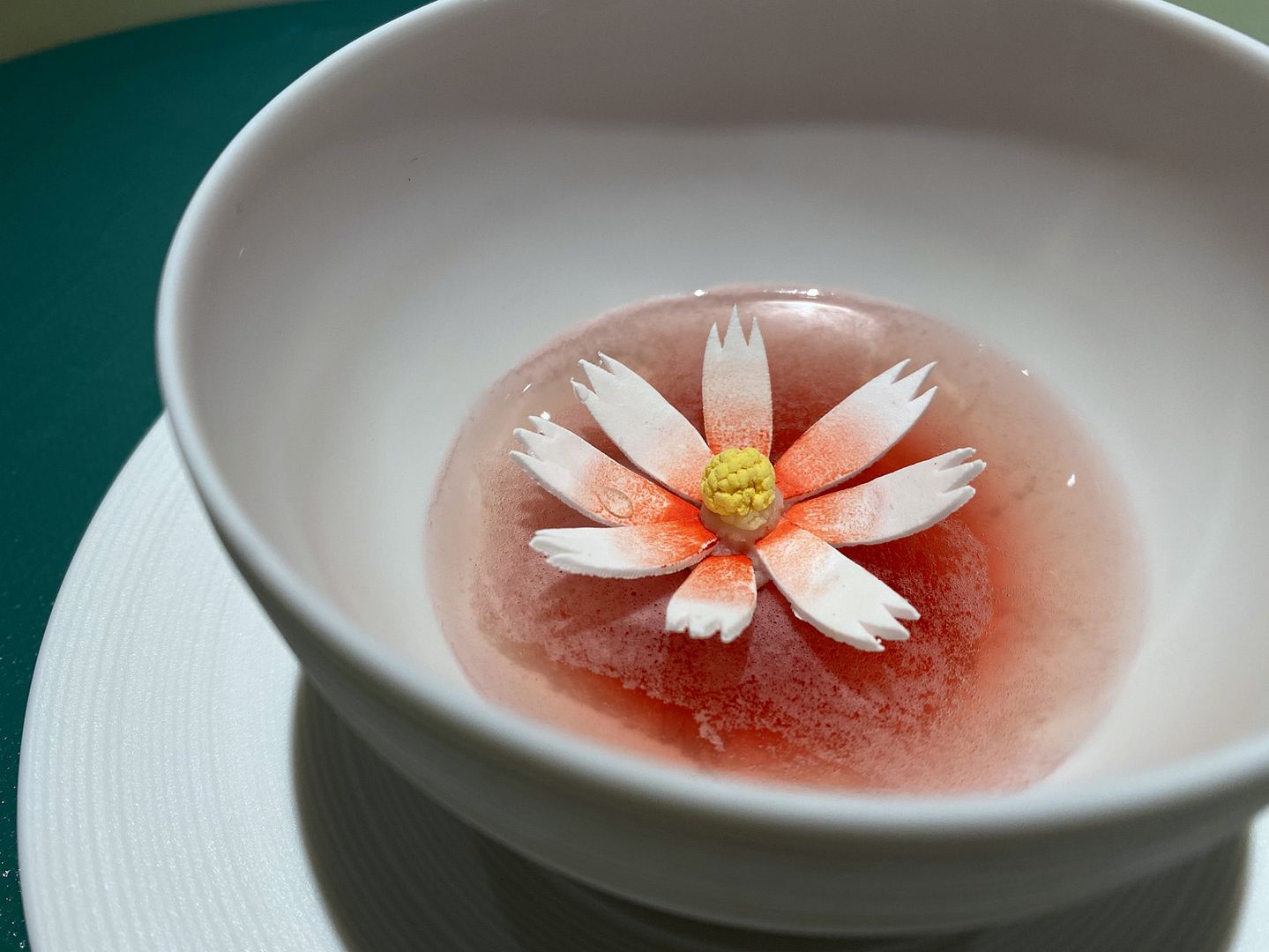 12) Cosmos 코스모스 (above) – Love the subtle effect of the pomegranate sorbet (hidden out of sight beneath the sugar flower) fizzing when the staff poured the juice into the cup.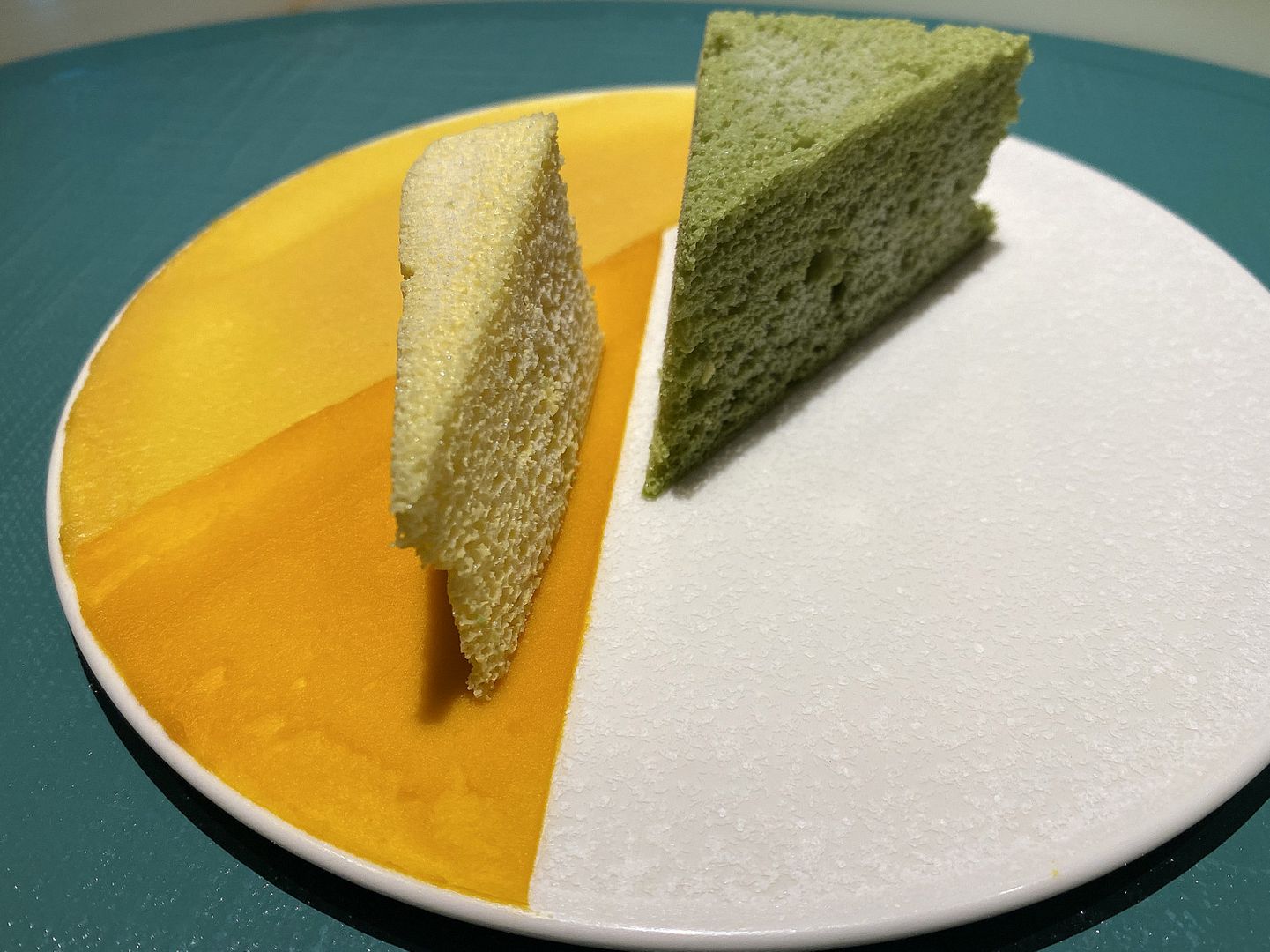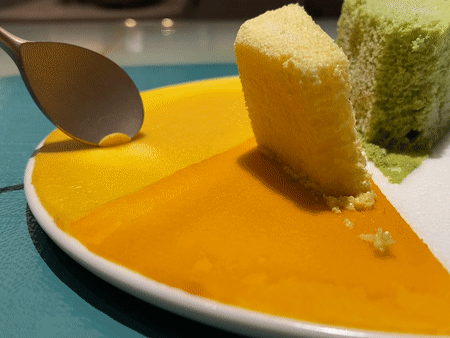 13) Sweet pumpkin 단호박 (above) – Sweet pumpkin and green tea cakes. The former was airy while the latter had a cheesecake texture. And on the plate was butter squash and pumpkin purées. I genuinely thought it was just a colourful plate! Was also told this plating was inspired by a famous Korean artist (Yoo Youngkuk)'s painting.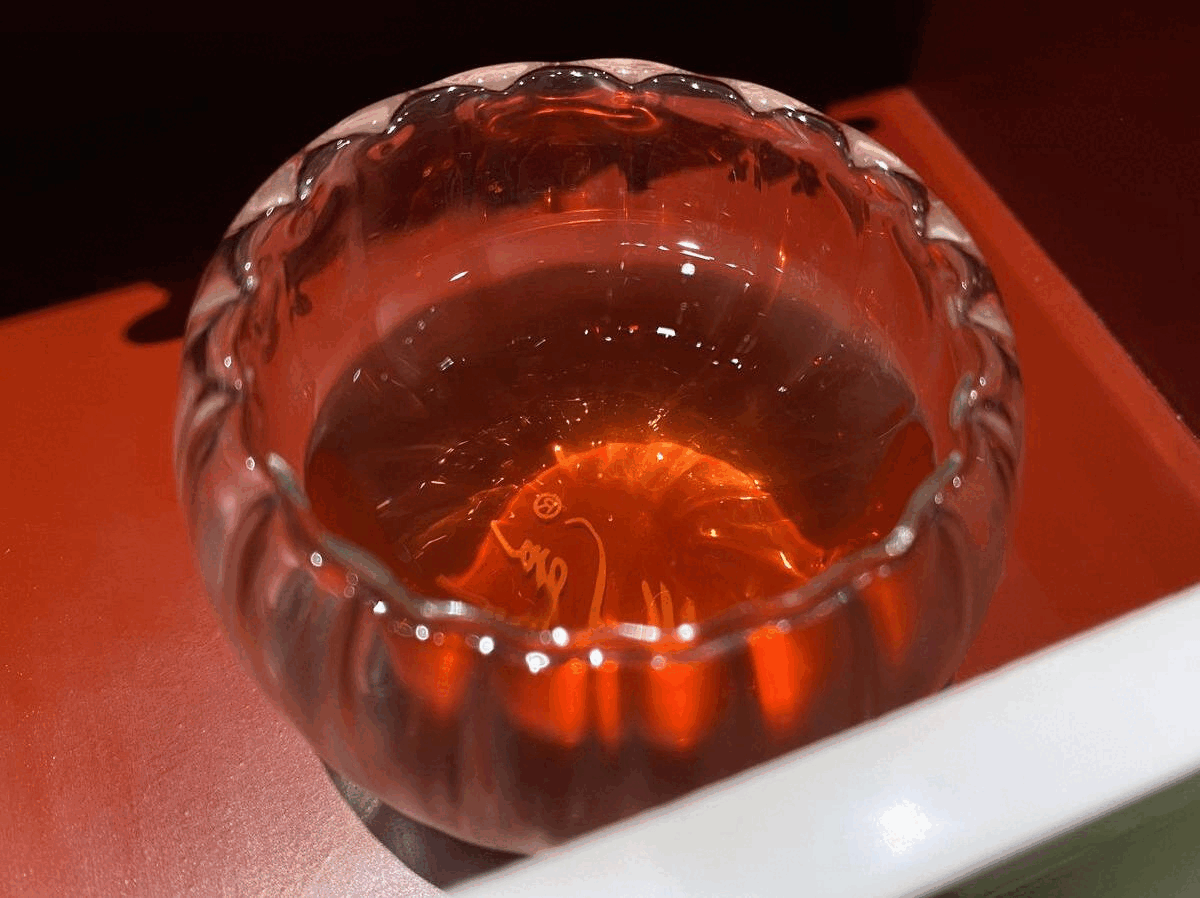 14) Mother of pearl box 자개함 (above) – And inside the drawers of the mother-of-pearl lacquer box were berry drink, rhubarb jerky, white chocolate bon bon with makgeolli filling, stuffed date and Korean melon.
15) Tea/coffee (above) – I chose to go with tea.
Words alone can't express how much I enjoyed my meal at Eatanic Garden. Everything was just perfect!!! Ambience was needless to say grand and posh. Food was exceptional. Not just the taste, but the plating too. And when I say plating, I am also referring to the crazy amount of preparation works the team had to put in! That 'plum blossom glass chip' and 'folded seaweed humming bird'.
And instead of the usual menu, Eatanic Garden used menu card. The staff would place the pictorial menu card showing the key ingredient of the next upcoming course. And at the end of the meal, the cards would be placed into an envelope for diners to take home. It's only after I reached home that I realised there's commentary at the back of each menu card. And I enjoy such stuff. The commentary allowed me to further appreciate the meal with the newly gained insight of chef's thought process when he put together/planned the menu.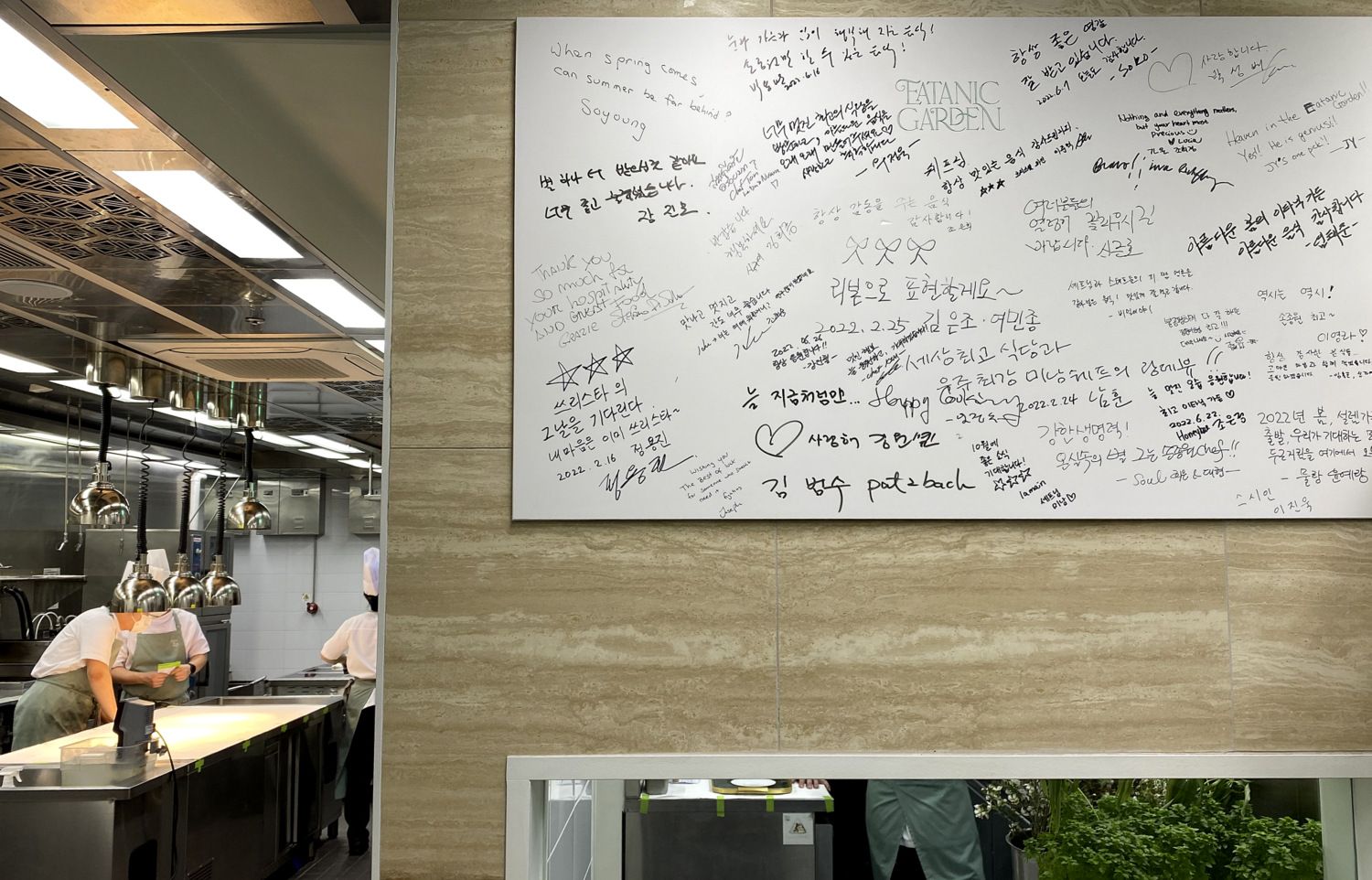 I also did some stalking surfing on Instagram and the female staff who attended mostly to me was Winter Woo! She is such a dear. She certainly elevated my dining experience with her bright smile and sincere heart. :) And thank you head chef Jongwon for the private tour of the kitchen! I was dining solo, but never did I once feel alone.
Eatanic Garden debuted with the opening of Josun Palace in May 2021, but it's interesting the staff said 14 February 2022 when I asked how long they have been in operation. Apparently head chef Jongwon became part of Eatanic Garden team only later (which meant he now oversees Eatanic Garden and L'Amant Secret), and 14 February was their renewal opening date.
Will I recommend Eatanic Garden? Yes! YES! One may find their dinner menu slightly pricey at ₩320,000, but I say it's totally worth it. If not one could also check them out for lunch.
Now… Michelin Guide Korea announces the winners every November, and I am definitely rooting for Eatanic Garden to be awarded at least 2 Michelin stars in the upcoming Michelin Guide Korea 2023.
EATANIC GARDEN 이타닉 가든

Level 36, Josun Palace, 231 Teheran-ro, Gangnam-gu, Seoul, South Korea

Overall: 9.5

Opening hours:-

Food/Beverage: 10

Mon – Sun : 12:00 – 21:00

Ambience: 9

Value: 8

Service: 10