February 10, 2022 in European, Sri Lankan by thywhaleliciousfay
When my non-foodie friend texted me in the midst of her meal that I have to check out Cloudstreet, I knew I had to. She even used caps for the words 'have to'. Her exact words were "I'm at cloud street. omg u have to try it. Like HAVE TO."
That was December 2019. 1.5 years later… I finally got down to making the reservation, with the intent to celebrate a friend's birthday.
However the fact that I think of myself as a foodie… I am embarrassed to say I haven't tried all of Rishi Naleendra's ventures yet. Cheek by Jowl? Yup. Cheek Bistro? Nope. Kotuwa? Nope. Fool (Kid you not, but it's the name of a wine bar)? Nope. Cloudstreet. Errr… Nope. But I've already missed the boat for Cheek Bistro as it has since closed permanently.
Reservation was made for 7.30pm on a weekday evening. But even with 7.30pm, I made birthday girl wait due to meeting overrun. Oops. And it was only after I reached the restaurant that the staff led us from the waiting area to our designated table. I was bummed to realise we were not seated at the counter. When reservation was made, the reservation website did not mention there'll be 2 types of seats. Else, I would have indicated our preference.
There's no physical food menu. Only drinks menu. The food menu on Cloudstreet website is only a sample. Ie, indicative. After taking our drink orders, we commenced our dinner menu, $318 with:-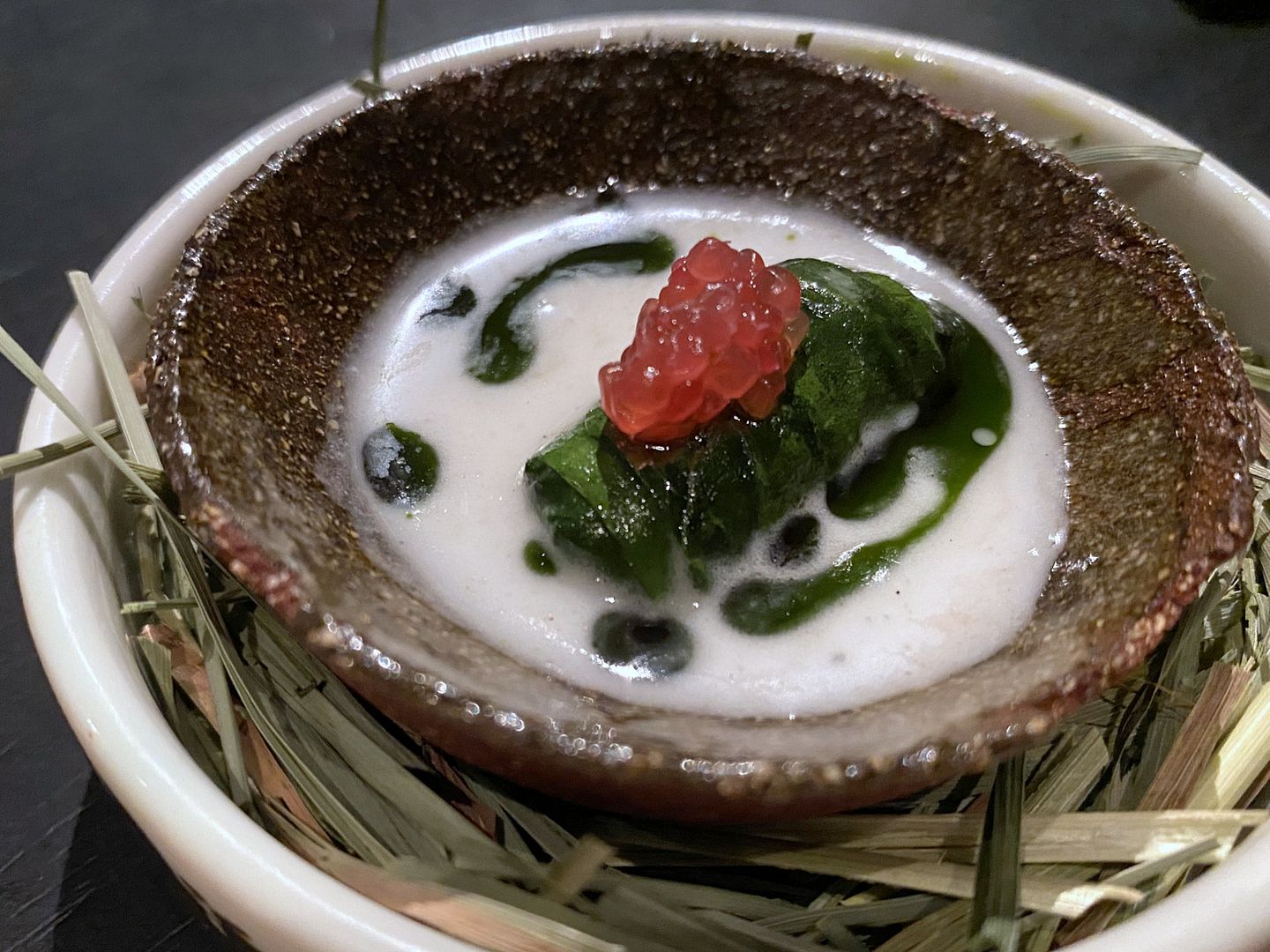 1) Dish #1 (above) – Grilled oyster, betel leaf, coconut and finger lime.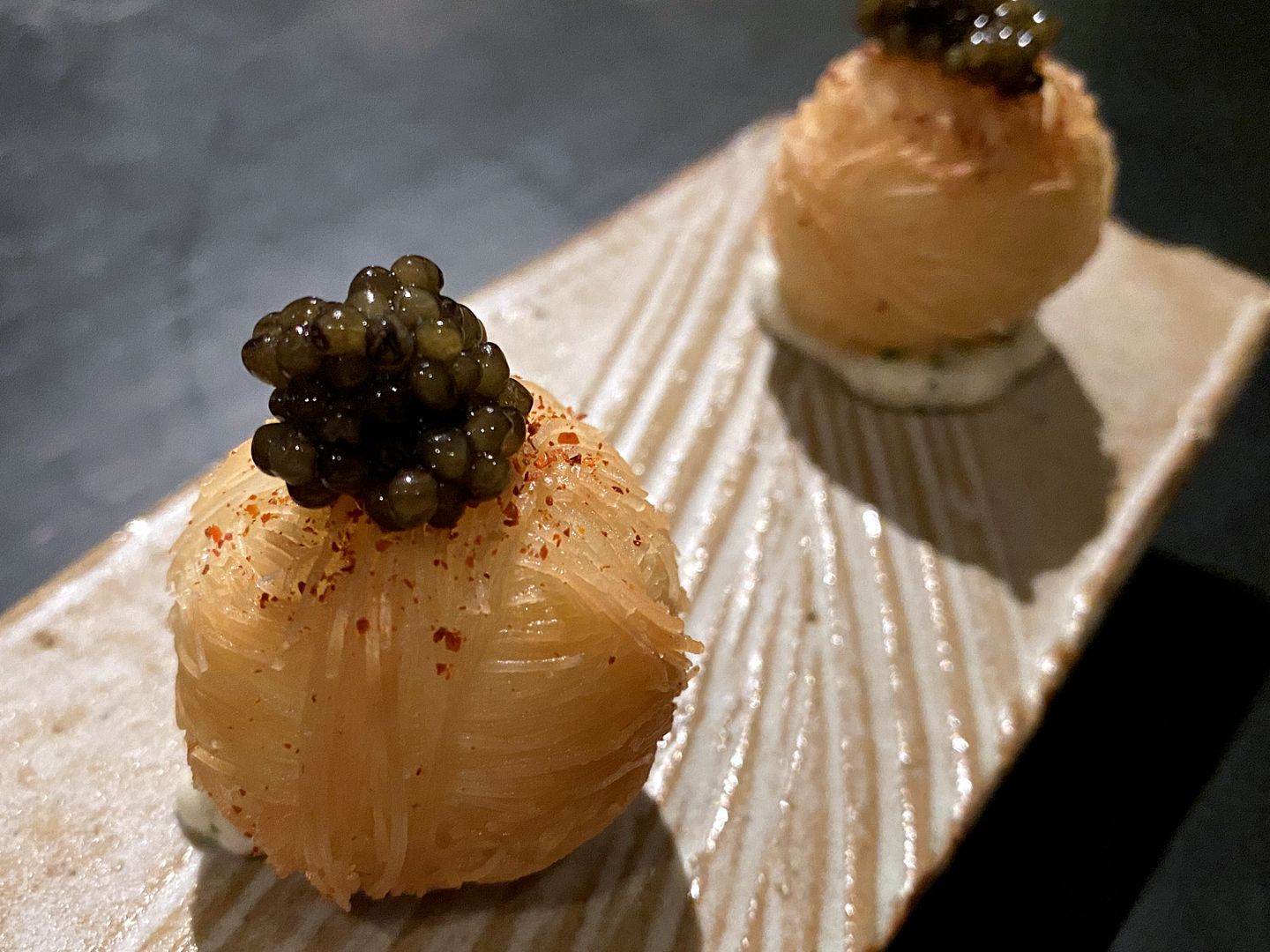 2) Dish #2 (above) – Fried quail egg and caviar.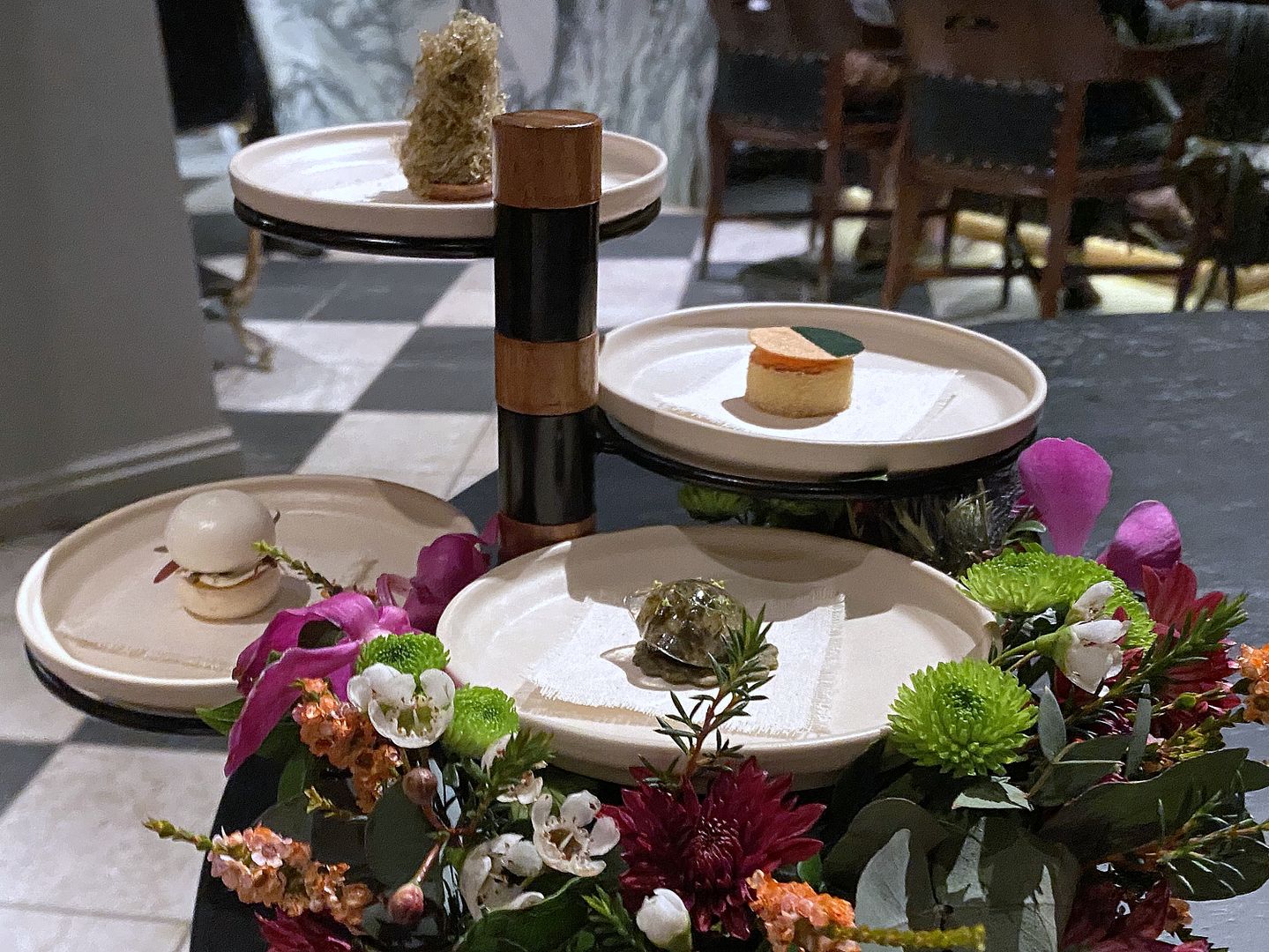 3) Dish #3 (above) – Starting from the top, celeriac tartare (non-beef version for me) with tororo kombu, confit potato with smoked herring and egg yolk, dungeness crab with macadamia and chamomile jelly, and bergamot meringue with beetroot.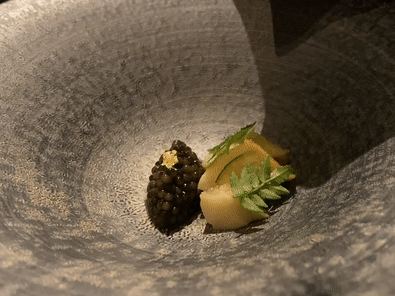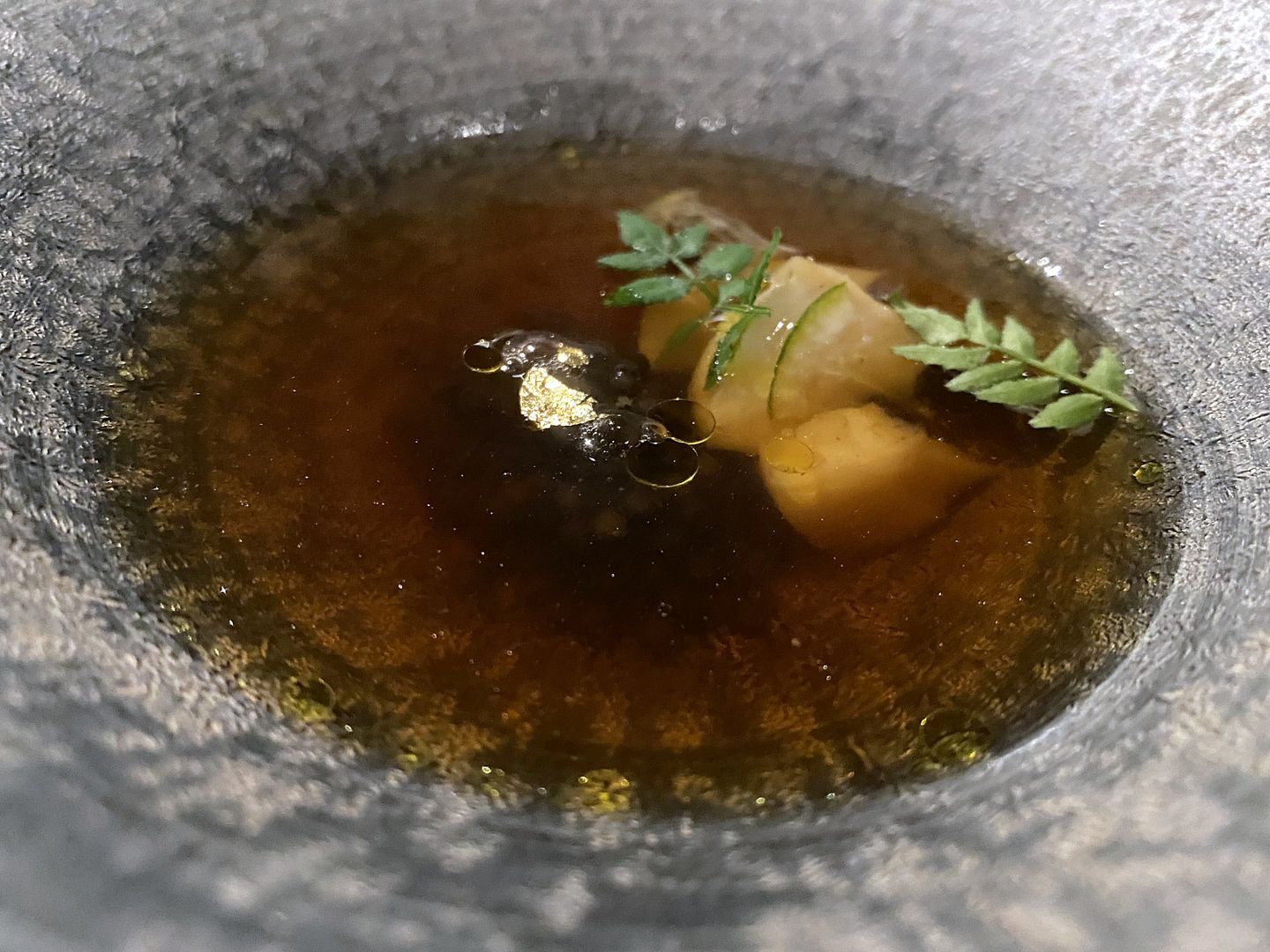 4) Dish #4 (above) – Grilled Jeju Island abalone with caviar. Not my first time watching staff pour warm consommé at the table, but it felt weird seeing the caviar slowly being submerged.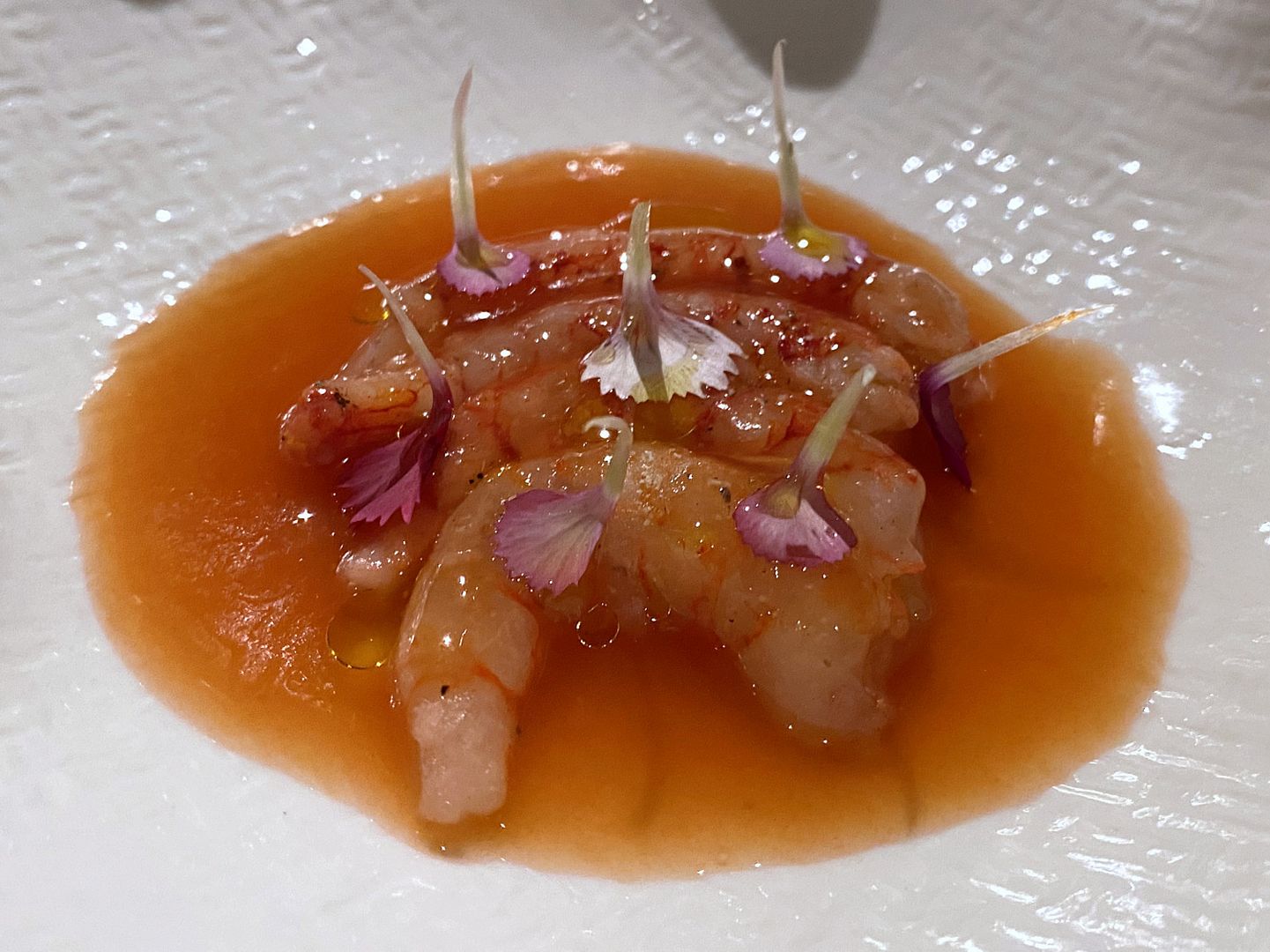 5) Dish #5 (above) – Sicilian red prawns in fermented tomato broth, and Spanish olive oil granita.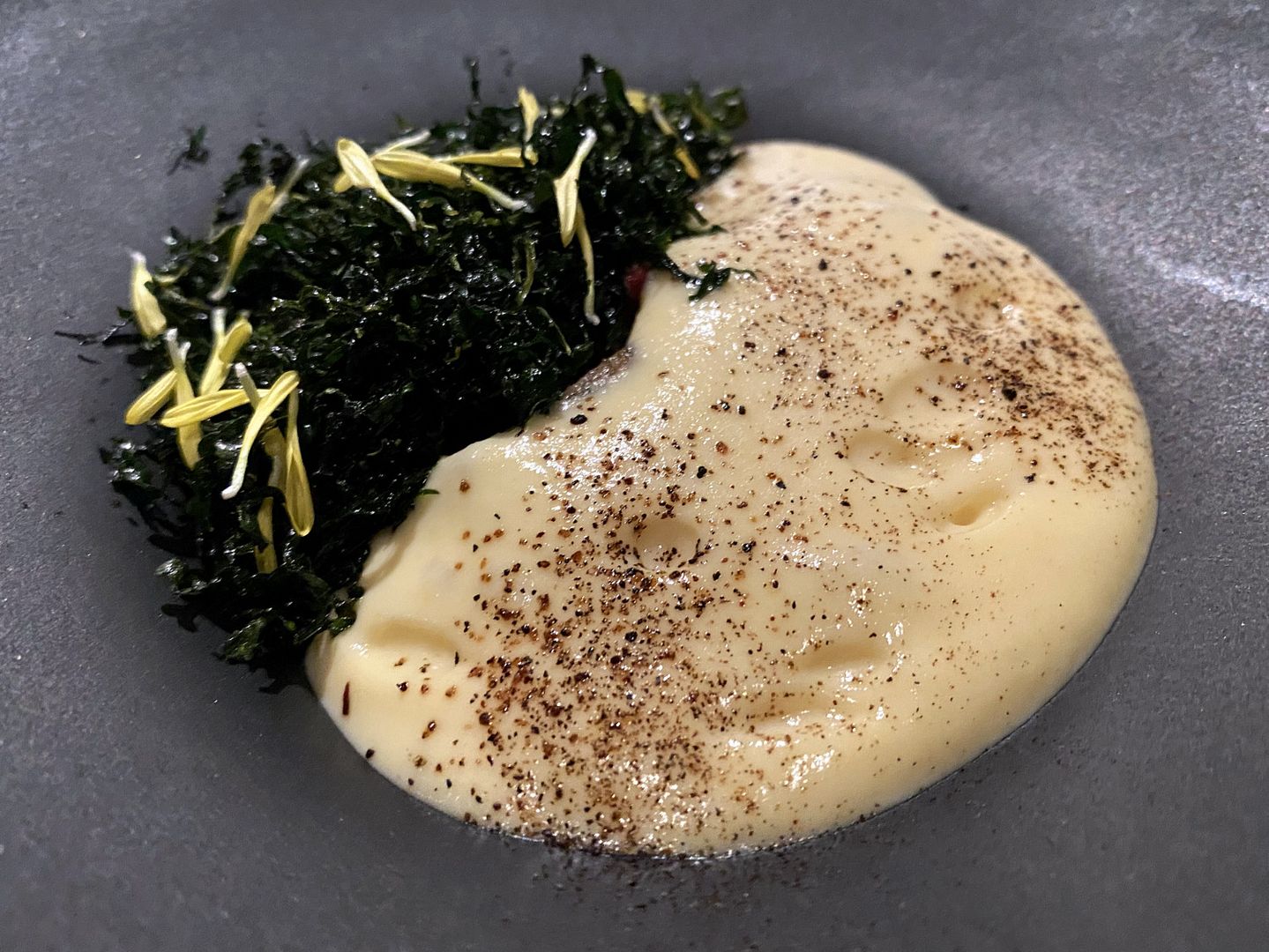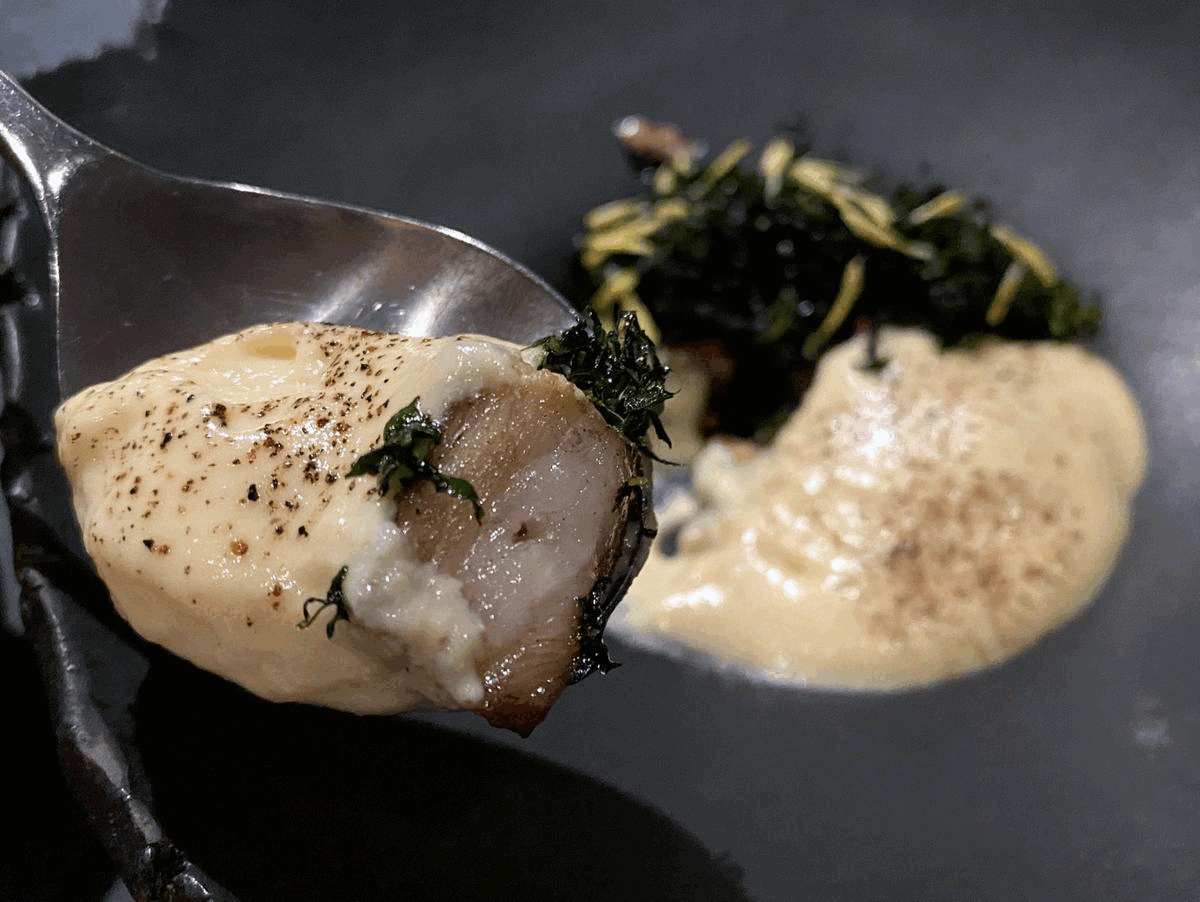 6) Dish #6 (above) – Pork jowl, river eel, pickled egg yolk and corn.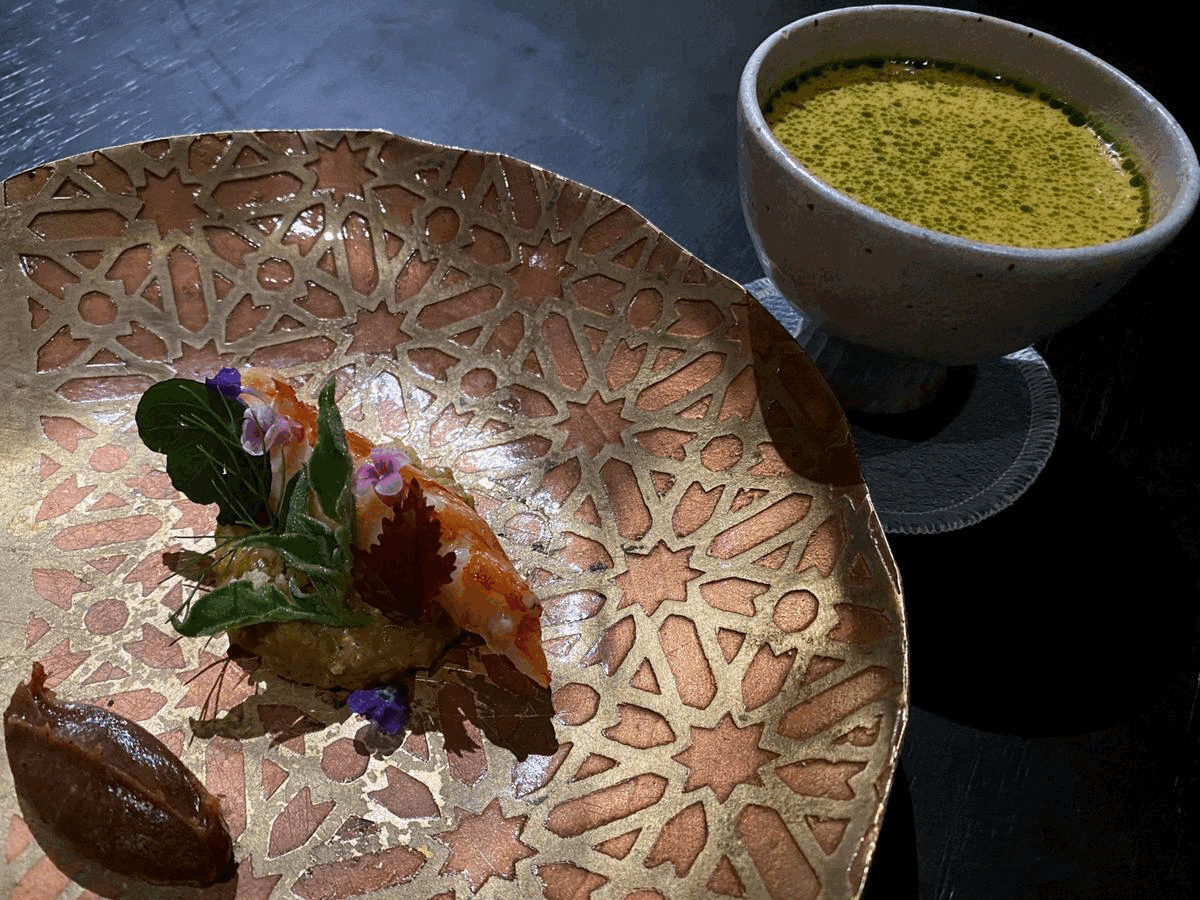 7) Dish #7 (above) – Sri Lankan curry of West Australian marron, millet, brown butter chutney, and coconut broth.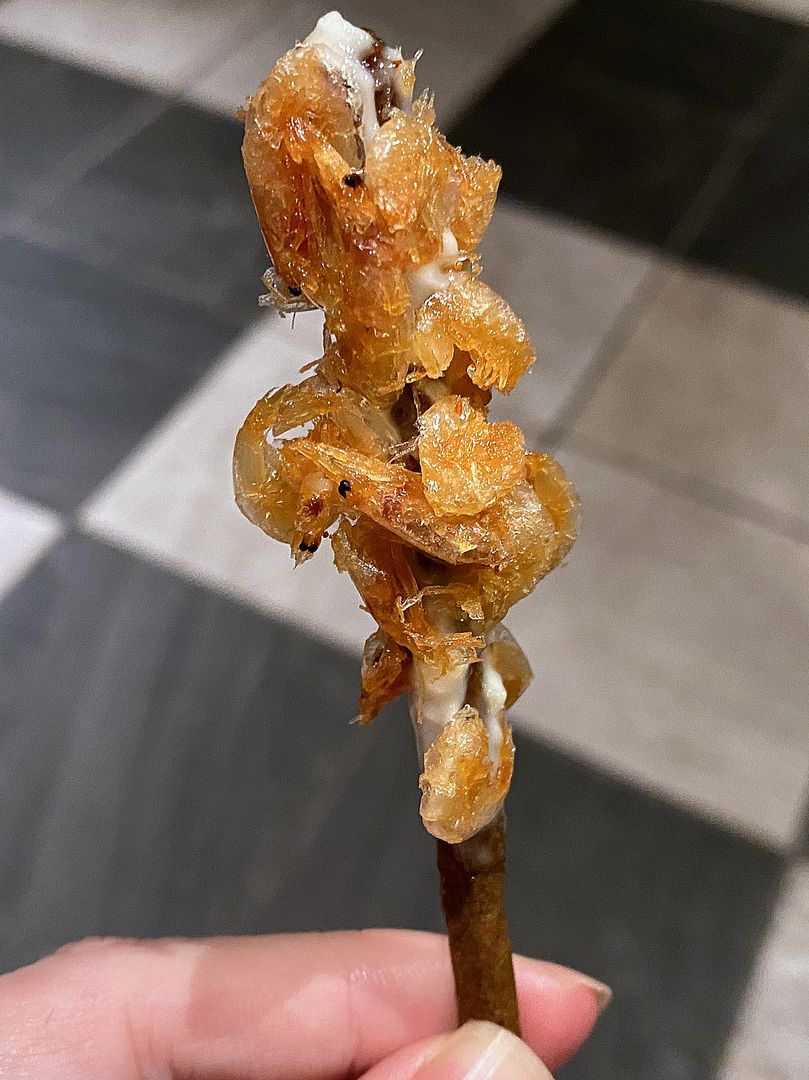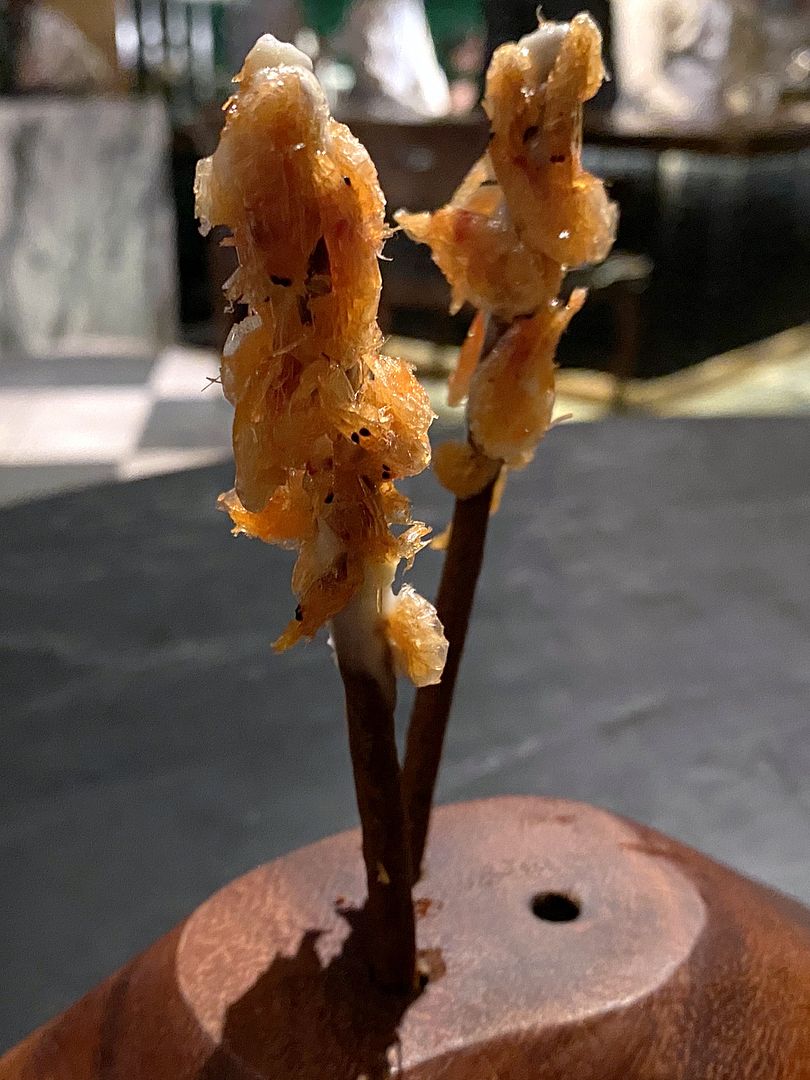 8) Dish #8 (above) – Sakura ebi, dhal and aioli.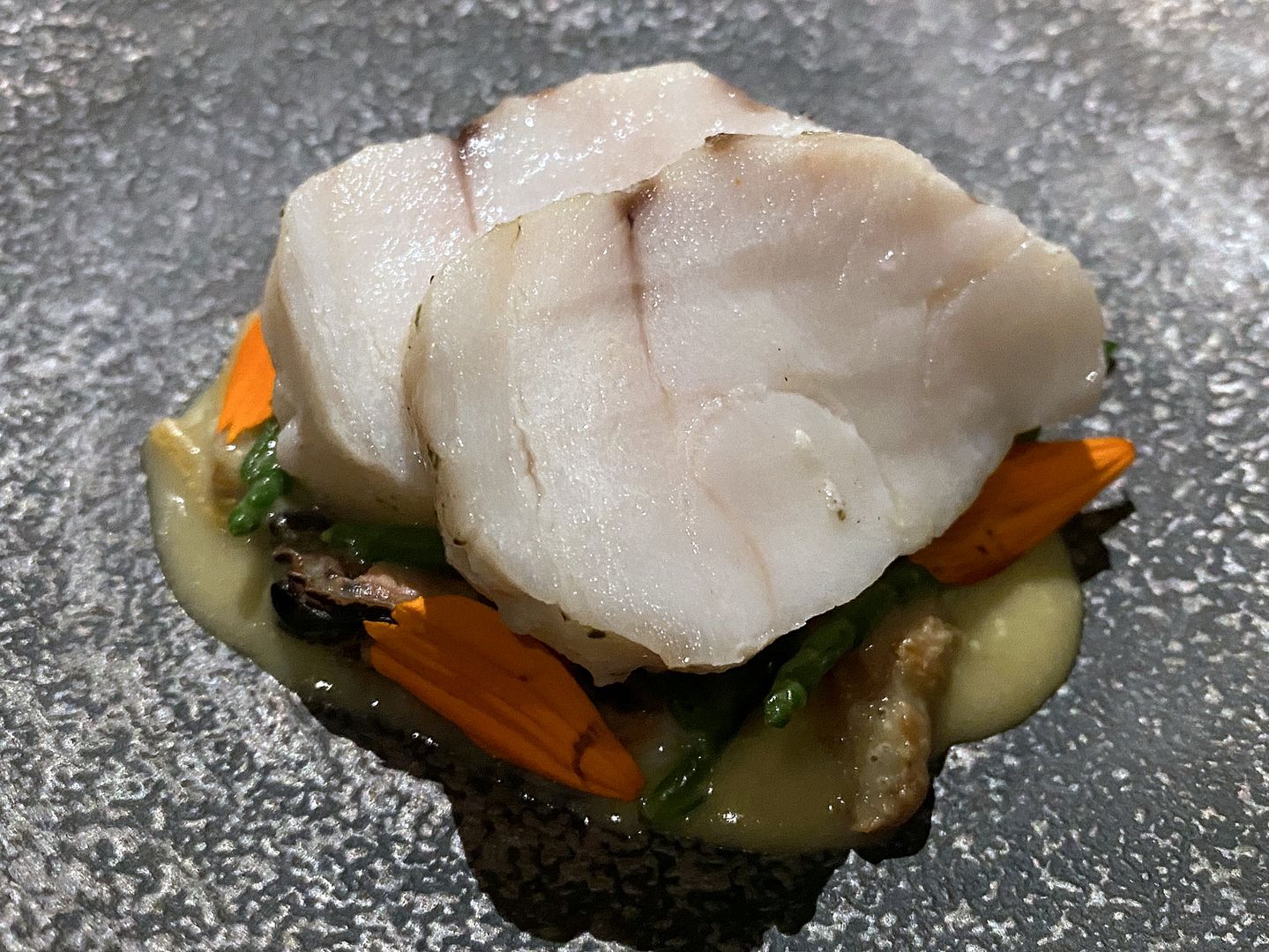 9) Dish #9 (above) – Roasted monkfish, kerala style ishtu, bishop's nose and smoked chicken fat.
10) Dish #10 (above) – Sri Lankan stout and liquorice bread.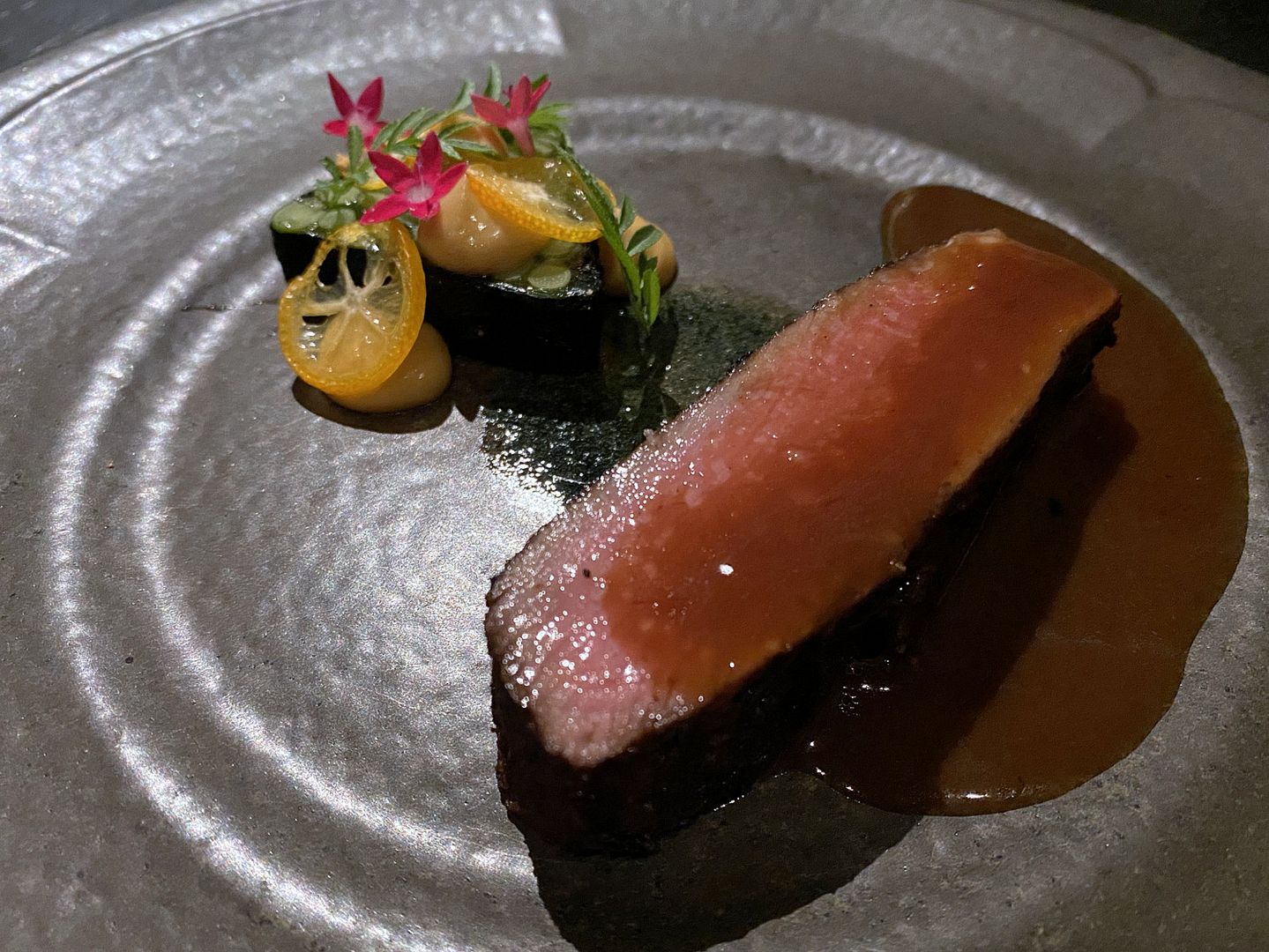 11) Dish #11 (above) – Presa pork, garlic shoot terrine and kumquat.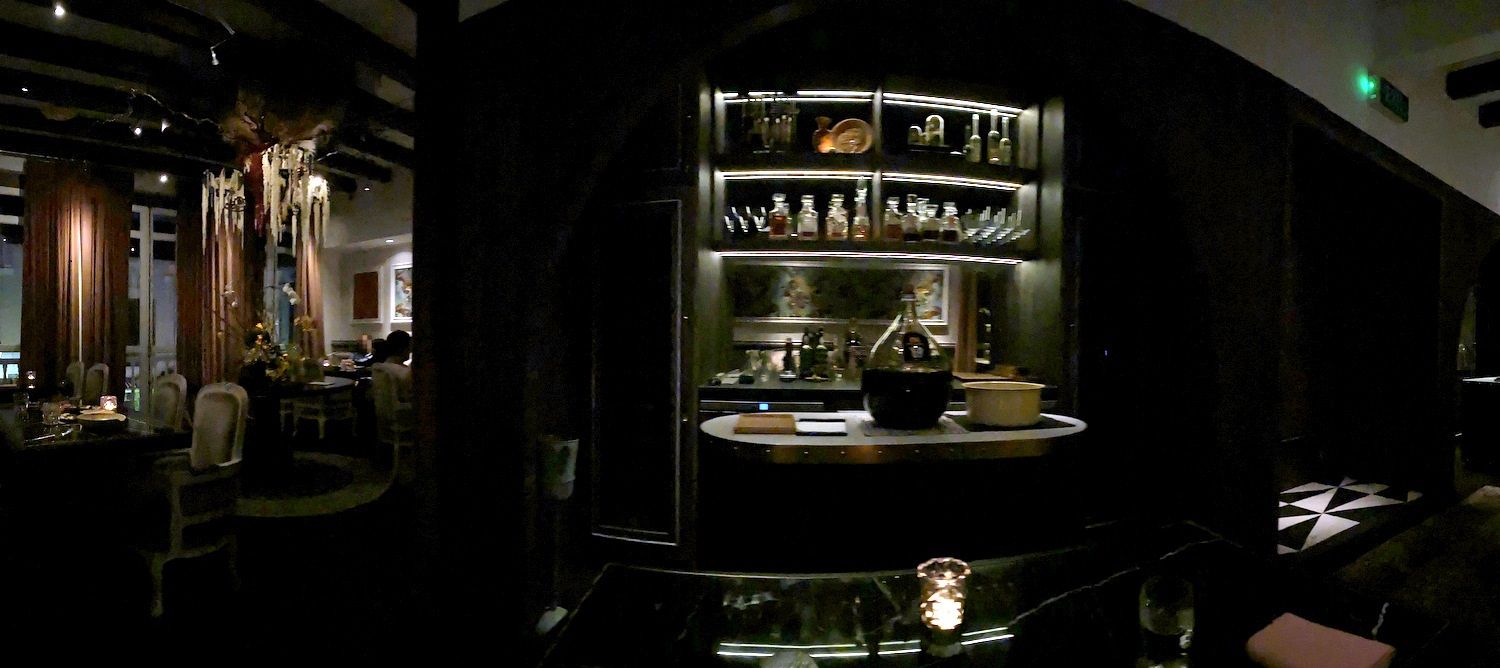 I am one who likes to observe my surrounding, especially when at a restaurant. One can say I am very 'kaypo'. Or in nicer words, I enjoy taking it all in. Haha. Worried that we were eating too slow since my girlfriend and I started our dinner later than most of the diners and we took longer to finish each course cause of our camera-eat-first habit (haha), I would consciously compare our speed against other tables'. I noticed we were on par with 2 groups. But imagine my surprise when I suddenly realised my girlfriend and I were the only ones left, halfway through our main dish. But mystery was solved when the staff told us to take our belongings and brought us to level 2 for our desserts.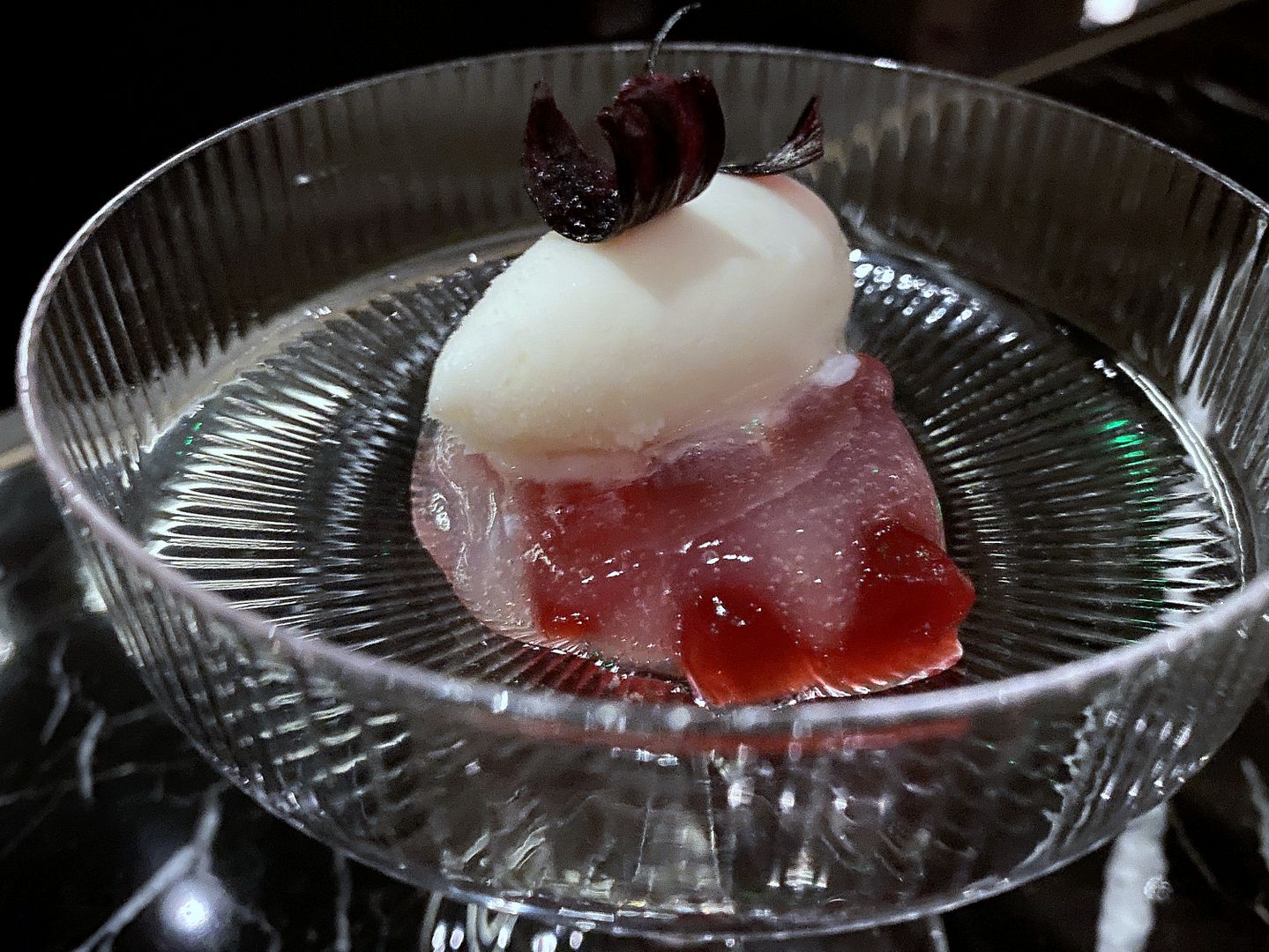 12) Dish #12 (above) – Tasmanian honeycomb, starfruit, Ceylon silver needle and rosella.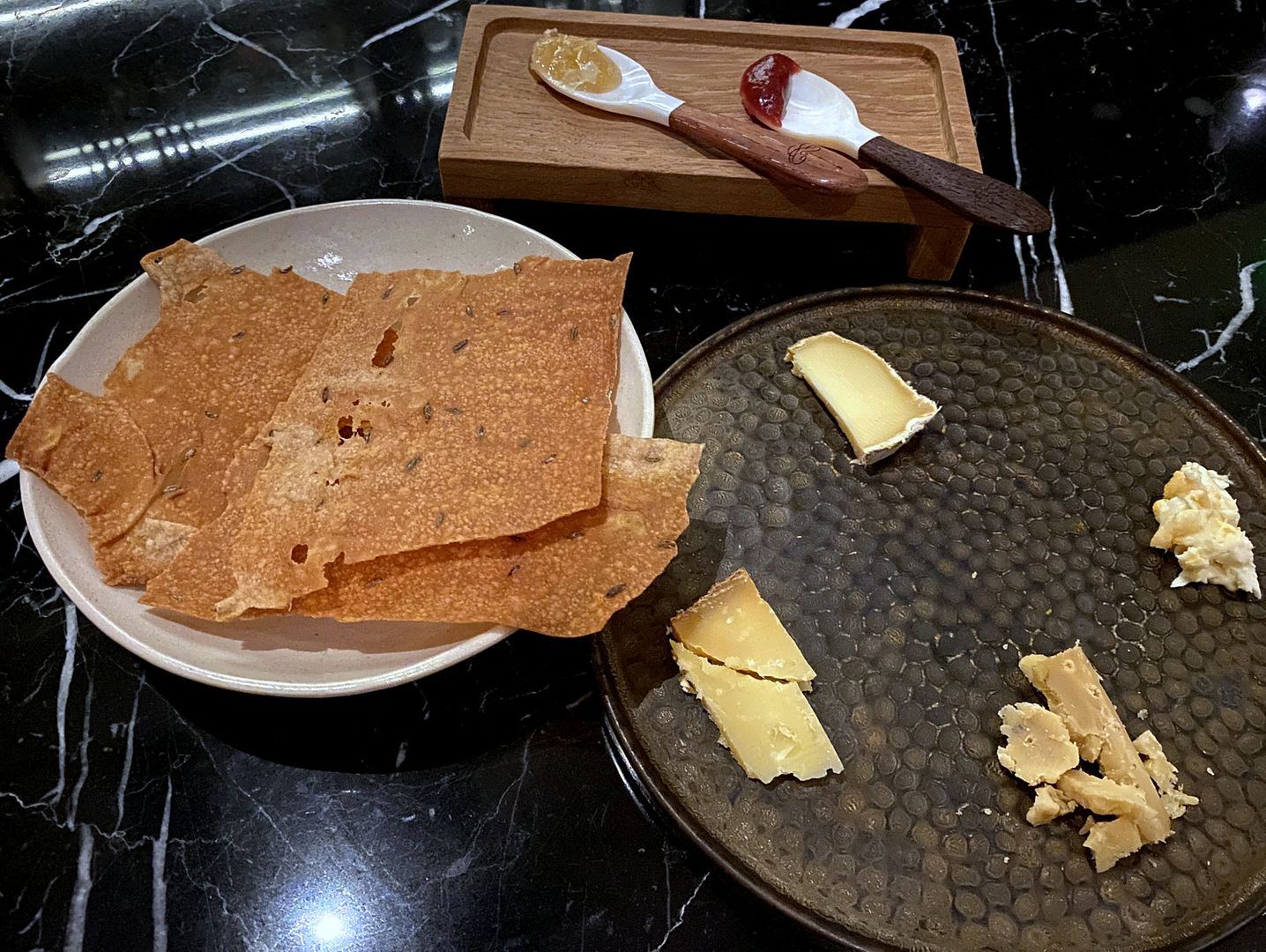 13) Dish #13 (above) – Cheese platter.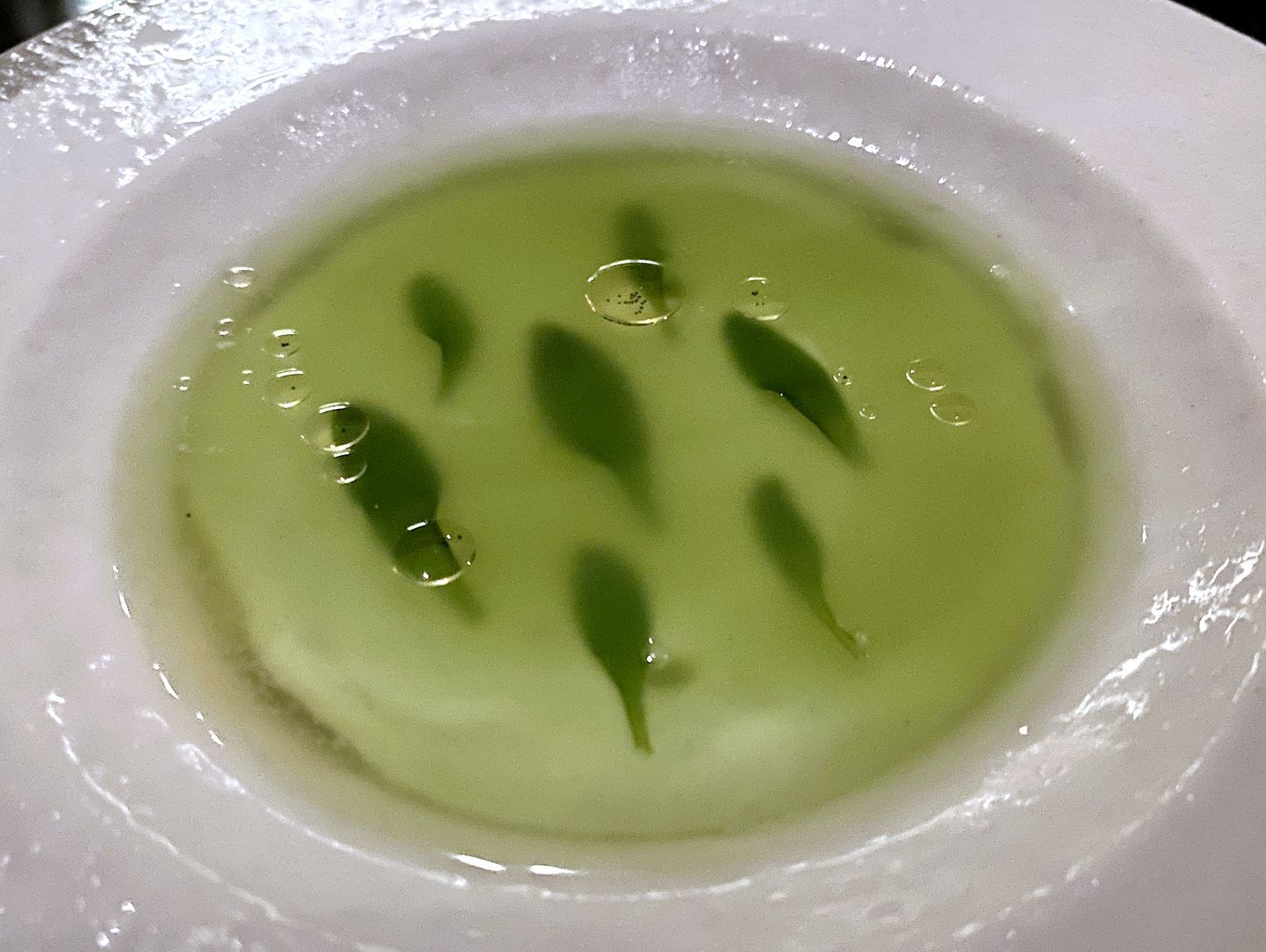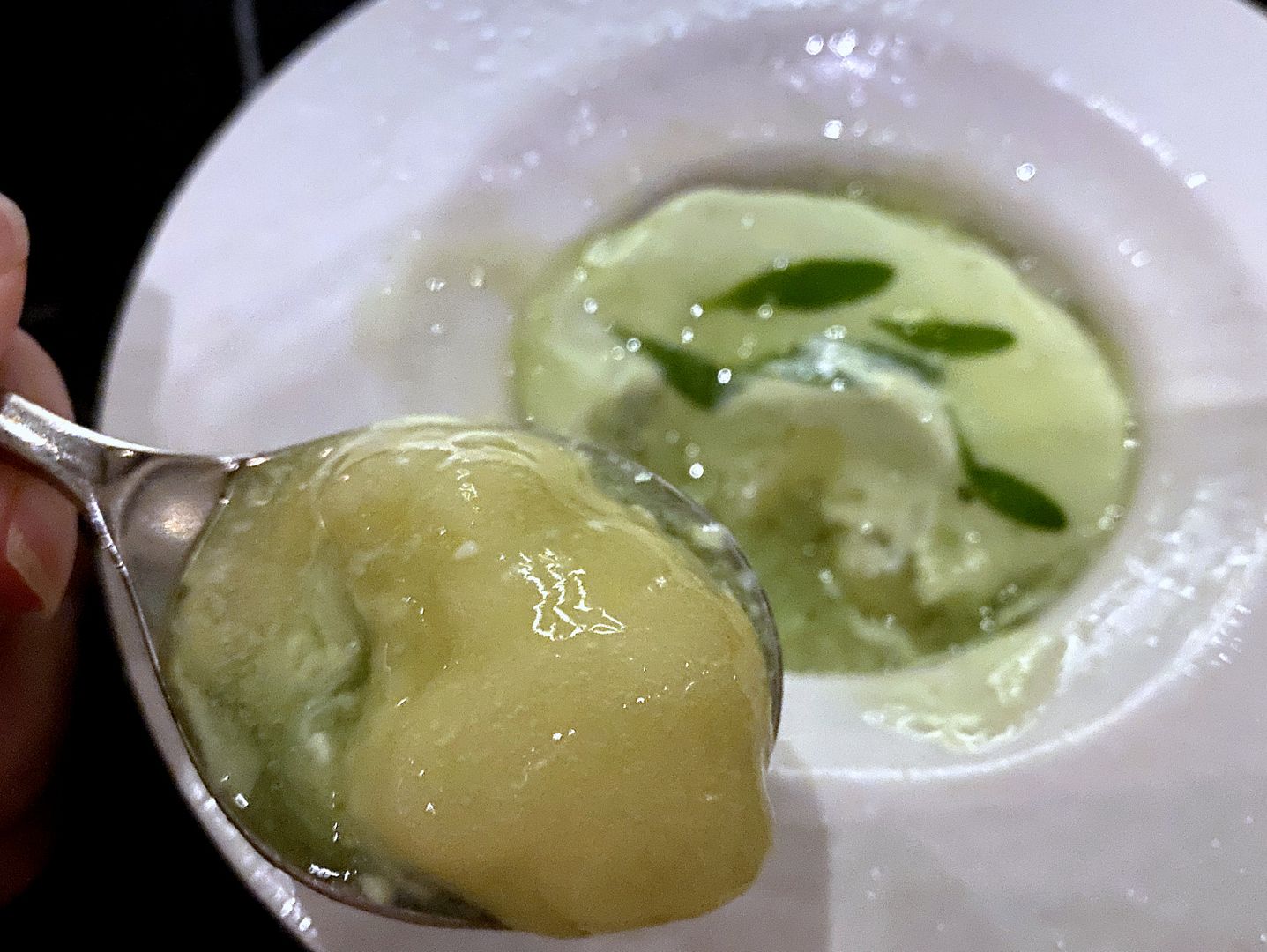 14) Dish #14 (above) – Celtuce, yuzu, green chilli and yoghurt.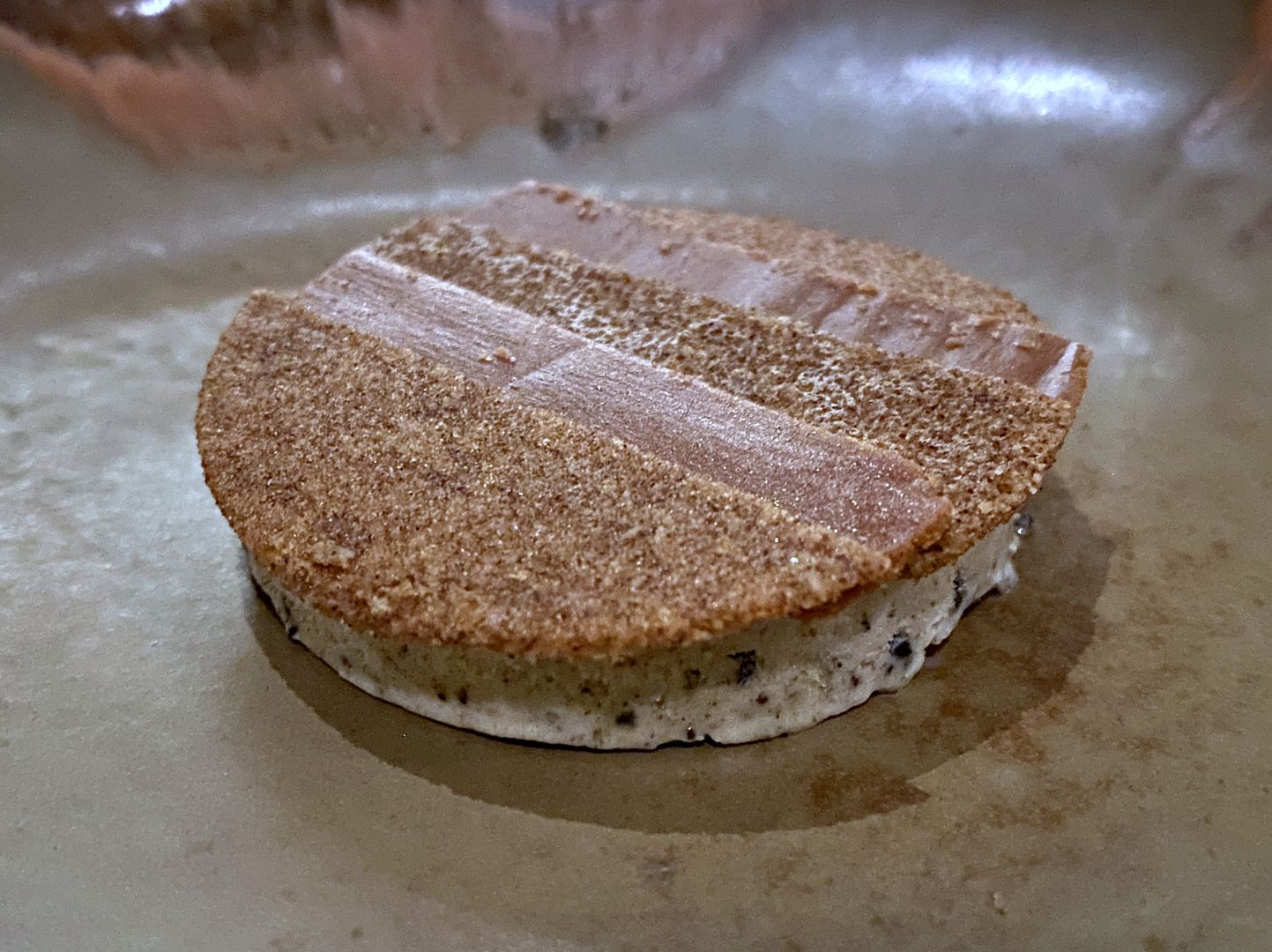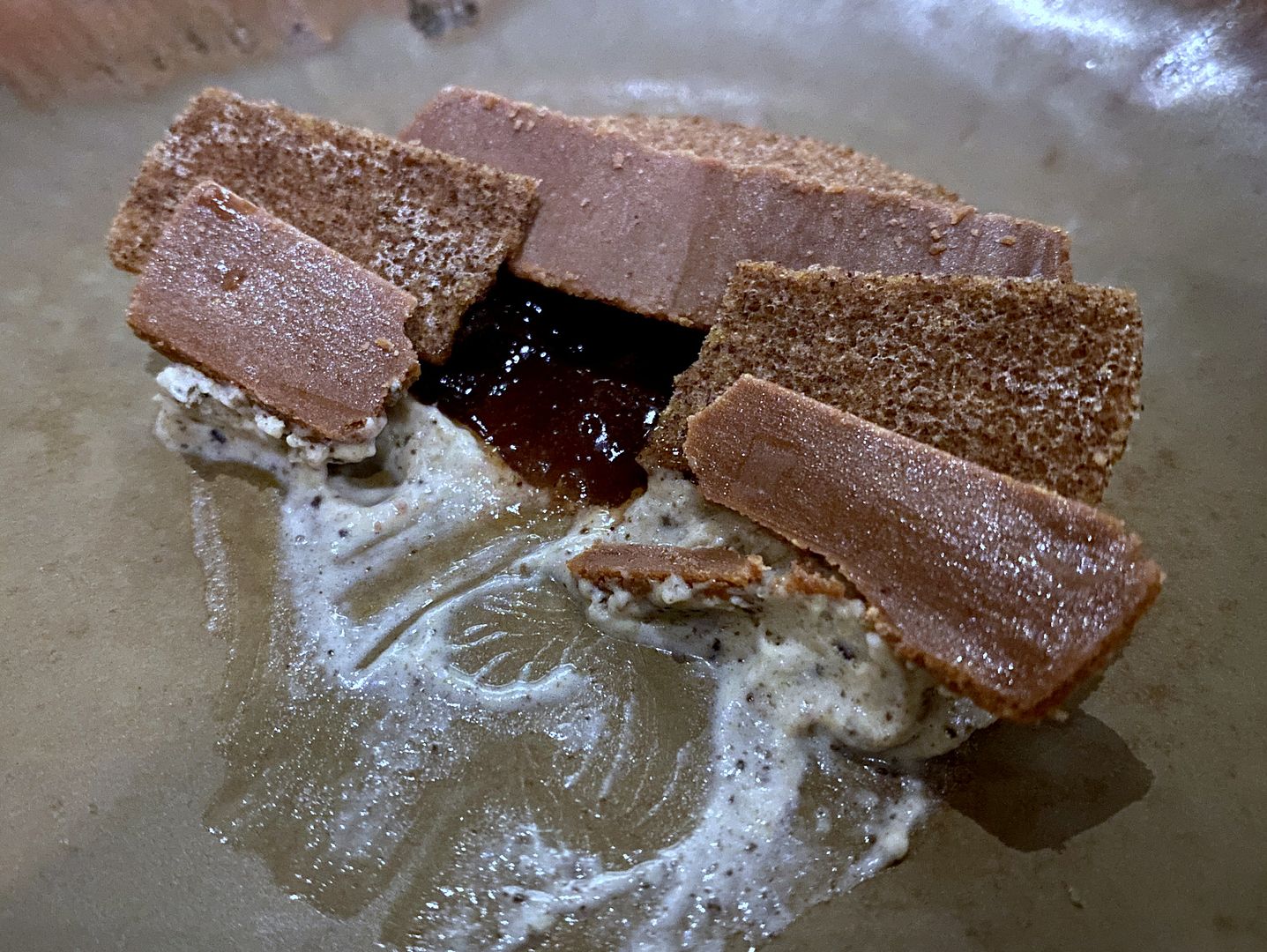 15) Dish #15 (above) – Fermented truffle, cascara, ragi and almond.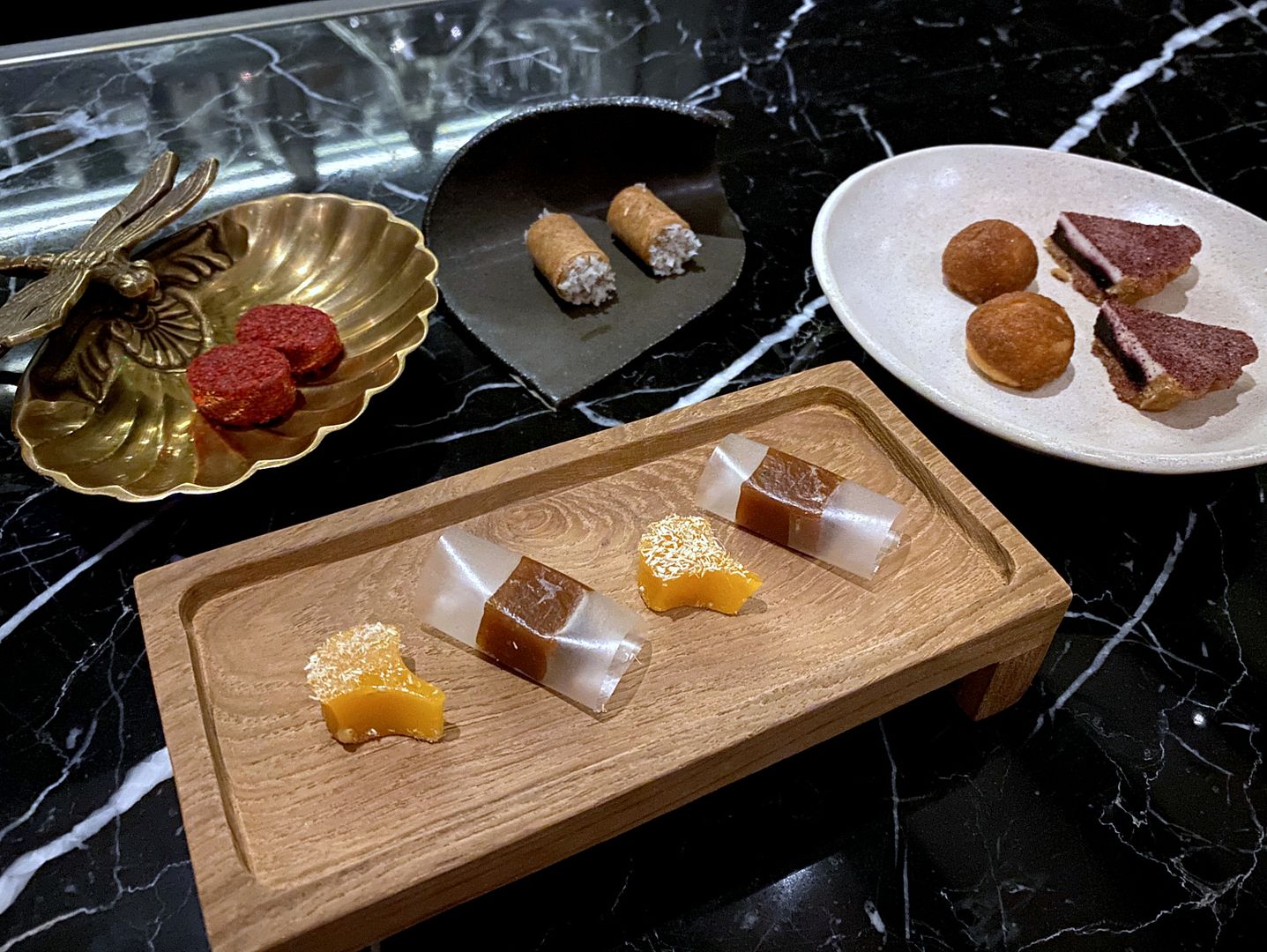 16) Dish #16 (above) – Petit fours. From top left in clockwise direction… Tamarind and pink peppercorn, vegemite on toast, koji and chestnut honey, blueberry and basil tart, coconut caramel, and palmyra and arrack pate de fruit.
17) Latte, $8 (above)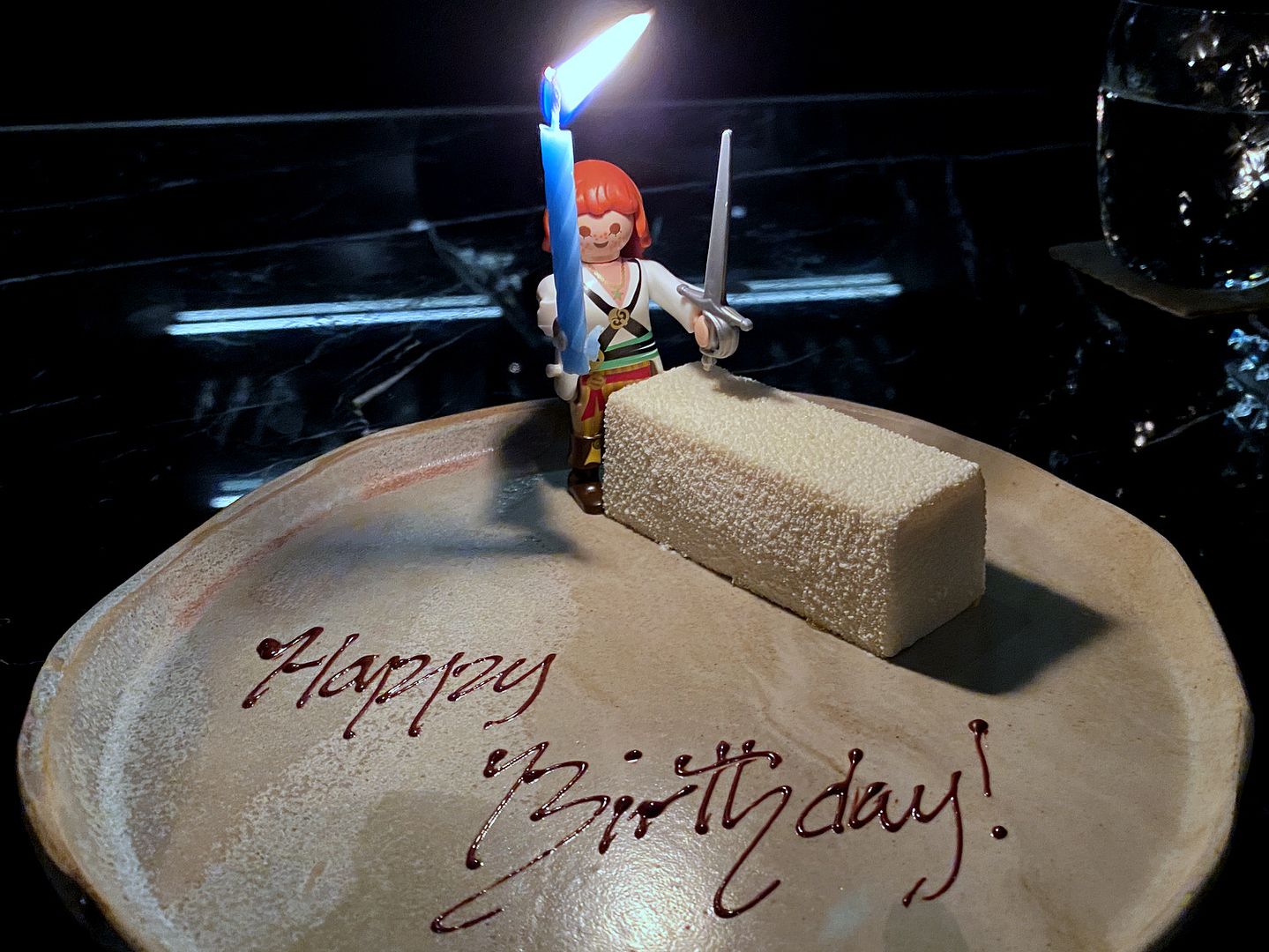 18) Birthday cake, Complimentary (above)
It was a very long meal. Arrived at 7.45pm, and only left Cloudstreet close to midnight. Intensively long! Haha. But my girlfriend and I had fun. Though I really should elaborate a little more on the 'fun' bit.
Food wise… Dishes which used familiar herbs and seasonings were good. While dishes prepared with less common and exotic seasonings were interesting. Not in a bad way. Just that it took us longer to (know how to) appreciate. But if this was a class for us to be exposed to and learn the less used (seasonings), it was a very expensive class. And the thing was… While food was good, it was not exceptional. The meal was missing that 'wow' factor. I was prepared to be swept off my feet especially given how highly raved Cloudstreet was, but I wasn't.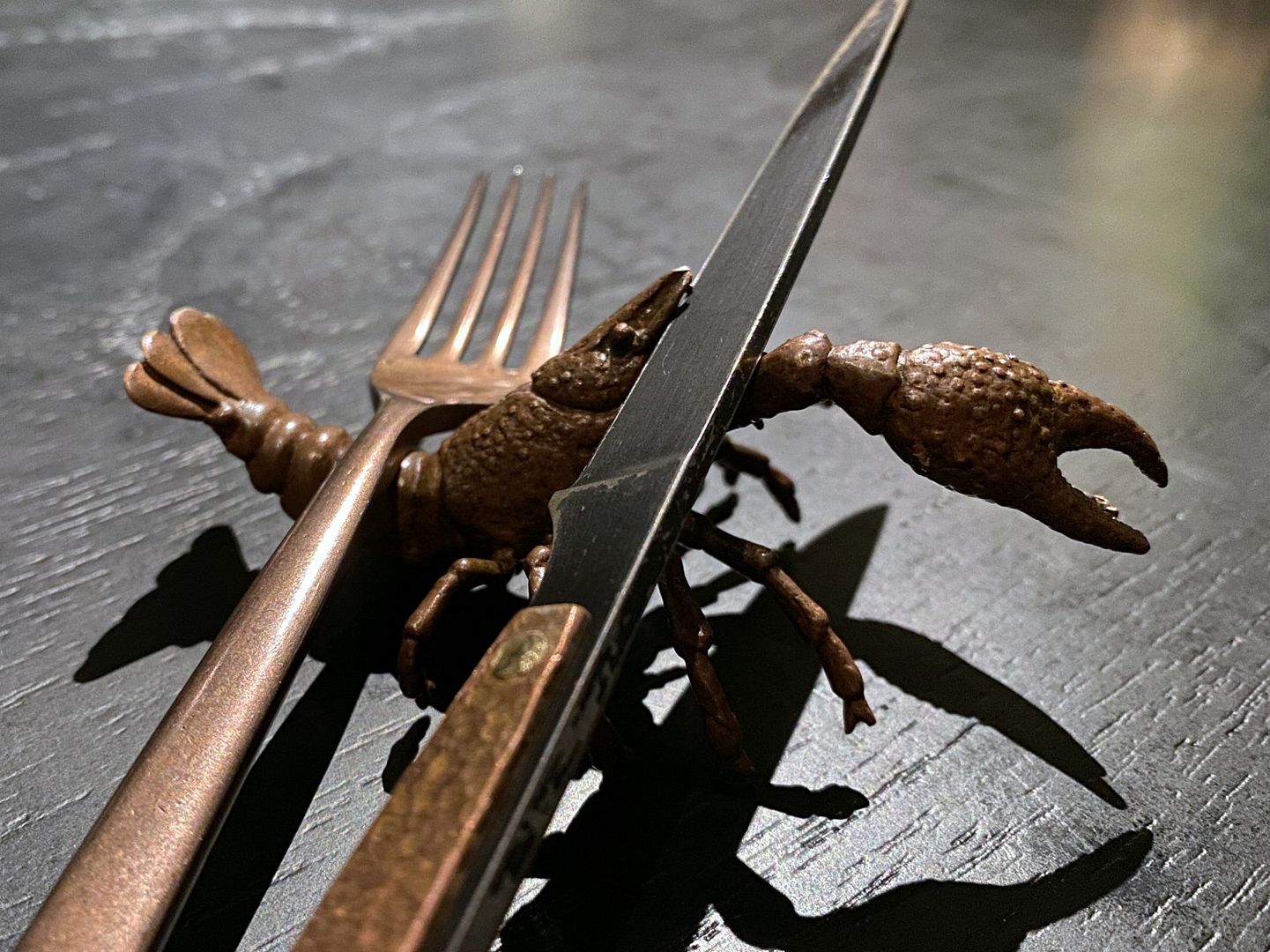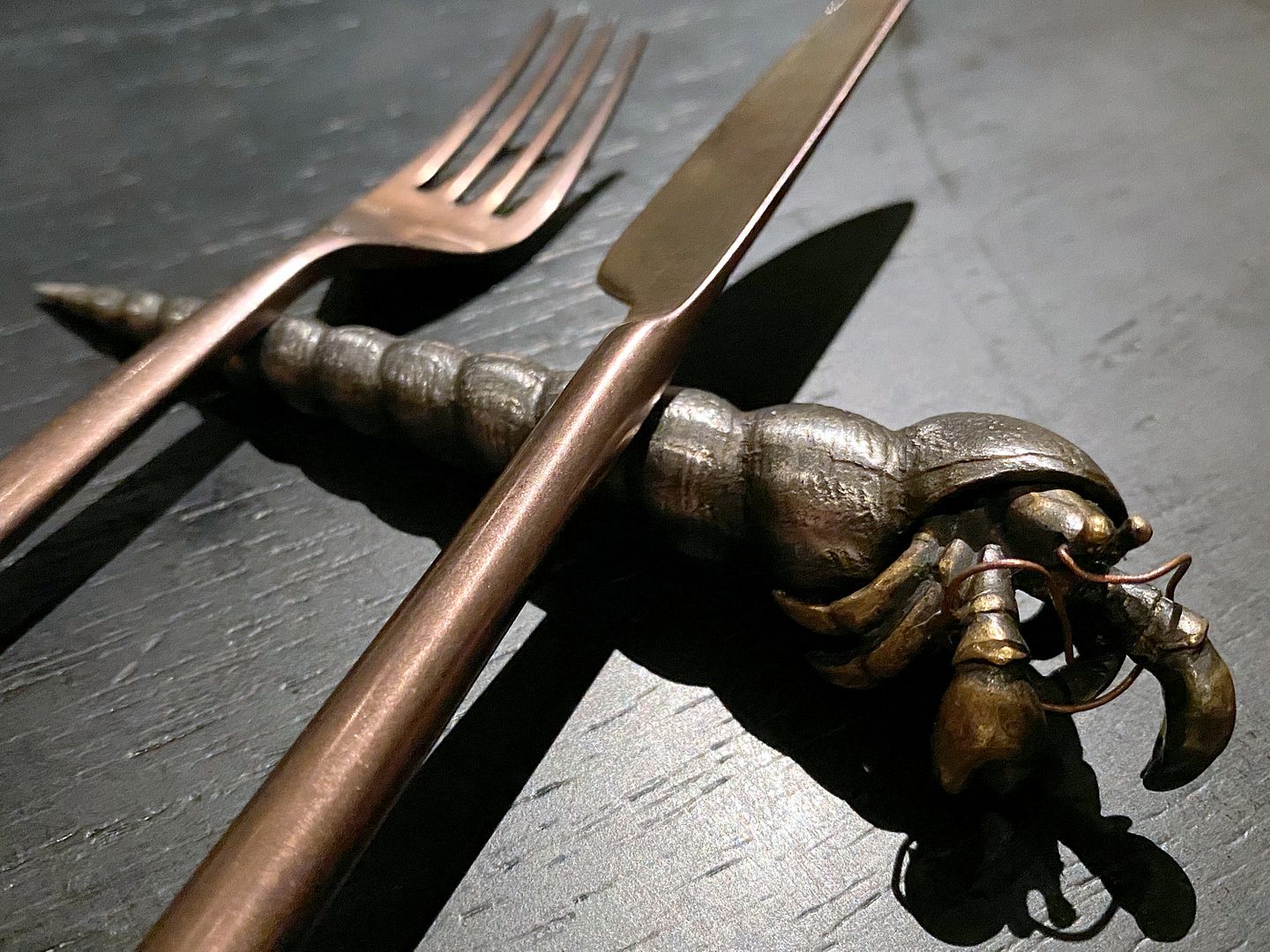 Rather than the food, my girlfriend and I made our meal into an absolute fun time with our banter with the sommelier in addition to our own catch up. It was a meal with lots of laughter.
Though what really irked me was that there's no information of their menu pricing. Not on their website, Instagram and reservation system. You know how some restaurants would mention the price when customers are making the reservation? My girlfriend and I literally jumped straight in(to the meal) since there was no physical menu too. Price was only known after the bill was presented. Ie, $318 per person (before GST and service charge).
Would I recommend Michelin-starred Cloudstreet? Well… Yes, but stick to lunch instead.
CLOUDSTREET

84 Amoy Street, Singapore

Overall: 7.5

Opening hours:-

Food/Beverage: 7

Fri – Sat : 12:00 – 13:30 (Lunch)

Ambience: 9

Tues – Sat : 18:00 – 21:00 (Dinner)

Value: 6

Service: 8

* Closed on Mon & Sun