July 26, 2022 in Japanese, Singapore, Singapore, Sushi by thywhaleliciousfay
I usually book myself in for a sushi meal only after my craving kicks in. But what I realised is that I typically miss one whole season by doing such. Not to say trying to make a booking with just 2-4 weeks advanced notice isn't quite possible now, post-COVID. So these days, I try to be more diligent by securing 1 to 2 sushi meals every month, with or without my craving.
In fact, I further divided my to-try list of of sushi restaurants into expensive and affordable. Coincidentally (or not), the expensive ones are helmed by Japanese chefs while the affordable ones are by non-Japanese chefs. So yes. To manage budget, 1 expensive sushi meal and 1 affordable sushi meal per month. =)
Opened recently in mid 2022, Sushi Yujo is new to Singapore sushi scene. But not Sushi Yujo's head chef Desmond Fong. He was previously at Sushi Jin. Though I didn't find him familiar, but that's because I dined at Sushi Jin back in 2014 when it was under the helm of Raymond Tan. But I digress…
Reservation was made via Chope for a weekday dinner. And in my reservation, I specifically requested for head chef. Glad I did cause it turned out there was more than 1 chef behind the sushi counter. And 2 days before dinner, the restaurant dropped me a WhatsApp text with their dinner menu. There were 4 options; Hogo Sushi set ($198), Chusei Omakase set ($198), Yujo Signature Omakase set ($288) and Premium Omakase ($348). After much contemplation, I texted back with the selection for Yujo Signature. Uh huh, I stopped going for the most expensive menu. Gasp.
I was unfortunately running late on the day of dinner and texted the restaurant at 6pm that I would only reach at 6.45pm. Thankfully it wasn't an issue because they don't start everyone at the same timing. Located at level 2 of Amara Singapore, the interior decor of Sushi Yujo certainly stood out with its kinetic flower sculpture which pulsated with blooming movements. I made eye contact with chefs far too many times because I kept staring at the sculpture (while trying to figure out the design). Ha. After taking my order for drinks, I started my Yujo Signature Omakase, $288 with:-
1) Appetiser (above) – Water shield, baby abalone, river crab, and baby white shrimp (shiro ebi), salmon roe (ikura) and caviar.
2) Carpaccio (above) – Sea bream with sliced truffle, caviar and drizzle of truffle oil.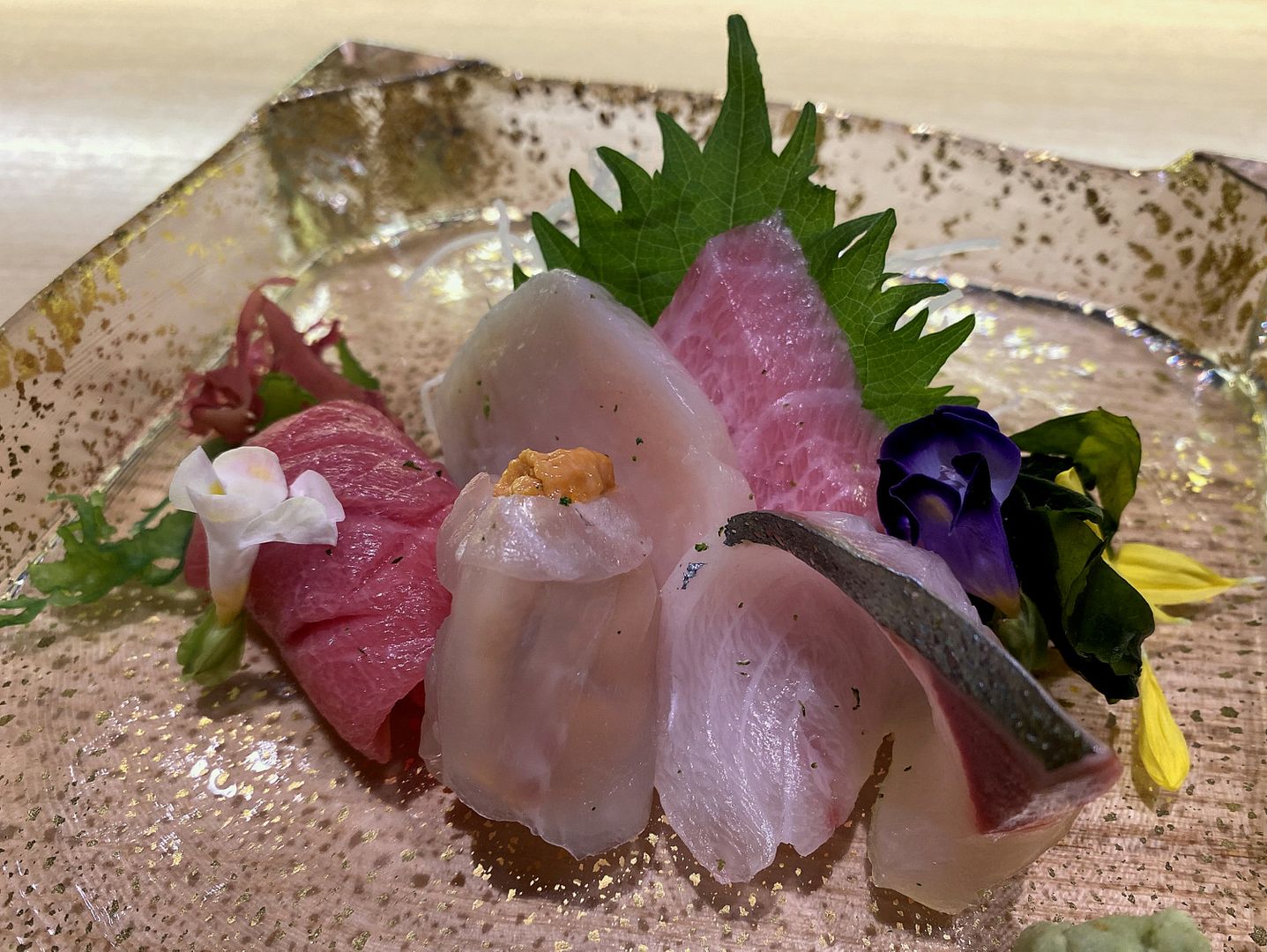 3) Sashimi (5 kinds) (above) – Premium fatty tuna (otoro), scallop, medium fatty tuna (chutoro), flounder and sea urchin, and amberjack.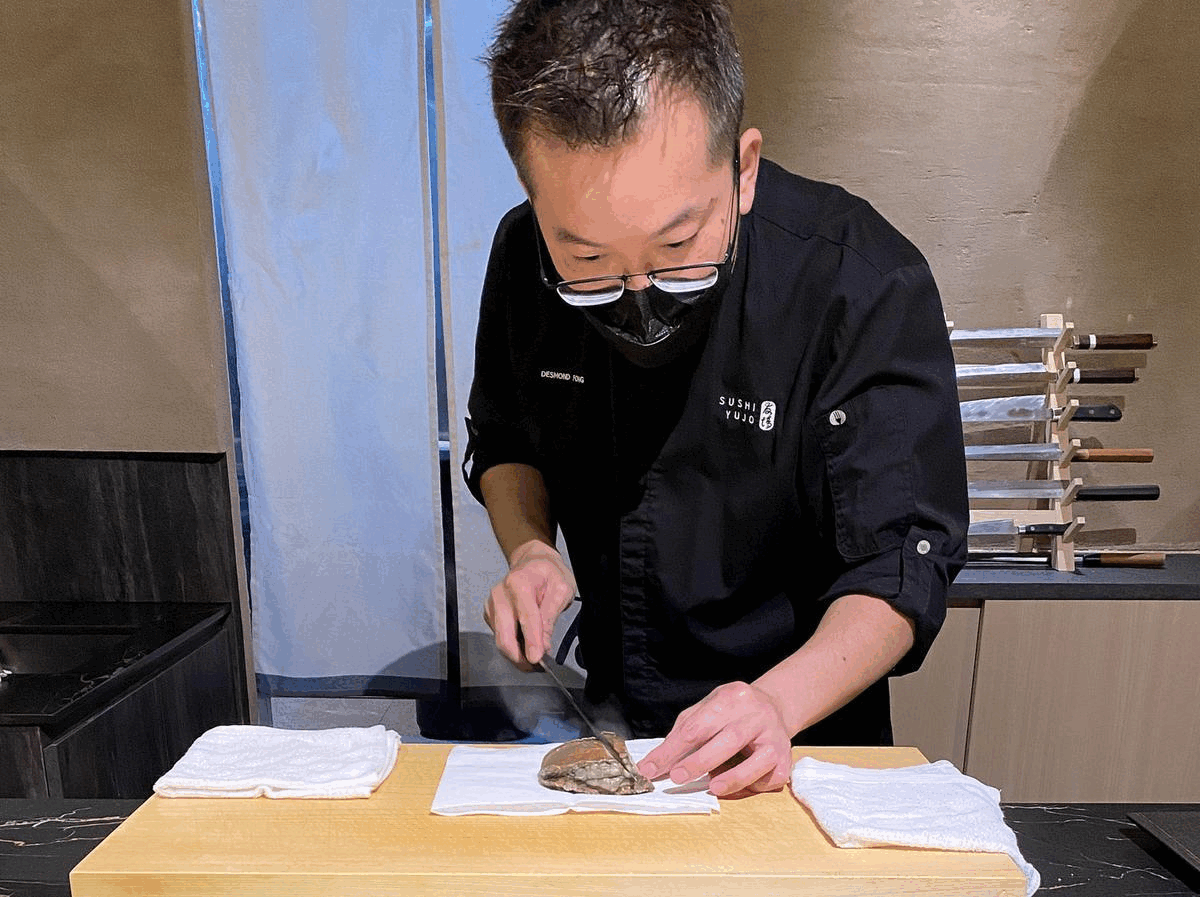 4) Chef's Signature (above) – Abalone served with its liver sauce. This was really good. I wasn't sure if I be served with any rice thereafter, so I tried to clean up the sauce as much as I could. So when the sous chef came round later with the rice ball, head chef Desmond must have noticed the (very) little sauce left and asked if I wanted more. "Yes. A little bit," I replied. Keke. And it was also from this that I noticed their sushi rice (shari) was on the stickier side.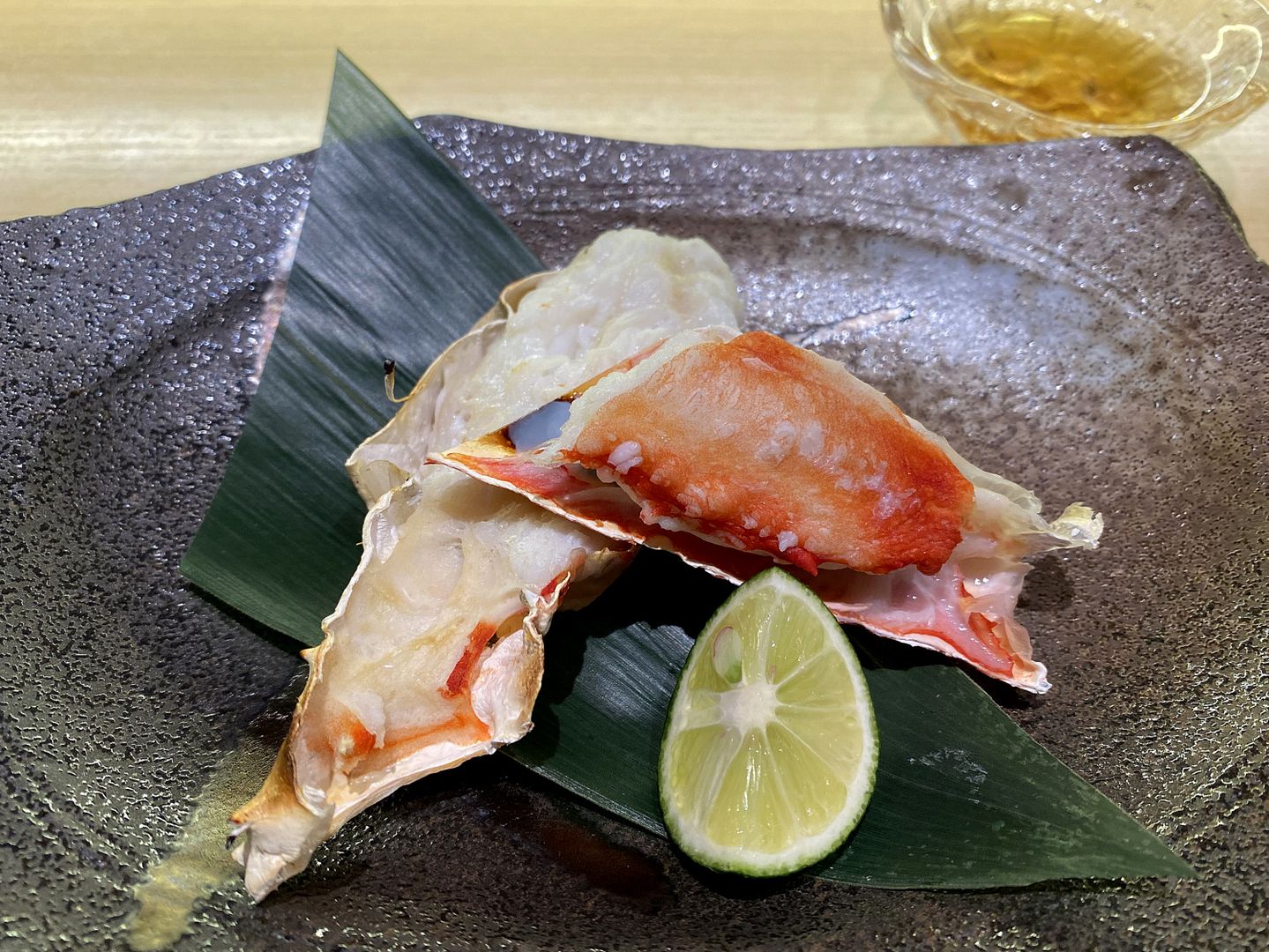 5) Cooked Dish (above) – King crab.
6) Sushi (5 pieces) (above) – Lightly torched (aburi) spotted prawn (botan ebi), short spine sea urchin (bafun uni), aburi tuna belly with chopped tuna, caviar and gold dust, aburi barracuda (kamasu) with yuzu pepper, and aburi scallop with foie gras, sea urchin, caviar and gold flakes.
7) Chef's Finale (above) – Sushi roll (temaki) of chopped tuna, crispy bits and salmon roe. This was really enjoyable.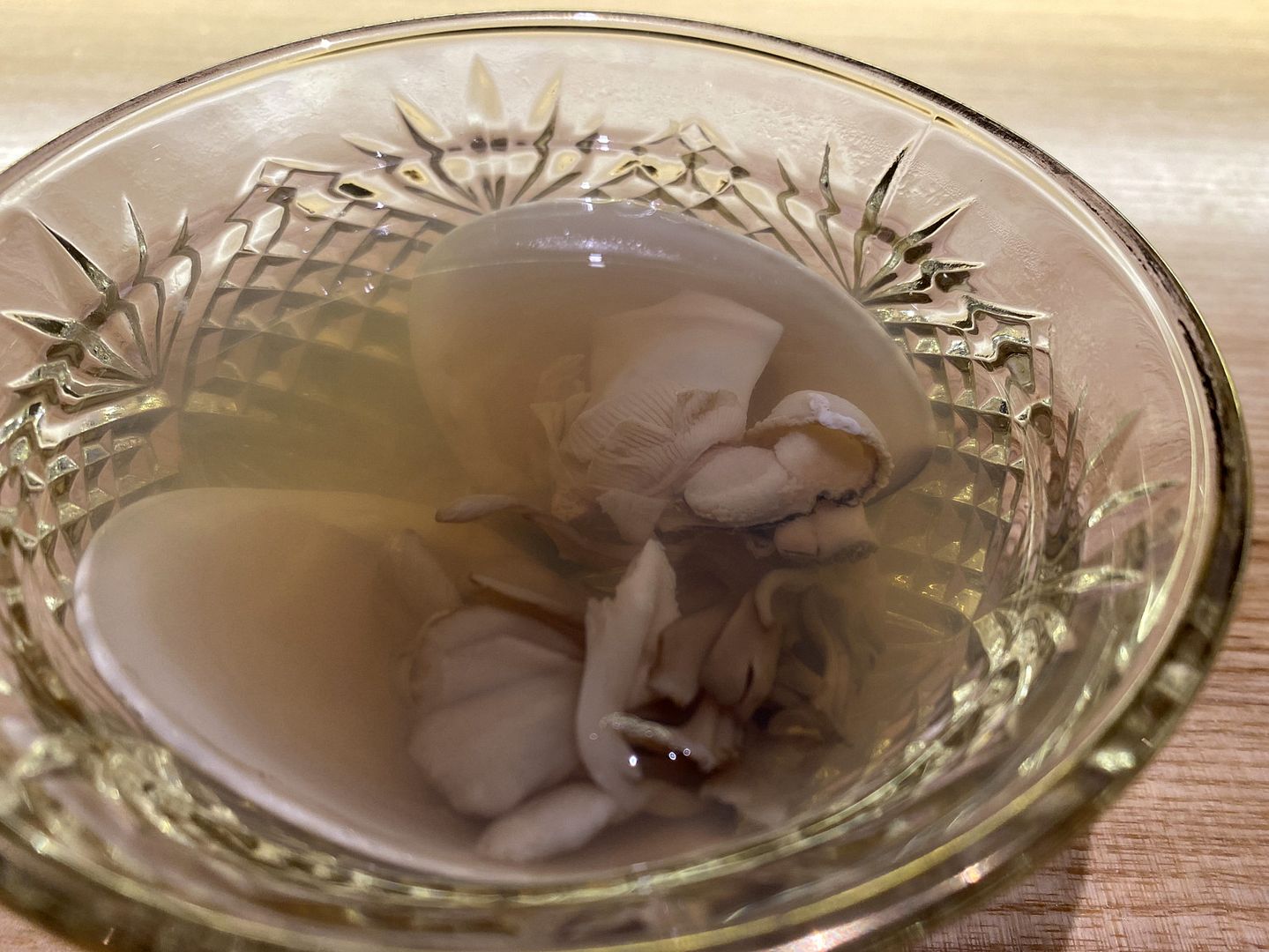 8) Soup (above) – Clam soup.
9) Dessert – Musk melon, mango and grape.
Head chef Desmond took charge of all the fish preparation. That meant he also sliced the fishes for his sous chefs to make their sushi. And it's probably because he was busy with the fish prepping that his sous chef would do the plating of the non-sushi dishes. Including for customers seated at head chef Desmond's end of the counter. But don't get me wrong. I enjoyed the food dished out at Sushi Yujo. Both non-sushi and sushi legs of the meal.
In fact, because I went with the $288 omakase course instead of the $348 premium omakase course, I was pretty surprised when my course included ingredients such as abalone, truffle, premium fatty tuna (otoro) and sea urchin. It made me wonder how more premium the ingredients could get in the $348 course. So knowing that I didn't go for the most expensive course yet was able to enjoy premium ingredients, it felt good. Keke.
However, I thought they could go on easier with their blow torch. 4 out of the 5 sushi were aburi. There's a sushi course for dinner (Hugo, $198) which serves 12 pieces of sushi. I hope the aburi pieces are kept to a maximum 4. But that said, I really enjoyed the 2 fusion sushi pieces. They were fun and tasty!
Will I recommend Sushi Yujo? Yes! But do manage expectation, and know that the food here are not 100% traditional.
SUSHI YUJO

165 Tanjong Pagar Road, Amara Hotel, #02-26, Singapore

Overall: 7.5

Opening hours:-

Food/Beverage: 7

Tues – Sun : 12:00 – 15:00 (Lunch)

Ambience: 8

Tues – Sun : 18:30 – 22:30 (Dinner)

Value: 8

Service: 7

* Closed on Mon