Lunch @ Sushi Ayumu by Masa Ishibashi | Sushi Restaurant in Orchard
February 21, 2022 in Japanese by thywhaleliciousfay
For my meal in October '21, reservation was made via Chope with a month's advanced notice. And prior to making the booking, I tried to find specific information about Sushi Ayumu. Ie, who's the head chef and if it's just one chef behind the sushi counter. No clear answer came up for the latter, but Google gave me a few names for their head chef (Ryoichi Nakatani and Taiga Kanekuni). But I was quite certain both weren't with Sushi Ayumu anymore based on recent photographs shared by others on Instagram. One can say it was a bit of 'walking into the unknown' when I made my booking, and with a generic request for head chef.
As to who's this mysterious person called Masa Ishibashi? Apparently Sushi Ayumu (in Singapore) is his second outpost outside of Japan. The other outpost being Sushi Nanami in Taipei (Taiwan).
A few days before my meal, the restaurant called to double confirm my reservation. Unfortunately I don't have the habit of answering unknown number. Oops. Sushi Ayumu followed up with a WhatsApp text instead, but it was odd because they were trying to confirm my appointment for a Saturday when I made booking for a Sunday. Though they did later correct themselves citing system issue. Hmm…
Upon arrival, the staff led me to my assigned seat. But I was disappointed. The sushi counter was L-shaped. A pretty loop-sided 'L' if I may add. The short end could sit 2, while the long end could sit 8 (with social distancing). And I was given the corner seat of the long end. It was really awkward for me because everyone except for a pair booked ourselves for 12pm. So I was sitting by myself as a pair of empty seats separated me from everyone for a good 1 hour. It didn't help that I was also very far from the action as chef stood at the other end.
There are 3 options on the lunch menu. I went with Omakase Shiwasu, $320 which comprised:-
1) Dish #1 (above) – What looked like sea urchin was actually monkfish liver with pickled watermelon leaves. Was surprised to hear the word 'leave'. But wafer biscuit (monaka) wasn't as crisp as it should be.
2) Dish #2 (above) – Adult yellowtail (buri) with its skin pan-seared, and marinated katsuo (bonito).
3) Dish #3 (above) – Scallop.
4) Dish #4 (above)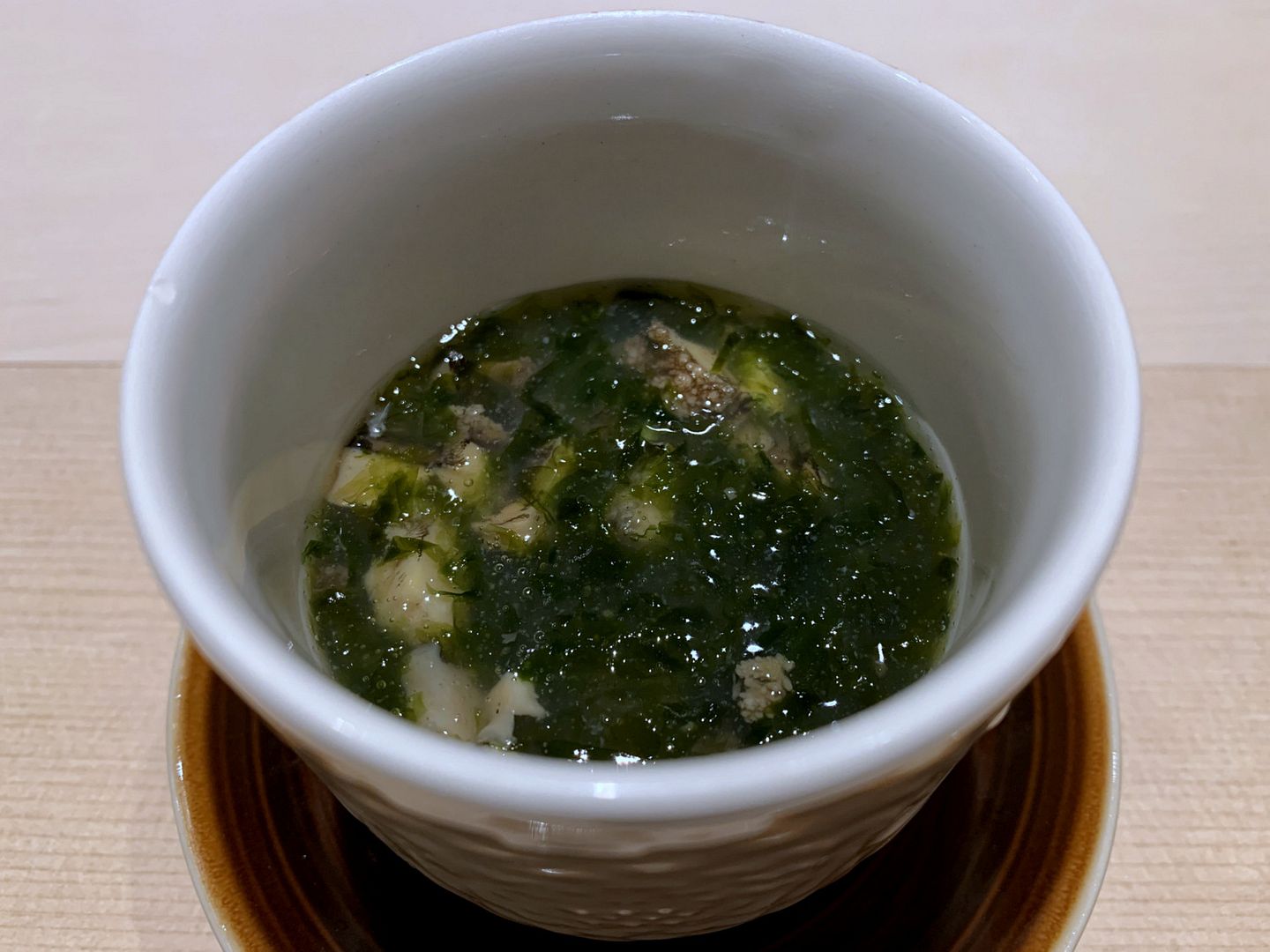 5) Dish #5 (above) – Steamed egg (chawanmushi) with abalone and seaweed sauce.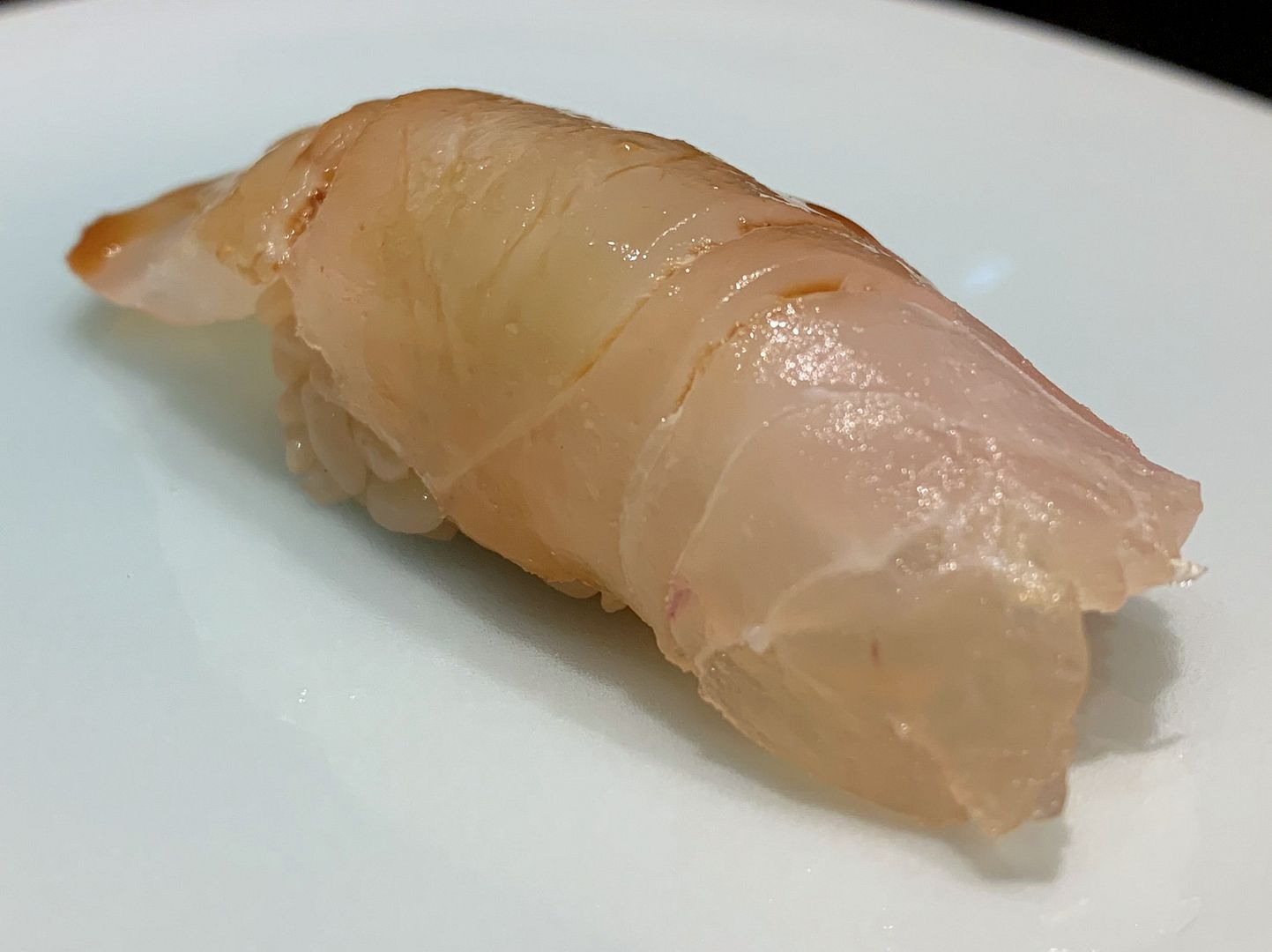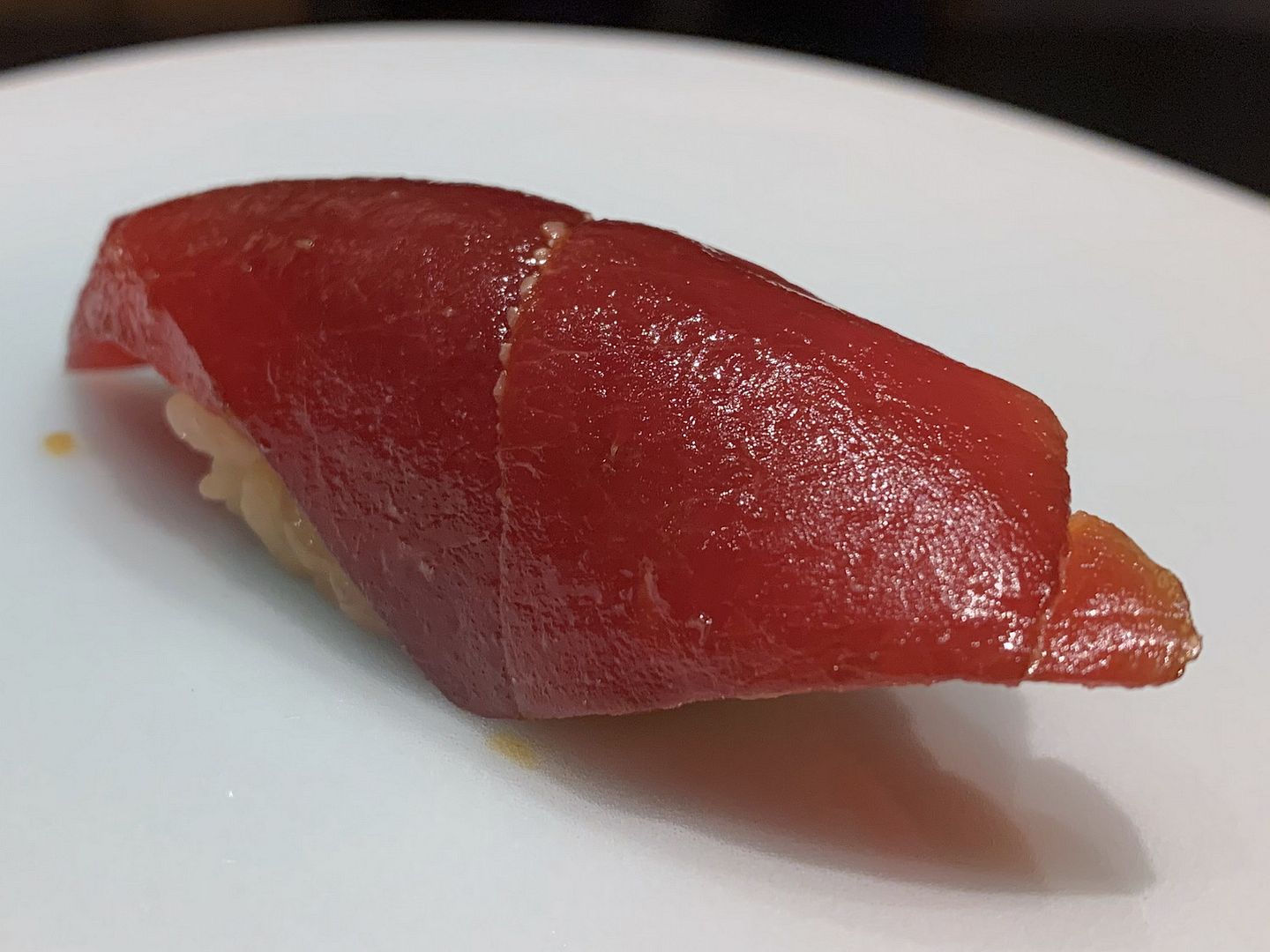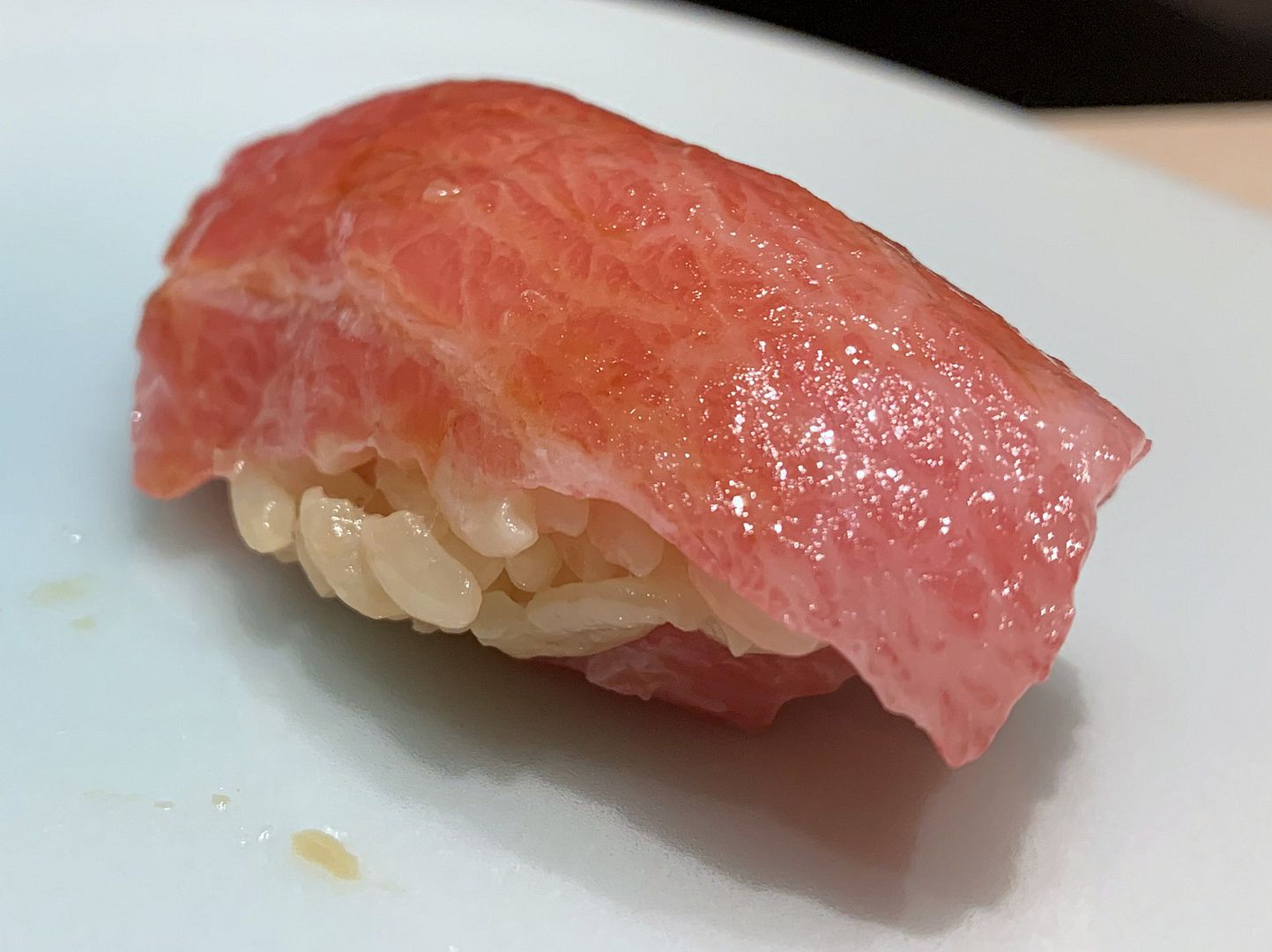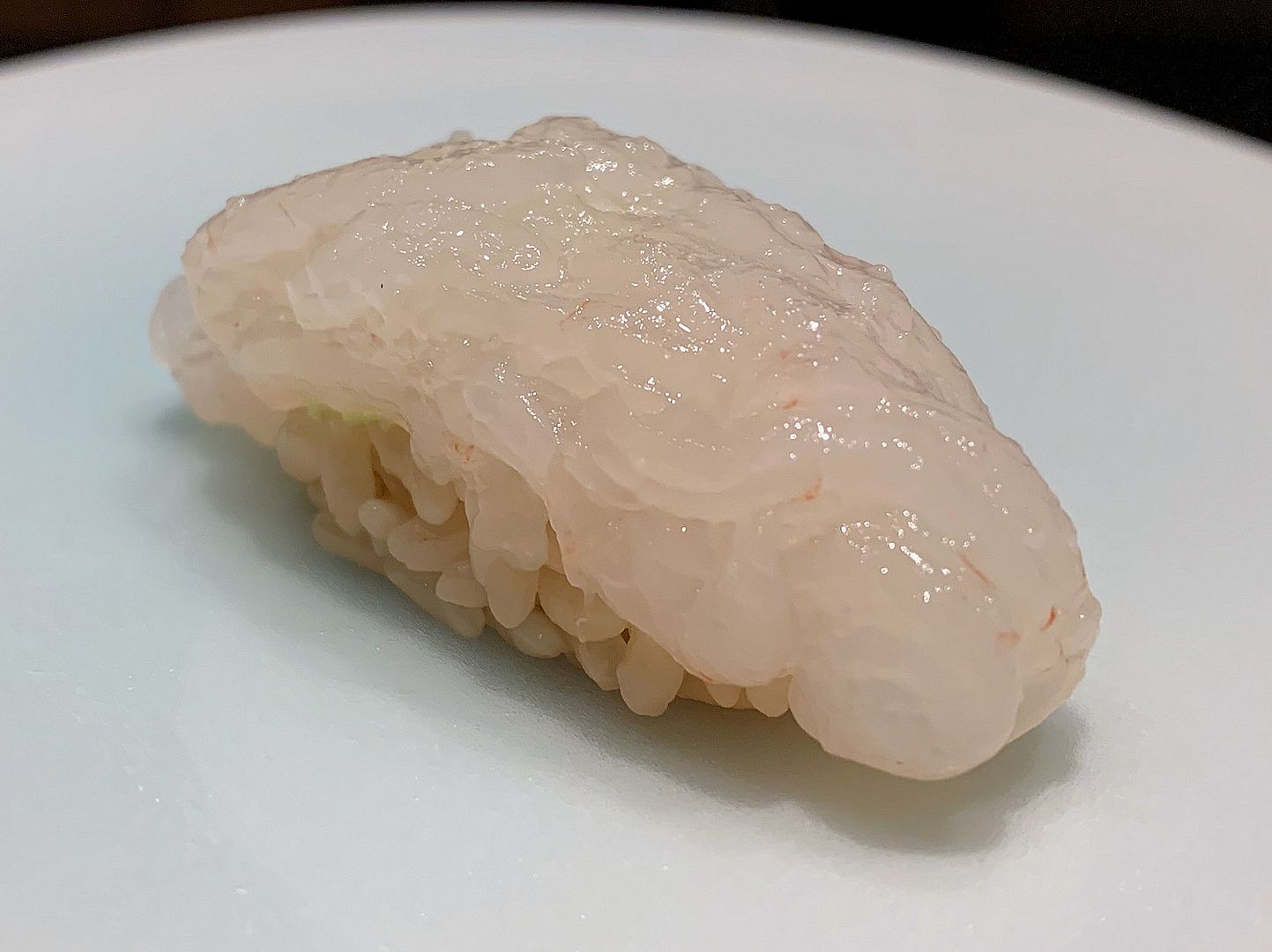 6) Dish #6 (above) – Sushi assortment of sea bream (madai), marinated lean tuna (akami zuke), premium fatty tuna (otoro), baby white shrimp (shiro-ebi) and spanish mackerel topped with mustard. I enjoyed the fish toppings (neta) but the sushi rice (shari) was un-proportionately small.
7) Dish #7 (above) – Rice bowl with short-spine sea urchin (bafun uni) and salmon roe (ikura).
8) Dish #8 (above) – Miso soup.
9) Dish #9 (above) – Sea eel (anago).
10) Dish #10 (above) – Black throat sea perch (nodoguro) handroll. And this was really good!
11) Dish #11 (above) – Musk melon.
Lunch at Sushi Ayumu turned out to be pretty mediocre. My experience was largely marred by my awkward seat which got me feeling very conscious throughout my meal. And seat aside, the sushi didn't leave me wanting more. The ratio of shari to neta was awkward. Like there was not enough shari, even if it was intentionally made smaller for females. The highlight of my lunch was the nodoguro handroll. But even that could have more shari.
Would I recommend Sushi Ayumu? Hmm… Not quite.
And did I get my answer to Sushi Ayumu's current head chef? I forgot to ask the staff during my meal. Dropped them a message on Instagram but have not heard back from them yet. I did more digging on Instagram and the (one) chef that was on shift during my weekend lunch should be executive chef Daisuke Suzuki. And Sushi Ayumu has 2 chefs. The other being sous chef Shintaro Nakajima.
SUSHI AYUMU BY MASA ISHIBASHI

333A Orchard Road, Mandarin Gallery, #04-16, Singapore

Overall: 6.5

Opening hours:-

Food/Beverage: 7

Tues – Sun : 12:00 – 15:00 (Lunch)

Ambience: 7

Tues – Sun : 18:30 – 22:30 (Dinner)

Value: 6

Service: 6

* Closed on Mon