March 7, 2022 in Japanese
My last visit to Ashino was in 2016. I was so scarred by my terrible dining experience then, that I knew a return visit will never happen. However my trusted foodie friend (anyone still remember InstaGram Bottomless Pit (IGBP)?) went in recent years and assured me that things have certainly picked up. It's only with his nudge push that I decided to take the leap of faith and revisit Ashino.
Reservation was made via Chope for a weekend lunch. I wasn't sure if chef-owner Taku Ashino san was still the sole chef behind the sushi counter, so I added my request for 'head chef only'.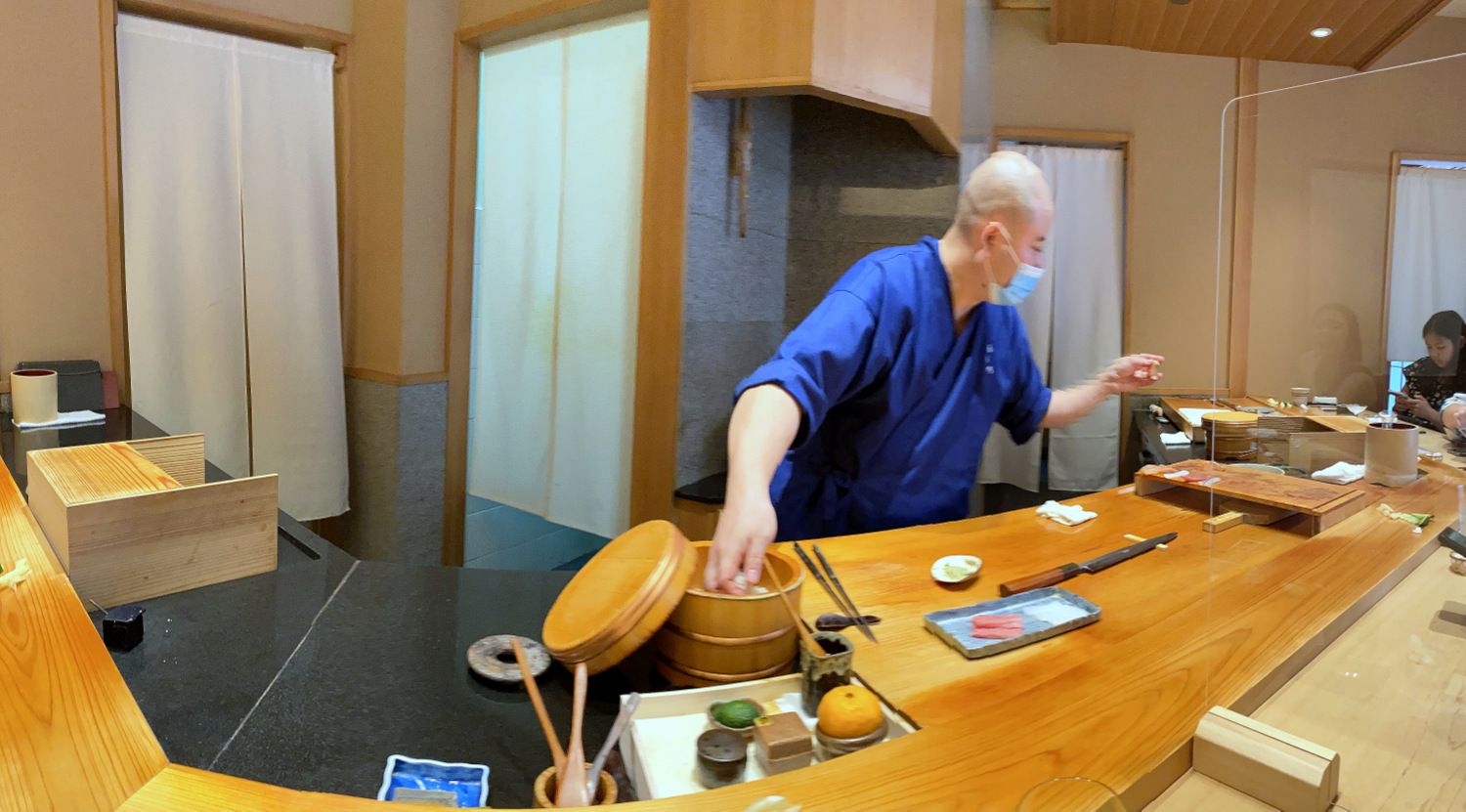 When I arrived at the restaurant at 12.30pm, 2 groups were already seated and had commenced their meals. The last group entered shortly after me at 12.35pm. Was glad I indicated my request for head chef in my reservation because there were 2 chefs behind the sushi counter.
Was presented with the lunch menu after I took my seat. I contemplated between the 'lunch omakase' menu ($275) and 'special omakase' menu ($400). I decided to go big and ordered the 'special omakase' menu comprising 7 appetisers, 13 pieces of sushi, miso soup and dessert. And with that, I started my Special omakase menu, $400 with:-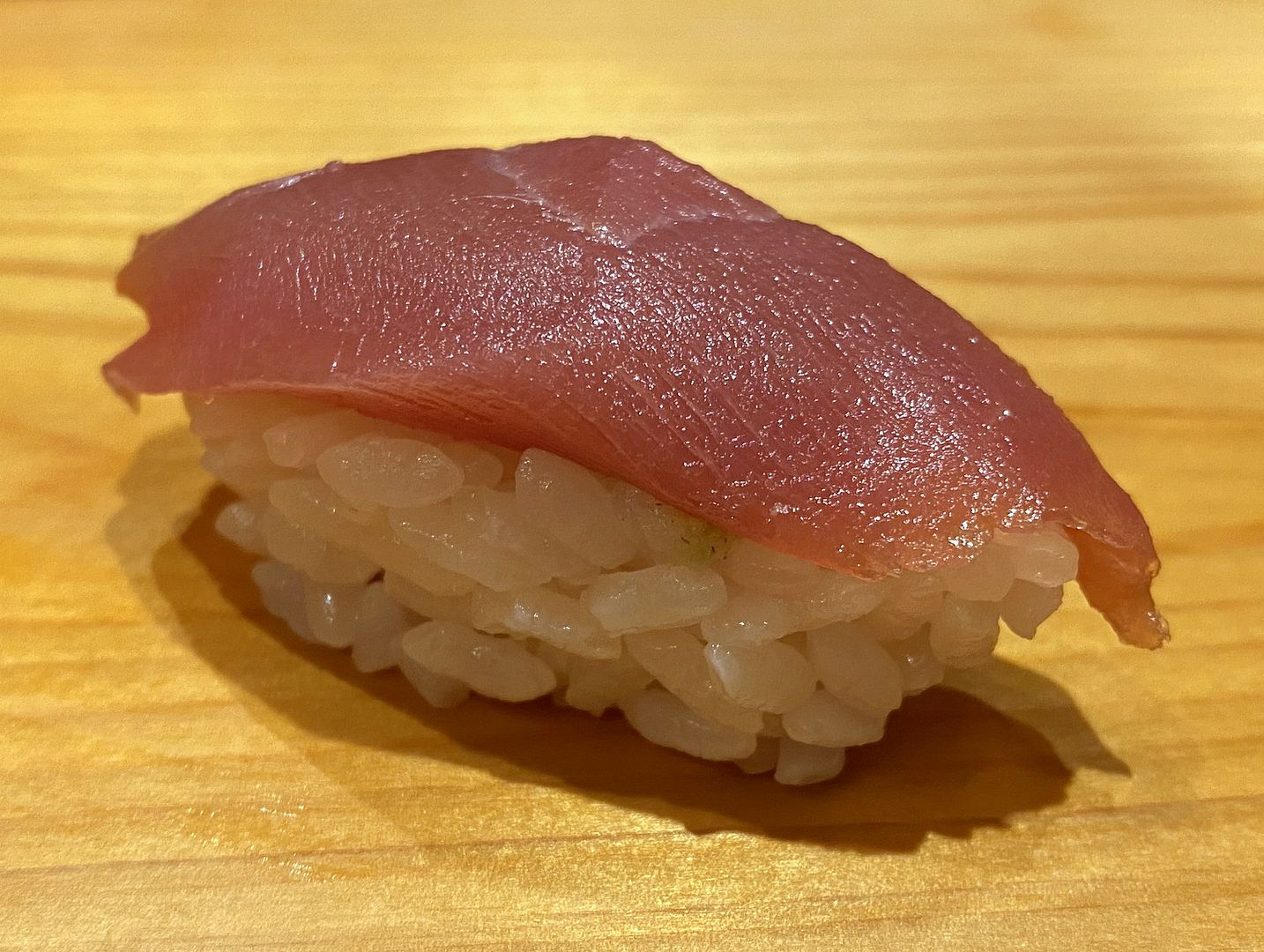 1) Sushi #1 (above) – 10-days aged blue fin tuna (250kg).
2) Sushi #2 (above) – 4-days aged striped prawn from Hokkaido, with its roe.
3) Appetiser #3 (above) – Steamed egg (chawanmushi) with flesh from a 5.5kg king crab.
4) Sushi #3 (above) – Razor clam and a strip of seaweed that's out of sight because it's sandwiched between the sushi rice and razor clam.
5) Appetiser #2 (above) – Grilled shinning eye fish (mehikari).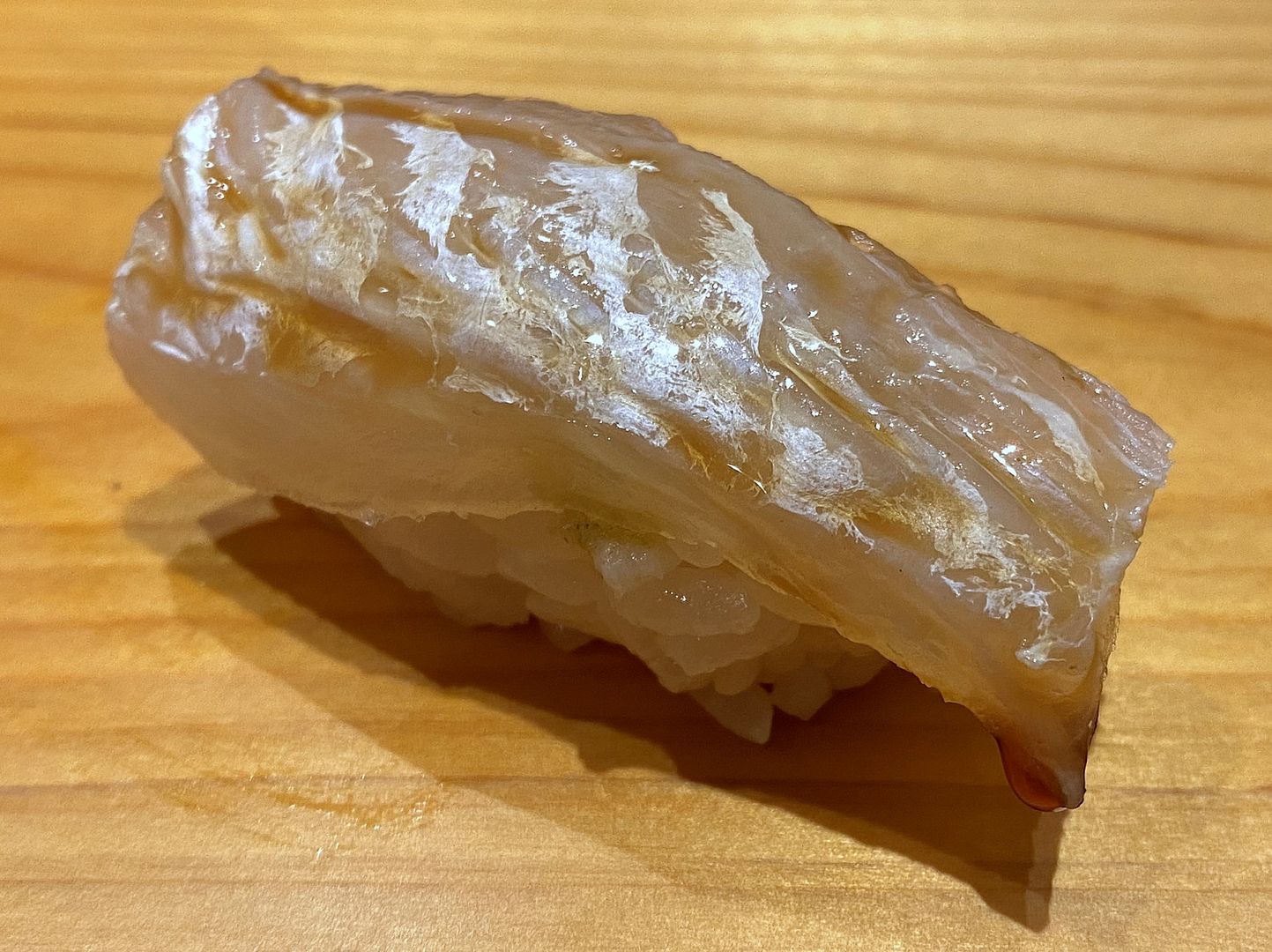 6) Sushi #4 (above) – 12-days aged flounder.
7) Appetiser #3 (above) – Wasn't sure if I heard it right, but was told the yellow tail (buri) was smoked for 9 days. And served with spicy horseradish, although it really wasn't spicy. But this was pretty good. Particularly enjoyed the contrast in temperatures; Cold horseradish against the warm yellow tail.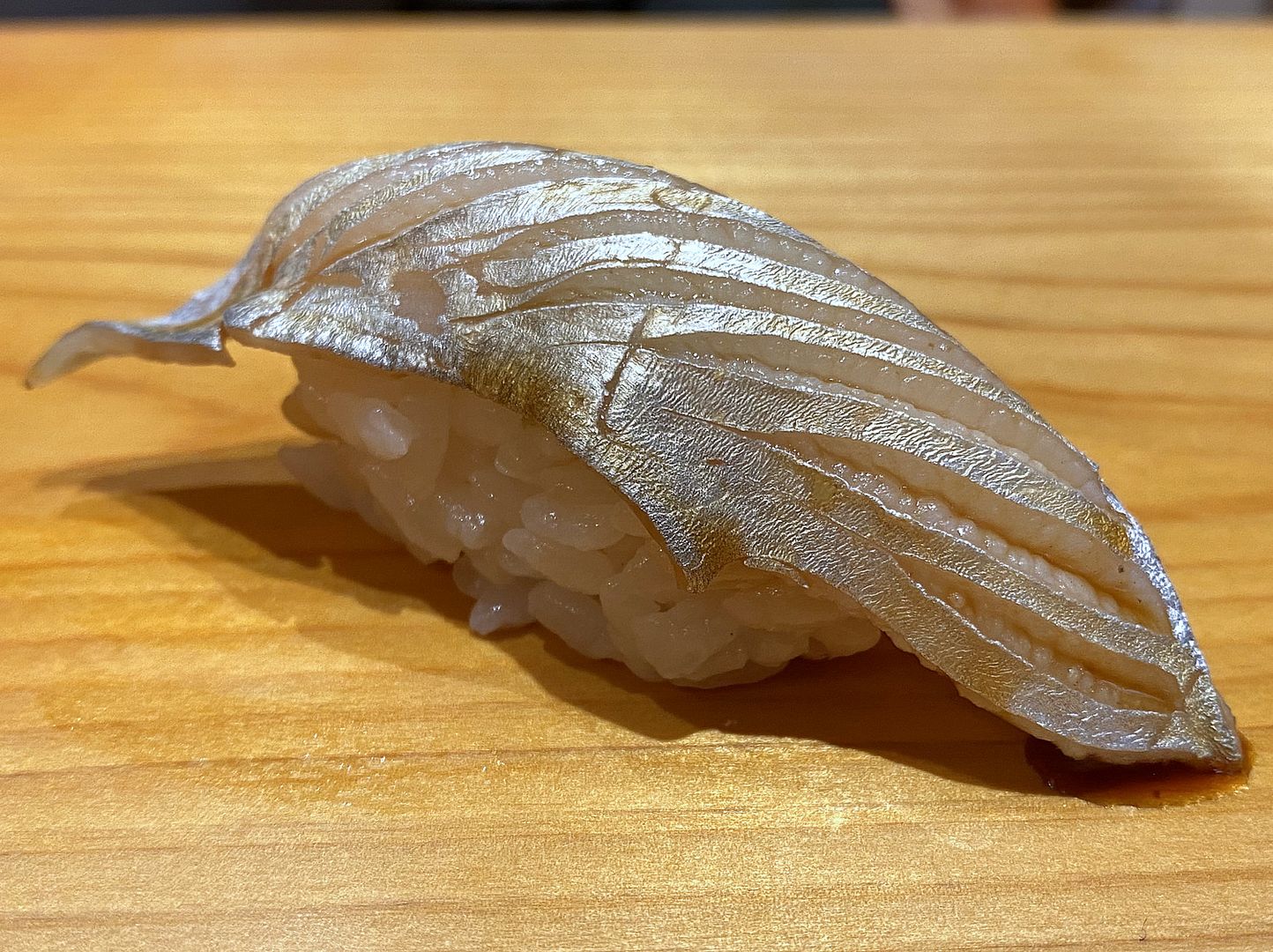 8) Sushi #5 (above) – Belt fish belly. Interestingly, the fish was served warm.
9) Appetiser #4 (above) – And was told to have these in the sequence of octopus, scallop and its liver, and codfish milt. The scallop seemed to be heavily marinated with sesame oil. Wasn't sure if I enjoyed it. But I certainly understood why the codfish milt had to be consumed last. The sauce was heavier and easily overwhelmed the sesame oil.
10) Sushi #6 (above) – Cherry blossom trout (sake masu) from Hokkaido.
11) Appetiser #5 (above) – Smelt (wakasagi) tempura from Hokkaido. I enjoyed this.
12) Sushi #7 (above) – Squid.
13) Sushi #8 (above) – Medium fatty tuna (chutoro). From 218kg blue fin tuna.
14) Sushi #9 (above) – Needlefish (sayori).
15) Appetiser #6 (above) – Sea eel (anago). Presented by sous chef, I was surprised when he mentioned "anago" because it was white. I am too used seeing my anago brown. Haha. And this was pretty good; Held its texture well. Firm yet juicy.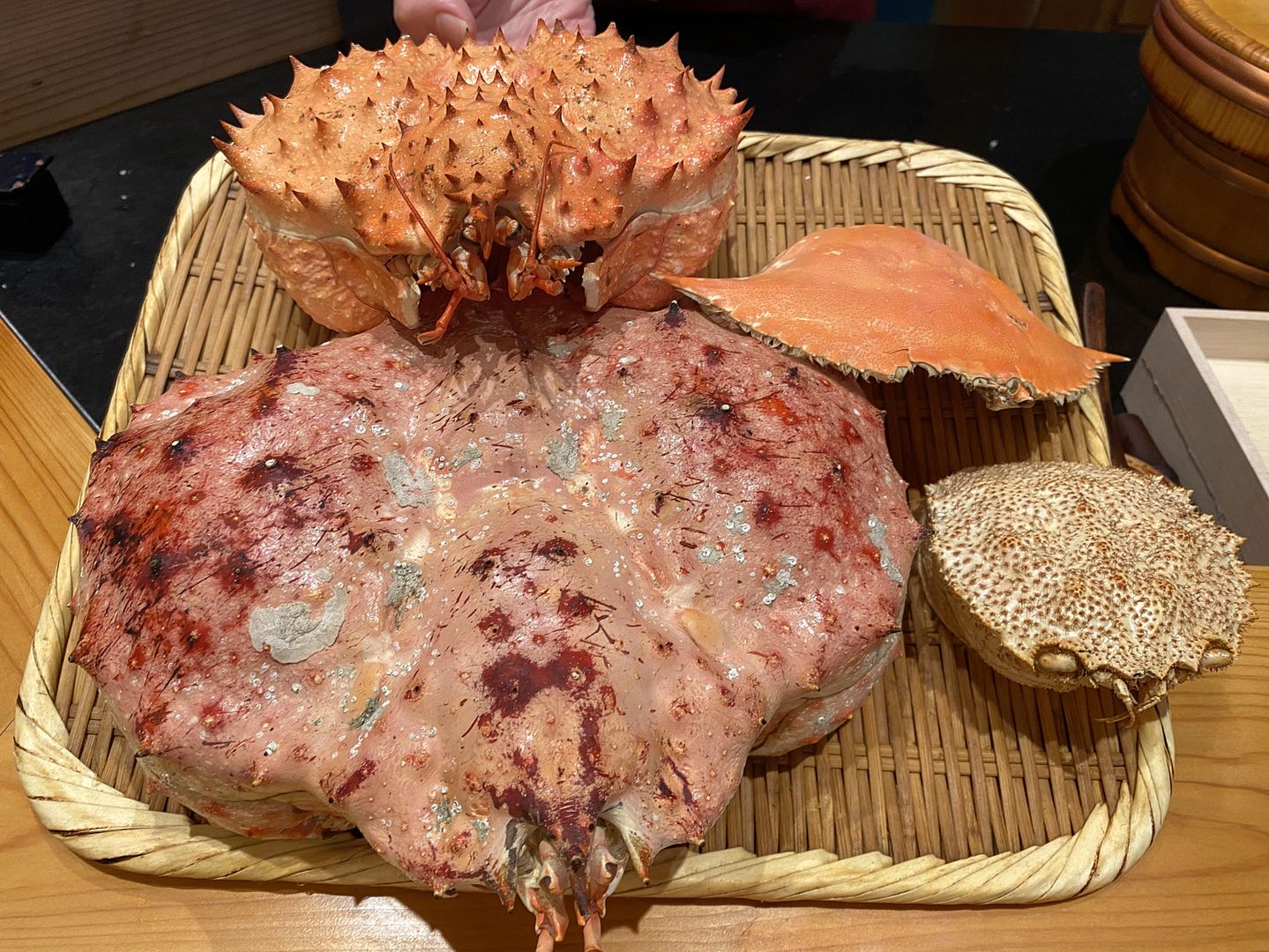 16) Appetiser #7 (above) – Assortment of 4 crabs. Starting from top left and in clockwise direction, I was given thorny crab, swimmer crab, hairy crab and king crab. And I enjoyed the swimmer crab the most. I guess there's a reason why it didn't have any accompanying sauce. Cause its meat is sweet on its own? Keke. Second favourite was king crab and its roe sauce (left saucer).
17) Sushi #10 (above) – Golden eye snapper. Was told instead of wasabi, this was served with citrus pepper.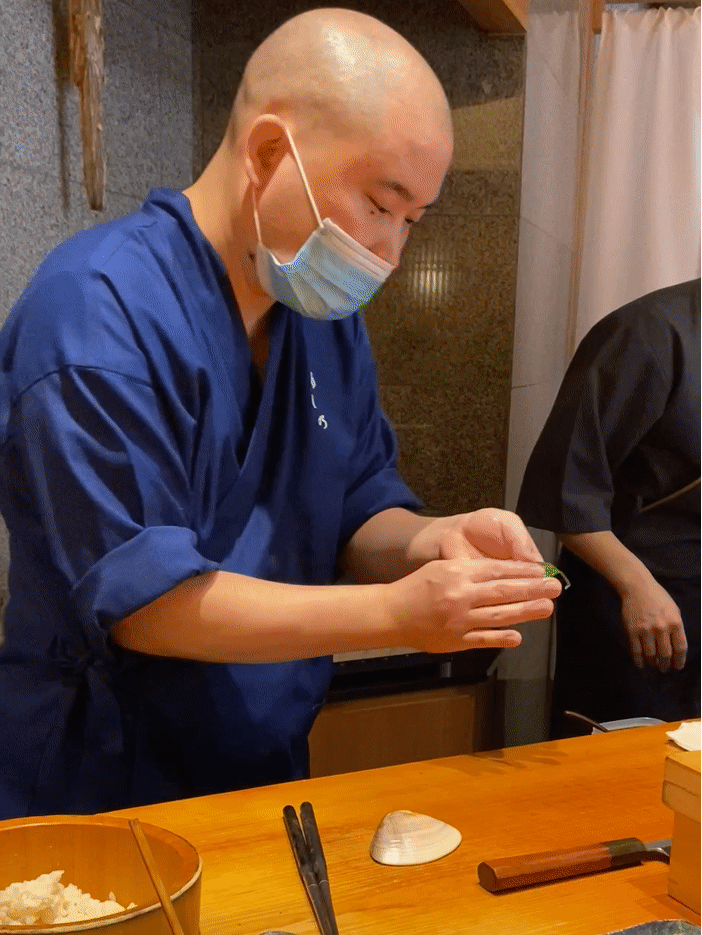 18) Sushi #11 (above) – Baby white anchovy (shirauo) steamed on cherry blossom (sakura) leaves. And my neighbours were right. It tasted a little like coconut.
19) Sushi #12 (above) – Violet sea urchin (murasaki uni).
20) Fish soup (above) – Soup made from leftover bones from the fishes used for lunch service. Bones were grilled before boiled. This was really good. Very light on the palette.
21) Sushi #13 (above) – Egg omelette (tamago).
The staff asked if I wanted to add more sushi before desserts was served. Tempting, but I decided not to. The staff went on to say I could choose between ice cream and fruits for my desserts. I asked if I could have both, which the staff responded with "Add on?" I nodded my head. And I know… Like why was I adding on desserts instead of adding on sushi.
22) Dessert (above) – Rock melon, apple, strawberry and orange.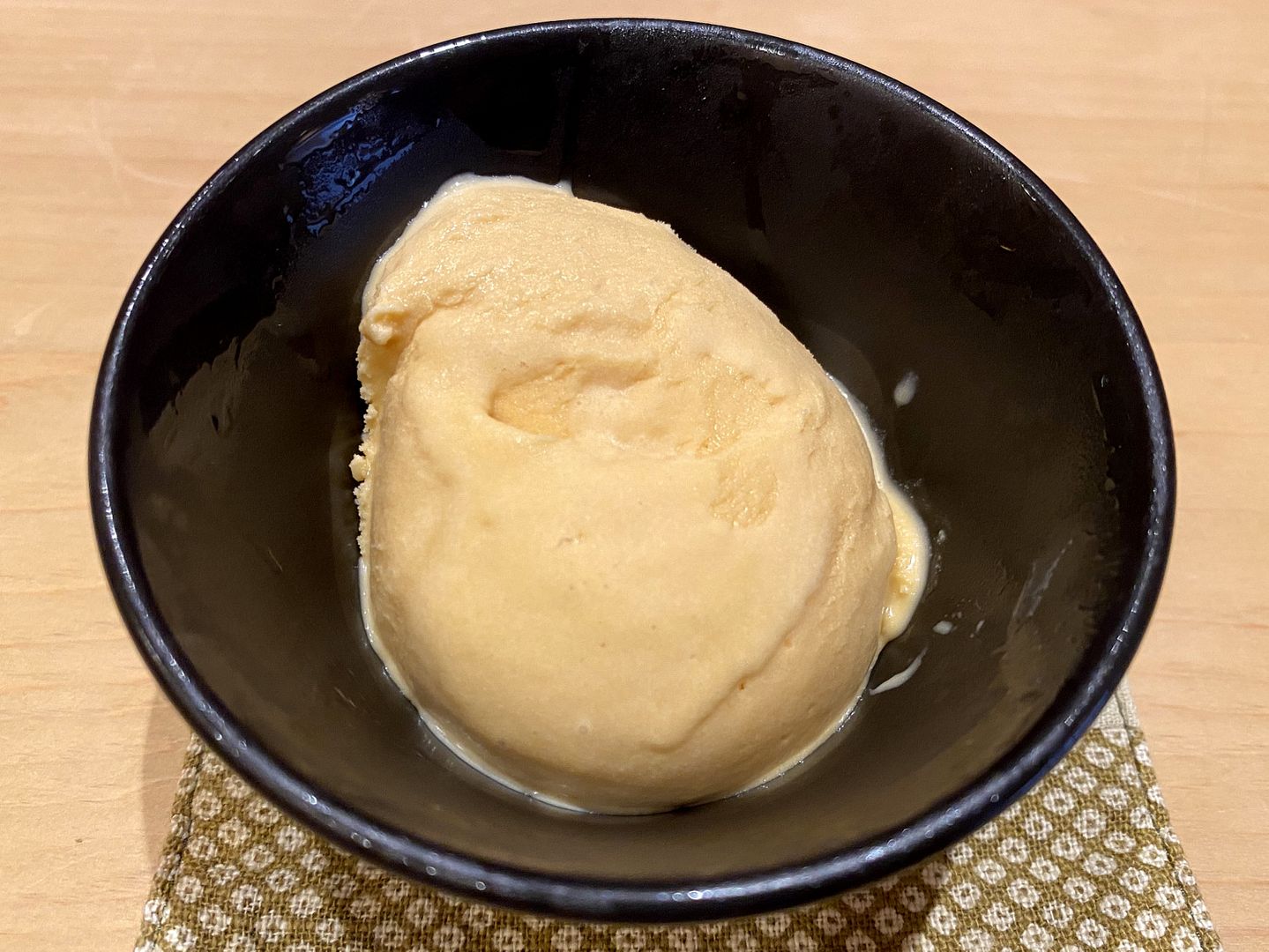 23) Ice cream, + $10 (above) – Fermented sake ice cream. I really liked the texture. It was similar to gooey gelato? There was a slight stretch to it. And I was told to enjoy its original flavour first. Which I did with 2 mouthfuls before the staff poured sake over my remaining ice cream.
My meal came up to $416 (before GST and service charge). $400 for the food, $10 for additional ice cream and $6 for my iced green tea.
Did head chef Ashino san manage to redeem himself with this meal? Yes. He has certainly improved over the past 5.5 years. His sushi was definitely better than what I last had; Sushi rice was sharp and sushi was kneaded firmly. If you read my previous review, his sushi used to be very loosely kneaded. To the extent that it was very hard to pick it up.
Though I am going to be very honest and real about the fishes which were aged. I didn't think the aging did much to bring out the flavour of the fishes.
There's also something else that's bothering me. The menu mentioned 13 pieces of sushi for my 'special omakase' menu. However, when I was sharing my lunch experience with IGBP, I realised I was only given 12 pieces. Asked IGBP if tamago is counted as a sushi piece, to which he said it shouldn't be. IGBP shared with me the pictures from his previous Ashino meal and it was clear that tamago wasn't in the (sushi) count. And let's just say… That made me slightly upset because that additional 1 sushi over the $270 'lunch omakase' menu was one of the reasons why I opted for the $400 'special omakase' menu. And since I was dining solo, I got to pay more attention to my surroundings. I remembered everyone had a '46-days aged marli (makajiki)'. Remembered that distinctly because I was impressed by the mere mention of '46-days aged'. But to be fair, I wasn't sure if that's supposed to be in my menu since I was the only one having the 'special omakase' menu.
Coincidentally, I happened to have an ongoing Whatsapp conversation with Ashino staff and curiosity got the better of me. I asked if the tamago was meant to be the last sushi, and was told it should either be hand roll or anago (depending on the course). Errr… Okie. So I guess head chef Ashino san really missed out my last sushi.
Which of course got me wondering… Will you check with chef if you realised you were given 1 less sushi during the meal? Unfortunately for me, I probably wouldn't. Too timid lah. *Shrug*
So to the most important question… Will I recommend Ashino? Well, let's say it's "yes" and "no". Yes because I enjoyed his strongly-vinegared sushi rice. No because the sushi-s failed to wow. But that's also because my expectation of the food was higher since I went with the $400 'special omakase' menu. Had I went with the mid-range menu (say the $275 'lunch omakase' menu or even the $220 'sushi omakase' menu), I would say it's a good deal. My dishes weren't that different from the other groups who didn't opt for the $400 menu.
So to conclude clearly (ha)… Ashino is worth a visit. But stick to the $220 'sushi omakase' menu. Or the '$275 'lunch omakase' menu if you like some side dishes alongside your sushi. And don't feel shy adding on more sushi. My neighbours requested for 2 more sushi, and they were given seared premium fatty tuna (aburi otoro) sushi and snow crab leg sushi. Ain't sure how much that would cost, but the add-on sushi certainly looked good.
ASHINO

30 Victoria Street, CHIJMES, #01-23, Singapore

Overall: 7

Opening hours:-

Food/Beverage: 7

Tues – Sat : 12:00 – 14:00 (Lunch)

Ambience: 7

Tues – Sun : 18:00 – 21:30 (Dinner)

Value: 6

Service: 7

* Closed on Mon