March 13, 2022 in Korean by thywhaleliciousfay
I've been meaning to check out Meta since they opened in 2016. However whenever I updated my list with newer opened restaurants, Meta got pushed further down my to-try list. So yes, Meta unfortunately didn't become a priority for me until a foodie friend recently nudged me. He shared that none of his friends were disappointed by his recommendation to visit Meta. So when I found another foodie friend who was keen (and it will be his second visit by going with me), my trip to Meta was finally happening! =)
Reservation was made for a weekday dinner via their website with 1 month's advanced notice. But if one prefers weekend slots, book at least 2 months ahead. And there's only 1 dinner menu at Michelin-starred Meta. Shortly after my friend and I were seated, we commenced our dinner menu, $288 with:-
1) Foie gras (above) – With Korean strawberry, verjus. To address my friend's dietary requirement, his foie gras was replaced with monkfish liver (ankimo). And we thought that (replacement) was a bold move. Some may not take foie gras because of how it's being made, while some don't because of its texture. But thankfully it was not for the latter reason that my friend don't consume foie gras. So yes, it was a bold yet smart move since monkfish liver texture is pretty close to foie gras's. In fact, monkfish liver is also known as 'foie gras of the sea'. And we enjoyed this. We were off to a good start!
2) Tuna sandwich (above) – With premium fatty tuna (otoro), egg yolk and salmon roe (ikura). This was so good! It was no bigger than my thumb, and I easily had it in one bite. But nothing prepared me for how flavoursome it was. The fragrance of the perilla continued to linger in my mouth. So good! Wished I could have seconds.
3) Gimbap (above) – With venison, comte cheese.
4) Taco (above) – With bossam, pork.
5) Gyeran jjim (above) – Ika, haemultang. Gyeran jjim refers to Korean steamed egg while haemultang means spicy seafood stew. Ask me about Korean steamed egg and I would say it's fluffy but rough. So it's interesting how a refined rendition of this dish meant it tasted more like Japanese steamed egg (chawanmushi) instead. But I really enjoyed this. Especially the sauce which had depth in it.
6) Oyster, + $10 (above) – With gochujang, lemon, ginger.
7) Doldom (striped beakfish) (above) – With capsicum, mustard, coriander. Another favourite!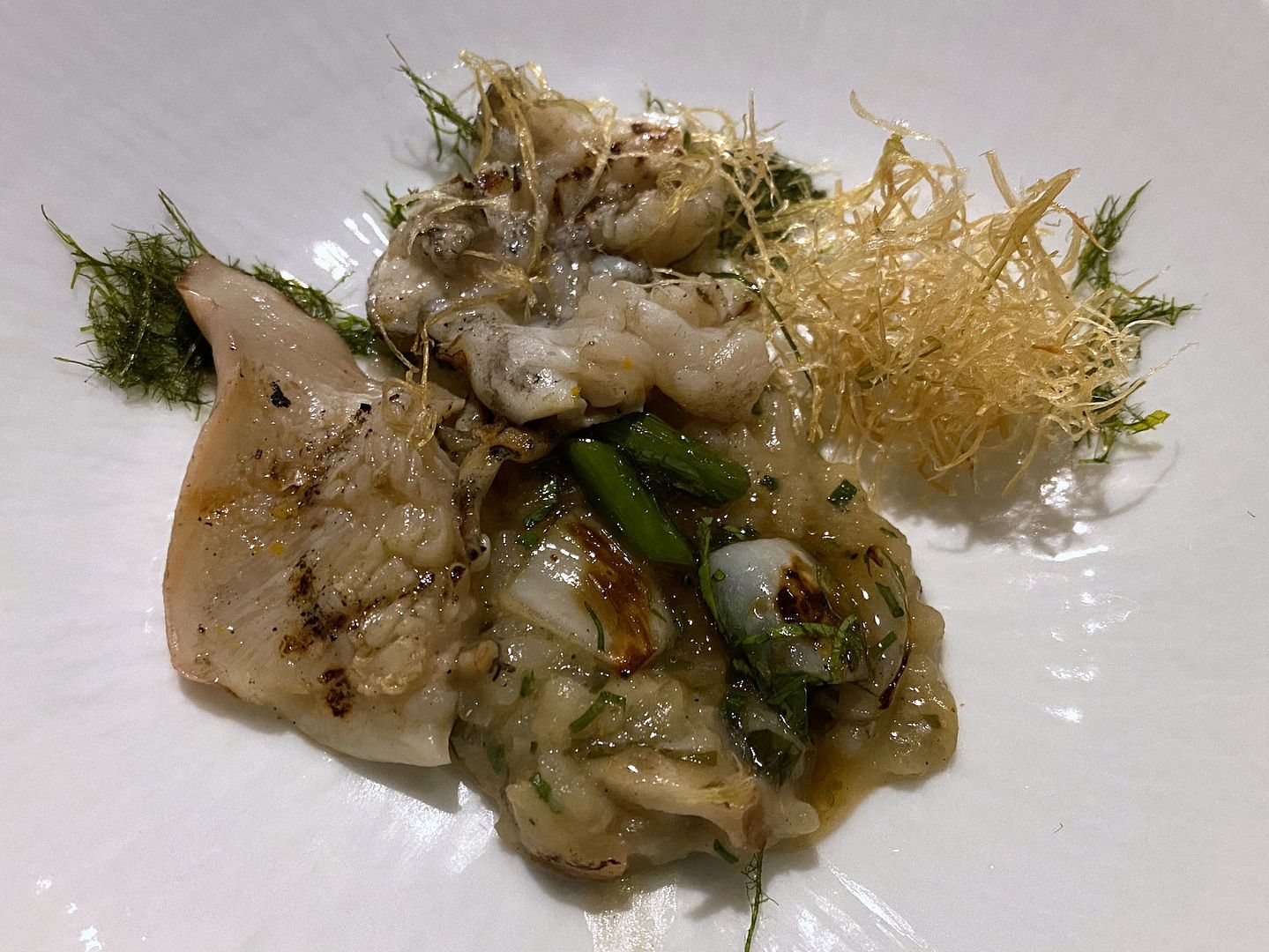 8) Hokkigai (arctic surf clams) (above) – Porridge, lilybulb, kamtae.
9) Kinmedai (golden eye snapper) (above) – Daikon, doenjang. I didn't like the doenjang (fermented soybean paste) sauce used on the daikon. It was way too heavy, and even salty. But the fish was so good. I am not really a fish person. If I could choose my mains, I am bias towards my red meats. Give me lamb, pigeon or even rabbit anytime. But they aced the execution of the kinmedai. With a slight smokiness in the crispy fish sclaes, the fish was firm, juicy, and even naturally sweet! It didn't even need any sauce. It was good on its own.
<
10) Mechuri (quail) (above) – With potato, morel, truffle. We enjoyed this very much! I probably would have enjoyed it even more than I already was, as I was starting to fill up at this point of the meal.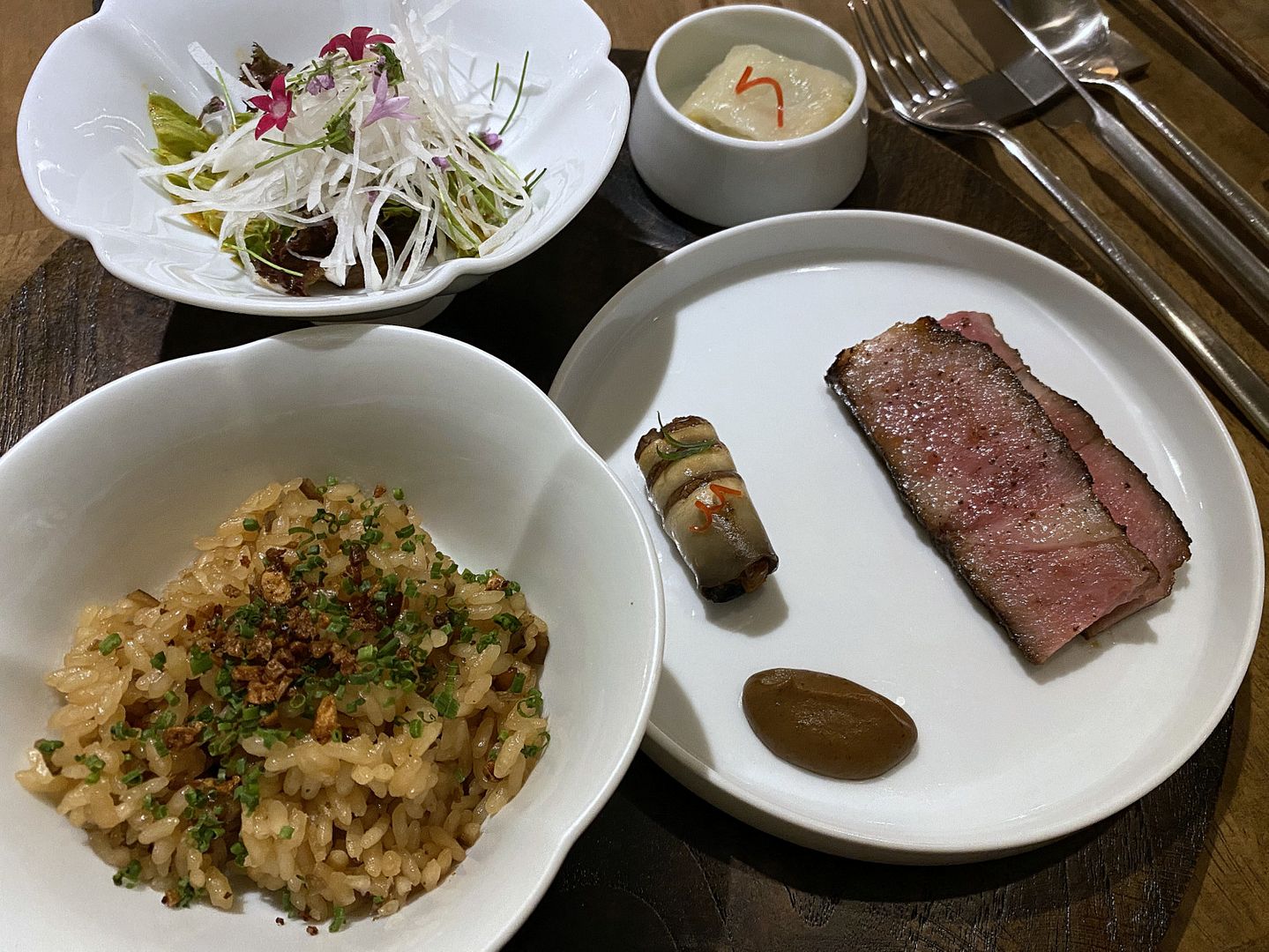 <
11) Korean BBQ (above) – Iberico pressa pork, gobo rice, white kimchi. Replacing what's supposed to be a beef dish, this unfortunately failed to impress. I was expecting to chew into tender and juicy pieces of iberico (black) pork, but it was tough and chewy instead. The burdock rice was slightly dry, which I only managed to finish because I ate it with the white kimchi.
12) Strawberry (above) – Guava, makgeolli.
13) Buckwheat (above) – Doenjang, injeolmi.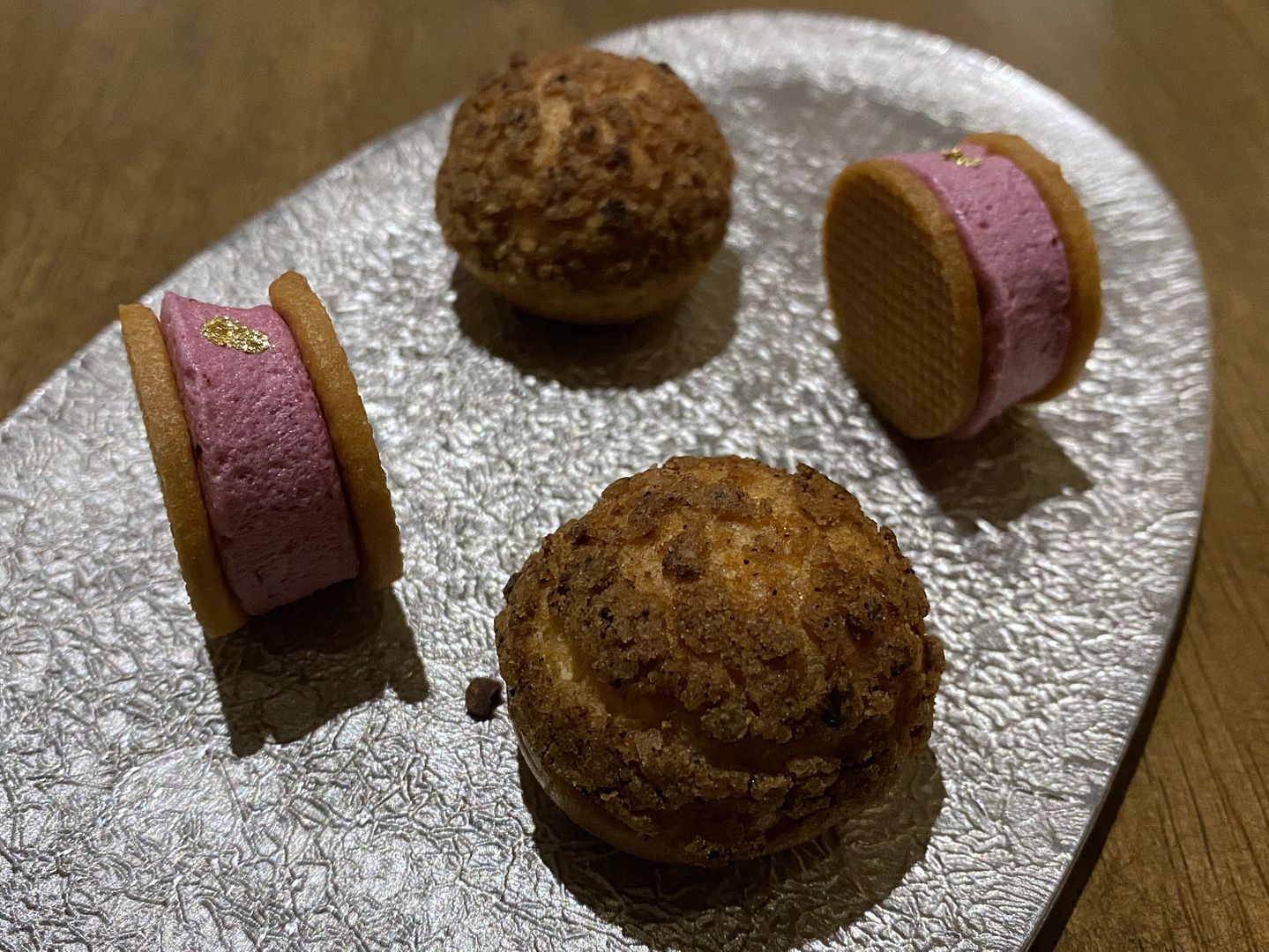 14) Petit fours (Part 1) (above) – Banana creampuff, cassis marshmallow.
15) Petit fours (Part 2) (above) – Gangjeong, yakgwa.
It was a very nice meal. It was what I expected from a restaurant of such calibre. In fact, I echo my friend's sentiment when he said he couldn't find major flaws with the meal. Though one particular dish shone for me. The tuna sandwich was mind-blowing. In fact, it was so good that the immediate 2 snacks that came after just paled in comparison. Don't get me wrong. Those 2 were good, but nowhere as good as the tuna sandwich.
Will I recommend Meta? A definite yes. However, my friend shared that the menu hasn't changed much since his first visit 5 years ago. So I guess Meta is definitely worth visiting at least once. But it's probably not for re-visiting unless Meta starts updating their menu regularly to entice diners to return (sooner).
Do note Meta is able to make an additional cake if celebrating events. I ordered the yuzu cheesecake (3 inches diameter, $25) as it was my friend's birthday month! No picture of the cake though. The only picture I have of the cake is a group picture which I am unfortunately too fat in it. Haha. Nah, I kid. Yes, I am undeniably round. But am not posting because we are camera shy. =p
META RESTAURANT

1 Keong Saik Road, Singapore

Overall: 8

Opening hours:-

Food/Beverage: 8

Fri – Sat : 12:00 – 15:00 (Lunch)

Ambience: 8

Tues – Sat : 18:30 – 23:15 (Dinner)

Value: 7

Service: 8

* Closed on Mon & Sun