October 16, 2022 in Japanese by thywhaleliciousfay
So while I always ambitiously try to secure bookings at highly raved sushi-yas for my Japan trips, I like to visit hidden gems too. One can also say it's a way to keep myself sane; If you're a die-hard foodie like me, you probably know the reservation process can get really stressful.
I learnt about Sushi Shinsuke through instagrammer @andrew_gyokudari. In his insta-post (pre-COVID), he actually mentioned he was in a dilemma to share (and inevitably make Sushi Shinsuke unbookable) or not to share (and feel guilty for wanting to keep them to himself). And I am glad he shared this hidden gem! Although one may have easily missed his insta-post because while he said he visit Sushi Shinsuke every other month, he has only posted about his visits once.
With credits to @andrew_gyokudari's insta-post and Pocket Concierge's write up, I got to learn chef-owner Shinsuke Mizutani decided to pursue being a sushi chef after he was inspired by the works of a sushi chef in his hometown Nagasaki. At 19 years old, he went on to work at sushi-yas including Sushi Tanaka, Sushi Tsubaki, Sushi Ginza Onodera (Hawaii) and Sushi Ryusuke, before taking time away from sushi to be a server at Michiba (kaiseki restaurant) and a security guard at a temple in Nippori. And all of it was done intentionally. Ie, so that he could develop his skills in areas other than sushi such as speaking English, knowledge of Japanese cuisine table manners and hospitality. It was only in late 2017 that he eventually opened Sushi Shinsuke. And for those who are curious, he was 34 years old.
For my March '19 dinner, my hotel concierge assisted to call the restaurant in late January to make the booking.
And on the day of my dinner (Sunday), I arrived punctually at 6pm. And the first thing that stood out was the unique interior decoration. It was a mix of traditional (wood counter) and modern (stained glass ceiling, posh dining armchairs, champagne glasses on the table). Interesting. And it being spring, I was in a (short) dress. And it was sweet of head chef Shinsuke san that he asked his staff to get me a blanket. After settling down, I commenced my ¥20,000 omakase dinner with:-
1) Dish #1 (above) – Abalone.
2) Dish #2 (above) – 3-days aged Japanese spotted prawn (botan ebi). Head chef Shinsuke san shared the aging was to make it sweeter and improve its texture.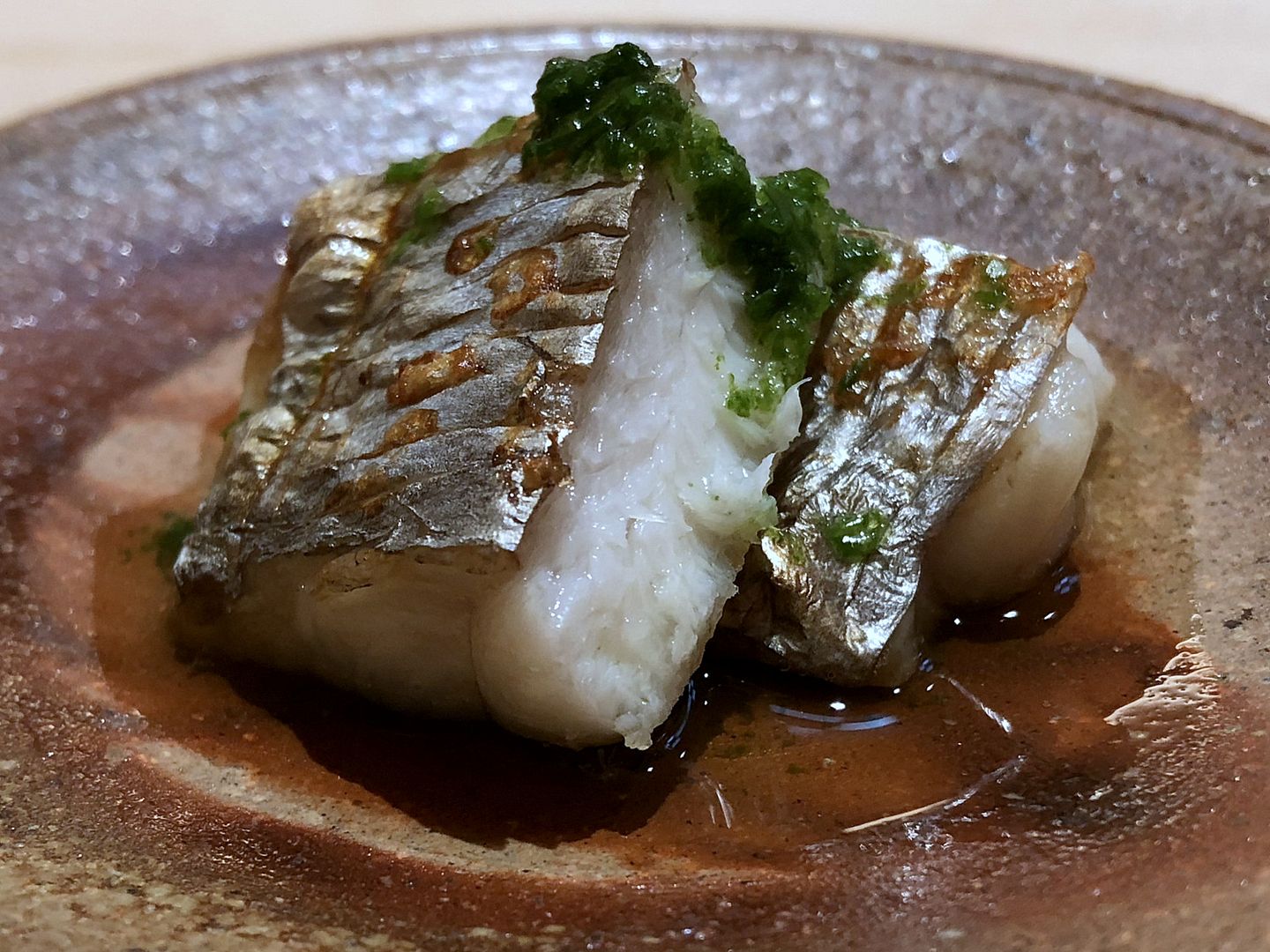 3) Dish #3 (above) – Belt fish (tachiuo).
4) Dish #4 (above) – Bonito (2 slices).
5) Dish #5 (above) – Spanish mackerel (sawara).
6) Dish #6 (above) – Green eyes fish (mehikari).
7) Dish #7 (above) – Handroll with monkfish liver (ankimo). This was seriously good! And head chef Shinsuke san shared it's cooked with lots of vegetables (cabbage, carrot, onion, etc) and aged for 1 week.
8) Dish #8 (above) – Octopus; One to be enjoyed as it is (left), and one (simmered) to be eaten with wasabi (right). "A lot of wasabi", he said.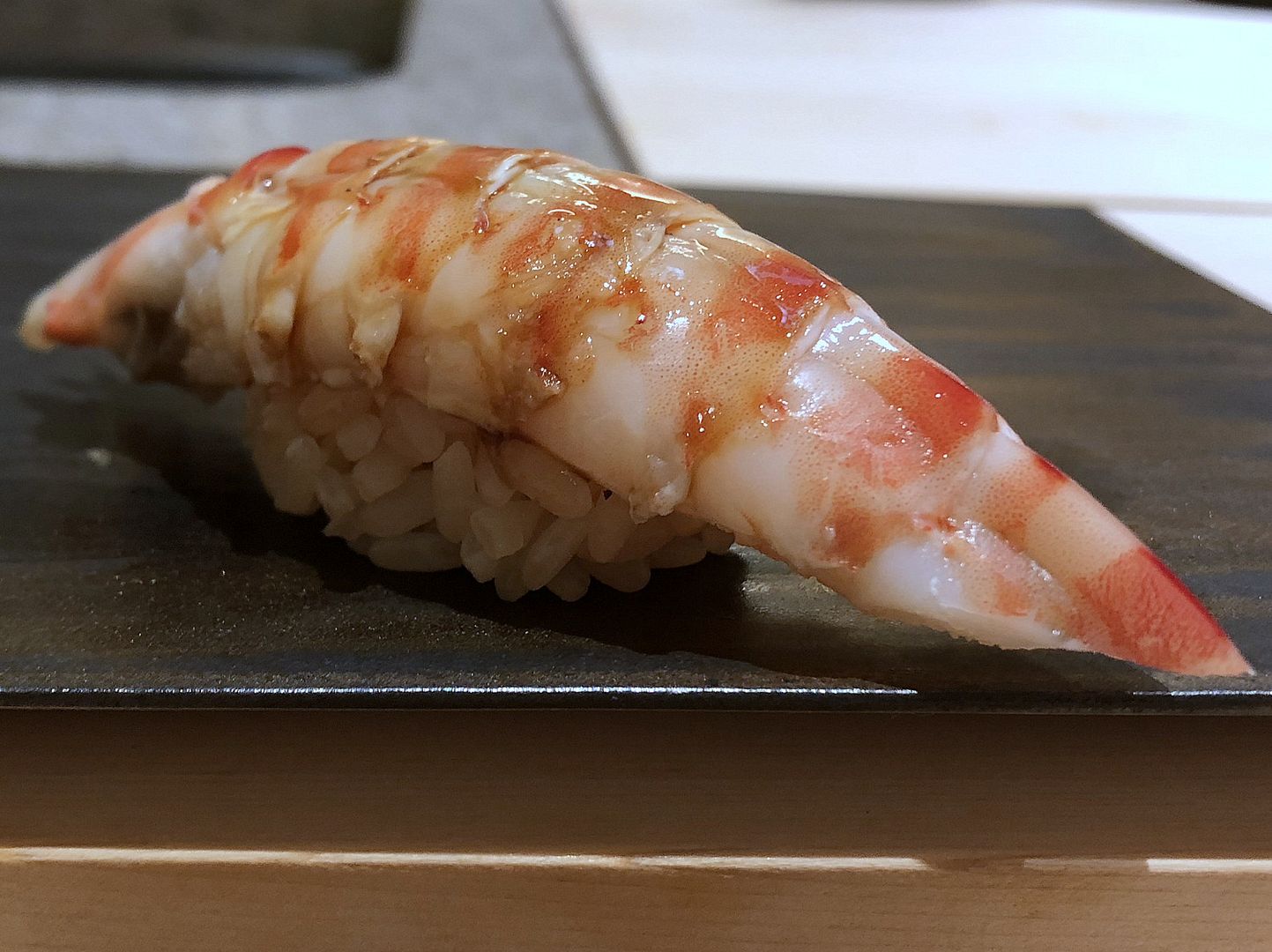 8) Dish # 8 (Nigiri assortment) (above) – Ink squid/golden cuttlefish (sumi ika), medium fatty tuna (chutoro), 2-weeks aged medium fatty tuna, gizzard shad (kohada), sea urchin, geoduck (mirugai), horse mackerel (aji), baby snapper/sea bream (kasugo) with persimmon, grilled firefly squid (beautiful aroma of smokiness), tiger prawn (kuruma ebi), marinated tuna (maguro zuke) and sea eel (anago). I was particularly intrigued by his use of persimmons. I love persimmons and I rarely hear persimmons used in sushi. Head chef Shinsuke san shared the sweetness in the kohada was due to the use of dried persimmon. Wow. And I should have captured his superb knife skill. He was furiously slicing away at the geoduck but without looking at it (as he was talking to me). Wow wow.. And for his sushi rice, he used a blend of rice vinegar and red vinegar to season it.
And at this point, head chef Shinsuke san asked if I could eat more. And I said I could have 2 more sushi.
9) Dish #9, Additional (above) – Giant clam (ishigakigai) nigiri.
10) Dish #10, Additional (above) – Roll of violet sea urchin (murasaki uni) rice, chunks of 2-weeks aged premium fatty tuna (otoro), tuna scarped from the bone, and squid (ika). I thought the inclusion of squid was interesting because it introduced a chewy texture to the roll.
11) Dish #11 (above) – Egg omelette (tamago).
It was a very memorable dining experience. I enjoyed myself in every aspect. The service, the food, the ambience! I liked how head chef Shinsuke san boldly and successfully created his own style. Like with the use of persimmons. He doesn't confine himself to the fixed concept of sushi, but still respects the tradition of Edo-sushi.
I was also the first to arrive at the restaurant. And in an attempt to help me feel at ease, head chef Shinsuke san created conversational topics despite the language barrier. And I appreciate his efforts. Although 2 other groups of customers arrived later in the evening and head chef Shinsuke san got busier, he continued to check in on me. It could be as simple as having eye contact with me, telling me what's coming up (as I waited for my next dish), asking me how's the dish, and sharing additional details of the dish (that I just finished).
In fact, there was a few really cute moments. So for my octopus dish, I was told to have lots of wasabi with the simmered slice. And as I was about to start on the second piece (the simmered one), head chef Shinsuke san tried to make sure I was indeed putting a lot of wasabi from the corner of his eyes. I caught him 'monitoring' me, and we both laughed when our eyes met. Head chef Shinsuke san is a warm and funny person. Absolutely love his sense of humour! I appreciate how he went out to make sure I felt included. I was dining solo, but I didn't feel alone.
Do I recommend Sushi Shinsuke? Yes!!! I am so glad I found this hidden gem because of @andrew_gyokudari's selfless sharing. I honestly can't wait to be back. And reservation is a must. Although only 5 of 8 seats were occupied that night, head chef Shinsuke san turned away a potential customer that attempted to walk in at 8pm.
With 2 glasses of iced green tea, I paid ¥22,460 (inclusive of tax and service charge).