March 27, 2022 in French, French Japanese by thywhaleliciousfay
Before Sage was created by chef-owner Yasunori Dori, he was at Bistro Etroit which opened in late 2019. But head chef Yasunori san left Bistro Etroit on 31 October 2021. And opened Sage in January 2022, jus 2 units away from Bistro Etroit…
As for me? Although I returned from my overseas work stint in mid July 2021, I couldn't secure myself a slot at the notoriously hard-to-book Bistro Etroit. My foodie friend @zachdevours aka InstaGram Bottomless Pit (IGBP) often shared Bistro Etroit was insanely value for money. I mean, $88 for 7 items (bread included), that's a deal hard to beat. So when head chef Yasunori san left Bistro Etroit, there was a glimpse of hope that I might just get a reservation at his new restaurant.
There has been a change to Sage's reservation system. Then, I followed their Instagram to receive updates of when seats were released. Now, it's released on the first day of every month at 12pm. And it's a good thing I made my reservation early in January 2022 for my March 2022 dinner because Sage now requires minimum 2 person. Uh huh, I went to Sage as a solo diner.Solo dining is getting a little addictive. But don't get me wrong, having company is always best!
Sage requires pre-selection of the menu course when reservation is made. Between classic course ($148) and omakase course ($208), I opted for the latter. However, when I was at the restaurant and (re-)informed the staff of my dietary restriction, the staff recommended me to go with the classic course. He explained the highlight of the omakase course is the wagyu tenderloin rossini.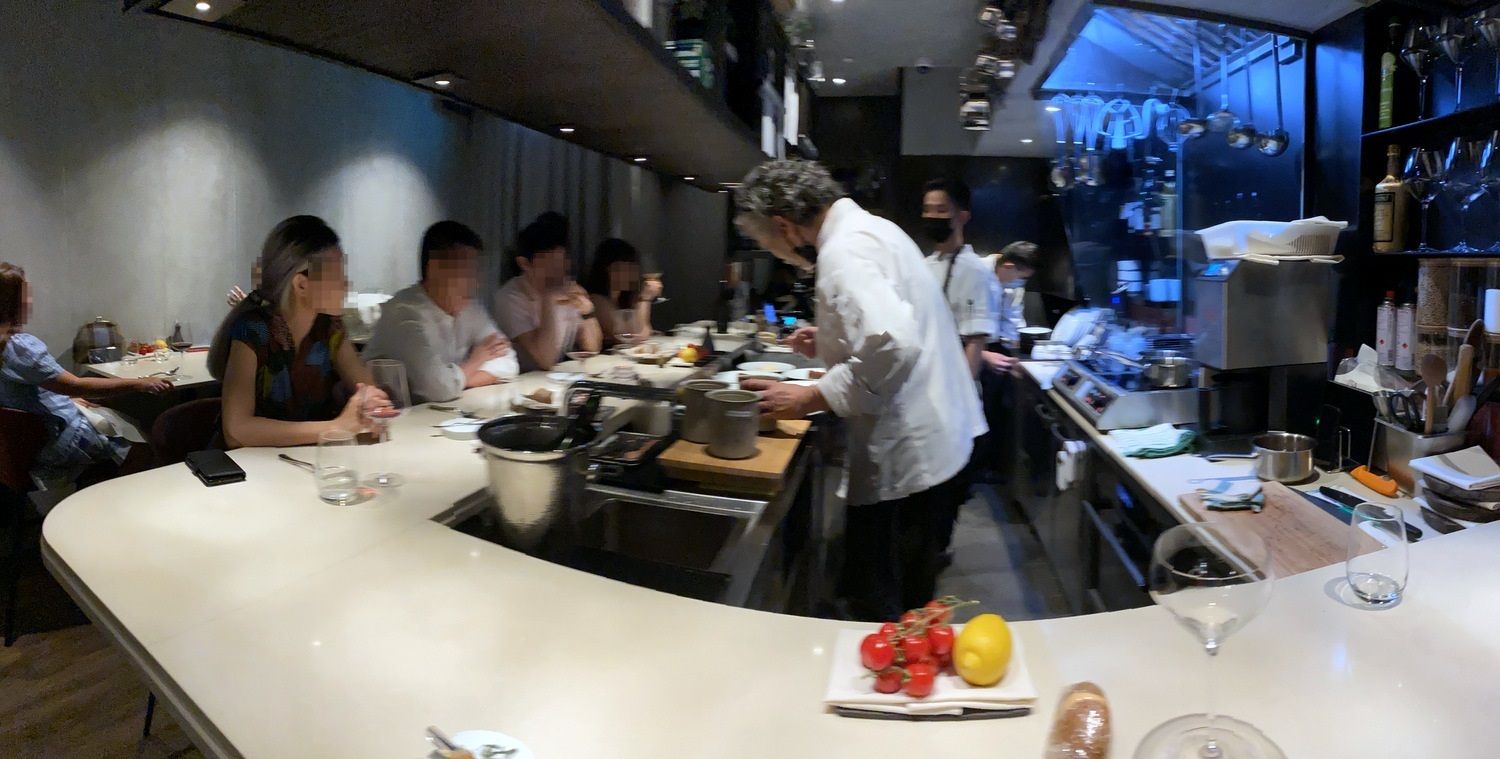 If one opted for the omakase course, it's pretty much a fixed (tasting) menu except for the dessert which one could choose from 5 options. 6 options if including the cheese. But for the classic menu, I was told to choose my second appetiser, fish dish, meat dish and dessert. I didn't have much time to digest the menu, and mostly went with the staff's recommendation. And dining in March 2022, it was the Spring menu. I commenced my Classic course, $148 with:-
1) Cherry tomatoes (above) – These large vibrant red cherry tomatoes were placed at every seat. Most of us thought it's just for display. So when head chef Yasunori san shared we could eat them, we all responded with either puzzled expressions or gasps of surprise. Haha. And for curiosity, I took just 1 to try.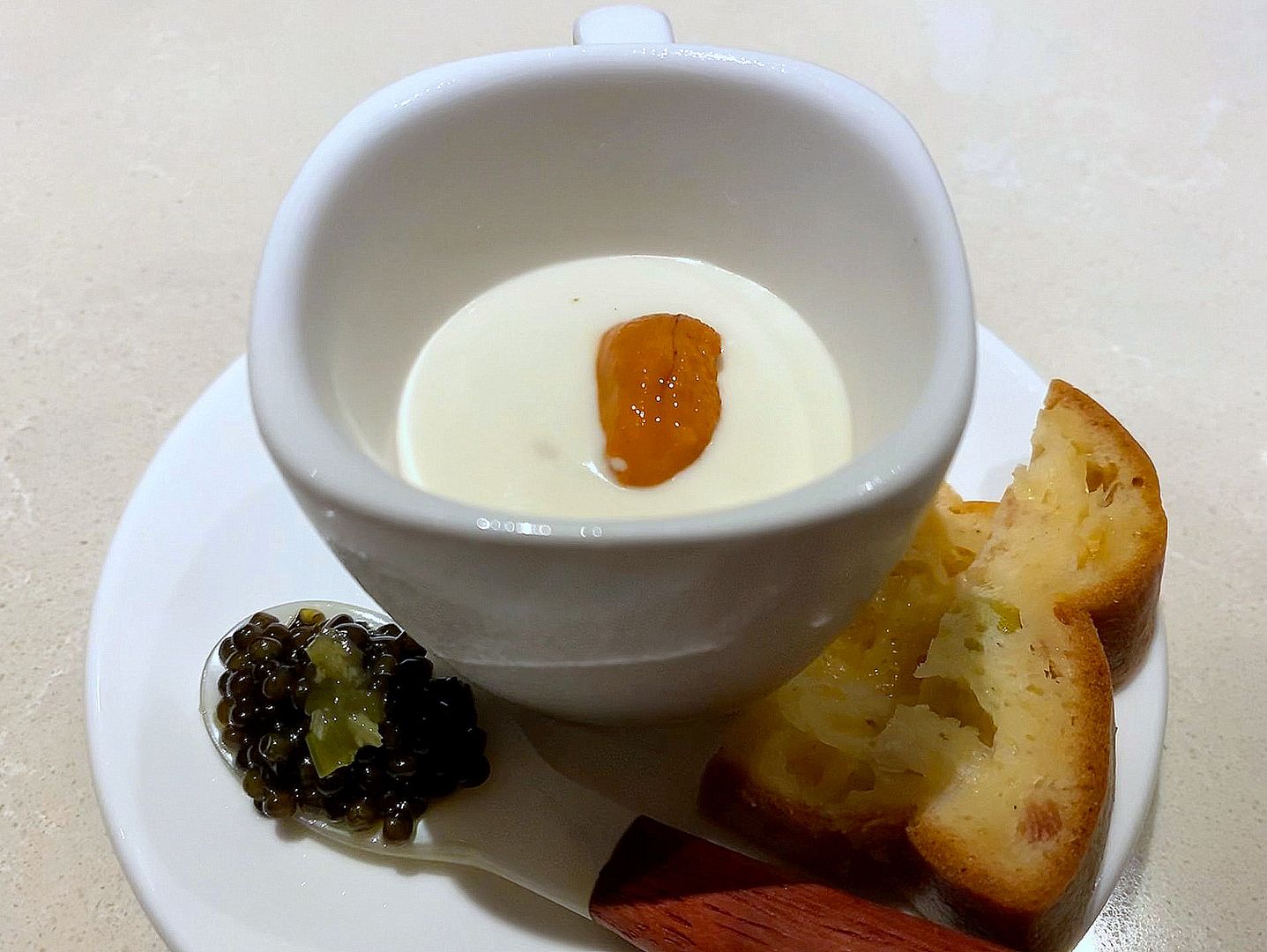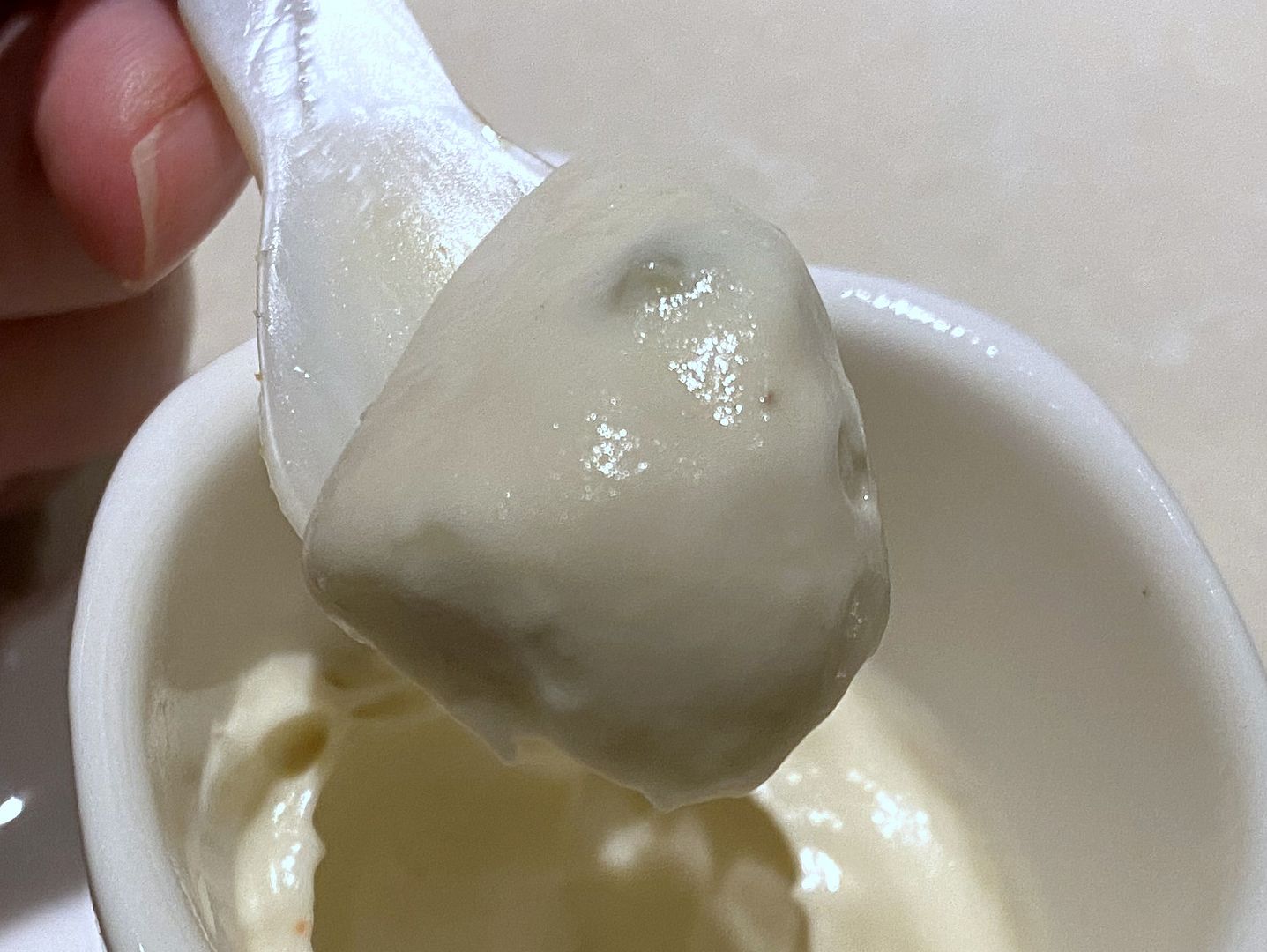 2) Starter (above) – Trio of chilled Japanese pudding with sea urchin, (savoury) cake with gingko nut and 2 kinds of cheese, and caviar on mother of pearl spoon. The caviar was my replacement for beef tartare.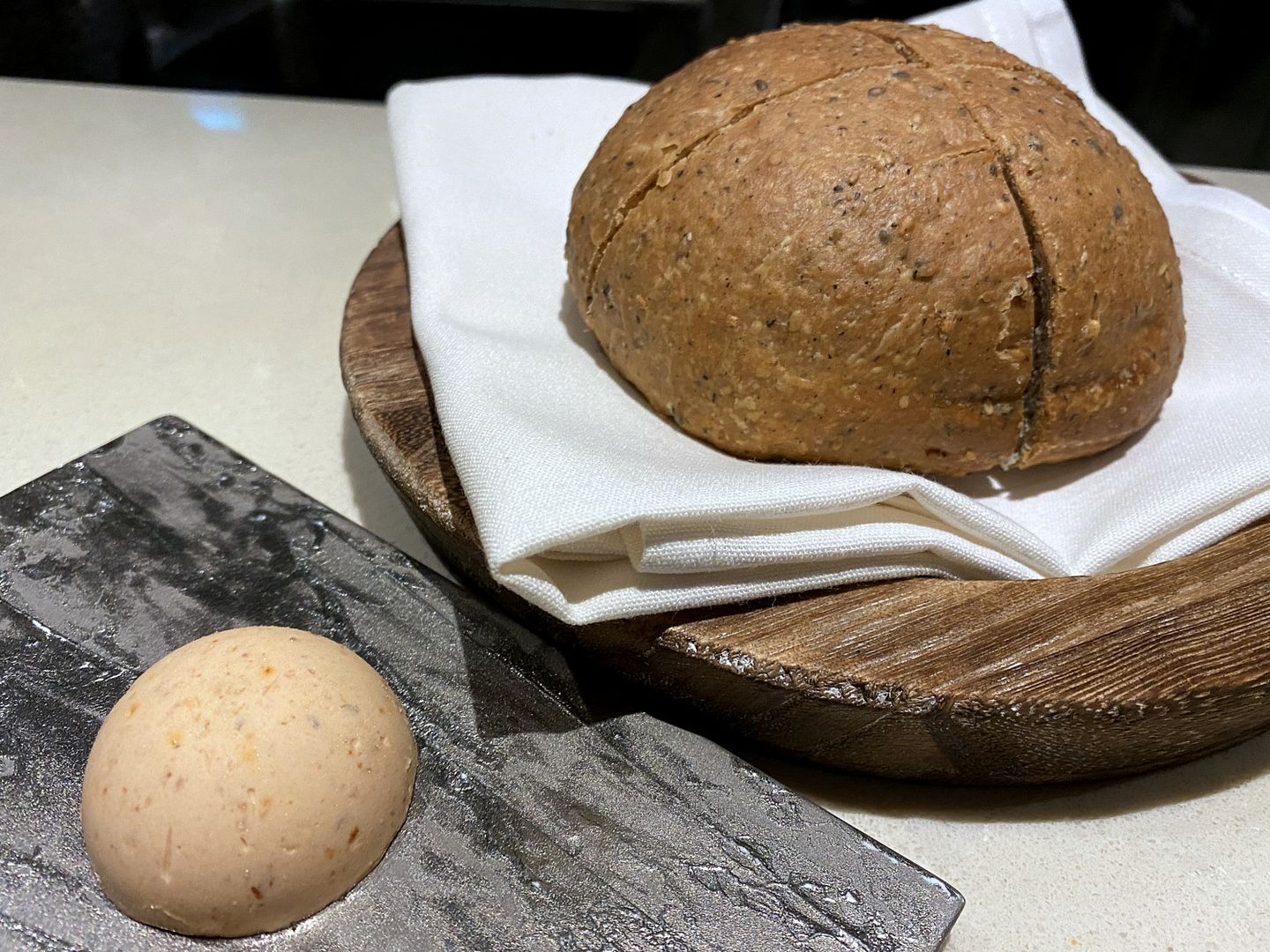 3) Bread (above) – Homemade sesame focacci with flavoured butter. The moromi butter was made with butter, sea urchin, white miso and chili pepper.
4) First appetiser (above) – Japanese cherry tomato gazpacho with stracciatella and huile d'olive sorbet. Head chef Yasunori san told us to eat slowly. The intention was to make sure the sorbet has melted. He joked if we didn't, we would be having just tomato soup.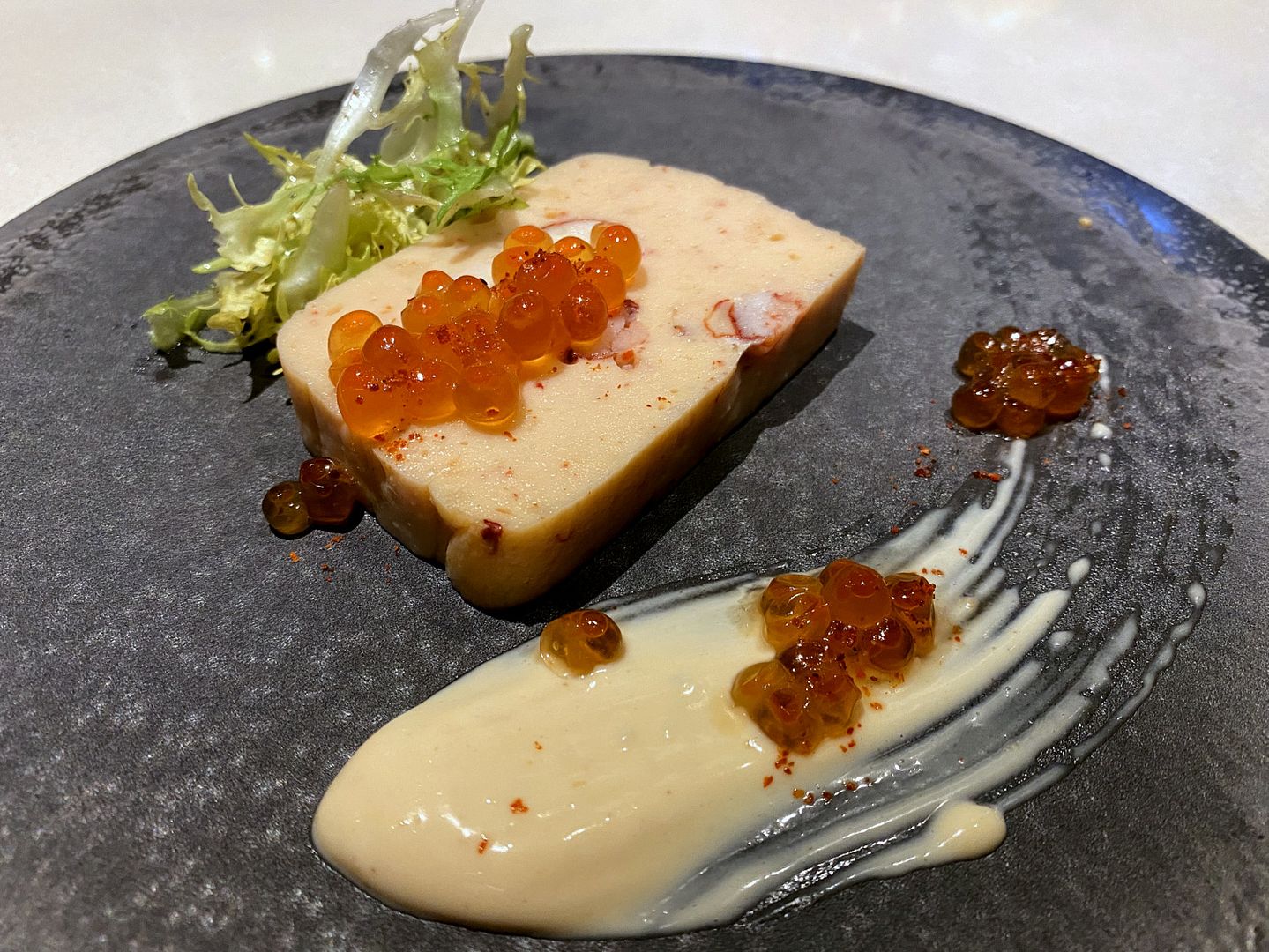 5) Second appetiser (above) – Canadian lobster and scallop mousse terrine with lobster bisque sour cream sauce.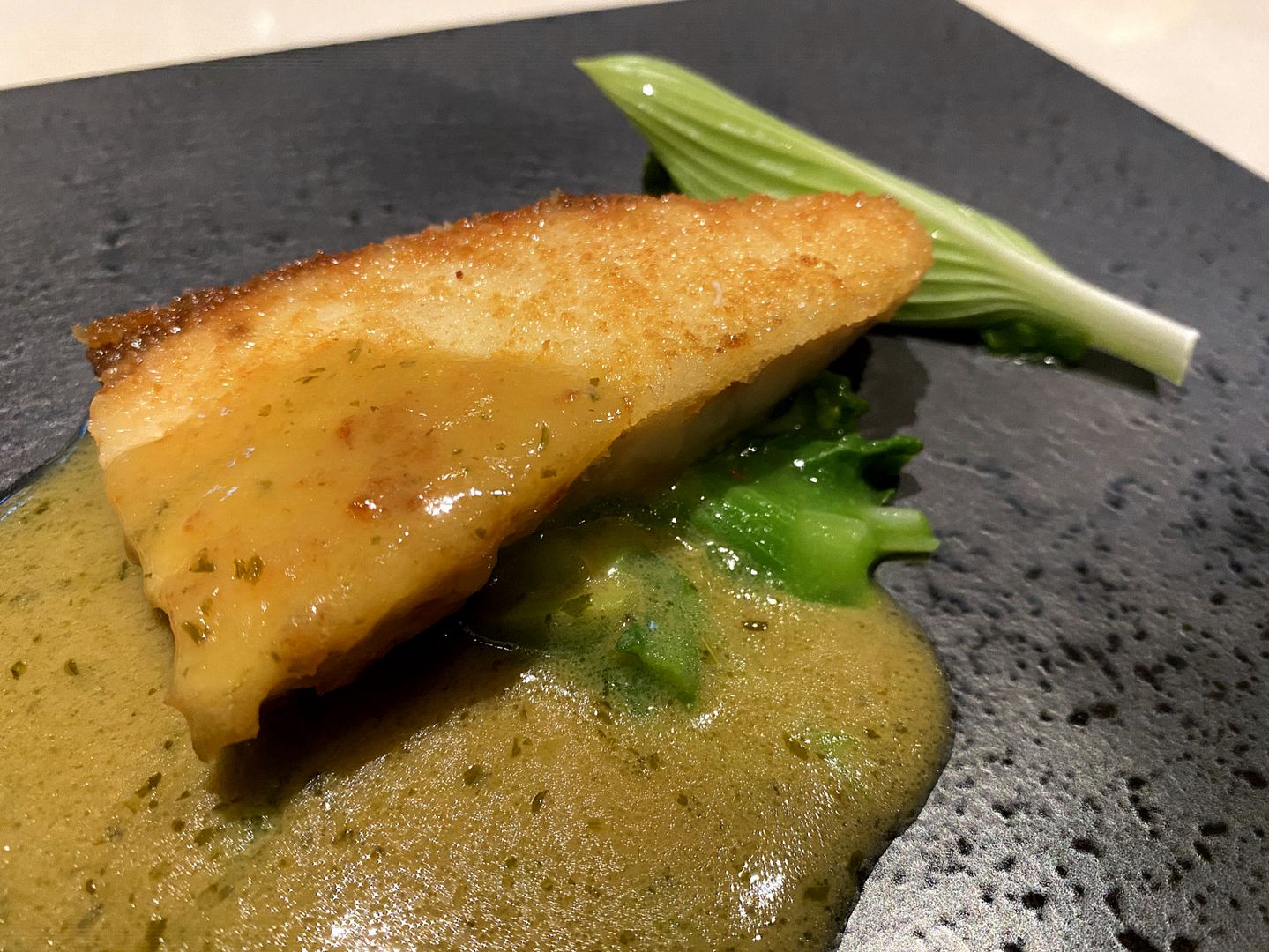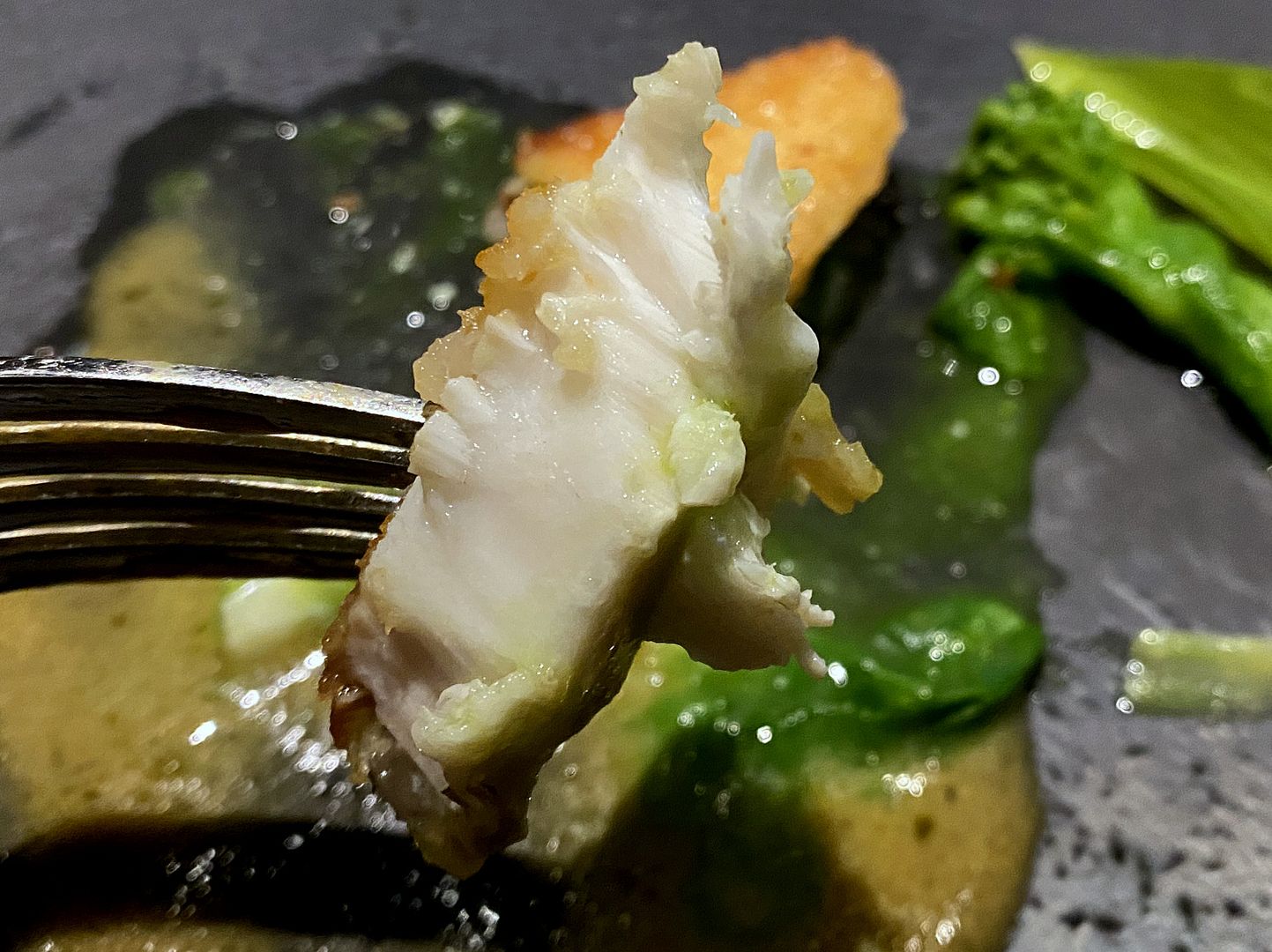 6) Fish (above) – This was really good! The crust of the pan-grilled butter fish was thin and crisp, and the fish was firm and juicy. I ain't sure if it was intentional but because the brown sauce was poured onto the plated green gravy (and vegetables), I got a beautiful brown-green sauce from dipping the fish into it. Pretty.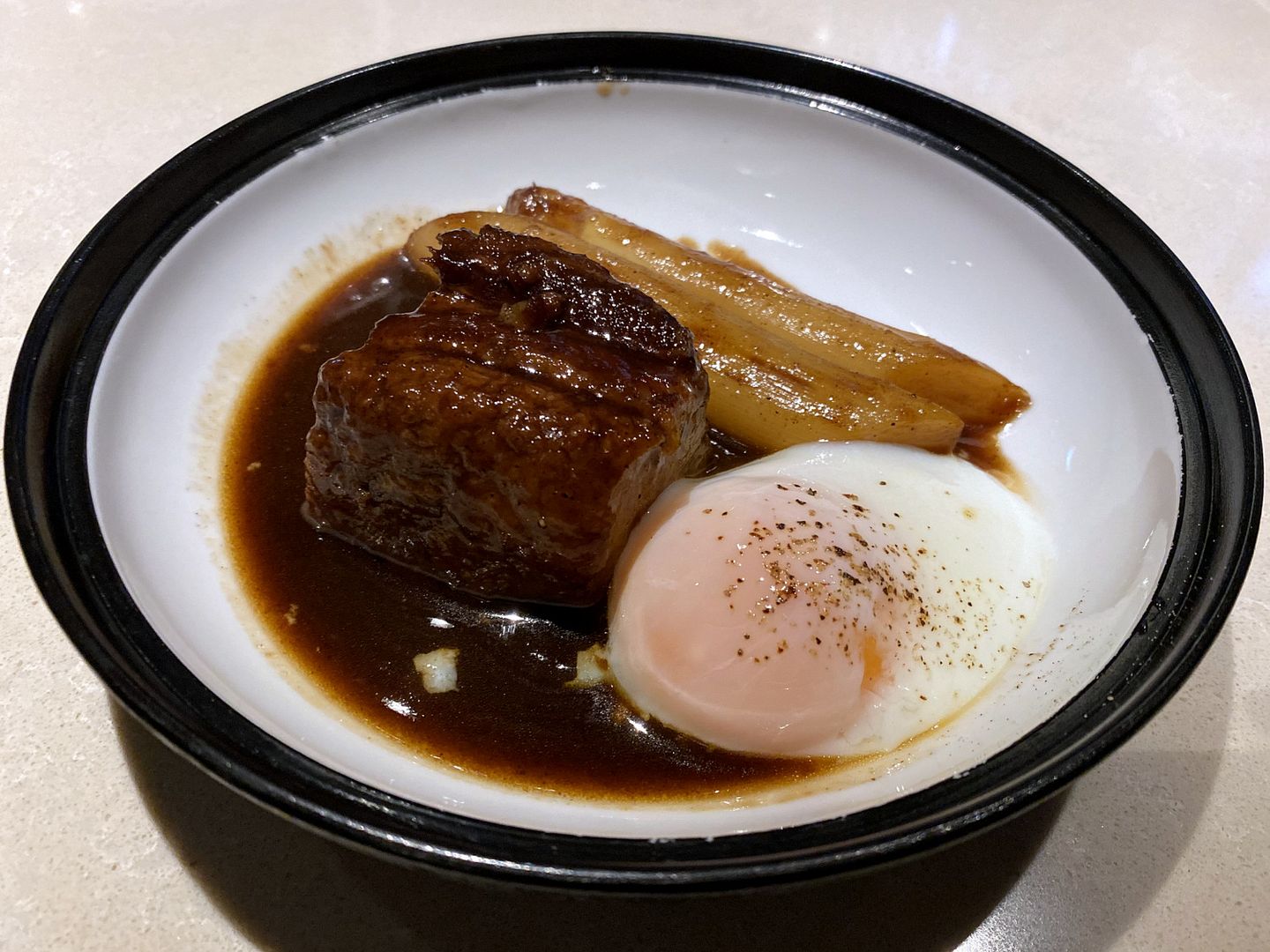 7) Meat (above) – Taiwanese style 4gen pork belly stew and seasonal white asparagus with hot spring egg. With only a fork and knife, I wasn't too sure how to consume this. I requested for a spoon because I thought I was going to finish the egg in 1 big mouthful. But head chef Yasunori san told me to poke at the yolk and enjoy it as a dipping sauce. Ahhh!!!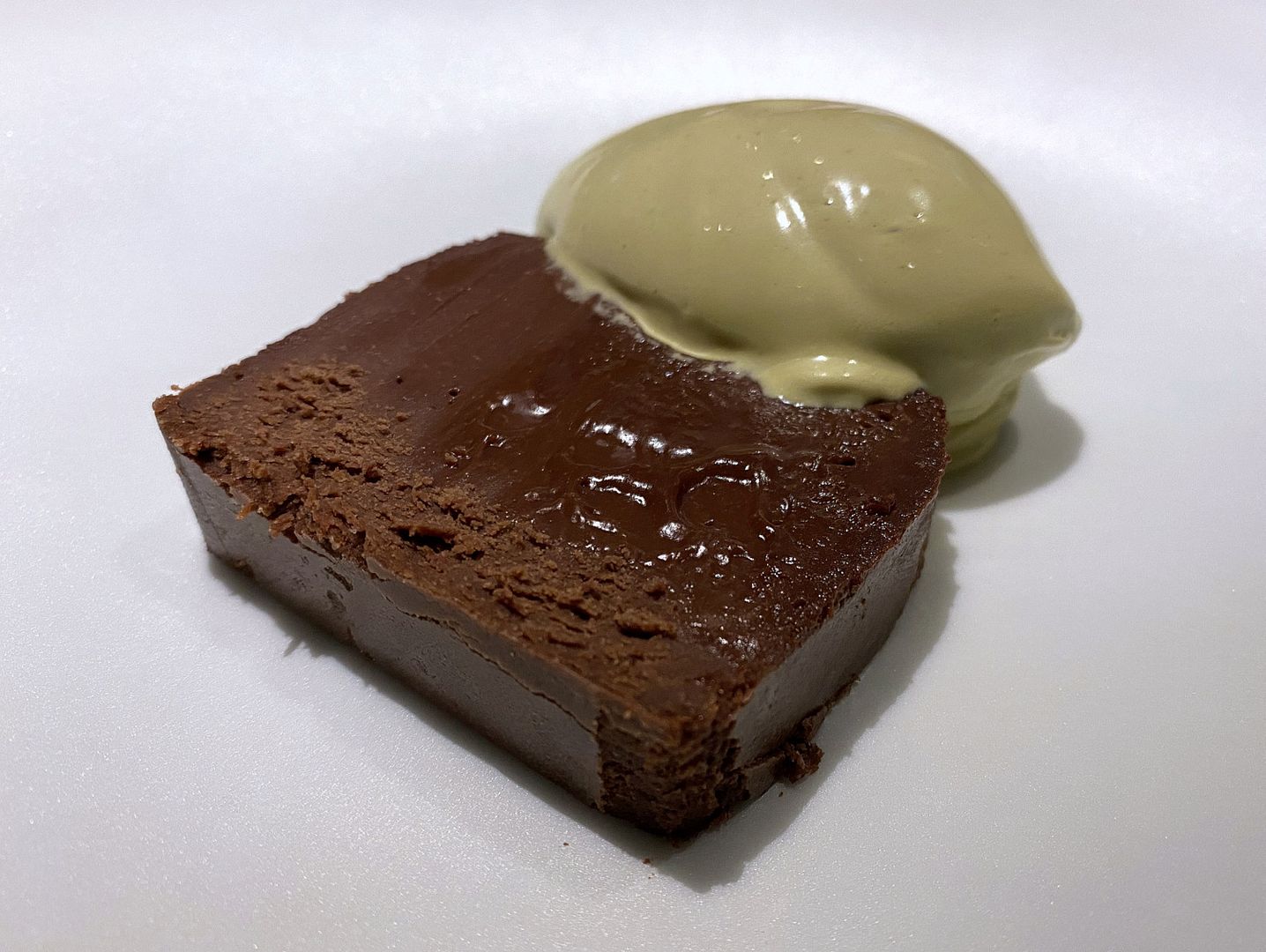 8) Cheese or Dessert (above) – Gluten-free chocolate terinne with pistachio ice cream.
In terms of seats arrangement, there're 6 counter seats and 2 tables seats. I thought it was really nice how head chef Yasunori san would leave his kitchen and check in with the table customers. I remember reading someone's post mentioning how head chef Yasunori san looks happier now that he opened his own restaurant. I can't make the comparison since I never been to Bistro Etroit, but head chef Yasunori san certainly does look happy. And when a chef is happy, it shows through the food.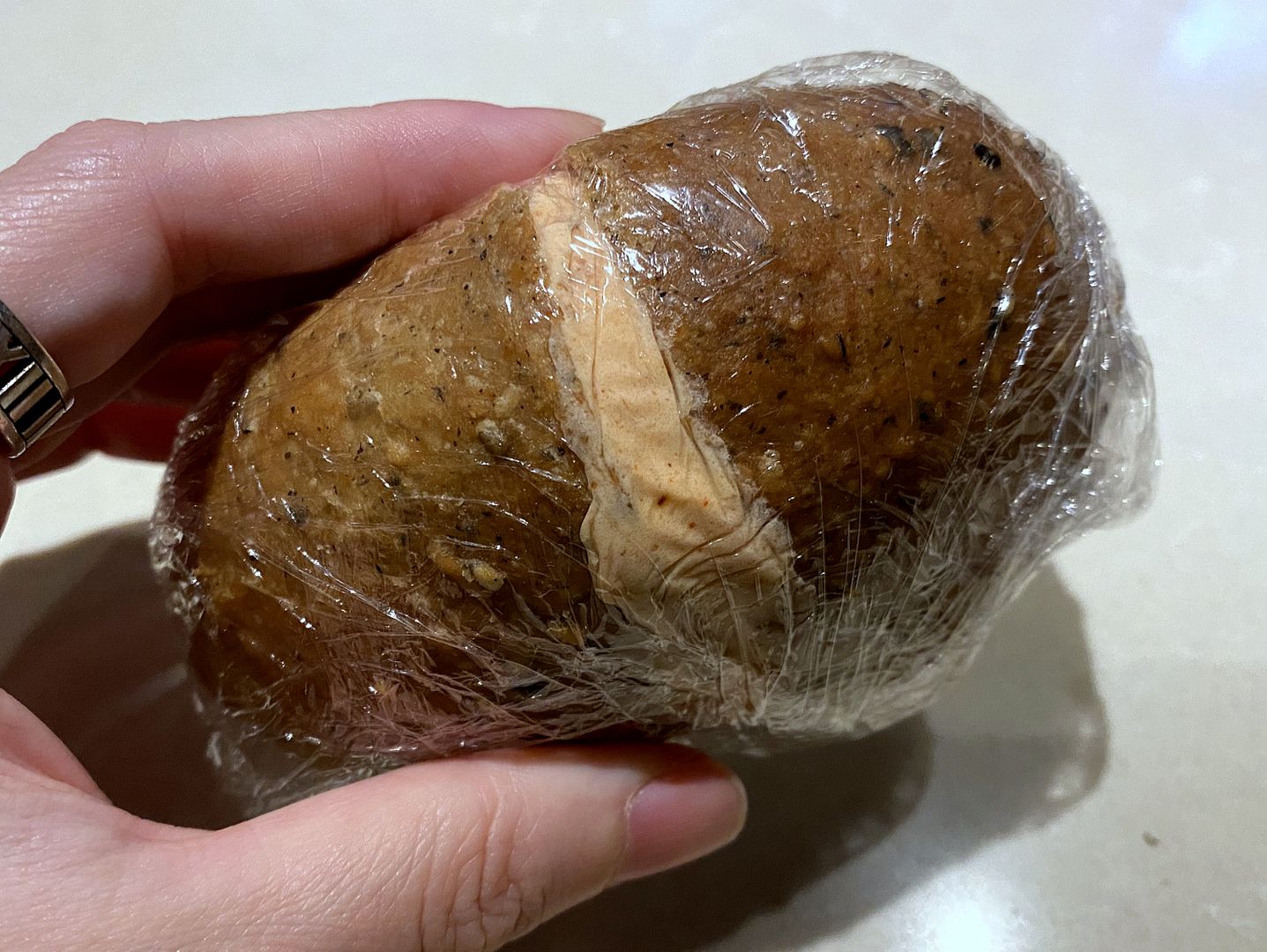 Leftover bread cling wrapped for us to take back!
I wanted to order warm water, but was told they don't serve any. Instead, was informed they charged $12 for still or sparkling water. That's per VOSS 800ml bottle. I decided to just order (more) alcohol. Haha.
Would I recommend Sage? Hmm… I think it's worth visiting at least once a lifetime. It's a pity I didn't get to try head chef Yasunori san's famed curry rice because it's beef. But when I was talking to him, he mentioned he could prepare non-beef curry rice with the lobster bisque. Oh well… Should have checked in with chef when placing my order instead. But do note if one wishes to try his curry rice, it's only available for the second seating.
SAGE BY YASUNORI DOI

150 Orchard Road, Orchard Plaza, #01-36, Singapore

Overall: 7.5

Opening hours:-

Food/Beverage: 7

Sun : 12:00 – 14:30 (Lunch)

Ambience: 8

Tues – Sun : 17:45 – 22:30 (Dinner)

Value: 7

Service: 8

* Closed on Mon