Dinner @ Monzushi Singapore 紋ずし | Sushi Restaurant in Tanjong Pagar
August 28, 2022 in Japanese by thywhaleliciousfay
Eating sushi in Singapore ain't cheap. Especially when it's at reputable sushi restaurants that's helmed by Japanese chefs. So imagine my surprise when I came across Monzushi; Opened by third-generation chef Keisuke Kaneko, with dinner menus ranging between $148 to $288. Now… Before anyone start protesting that $288 is considered expensive, do note I am comparing Monzushi against other most sushi-yas which dinner omakase menu easily starts from $400.
Excited at my surprise find, I immediately went to their online reservation system and booked myself for the immediate weekend. And it seems like pre-selecting one's choice of menu is the new norm. And from the dinner menu, I went with Chef's Special menu ($288). Monzushi had 3 seatings; 5pm, 6.30pm and 8.30pm. I chose 6.30pm as I was going to be in the area and be done by 6pm.
It rained almost the entire day on the day of my dinner. I only managed to arrive at the restaurant at 6.40pm. Could I blame the rain? Keke. But prior to stepping into the restaurant, I was praying hard I wasn't the last to reach. I was hoping chef-owner Keisuke san doesn't wait for everyone to arrive before starting. Else, I be so embarrassed.
However, I was surprised to see I was the first to arrive. The sushi counter could sit 8 people and it turned out the other 7 customers had contacted the restaurant earlier in the day to cancel. Say what! That instead got me nervous in a different way. It wasn't my first time dining solo, but it was my first at having the entire place to myself with no one joining later. Gasp.
After taking my drinks order, I started my Chef's Special menu, $288 with:-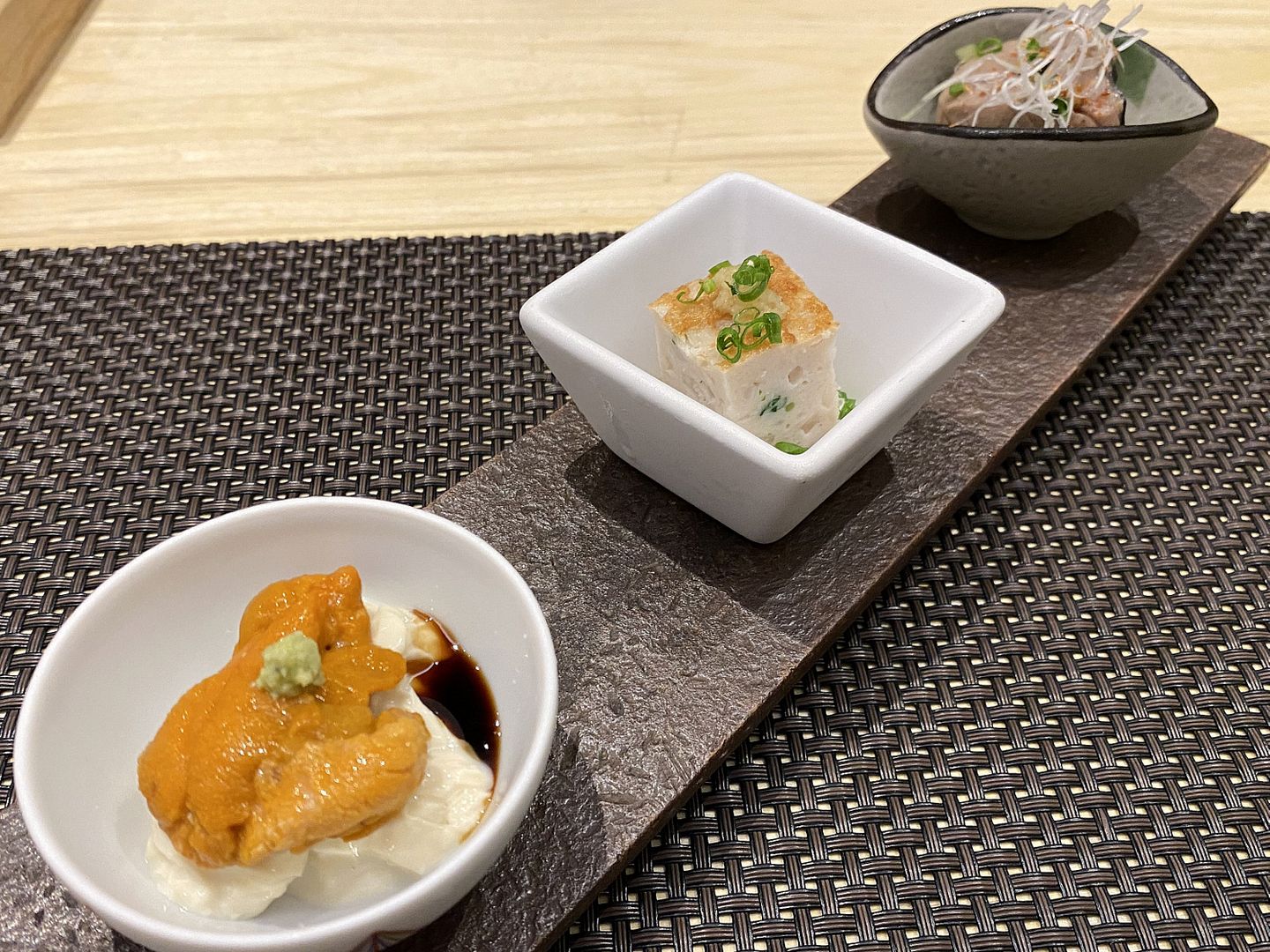 1) Dish #1 (above) – Sea urchin on tofu skin (yuba), fish cake, and (cooked) bonito.
2) Dish #2 (above) – Sashimi platter including bonito, mackerel (saba), various cuts of tuna, and shellfish.
3) Dish #3 (above) – This was massive! And the thing was… I had a phobia of oyster. Like I couldn't consume oysters for a good 5 years? So while I have since overcome it 2 years back, the sight of this huge oyster set off some bells in my head. But thank goodness this went down smoothly. Its texture was very creamy. Really good.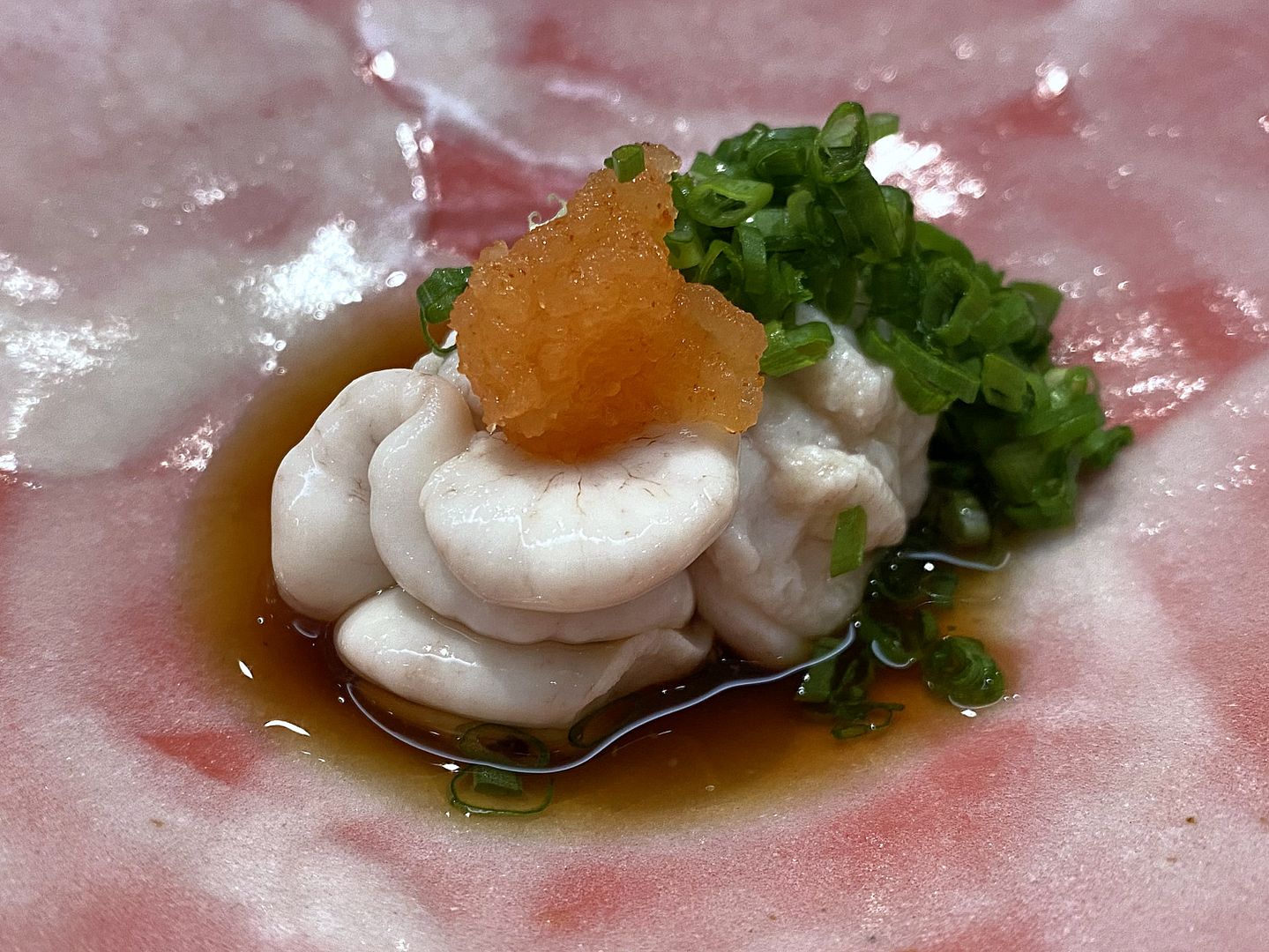 4) Dish #4 (above) – Milt (shirako). I was really happy to see this as it has been a while since I last had milt. Was told this was the start of the season. Glad I came! :)
5) Dish #5 (above) – Green eggplant. Was told this is also a seasonal ingredient that's only available 1.5 months a year. Really nice. The sauce served alongside it enhanced the eggplant's sweetness.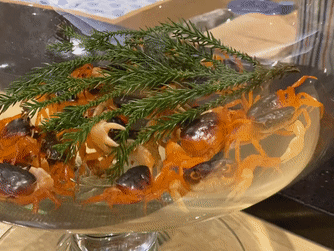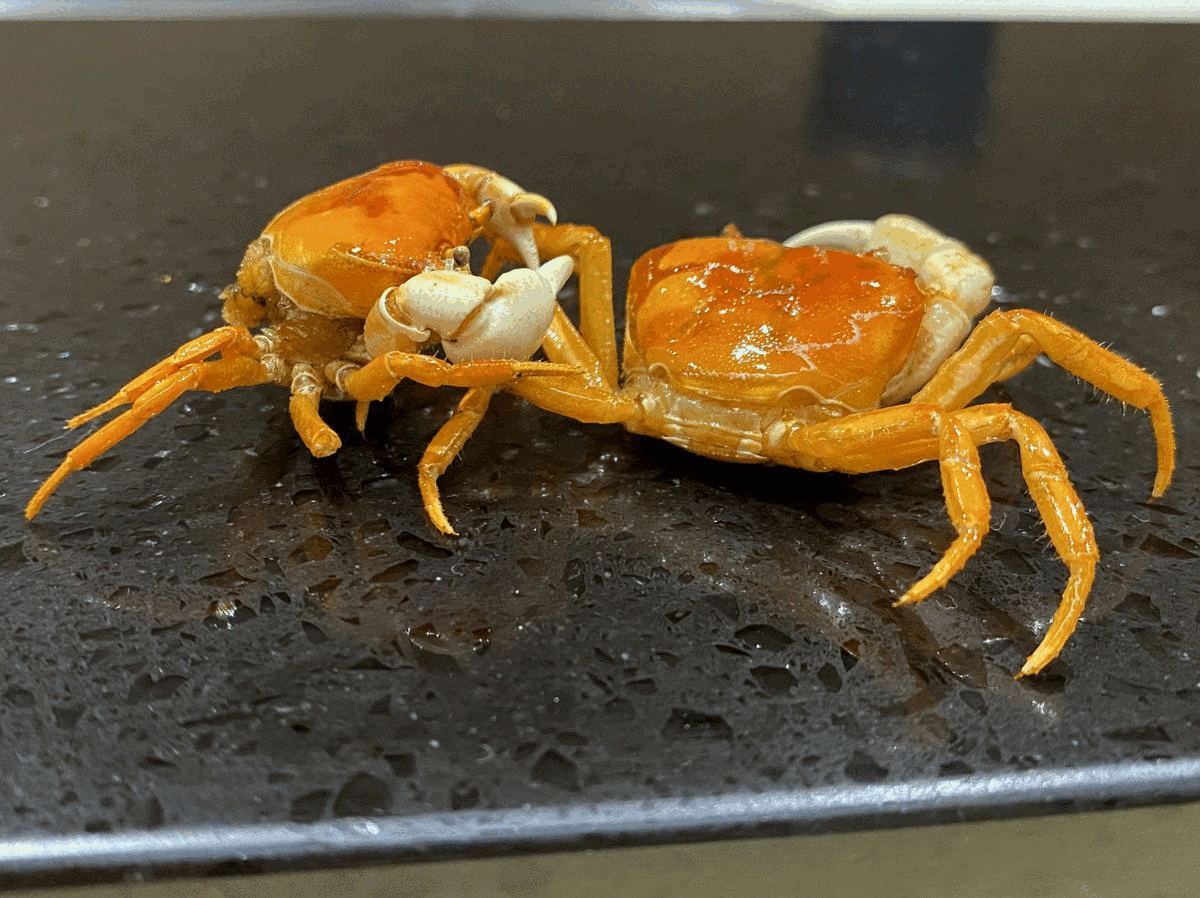 6) Dish #6 (above) – Deep fried river crabs. I got curious and asked if they feed the (live) river crabs, and was told they don't. That the crabs could survive a good 5 days and it be really smelly if they do feed them. Ahhh… I see.
7) Dish #7 (above) – Turbo shell soup with mushrooms.
8) Dish #8 (above) – Blowfish.
9) Dish #9: Sushi 1 (above) – Premium fatty tuna (otoro) nigiri.
10) Dish #10: Sushi 2 (above) – Baby gizzard shad (shinko) nigiri.
11) Dish #11: Sushi 3 (above) – Baby squid nigiri. Baby squid legs was served separately on its own but with sauce. And this was really good. Very tender.
12) Dish #12: Sushi 4 (above) – Baby sardine nigiri.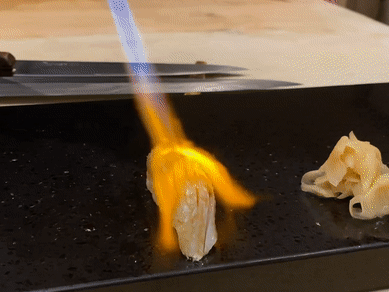 13) Dish #13: Sushi 5 (above) – Torched (aburi) sea perch nigiri.
And at this point of my meal, sous chef (local) shared there be 2 more pieces of sushi, soup and dessert. To which I said I was still hungry and requested for 3 more pieces of sushi. And because I was the only diner, I had the opportunity to converse a lot with the chefs. While conversing, I mentioned my love for shellfish. So I was extremely appreciative when head chef Keisuke san went to his fridge and took out goodies for me.
14) Add-on dish 1 (above) – Giant clam (ishigaki-gai) nigiri.
15) Dish #14: Sushi 6 (above) – Open roll of sea urchin rice and sea urchin. Was told to hold it up by pinching the seaweed together. Yum!
16) Dish #15 (above) – Rolled egg omelette (tamago). This was served piping hot, which head chef Keisuke san shared it's done intentionally. "Must be hot to taste good," he said.
17) Add-on dish 2 (above) – Salmon roe in sac (sujiko) with grated radish. So good! Was told to eat in small mouthfuls so that it wouldn't be overwhelmingly salty. I didn't think it was salty at all. In fact, I thought it's brilliant that head chef Keisuke san paired it with grated radish.
18) Add-on dish 3 (above) – Arctic surf clam (hokkigai) nigiri served with sauce made with its liver and ginger.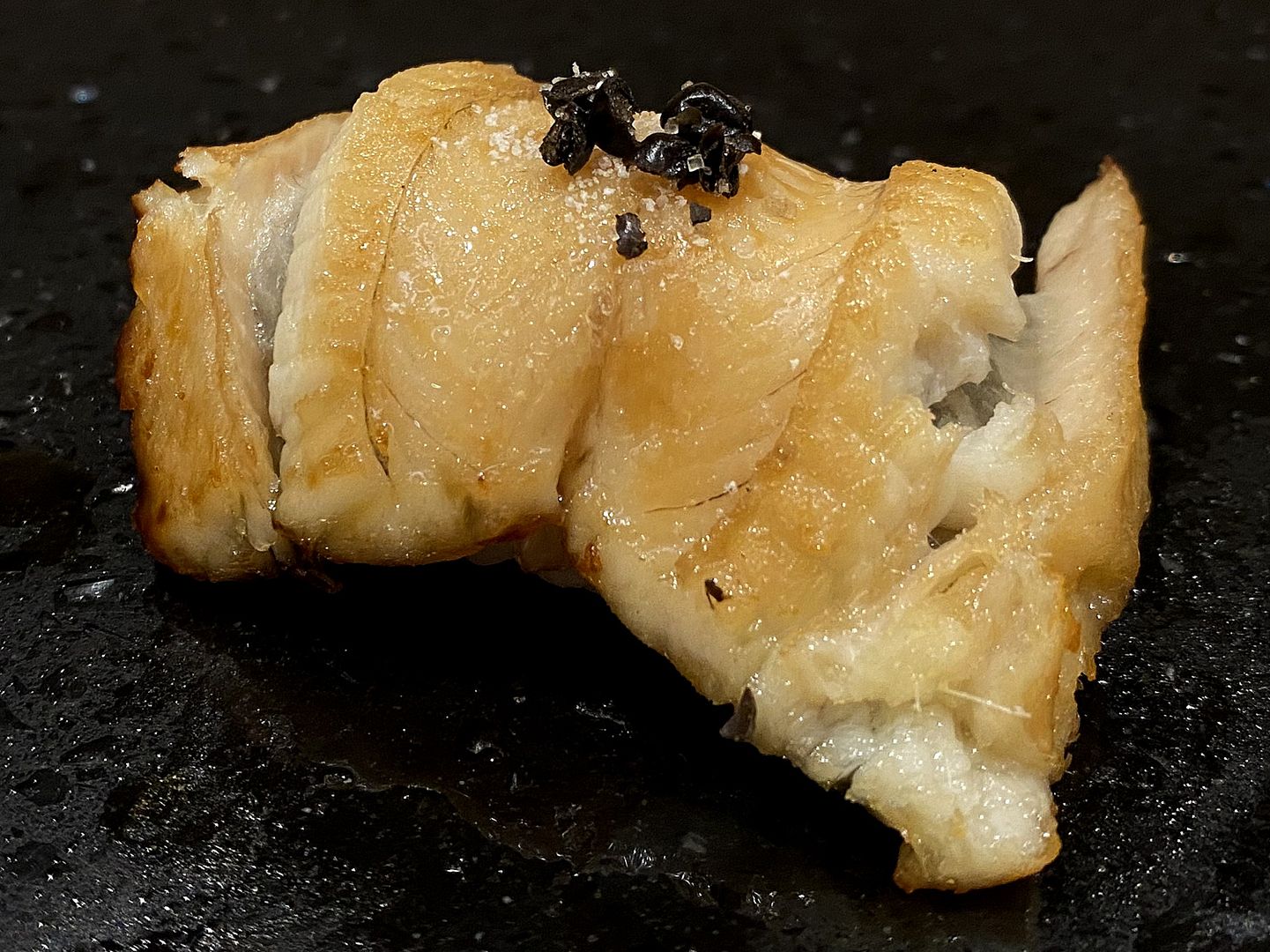 19) Dish #16 (above) – Sea eel (anago) nigiri with salt and coarse black pepper.
20) Dish #17 (above) – Soup with seasonal mushroom.
21) Dish #18 (above) – Melon.
Despite being the only diner for that night, I thoroughly enjoyed myself at Monzushi. It was a little uncomfortable when I was having my first 2 dishes because I had like 5 pairs of eyes looking at me. But head chef Keisuke san broke the ice. I relaxed. And we, including sous chef, enjoyed a group conversation. I got to learn Monzushi celebrated their 4-years anniversary just the week before. Head chef Keisuke san addressed his father affectionately as papa. And yes, his papa also flew in from Japan to celebrate with them. But papa couldn't stay long (in Singapore) because of their sushi restaurant back in Tokyo.
As taken from their website, Monzushi started off as a yatai (stall) in 1933. It was originally called Monchan-Ya and was founded by head chef Keisuke san's grandfather. Following the success of the yatai, grandfather went on to open his Edo-style sushi restaurant in Tokyo called Monzushi. Monzushi Tokyo is now helmed by head chef Keisuke san's papa and brother.
I asked head chef Keisuke san, "Why Singapore?" To which he laughed and shrugged his shoulders. But he went on to share he started working at 14 years old for others in Ginza right from the bottom (washing plates), before returning to be trained under his papa and then heading overseas including Shanghai (4 years).
Head chef Keisuke san and his sous chef were friendly and easy to converse with. And head chef Keisuke san is a drinker. So go ahead and offer him a drink too! I am a little embarrassed to say I got a little carried away with my drinks. Ha.
Would I recommend Monzushi? A big fat yes from me. It's a rare find for omakase menu that's by Japanese chef to be affordably priced at $288. And I really appreciate the omakase menu included less common (and seasonal) neta (sushi topping) like baby squid and baby sardine. Usually one only gets such if opted for nigiri-focus menu. And yes, he used 2 types of sushi rice (shari). Red shari for oily fishes, and white shari for less oily fishes. Head chef Keisuke san shared the recipe of white shari was passed down from his grandfather, while the red shari was created by himself.
It's a pity Monzushi doesn't get as much attention on social media. Head chef Keisuke san mentioned 70% of his customers are his (Japanese) regulars with the remaining 30% being working crowd from neighbouring offices and hospitals. I do hope more will get to know of Monzushi and give them a try.
If one is only after small bites and drinks, Monzushi also has a bar! :)
MONZUSHI SINGAPORE 紋ずし

13 Neil Road, Singapore

Overall: 8

Opening hours:-

Food/Beverage: 8

Tues – Sun : 17:00 – 22:30

Ambience: 7

Value: 8

Service: 8

* Closed on Mon