Dinner @ MUOKI 무오키 (Seoul, Korea)
September 25, 2022 in Korean by thywhaleliciousfay
Out of the many restaurants on Michelin Guide Korea, I shortlisted Muoki after seeing a friend share some pictures from his meal back in mid July '22. However I didn't plan ahead enough for this, because Muoki was fully booked out for the date I wanted.
But bless my reservation fairy. A slot opened up just 3 days before. Someone must have cancelled. And reservation is relatively straight forward. It's done via the reservation website Catch Table. After selecting one's preferred date and time, a link will be sent to secure the reservation with one's credit card details.
I arrived at the restaurant on a wet Monday evening. Took the lift up to Level 3 where Muoki was located on. The staff led me to my designated counter seat, and boy was the counter high. There's a box for me to step, in order to get onto the high chair.
Prior to dinner, the restaurant got further clarity that my dietary restriction of no beef also meant no beef stock. Which meant between the pork and beef, I wasn't able to choose the former for my main because beef stock was used. As such, they made some adjustments to my course menu. I was told fish was arranged for my main. And instead of having to choose 1 out of the 2 options under the 'Chef's Special', I was given both. And (what I suspect) to maintain the number of courses, the beet dish was removed.
And with that, I commenced my dinner menu, ₩190,000 with:-
1) Welcome snacks (above) – Shrimp and cabbage pie tee, and fruit tart. The apple-pear-grape tart was a replacement for the beef tartare, and was pretty good.
2) Ocean (above) – Pickled fish, hanchi, anchovy. Staff shared this was plated as though one's standing in front of the beach. Cute! Though I couldn't help but notice the dressing. The dressing looked heavy for the sashimi at first sight, but was in fact refreshing and turned out really well. So much so I wished the portion was bigger. Hee.
3) Vichyssoise (above) – Leek, truffle, quail egg. Was surprised to know this was actually a cold dish of potato and leek soup. Served with potato chips, summer truffle (chose not to top up for winter truffle), quail egg, and crouton.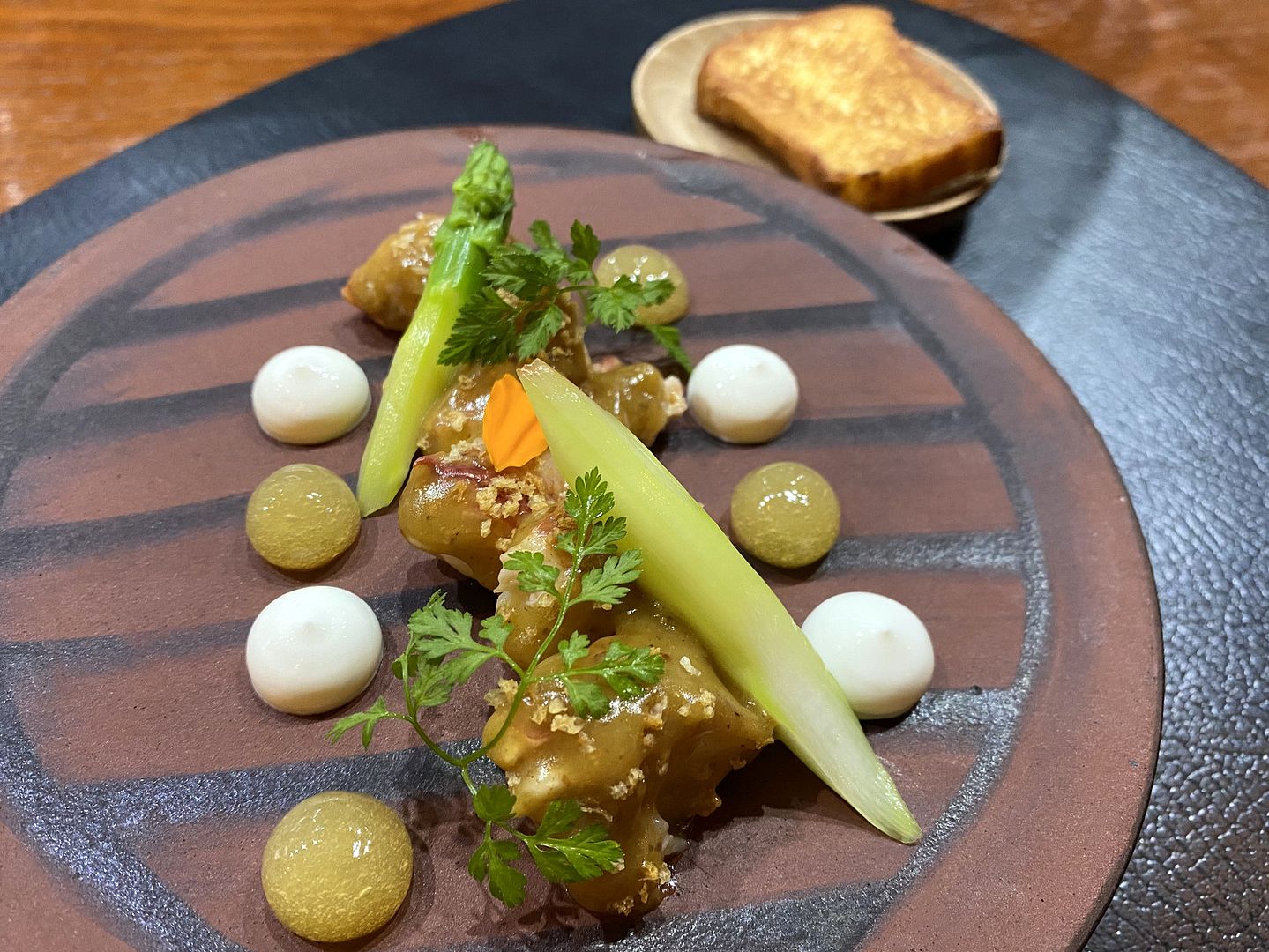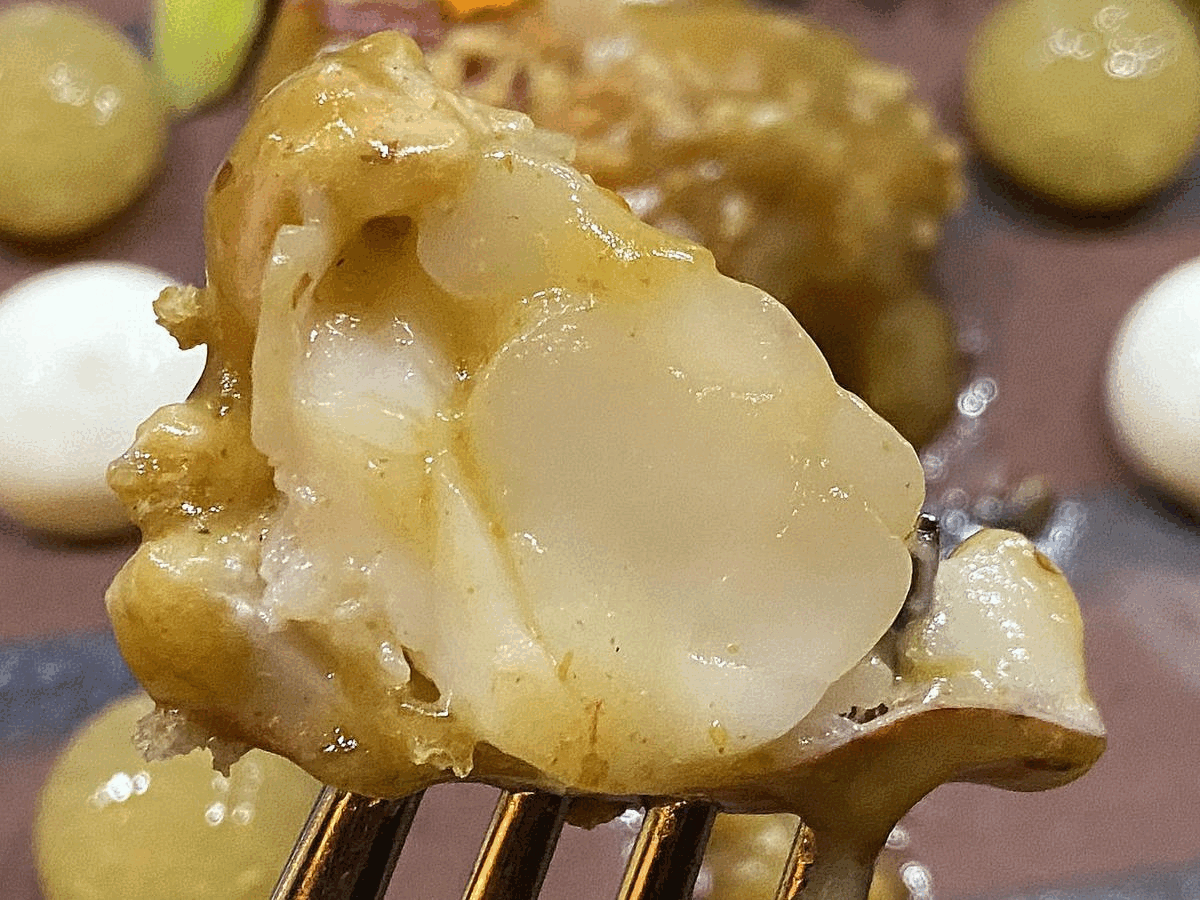 4) Lobster – Curry, calamansi, sour cream, brioche. Was expecting a grilled-to-crisp bread, but it was soft instead. All good though. Staff shared I could tear the bread up and enjoy the dish like how I would enjoy Spanish tapas. I started by enjoying the bread on its own and was surprised to realise it was slightly sweet. But that was balanced well when enjoyed with the savoury lobster.
5) Bread (above) – Homemade bread, butter, salt.
6) Scallop [Chef's Special] (above) – Kaviari caviar, celeriac, pancetta. Seated at the counter meant I had direct view of the open kitchen. And I noticed the staff spritzing liquid onto the plate before the shell was placed. Nice. The attention to details! Even if it's just for presentation.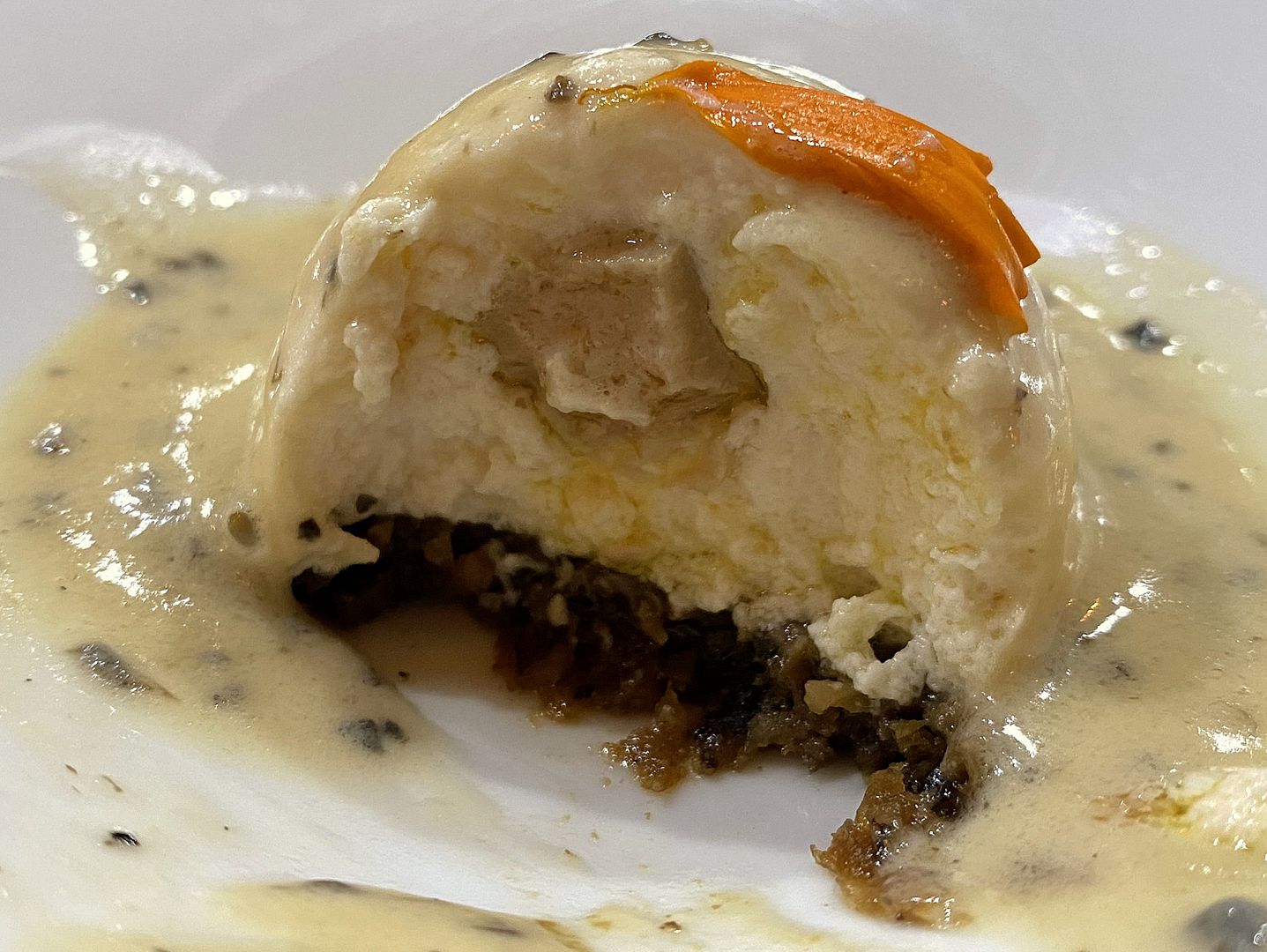 7) Muoki egg [Chef's Special] (above) – Truffle, foie gras, chicken. Was caught by surprise when the staff mentioned chicken breast mousse. Say what! And inside the ball was foie gras, paired with truffle sauce and mushroom.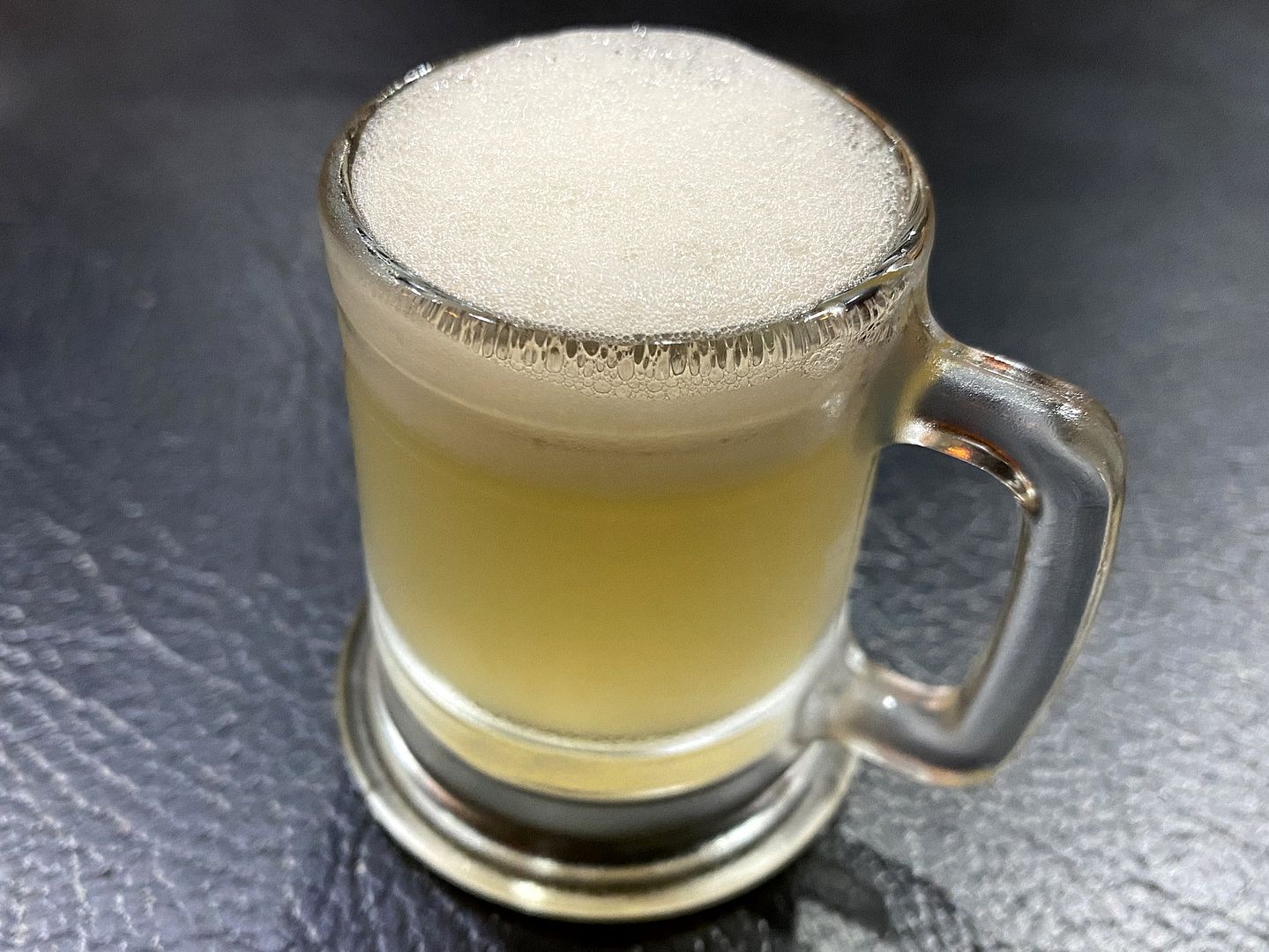 8) Cleanser (above) – Mini beer. Made with apple, ginger, rosemary, cinnamon and coconut water. And it was very sweet because the staff brought an empty jug just to geonbae (cheers) with me.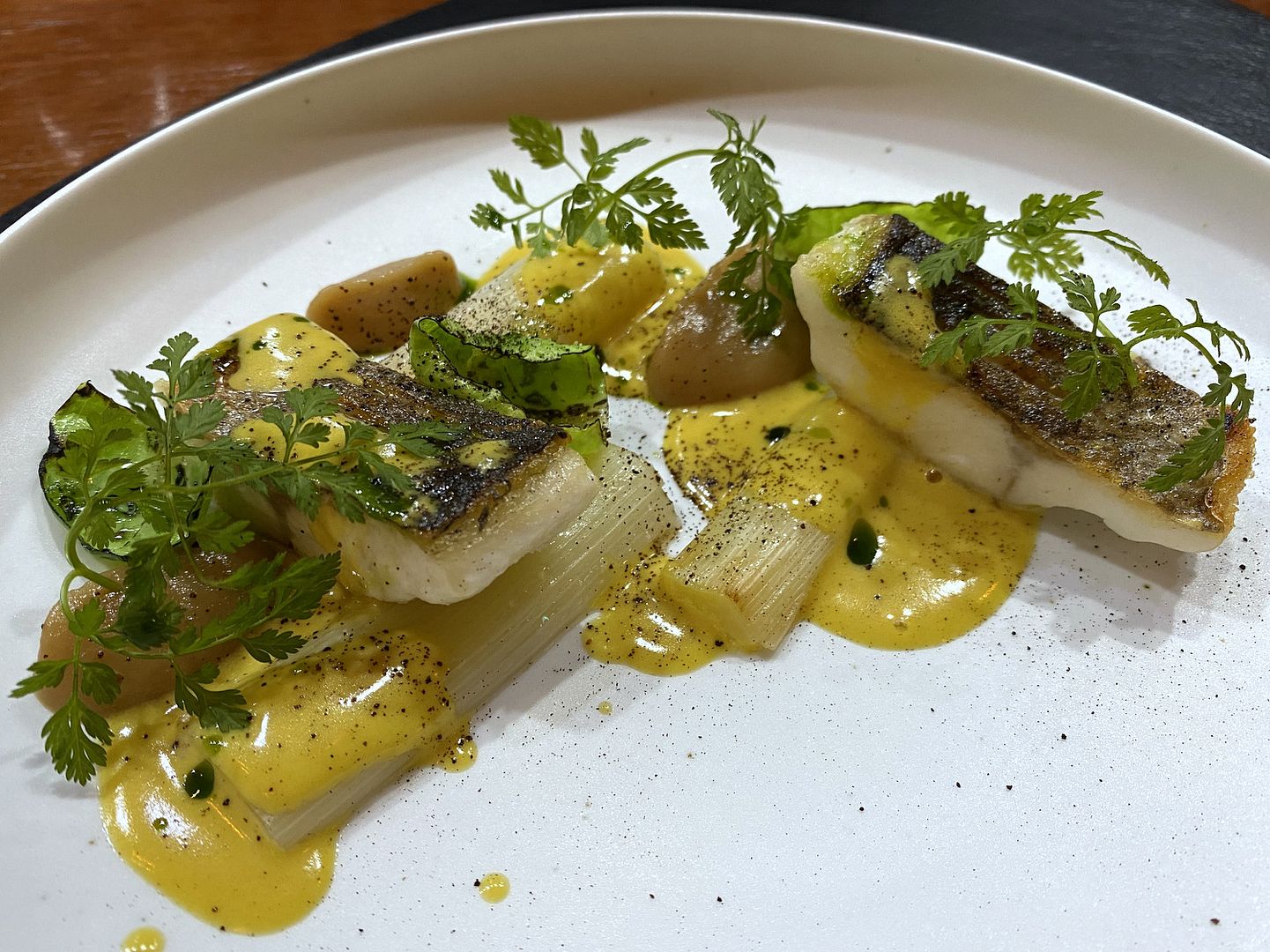 9) Fish (above) – A replacement for my main; I was unable to have the beef because of my dietary requirement, and was also unable to opt for the pork because beef broth was used (in the sauce). Was served European seas bass (branzino), leek and sauce made with saffron, mustard and sea mussels. And this was so good. Especially the sauce! If it makes any sense, the flavours were on the bold/bright side.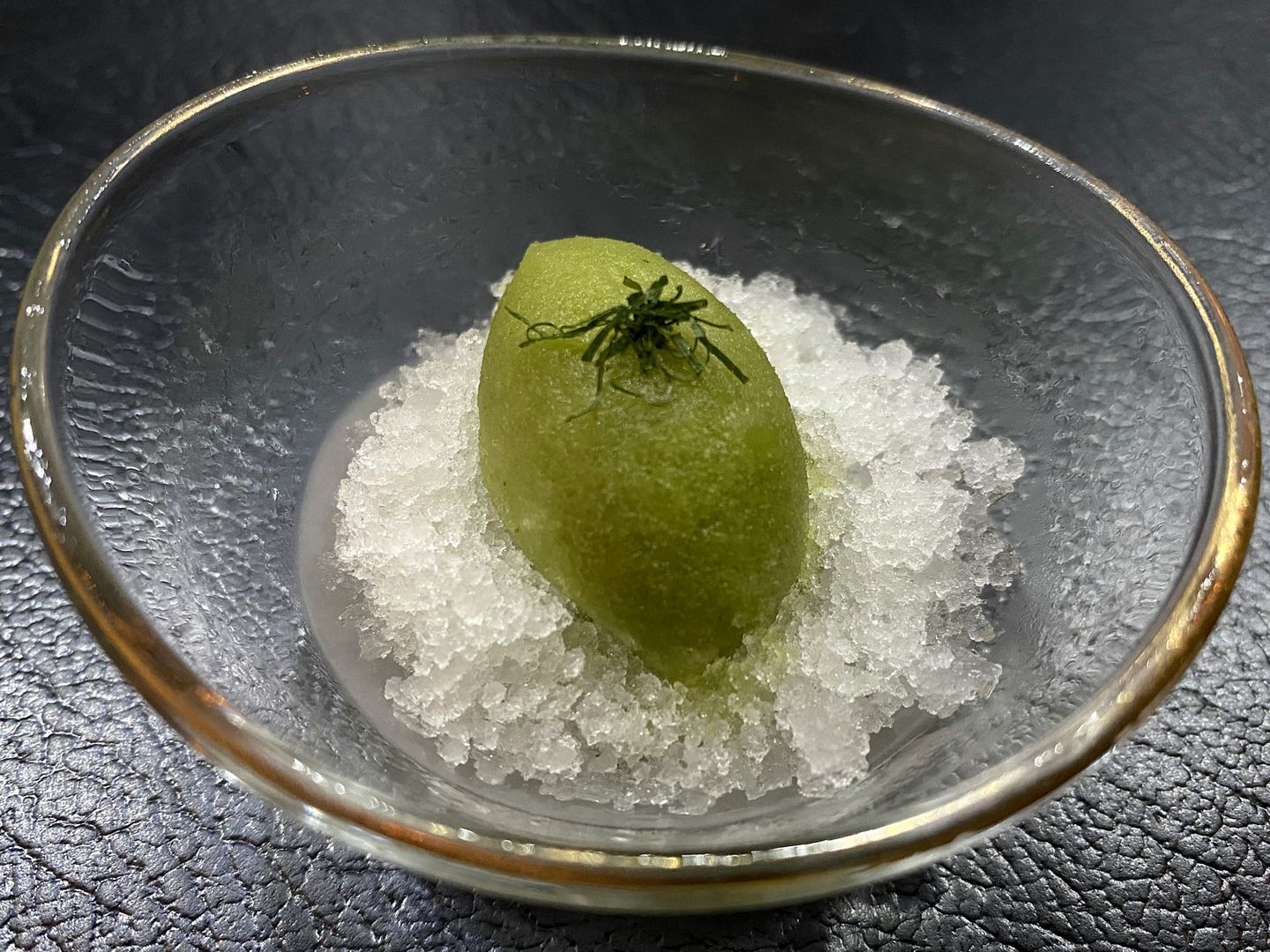 10) Sorbet (above) – Basil and lime.
11) Popcorn (above) – Caramel, vegan chocolate, corn. A very cute looking dessert. Especially that shade of yellow! Popcorn mousse with hazelnut within, popcorn ice cream on popcorn crumbs, and chocolate cake.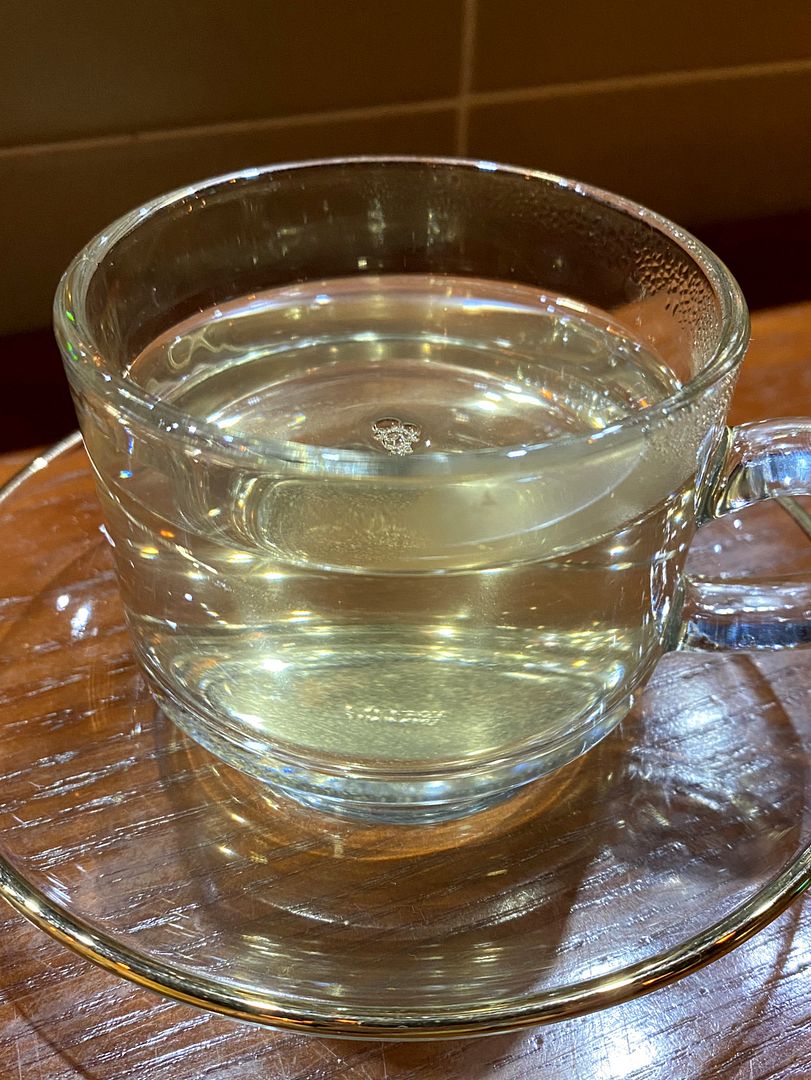 12) Coffee or tea (above) – Decided to go with tea, and I chose rose peach (bottom row).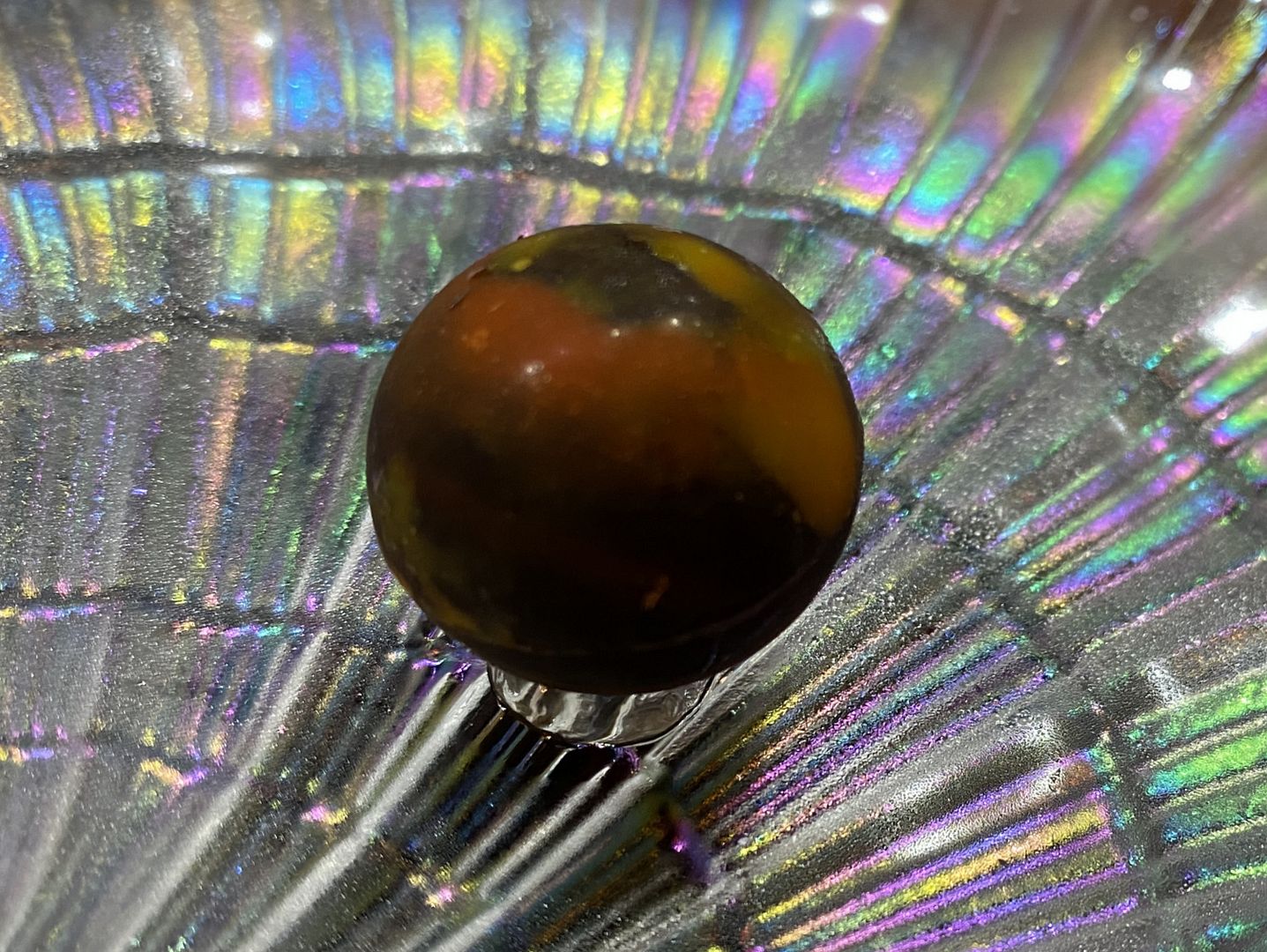 13) Chocolate (above) – Passion fruit flavoured.
It was a very enjoyable meal. Food was great as expected of a Michelin-starred restaurant. But what left a (really) deep impression on me was the hospitable service. It was simply stellar!
My phone was on low power mode. The staff must have noticed the yellow bar when he took my order (for drinks) because he suddenly appeared with a portable battery charger. That totally caught me by surprise. And that simple act from a very observant staff impressed me much. I was in fact a little panicky (inside) because I wasn't sure if my mobile could last the entire meal and till I reach back my accommodation. And for me, the phone is like so important when overseas since I rely heavily on Google map to find my way around.
During the course of my meal, I got to interact much with the staff. And it's not just 1, but 3. Though I do have to say being a solo diner in this situation helped. When I first arrived at the restaurant, I noticed a miniature dog placed on the table with the cutlery. Halfway through my meal, the staff brought out a miniature boy to accompany the dog. Cute! And when I was onto my dessert, another staff brought out the entire collection of miniature dogs! Awww! I really appreciate the fun side of the staff. Shared so much laughter.
And the benefit of sitting at counter meant I was able to watch everything unfold in the kitchen too. I suspect head chef James Park Moo-hyun sometimes forgets there's customer (aka me) at the counter when he gets very engrossed in his work. I witnessed him scolding at least 3 kitchen staff (all at different times). And that included him throwing away cooked/ready ingredients or him sending the sauces back to be cooked longer. But I honestly felt that just meant head chef James wants the best for his staff. I also observed he would find time (in between his dishes' plating) to talk to his sous chefs individually. That included guiding and showing how the vegetables should be properly better grilled at the stove. Nice! In fact, if one goes into head chef James' Instagram account, one could see he values team bonding a lot. There are pictures of excursions, etc.
Will I recommend Muoki? Yes!
MUOKI 무오키

12-12 Hakdong-ro 55-gil, Gangnam-gu, Seoul, South Korea

Overall: 8

Opening hours:-

Food/Beverage: 8

Mon – Sat : 12:00 – 15:00 (Lunch)

Ambience: 7

Mon – Sat : 18:00 – 22:00 (Dinner)

Value: 8

Service: 10

* Closed on Sun