Dinner @ Ichigo Ichie 一期一江 | Kappo Restaurant in Robertson Quay
February 14, 2022 in Japanese by thywhaleliciousfay
Ichigo Ichie opened in February 2020 at Intercontinental Robertson Quay. And if head chef Akano Eno looks familiar, it's because she previously worked at Sushi Kimura. Back then, chef Akano san would sometimes do Monday kappo at Sushi Kimura. So it's very heart-warming to see the founder(s) of Sushi Kimura extending the support by backing chef Akano san with the opening of her very own kappo restaurant Ichigo Ichie. I definitely love seeing more female chefs in the food industry.
For our weekday dinner, my friend made the reservation for us. And there are 2 menus; Kurenai 紅 ($350) and Akane 茜 (from $428). She mentioned we went with the regular (Kurenai) menu. But if anyone is keen on the Akane menu, that requires at least 4 days advanced notice.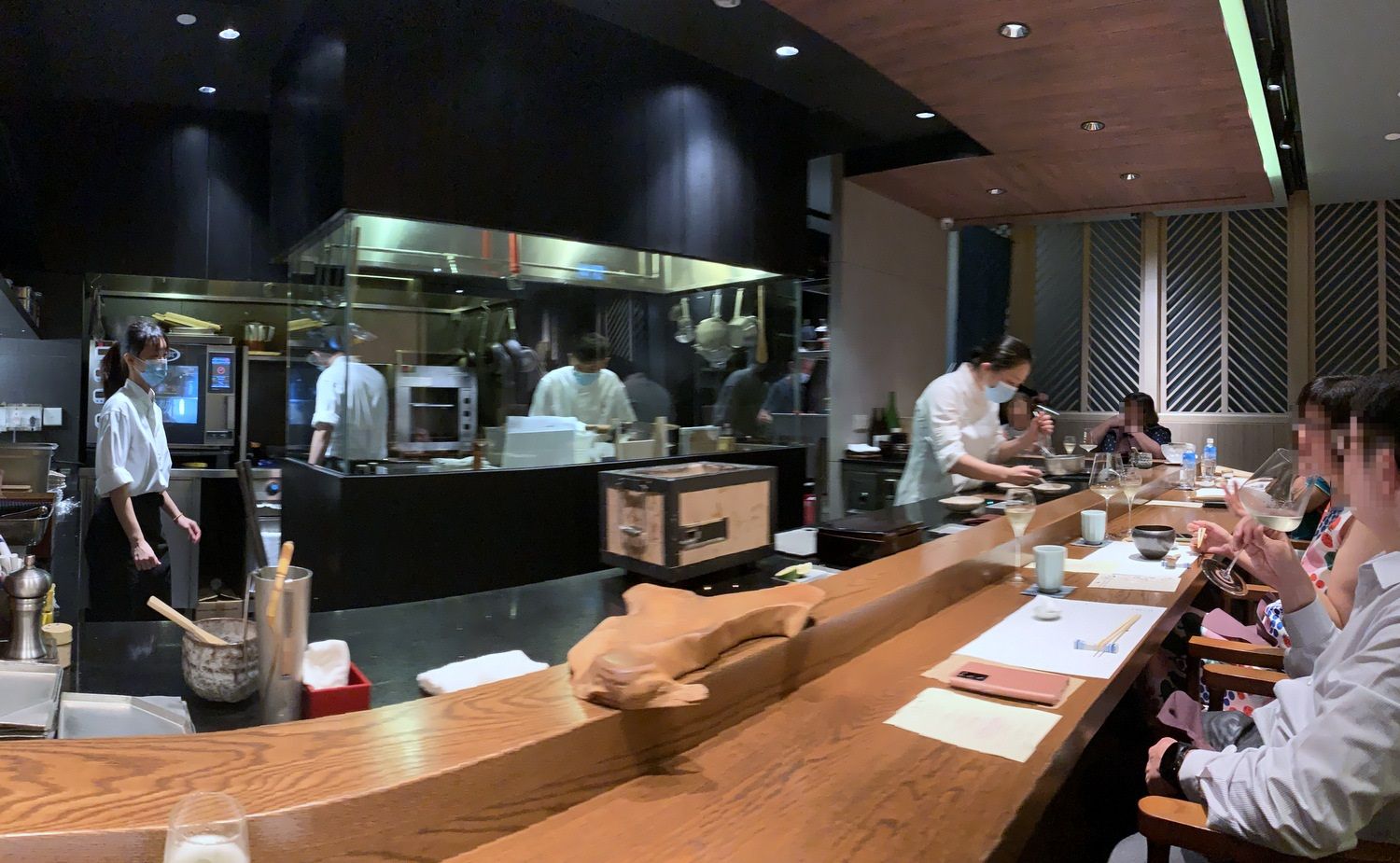 The space was a mix of traditional and contemporary; Wooden tables against a black-concept open kitchen. As we had already pre-selected our dinner course, the menu was placed at our designated (counter) seats. But it was strange that while the menu was personalised (in the sense that it even had my name printed on it), the restaurant failed to incorporate my mentioned dietary requirements into the menu. But it was thankful that chef Akano san was able to replace the beef dish. And after taking my drinks order, I commenced my Kurenai plus menu, $350 $400 with:-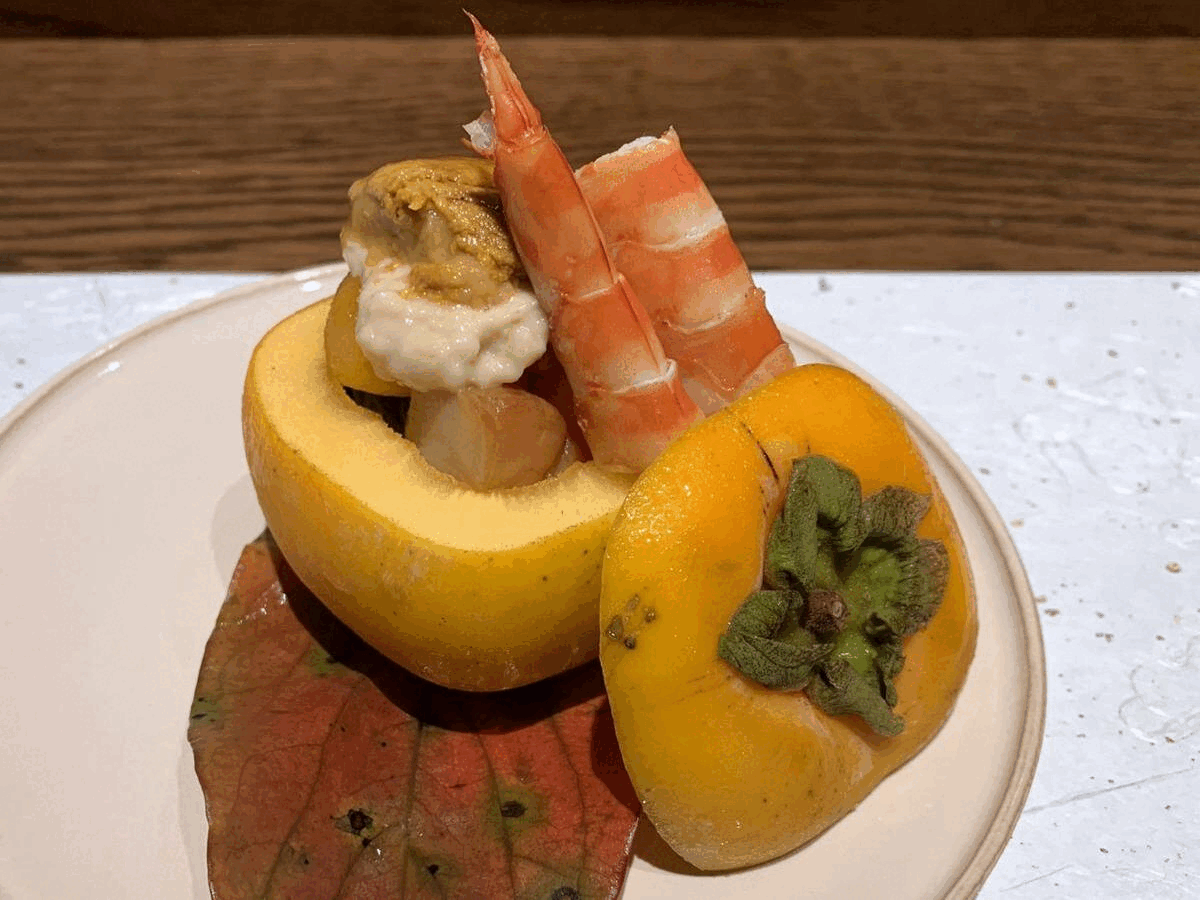 1) Kakigama (above) – Persimmon, yuba sauce, naga nasu, smoked hotate, kuruma ebi, murasaki uni.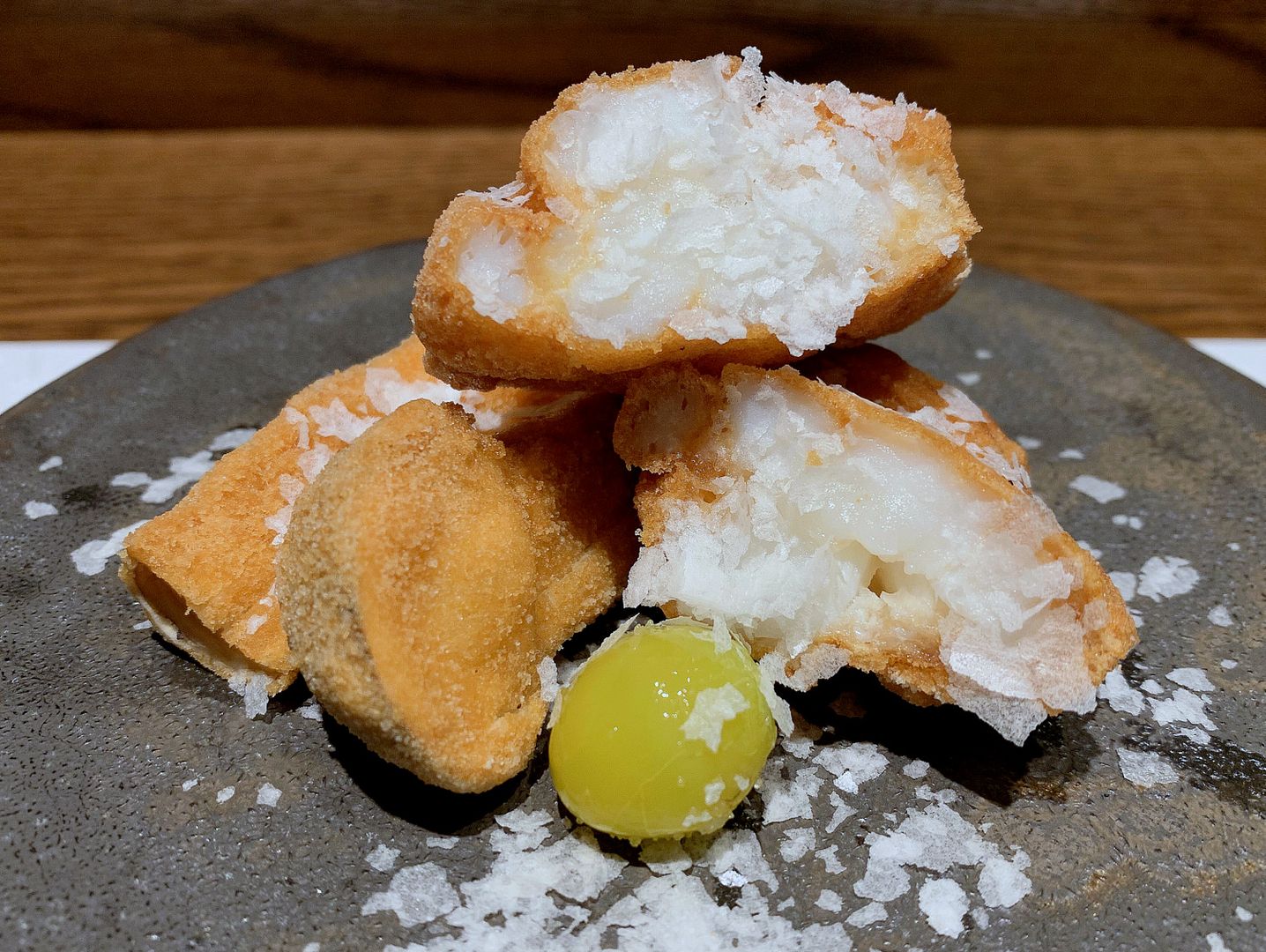 2) Matsutake & uchiwa ebi (above) – Premium mushroom, slipper lobster, gingko nuts.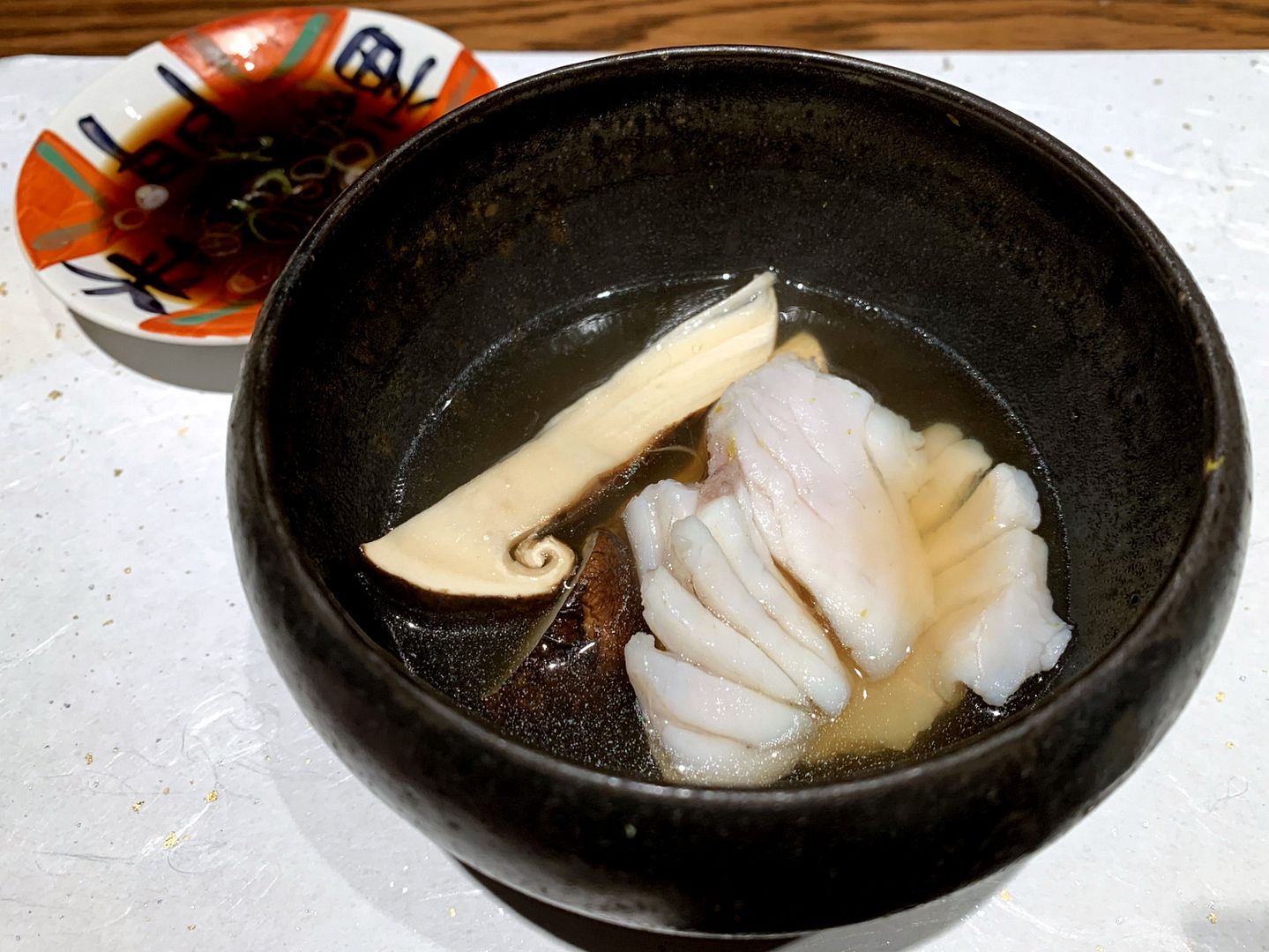 3) Kue shabu (above) – Longtooth grouper, matsutake.
4) Premium sashimi platter (above) – Assortment of trout and roe, marinated bonito with pickled chilli, black throat sea perch (nodoguro), flounder (hirame) and flounder fin (engawa), horse mackerel (aji), lean tuna (akami), premium fatty tuna (otoro), abalone and adult yellowtail (buri).
5) Yaki matsutake (above) – Premium mushroom, hanayuzu.
6) Shiro amadai wakasayaki (above) – White tilefish, gingko nuts, amakusa aka uni. This was really good.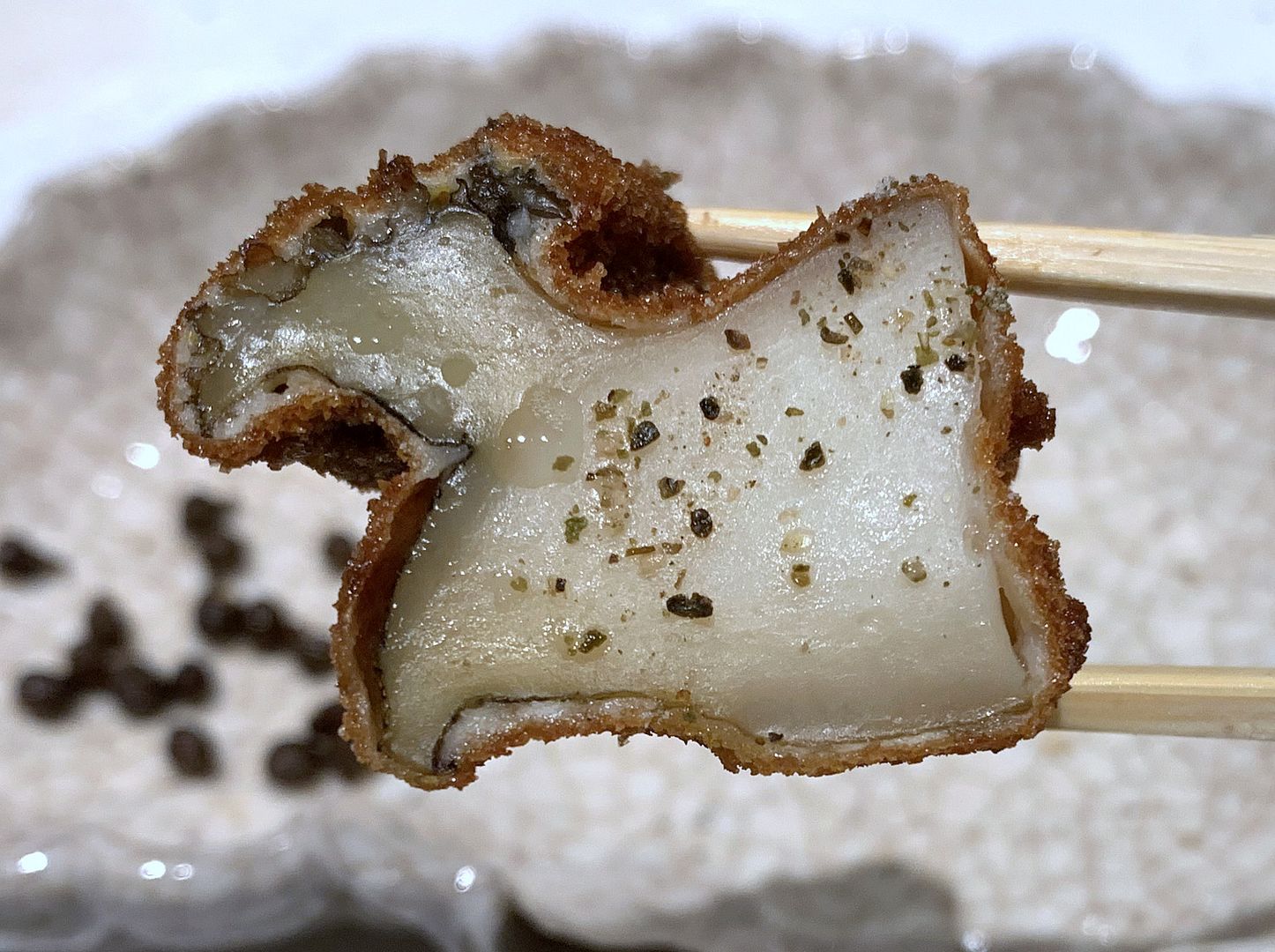 7) Dish #7 (above) – Iga (beef) tenderloin cutlet was replaced with abalone tempura.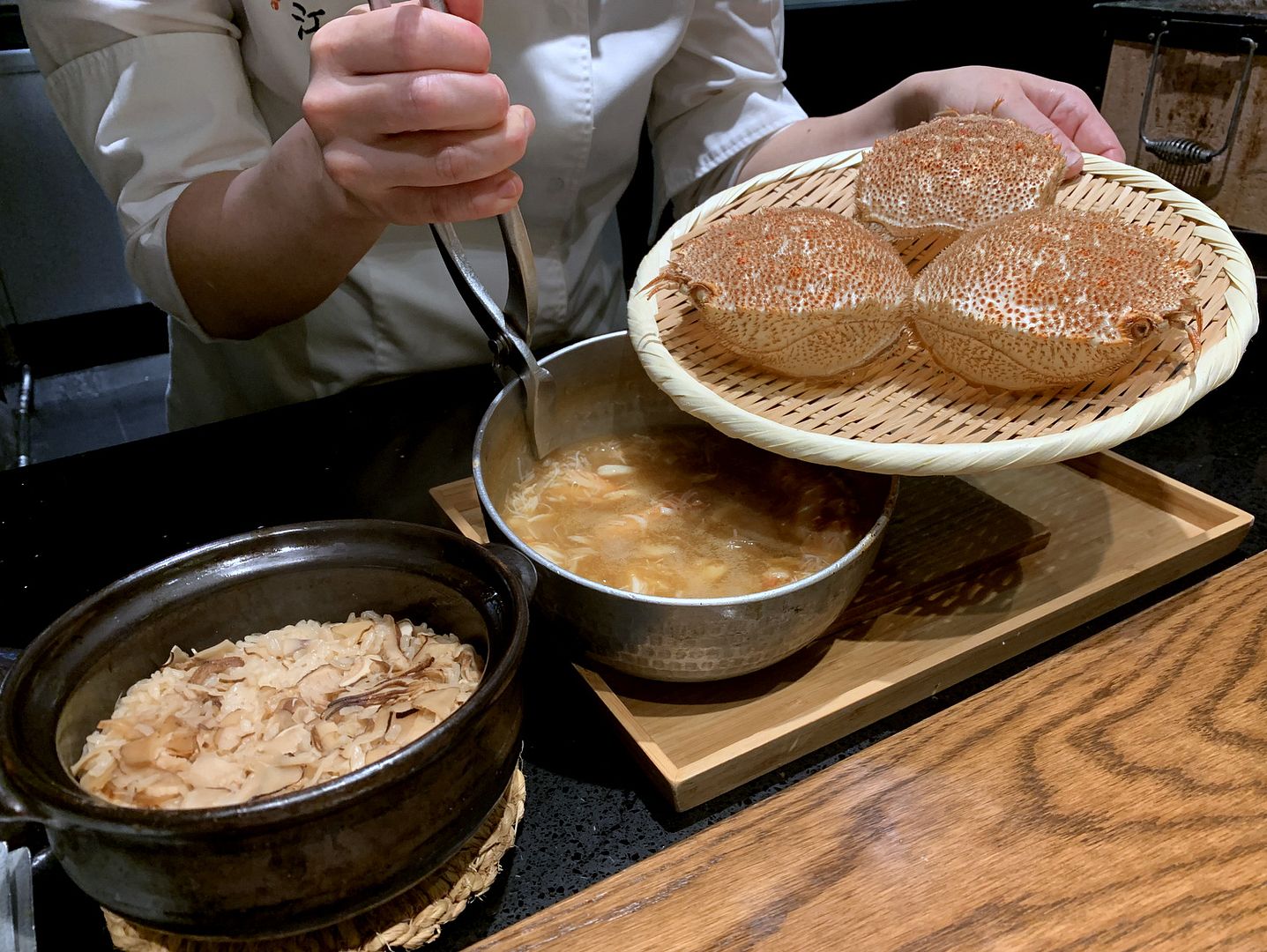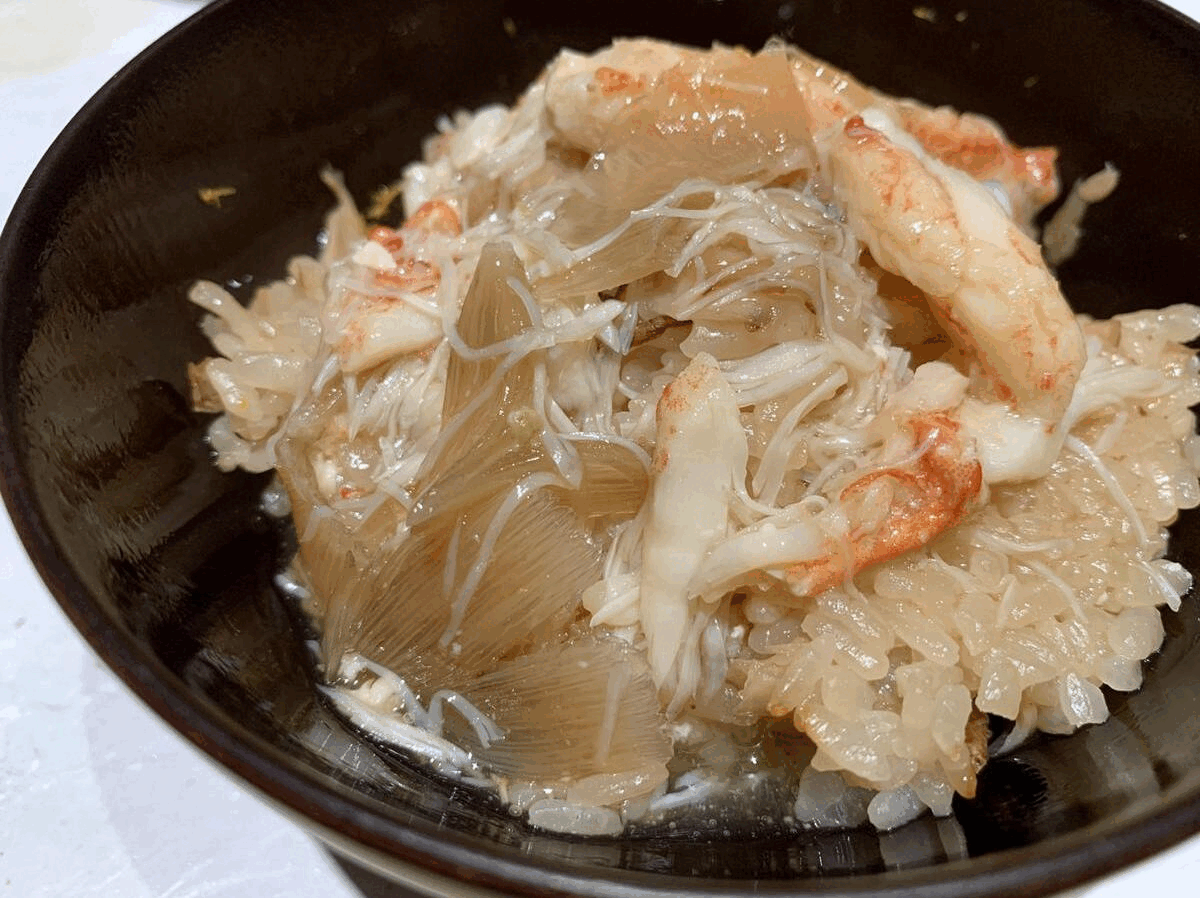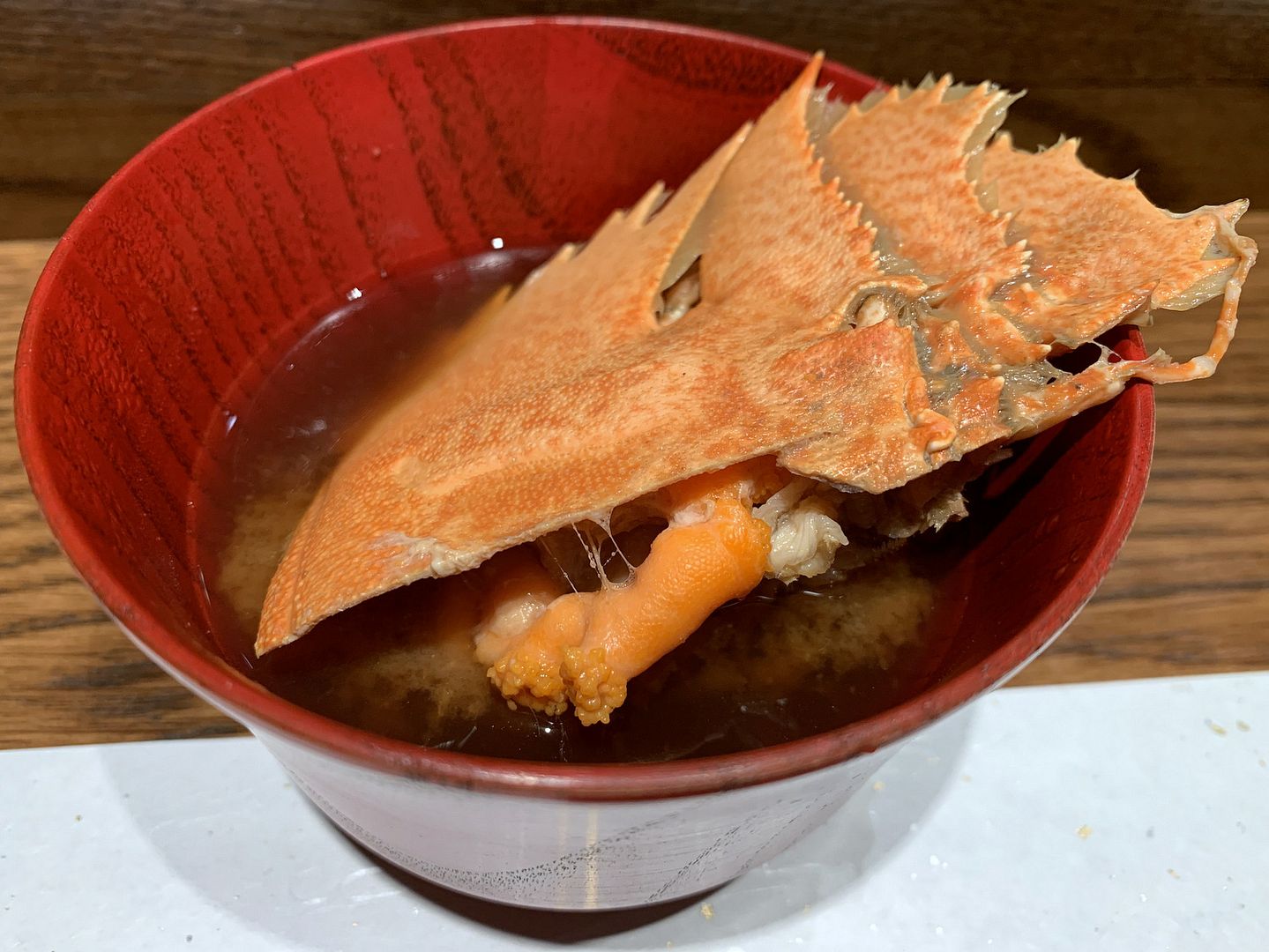 8) Donabe rice (above) – Matsutake mushroom, koshihikari rice, kegani (hairy crab) & fukahire (shark's fin) sauce. Miso soup with shijimi clams.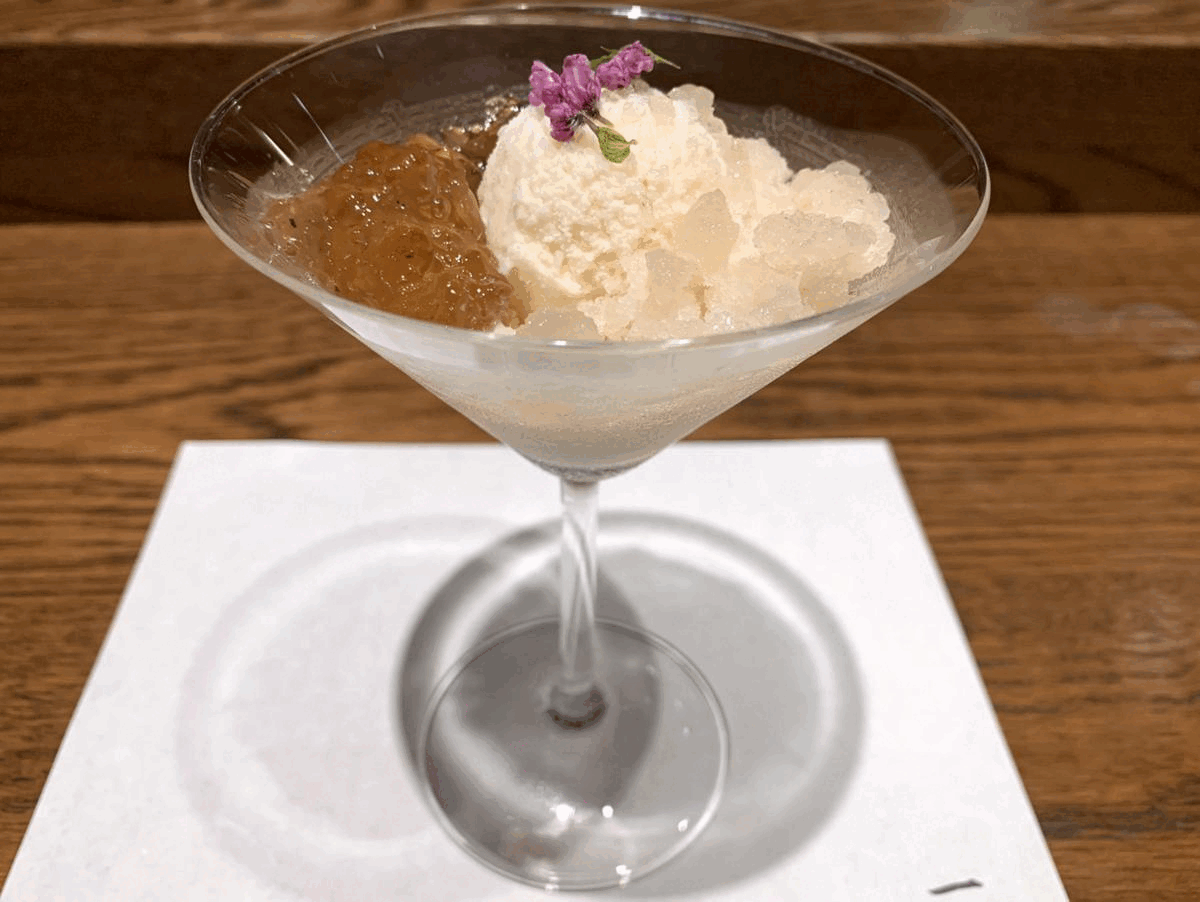 9) Dessert (above) – Xing ren (chinese almond) ice cream, jasmine & peach granite, peach gum, shiso flower.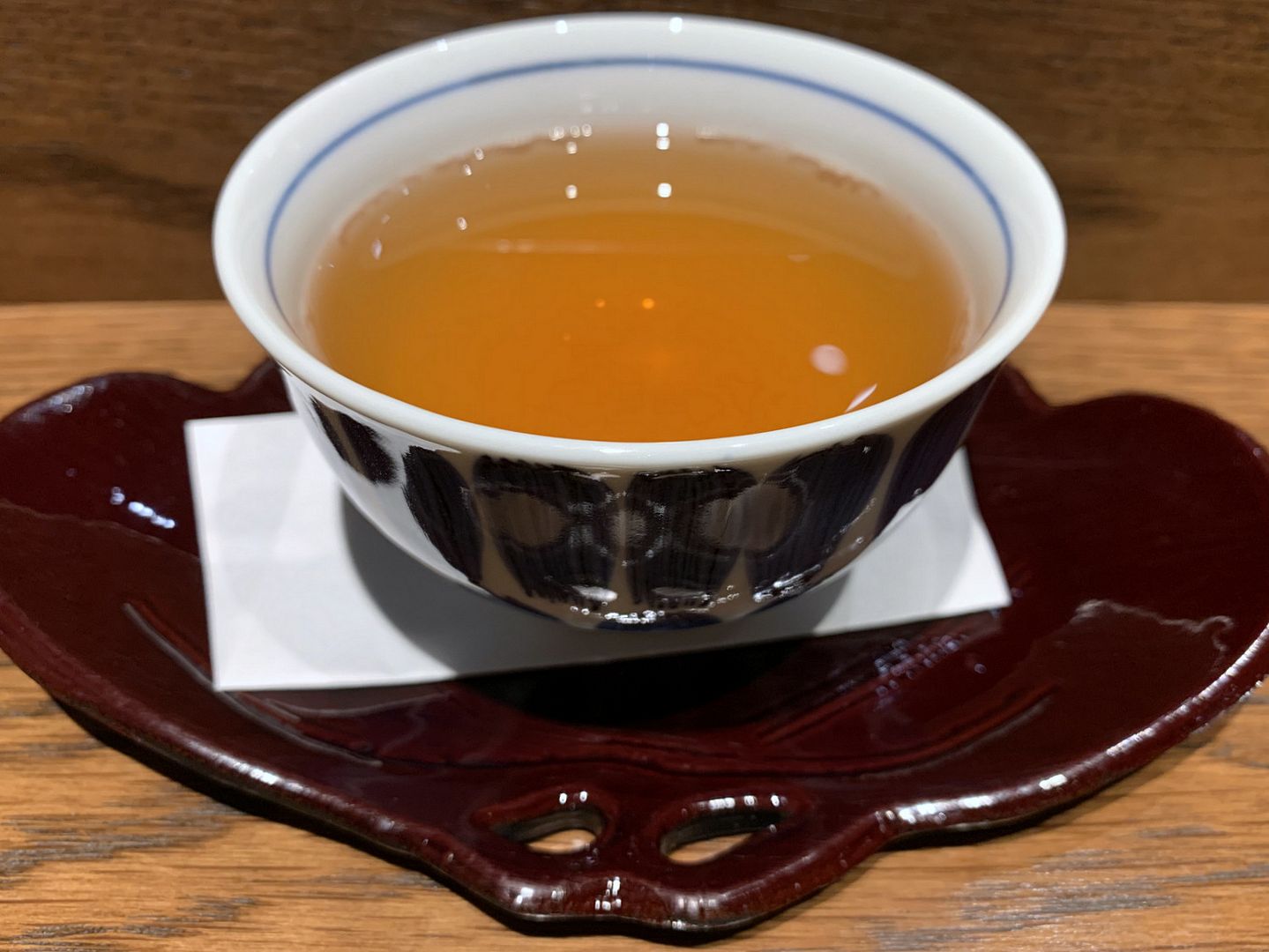 10) Roasted tea (above)
I thoroughly enjoyed my meal at Ichigo Ichie. It was very satisfying. And dinner couldn't have happened at a better time. I liked how we managed to catch the tail end of matsutake mushroom season (picked from September to October). In fact, chef Akano san shared it wasn't easy getting these as our meal was right at season end. So I truly appreciate the length the restaurant went to provide the good handful of matsutake dishes into the meal.
And onto the menu… I thought we went with the regular Kurenai menu ($350). But if one looks at Ichigo Ichie website, we should have been served the signature 'uni & ebi somen' dish. However that didn't happen. And when I was presented with the receipt at the end of the meal, it showed food alone was $400 instead of $350. I'm guessing the price adjustment was for the seasonal ingredient. Thus, me calling it 'Kurenai plus' menu. Or maybe my girlfriend got it wrong. We might have pre-selected the Akane menu, but I was not charged the full 'from $428' because I didn't have the exclusive Iga beef tenderloin dish? Shrug.
Chef Akano san was very busy. It was quite a sight to see a petite her scurrying from one end to the other. Though that meant every diner weren't left out. I appreciated her level of attentiveness. When she was grilling the my matsutake mushrooms, I appreciate how she intentionally moved the (portable) grill nearer to my end of the counter so that I could see what's happening.
Would I recommend Ichigo Ichie? Definitely.
ICHIGO ICHIE 一期一江

1 Nanson Road, Intercontinental Robertson Quay, #02-07A, Singapore

Overall: 8

Opening hours:-

Food/Beverage: 9

Mon – Sat : 12:30 – 15:00 (Lunch)

Ambience: 8

Mon – Sat : 19:00 – 22:30 (Dinner)

Value: 7

Service: 8

* Closed on Sun