Dinner @ ANJU | Contemporary Korean in Tanjong Pagar
March 19, 2022 in Korean by thywhaleliciousfay
I didn't think I would get down to sharing my dining experience at Anju because there's a lot of reviews of Anju on the internet. But the thing is my friend and I truly enjoyed ourselves. And it's always experiences at the 2 extreme ends of the spectrum that make me want to write. So yes, here I am… Penning my thoughts of my meal at Anju. Since I also noticed a good handful of the online reviews are from media tasting that Anju hosted. I usually read reviews from media tastings with a pinch of salt. But hey, that's me. =)
My girlfriend was visiting from Australia in January 2022, and suggested Anju because she saw photographs of their food on her Instagram feed. Power of social media, eh. And surprisingly, I didn't hear of Anju prior. Shocker, I know. But I am always up for Korean cuisine!
Anju accepts reservation exactly 1 month in advance. So for our mid January dinner, reservation was made in mid December. And we chose to dine during the first seating.

Interior (Picture Credit: Link)
We were assigned to a table right under the skylight, which was lovely! Since we reached at 6.30pm, we got a good amount of natural light before the sun eventually set at 7pm. And from the food menu, my girlfriend and I ordered:-
1) Gyuja salad, $24 (above) – Prawns, squid, kimchi, red dates, mustard dressing. Would definitely recommend ordering this. The tangy sauce cut through the greasiness of the other dishes, which allowed my girlfriend and I to eat more. Keke.
2) Domi carpaccio, $26 (above) – Red snapper, seaweed, chilli, miso, chive oil, yuja. Don't be fooled by my photographs. The portion is on the smaller side, and is good for just 2 people.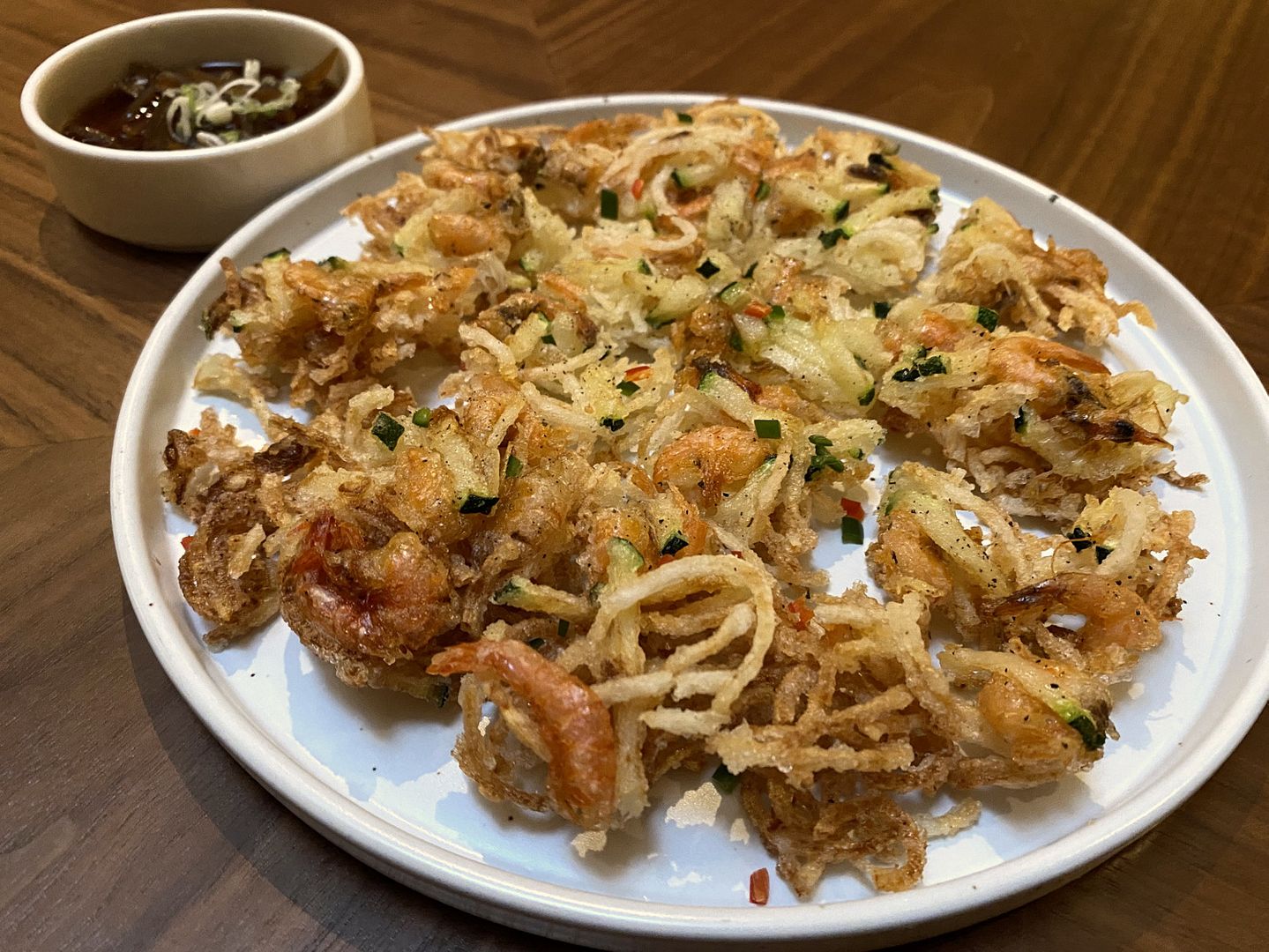 3) Hogam jeon, $26 (above) – Potato, zucchini, prawn, onion pickle. There's an option to add mozzarella cheese for $3 but we decided not to. And this unfortunately tasted just like any seafood fritters. Barely saved by the dipping sauce. I guess this didn't live up to expectation because I was expecting some dough since 'jeon' is after all a pancake dish. I say give this a miss.
4) Oyster, $28 (above) – Squid ink battered oyster, pickled fennel, flying fish roe. This was so good. Definitely recommend ordering this.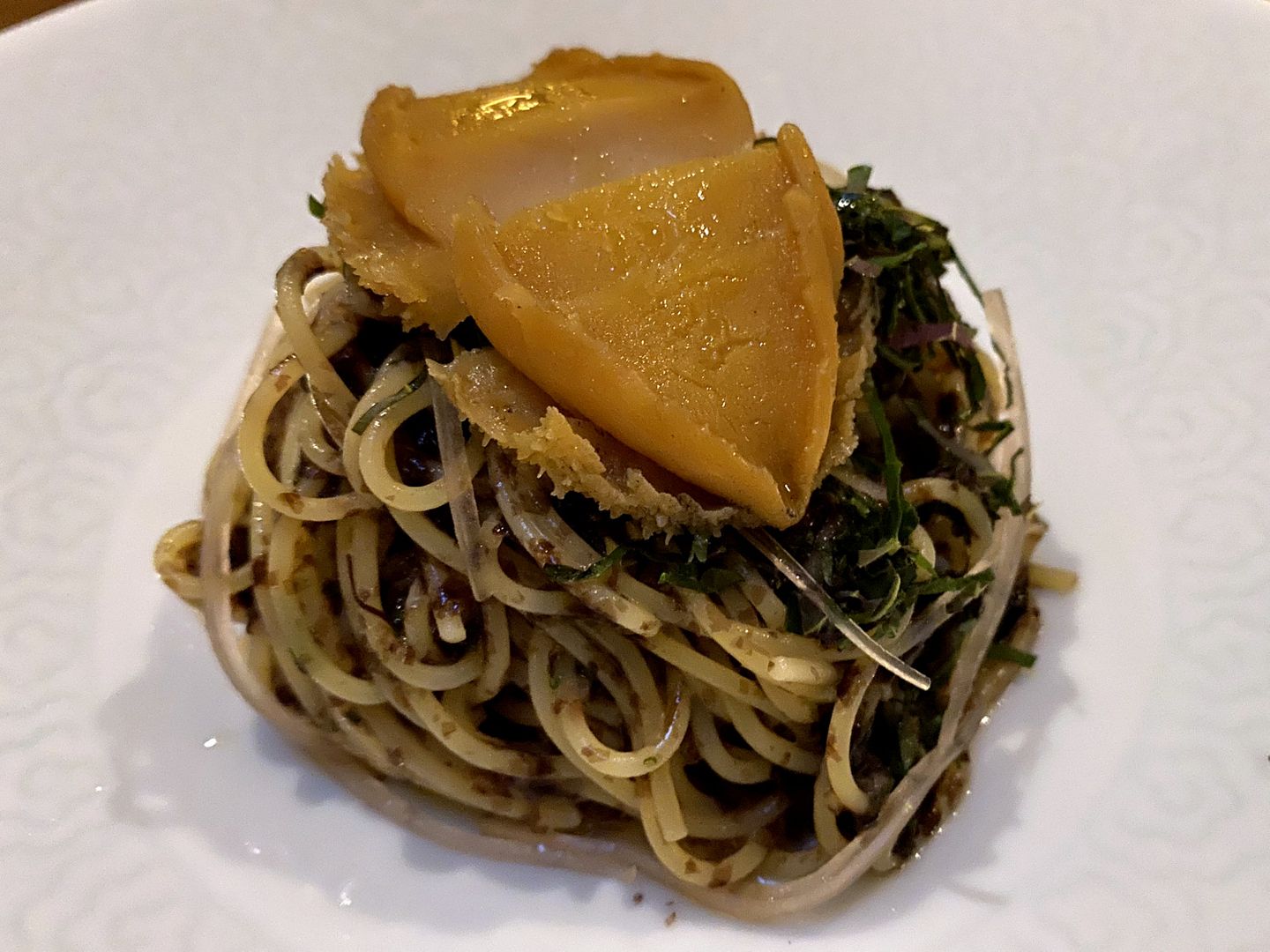 5) Abalone gim pasta, $34 (above) – Fresh abalone, seaweed, pickled shallots, perilla.
6) Bossam, $50 (above) – Pork belly, pickled mushroom, dried squid, dried radish, pickled garlic, baby romaine lettuce. Since bossam is a Korean boiled pork dish, I was surprised to see the pork belly black instead of white. And going by my standard, this would be a fail because I am a traditionalist. I want my white beautifully boiled pork, and paired with well-seasoned crunchy kimchi. Bonus if oyster is included in the kimchi just as how bossam was served when I had it in Korea. But I digress… Nonetheless, the pork belly at Anju was still enjoyable. There's a good ratio of meat to fats, and was nicely charred.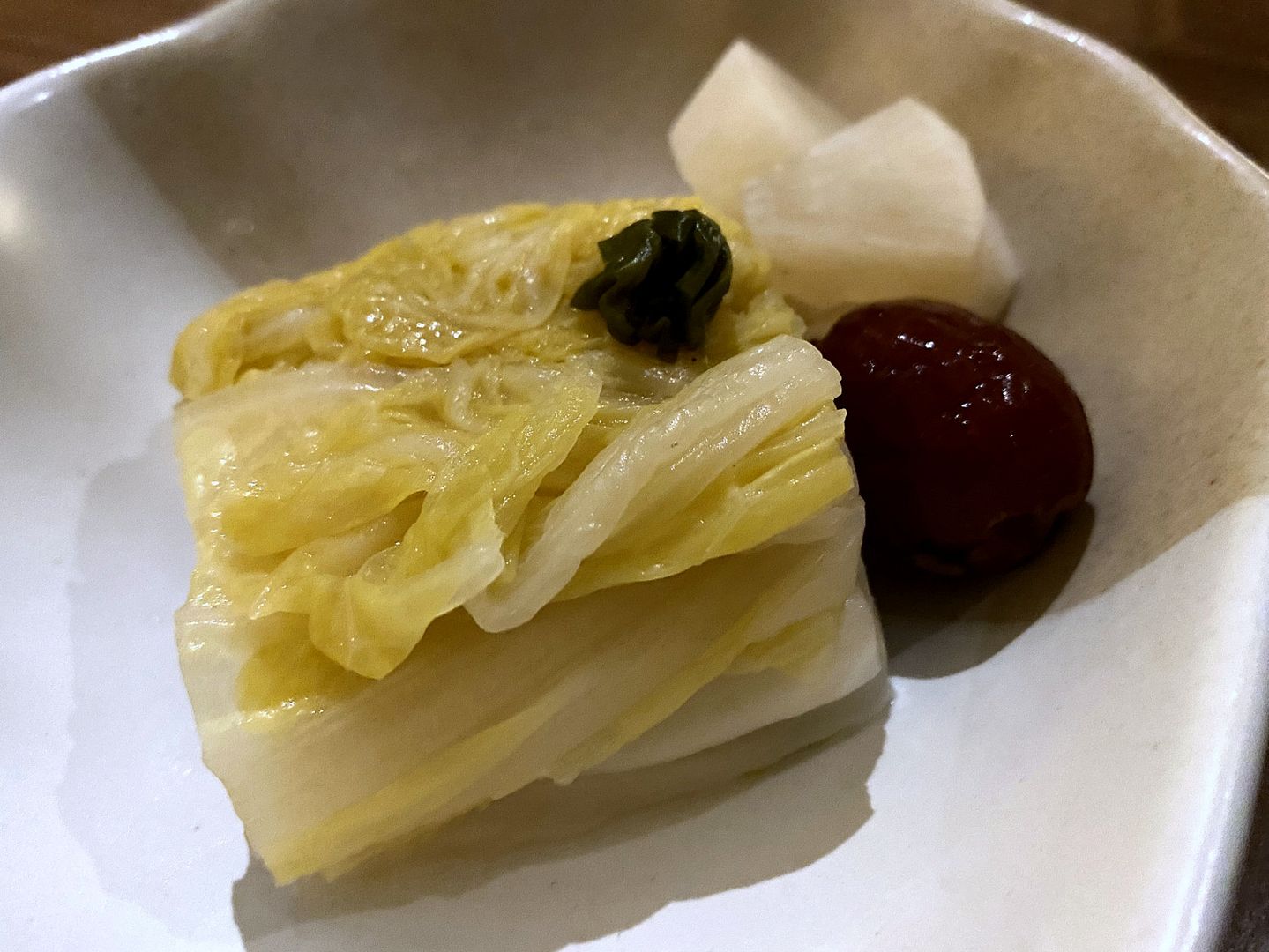 7) Baek kimchi, $7 (above) – White kimchi, radish, red dates.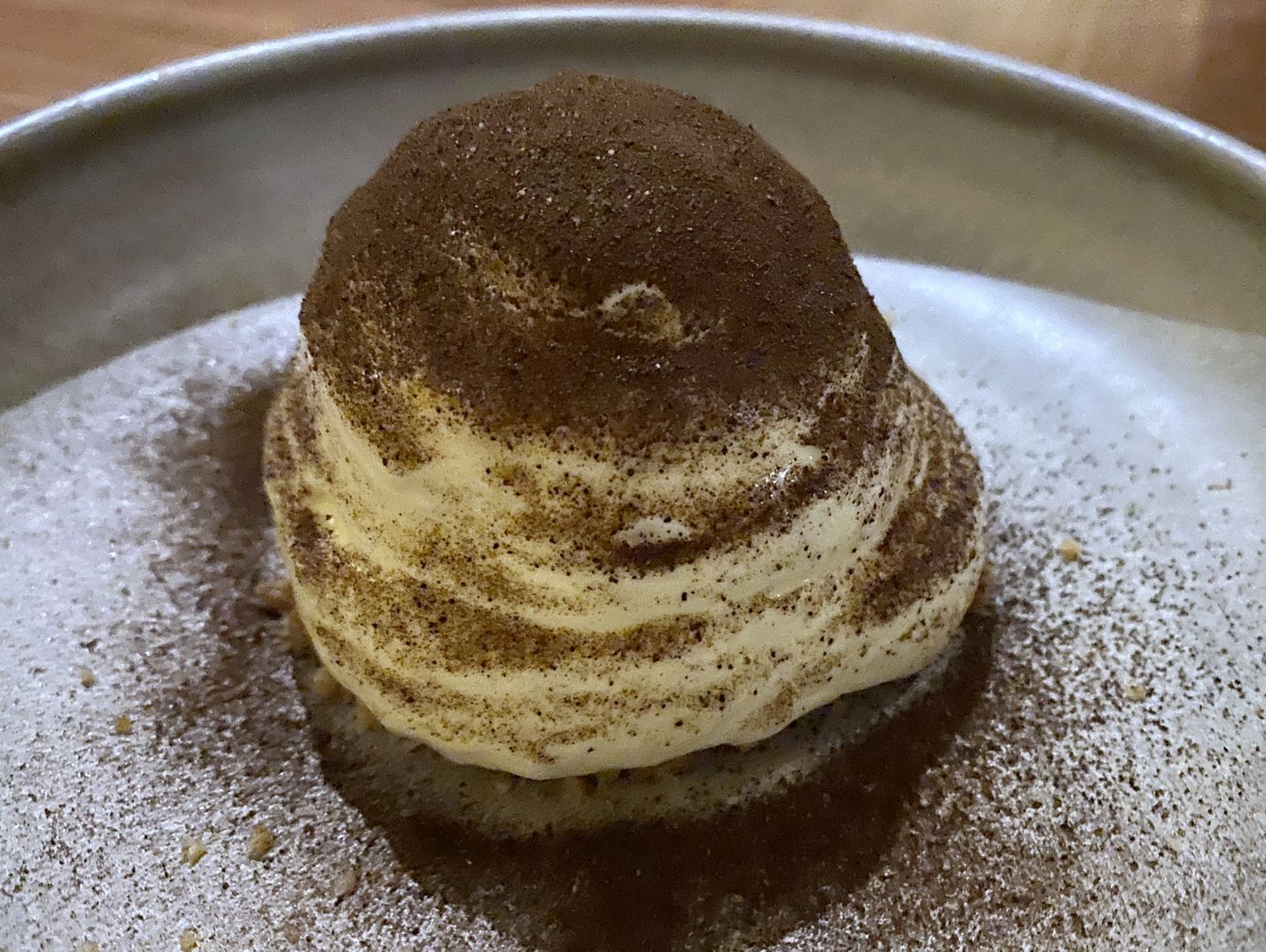 8) Sweet potato, $18 (above) – Salted caramel crème, sweet potato ice cream, brown butter crumble, charcoal curd foam, roasted sweet potato skin powder. This was lovely! Looked similar to a tiramisu, if I must say.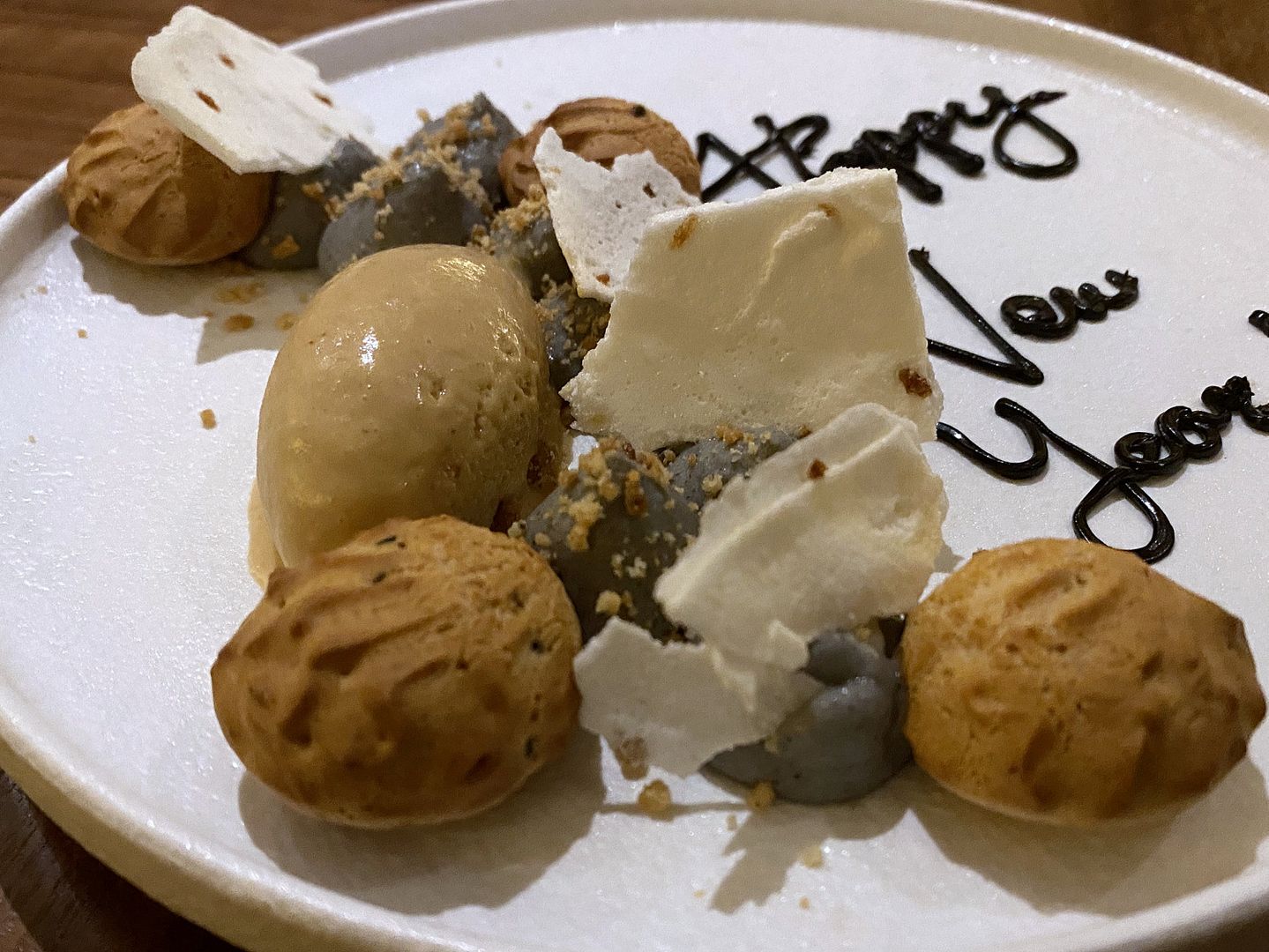 9) Black sesame bread, $16 (above) – Korean black sesame bread, black sesame cream, doenjang ice cream, yuzu meringue. Skip this.
So yes, my girlfriend and I had an absolute wonderful time at Anju. Though most of it was contributed by the wonderful service. When the staff came round at 7.30pm to take last orders, I panicked. We had consumed 3 of the 4 (savoury) dishes we ordered, but I was still very hungry. I liked that the staff entertained me and allowed me to go overboard with my orders. Haha. And it was an absolute bonus when the staff said we didn't have to clear our table for second seating. I couldn't imagine us wolfing down our additional 3 (savoury) dishes and 2 dishes within an hour.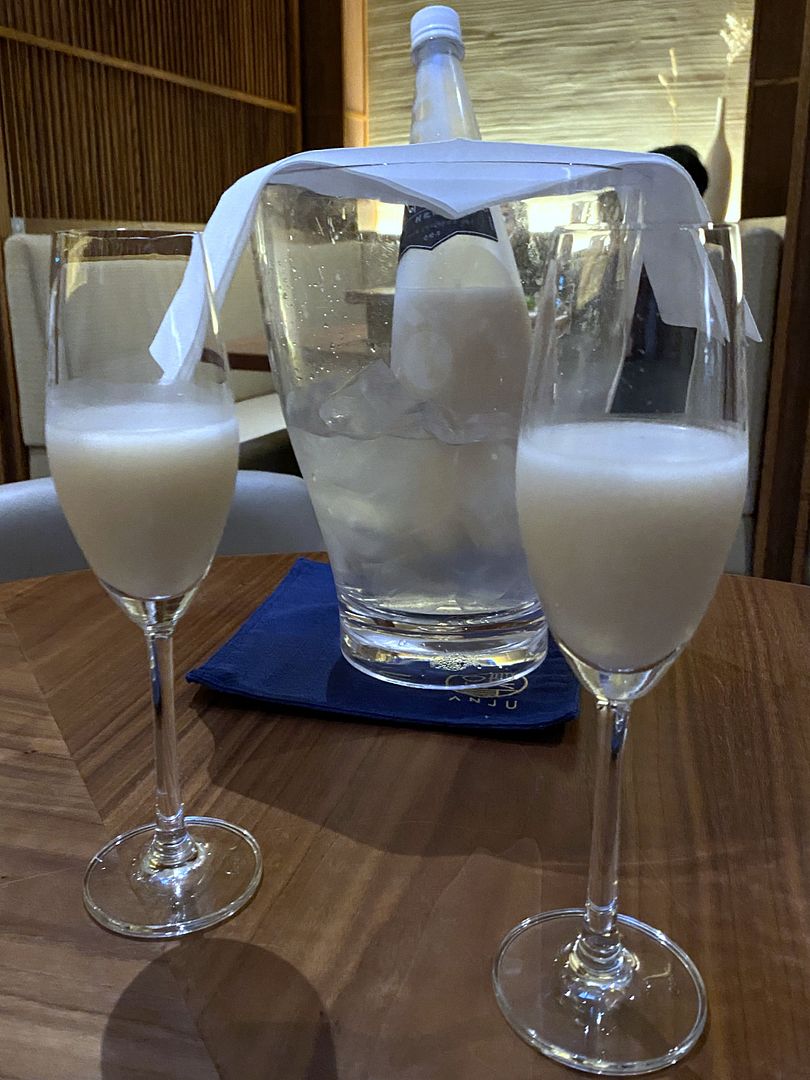 My girlfriend and I also ordered some alcoholic beverages to go with our food. We had to order drinks, especially since it's read from Anju website that head chef Kim Gi Deok created the food menu to be paired well with all of their drinks. And I would definitely recommend trying their range of makgeolli. We had White Lotus makgeolli (375ml, $30) (above, left) and Champagne makgeolli (940ml, $80) (above, right). Pity we weren't able to try Ellyeob Pyunjoo makgeolli (750ml, $188). Might pop by just for it cause their alcohol (at least the makgeolli) is reasonably priced.
Would I recommend Anju? Yes.
ANJU RESTAURANT

62 Tras Street, Singapore

Overall: 7.5

Opening hours:-

Food/Beverage: 7

Tues – Sat : 18:00 – 22:30

Ambience: 8

Value: 7

Service: 8

* Closed on Mon & Sun