Dinner @ Asador Singapore | Spanish Grill in Joo Chiat
March 23, 2022 in Spanish by thywhaleliciousfay
My last fancy siblings meal was back in 2015 at Burnt Ends. We didn't arrange another one since, because my siblings and I felt guilty having fun without our parents. But as our family grew, my brothers and I formed a 'youngster group' with the addition of my sister-in-law and Bro 2's friend that's like family. The 3 kids no longer feel guilty since it's children youngsters hanging out. =p
So yes! Our 'youngster meal' came about because Bro 1 wanted to treat. Woohoo! Bro 1 initially asked me for suggestion, but I was stumped. The few places that I could think of were more ideal for couples pairs and not for bigger groups. So thank goodness for my sister-in-law! She was at Asador with her colleagues and enjoyed the food very much. She didn't mind returning, so it was decided to dine at Asador. Reservation for weekday dinner was made through Asador's website with 2 weeks' advanced notice. We went with the latest time possible for the first seating (6.15pm).
It's a good thing the youngsters all stay in the North. Car pool! Keke. There's an open air carpark at the junction of Tembeling Road and Joo Chiat Place, which is just a 3 minutes walk from Asador. We easily got ourselves a parking lot. Ain't sure if it's because 6.15pm is considered early for a Friday evening, or people don't hang out as much as we used to because of COVID-19.
And from the food menu (pages 1, 2) and dessert menu, we ordered:-
1) Pimientos de padron, $13 (above)
2) Tosta de jamón ibérico, $9 (2 pieces) (above) – Toasted focaccia with grated tomatoes & acorn-fed ham. This was seriously good. Everything was in perfect ratio. From the liberally applied butter, to the thick layer of tomato puree, and the generous shaving of sweet yet nutty cured ham. A must order.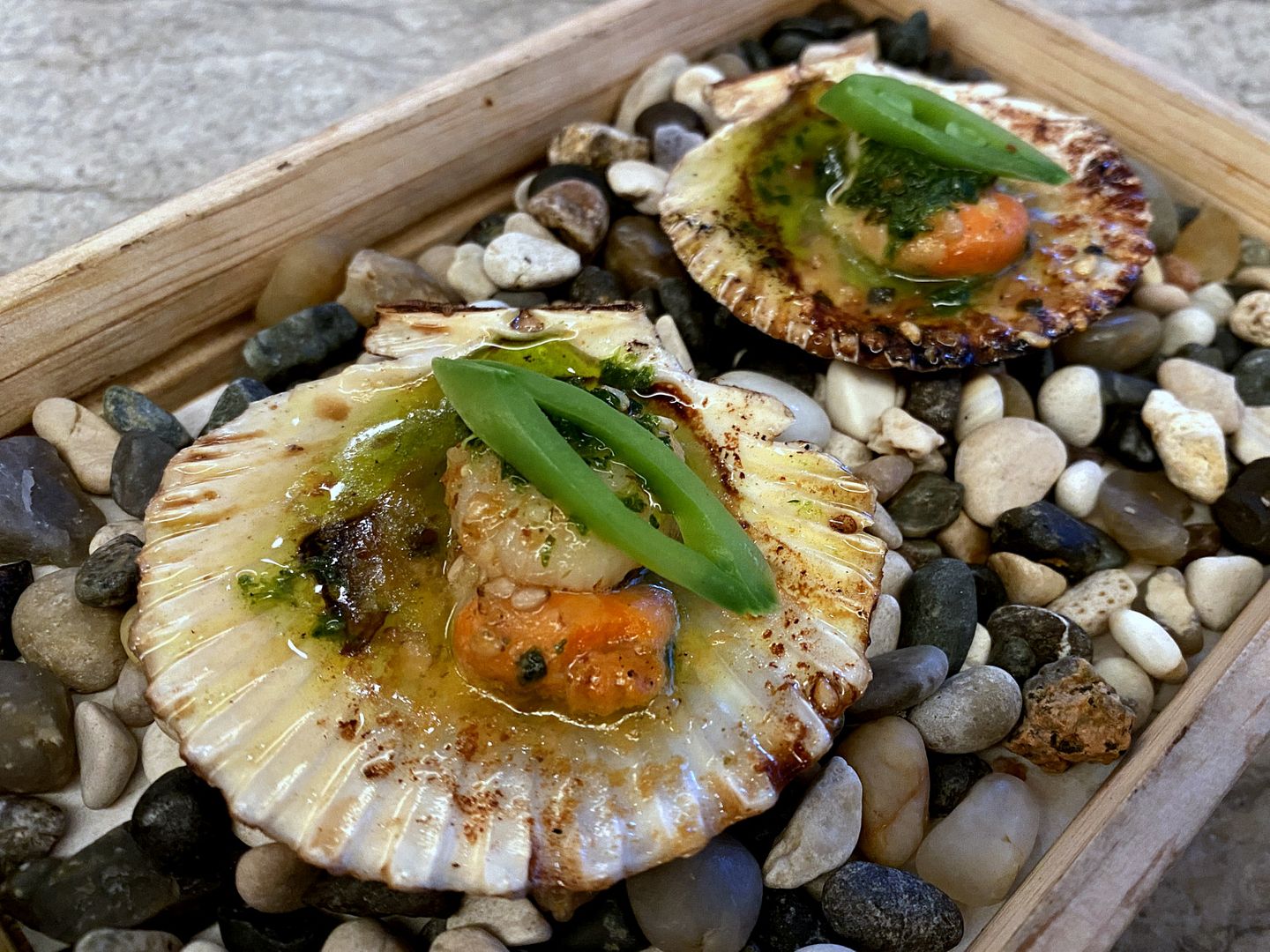 3) Zamburiñas, $9 (2 pieces) (above) – Grilled baby scallops with kombu butter.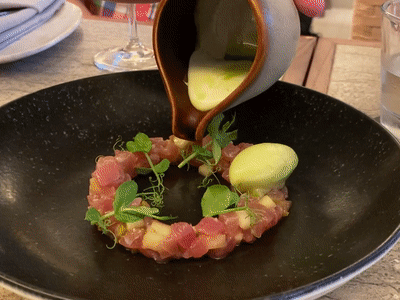 4) Atún, $18 (above) – Tuna tartare, green apple sorbet, ajoblanco cream. Ain't sure if the waiting staff intentionally poured the sauce in a fancy way, but I couldn't help linking the pattern made to latte art. Anyone with me?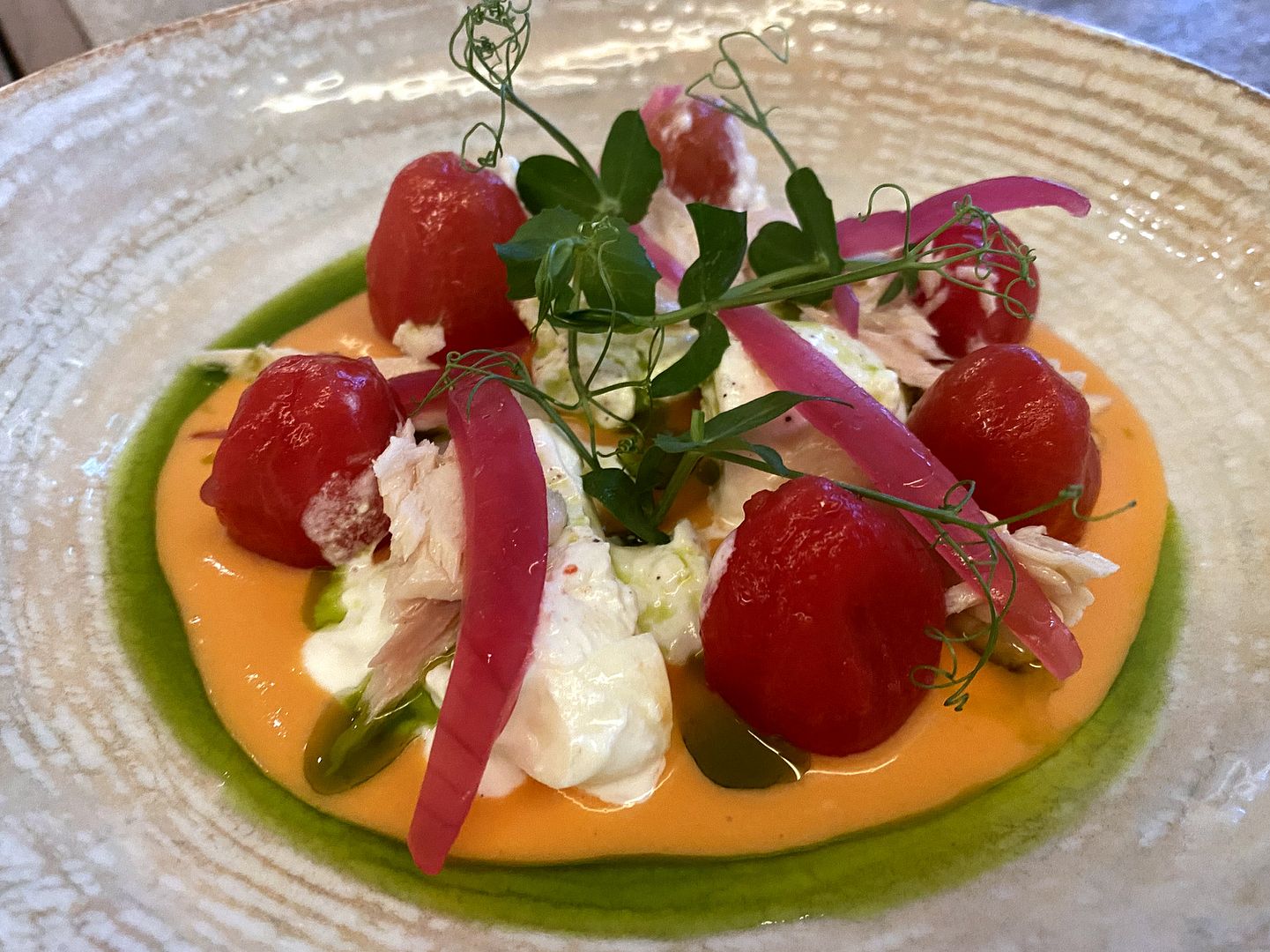 5) Salmorejo, $16 (above) – San Marzano tomatoes with homemade preserved tuna & smoked burratina.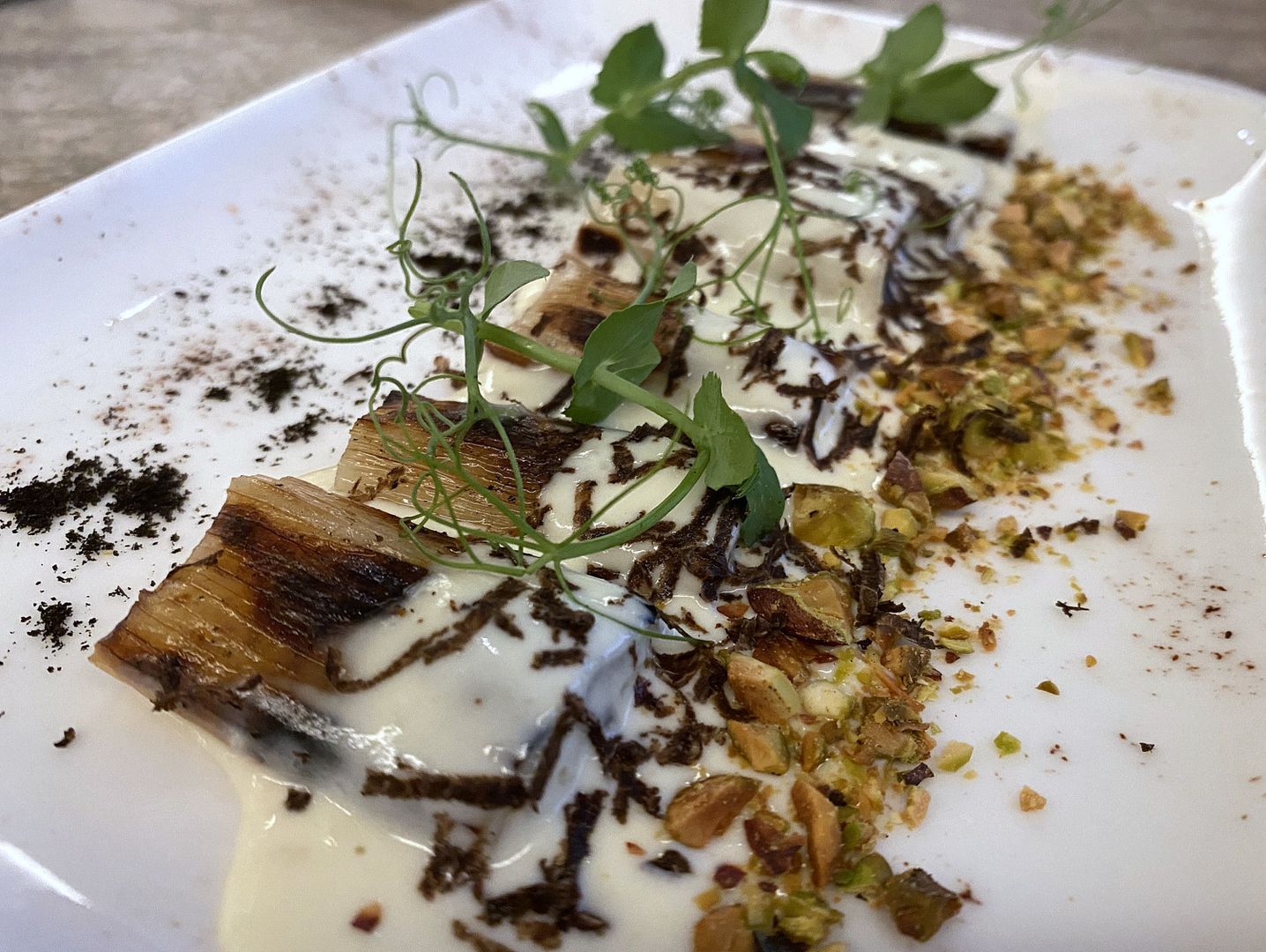 6) Puerro, $14 (above) – Grilled leeks with carbonara cream & black truffle. Didn't enjoy this. The grilled leeks were overcooked over-grilled and thus soggy.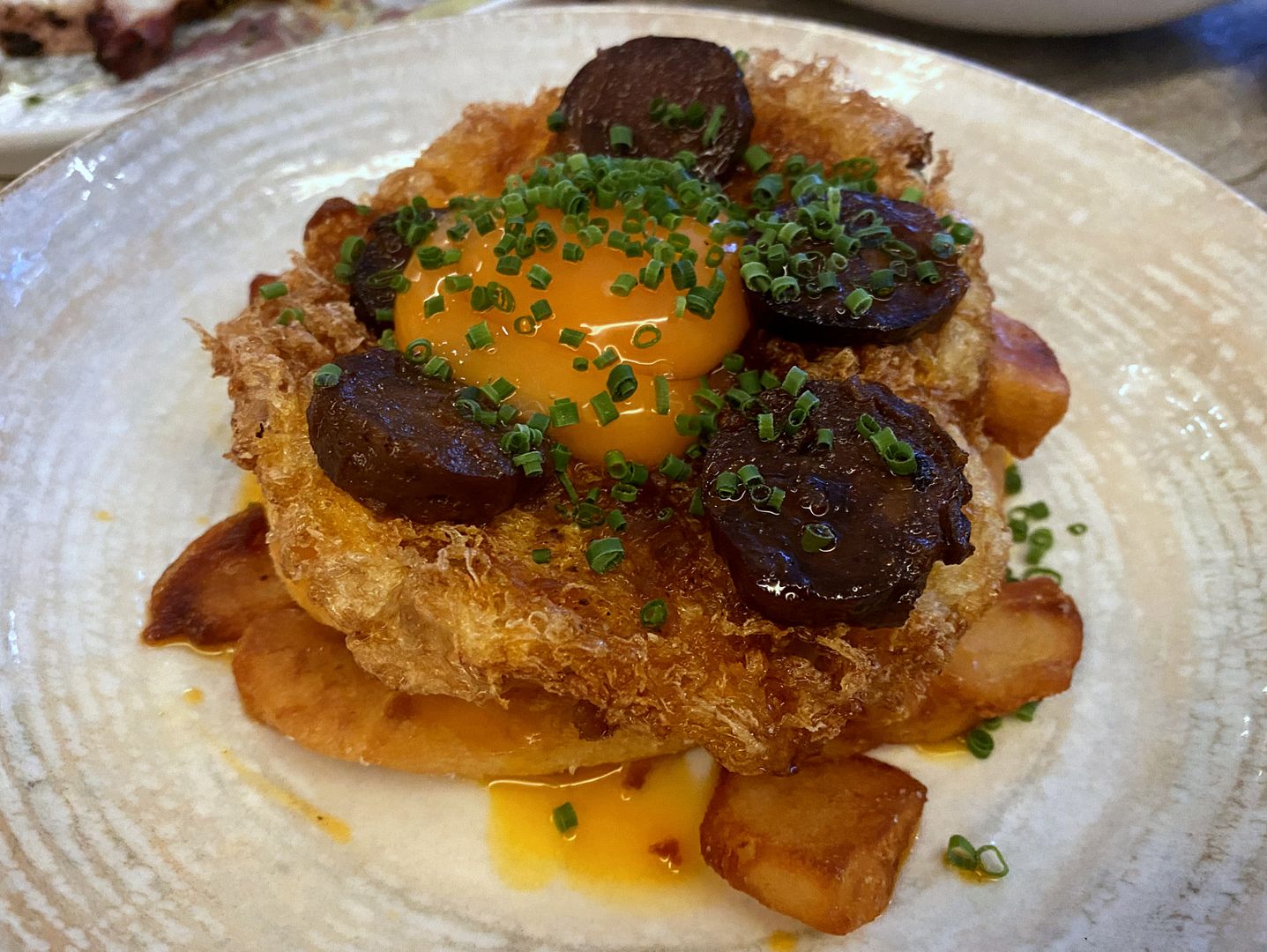 7) Huevos rotos, $16 (above) – Hand cut frites with chorizo & runny egg.
8) Gambones, $26 (5 pieces) (above) – Grilled king prawns with garlic & amontillado praline. This was unfortunately my least favourite. The meat texture was soft. But what really got to me was the really weird waxy aftertaste in my mouth after sucking the prawn head for its innards. I had my fair share of these Sicilian prawns (in Australia), so I was pretty sure that aftertaste wasn't normal. I certainly don't remember wiping my mouth to see the tissue stained red. Really odd. Give this a miss, I say.
9) Pulpo, $34 (above) – Octopus with roasted sweet potato & olives.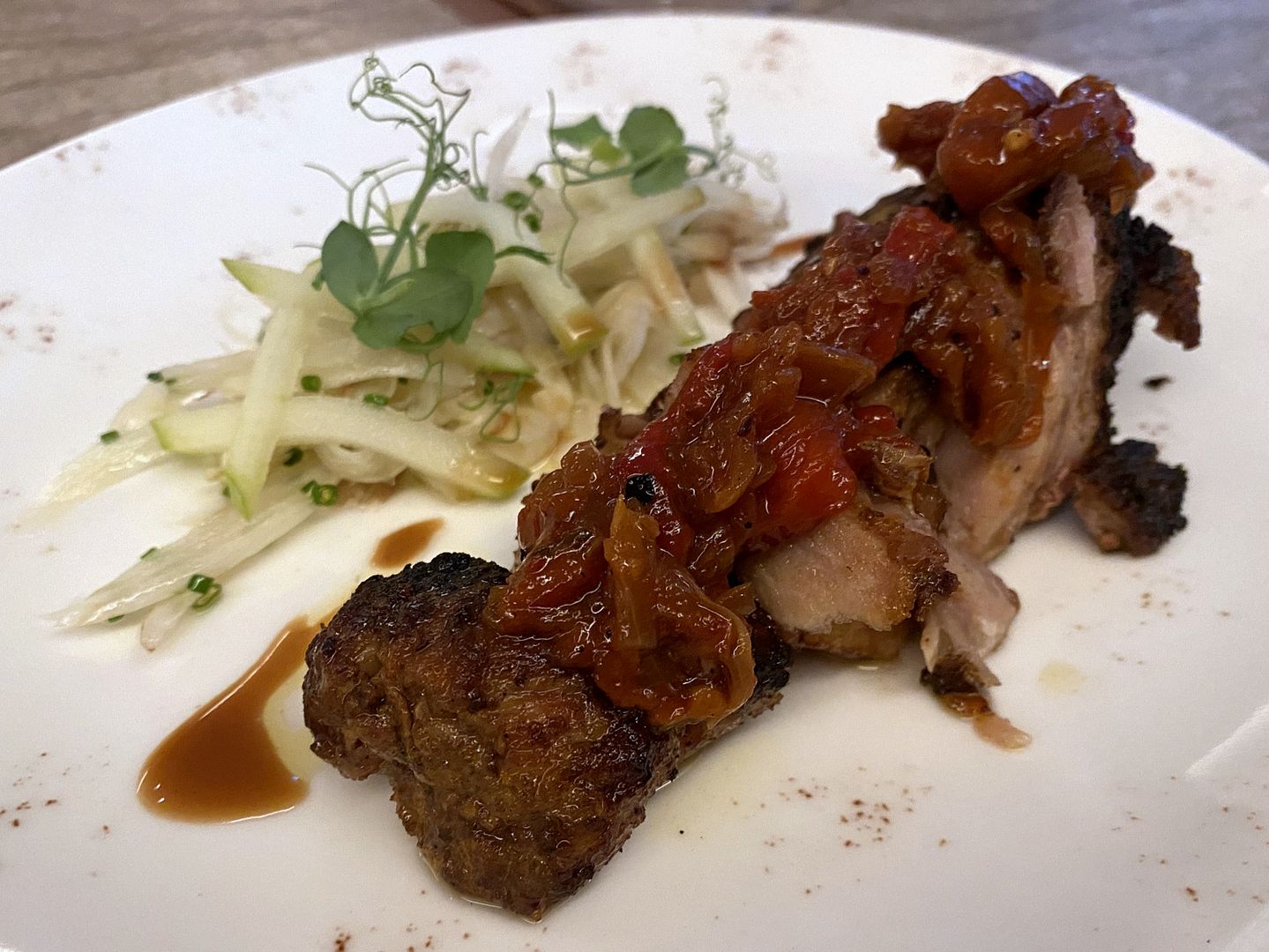 10) Cerdo ibérico, $48 (above) – Grilled pork with moruno spices.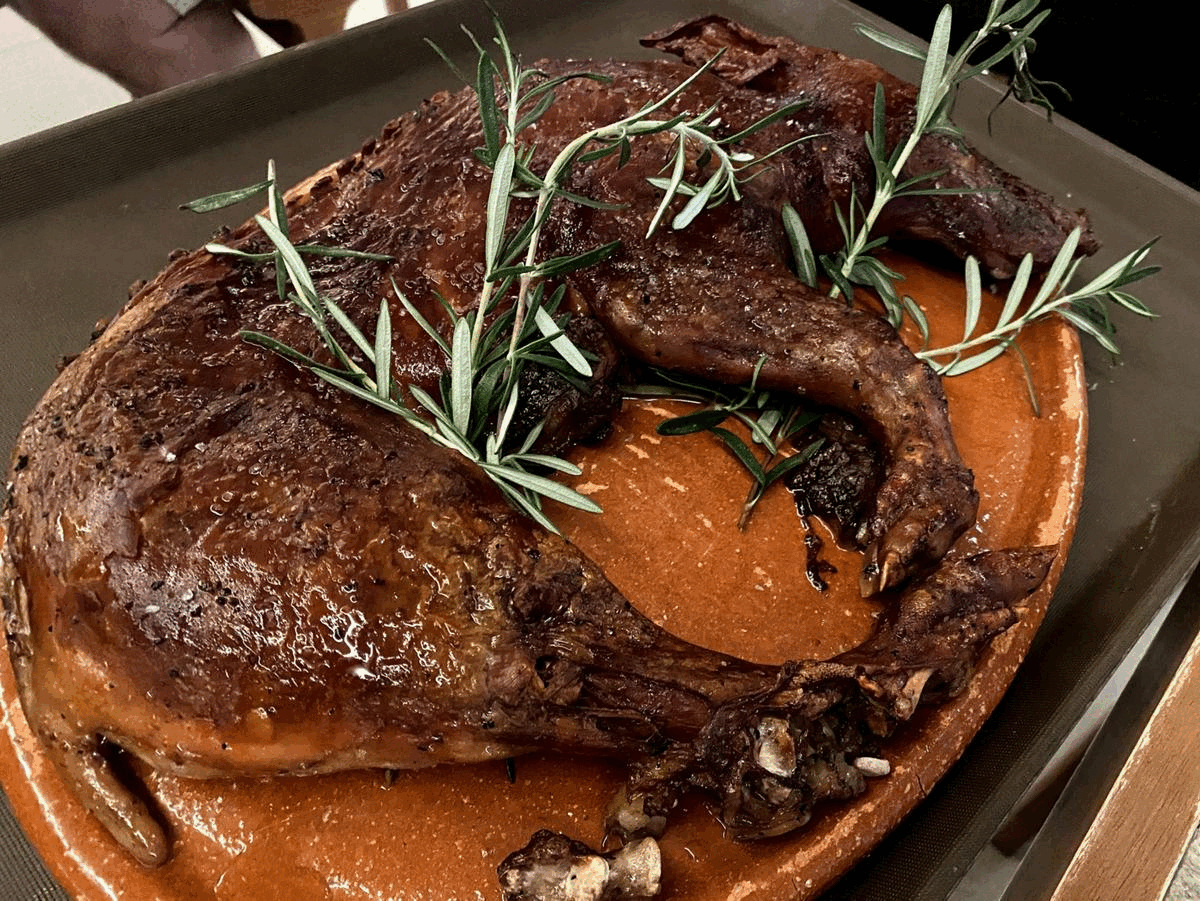 11) Cochinillo, $198 (half) (above) – Roasted Spanish suckling pig. This could be ordered as quarter or as half. And it's only with half order that the suckling pig was placed on a side table beside our dining table where the staff would use plates to chop it into smaller pieces. Apparently this is a tradition to prove the meat is tender. Look! Knife not required. We were also given the opportunity to break 1 of the 2 plates. Not sure if this is also part of the tradition but we were told the 'plate breaking' came into play when a chef was chopping and 1 of the plates fell out of his oily hands. The diners who were mostly tourists thought it was a part of the performance and started clapping and cheering. And thus, 'plate breaking' was born. But of course, to break the plate at Asador, we were to throw it into a barrel. This actually reminded me of the now defunct Esmirada.
12) Tarta de chocolate, $13 (above) – 70% chocolate, sumac & orange Chantilly.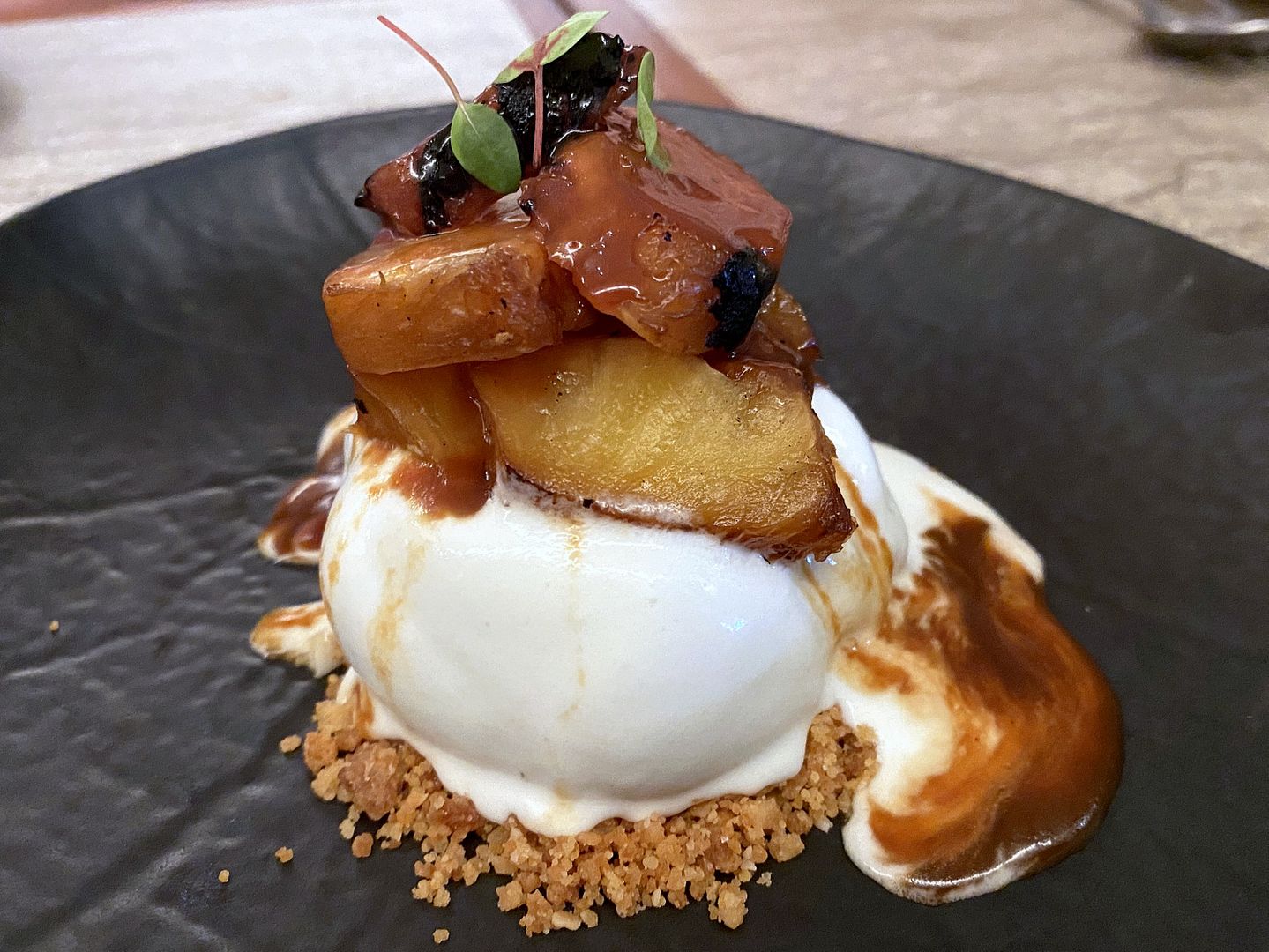 13) Piña colada, $14 (above) – Roasted pineapple, coconut yoghurt sorbet, rum carame.
14) Tarta de queso 'la viña', $16 (above) – Tribute to the original Basque cheesecake. We were hesitant to order this because we had our fair share of Basque cheesecake and we didn't think we could manage a heavy gooey-centre Baseque cheesecake. But thankfully we went ahead with this! Asador's rendition was light on the palette. If it's anything to go by, us polishing off this dessert first despite it being the last dessert to be served clearly showed it's our favourite.
15) Mango, $15 (above) – Spicy mango sorbet, garam masala chutney, coriander financier. Give this a miss. We didn't think the garam masala went well with any components of the dessert.
Asador is definitely a place for bigger groups to gather and eat. The portions were meant for sharing among 3, at least. I personally can't see myself coming here with just a friend because that would mean I can't order many dishes from the menu. Haha.
We happened to visit on the day when Asador changed their menu. A real bummer because my sister-in-law said a lot of her favourites (from the previous menu) were no longer available. She mentioned the crayfish-bacon dish and snickers dessert. Oh well…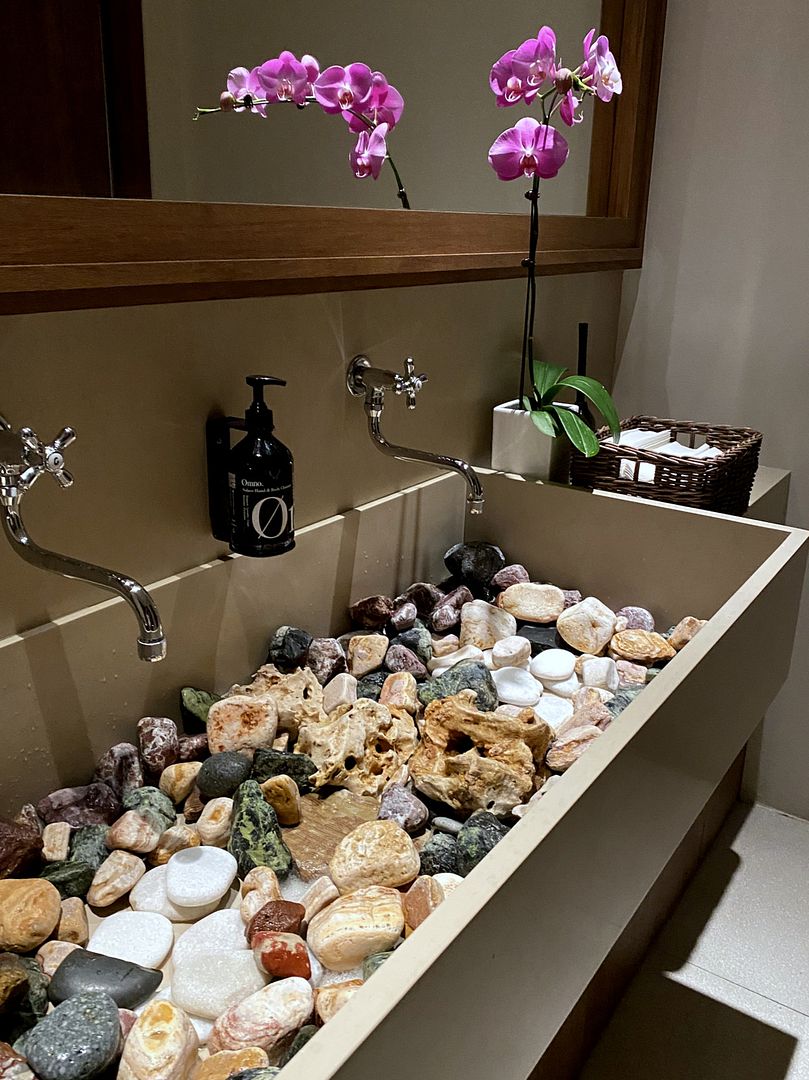 And photographs of their toilet! My sister-in-law was really cute. She insisted we should check out Asador's toilet because it's pretty. So yes, we made sure we used the toilet. And I thought it's interesting how each of us had a different take on the stones in the sinks. Bro 2 joked a different outlook can be obtained just by shifting the coloured stones around. Me? I actually imagined diners rinsing their mouths and the food pieces stuck in the grooves of the stones. Hahaha. Gross, I know.
Would I recommend Asador? Well… We definitely had a good time. I say come if one is after Spanish cuisine, and a beautiful space to dress up for. But if paella is a must order dish for you, do note Asador does not have that dish on the menu.
ASADOR RESTAURANT

51 Joo Chiat Place, Singapore

Overall: 7.5

Opening hours:-

Food/Beverage: 7

Fri – Sun : 12:00 – 14:00 (Lunch)

Ambience: 8

Mon – Sun : 17:30 – 23:00 (Dinner)

Value: 7

Service: 8