January 31, 2022 in Japanese
Chef-owner Javier Low has definitely come a long way since his IL DEN days. Back then, IL DEN could only house 8 people maximum. And chef Javier was pretty much a one-man show; Doubling up as the waiter, cashier and sommelier. But now? His restaurant has shifted to a new premise under the new name (IRU DEN), and he is leading a team of at least 5 people (based on what I could see during my meal). In all honesty, I was surprised to learn IRU DEN was located in one of the black and white colonial houses along Scotts Road. That's such a jump from his Orchard Plaza days. And all over a span of 3 to 4 years? I am impressed!
Reservation has since become relatively simpler. I made the reservation for my girlfriend and I via their website. Counter seats are more popular, so do plan at least 1.5 to 2 months in advanced. Especially so for Fridays and Saturdays (They are closed on Sundays). The only con is that IRU DEN requires 2 people minimum for the bookings. No solo dining…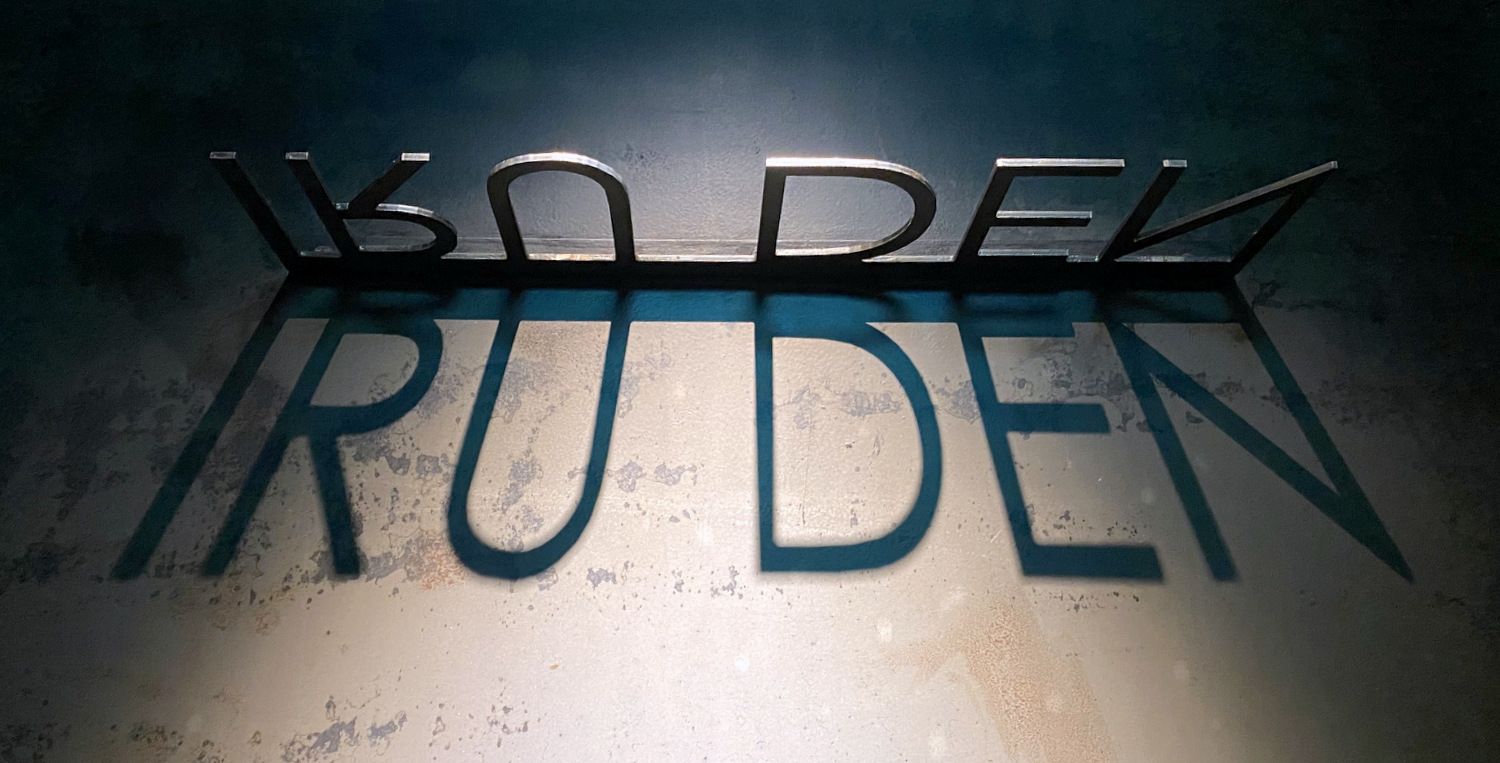 Between the 6pm and 7.30pm seatings, my girlfriend and I went with the later slot. We also had to pre-select our menu when reservation was made. There's 3 options; 7 courses ($198), 10 courses ($268) and 10 courses special ($368). We decided against the $368 menu because the $100 top up seemed to be solely for the claypot rice upgrade to abalone (awabi donabe).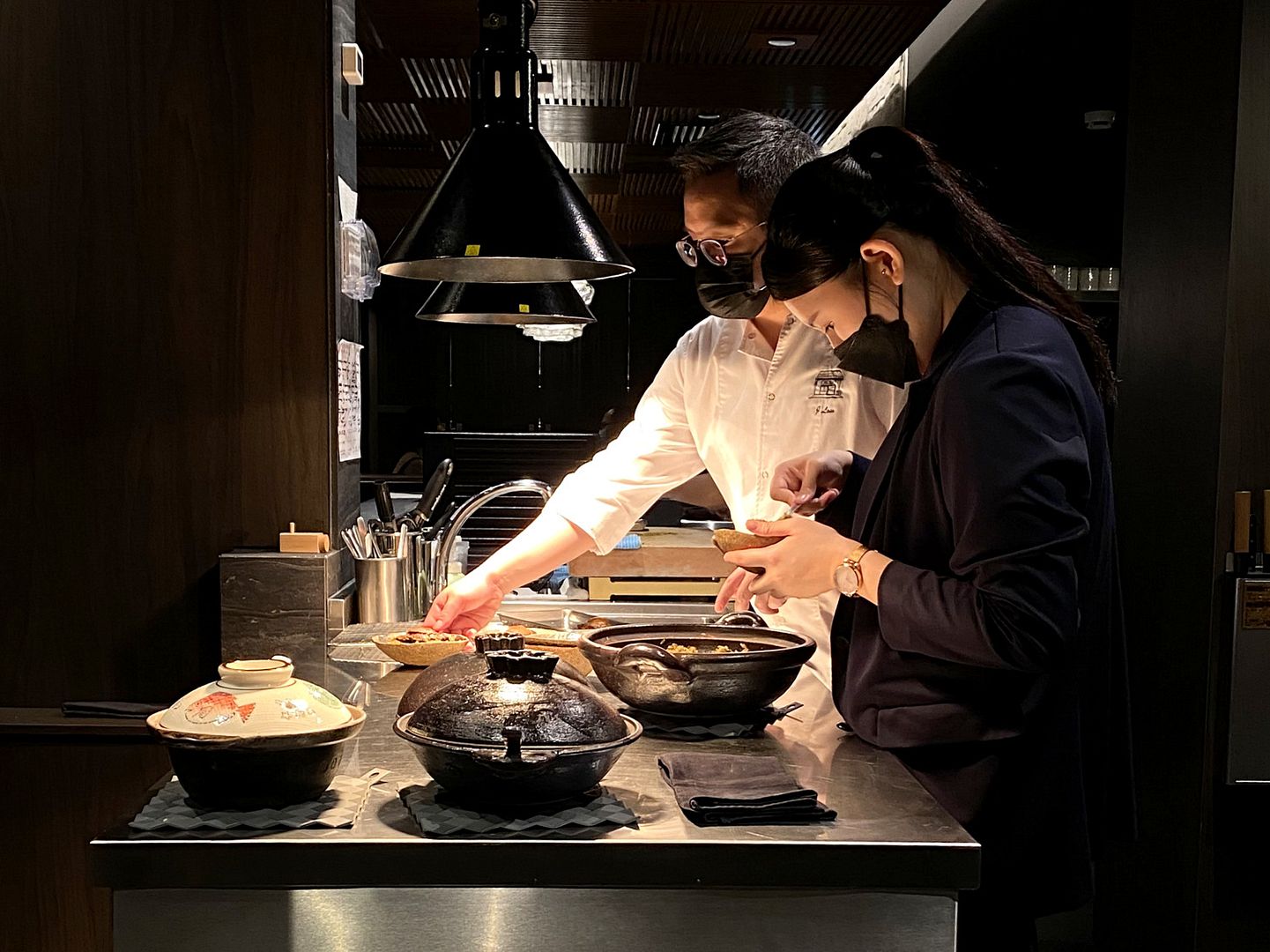 So while my girlfriend and I thought we were to enter the colonial house through its main entrance, there was a sign to inform IRU DEN diners that IRU DEN entrance was at the side. After taking our drinks order and settling us down with the menu, we started our 10 courses omakase dinner, $268 with:-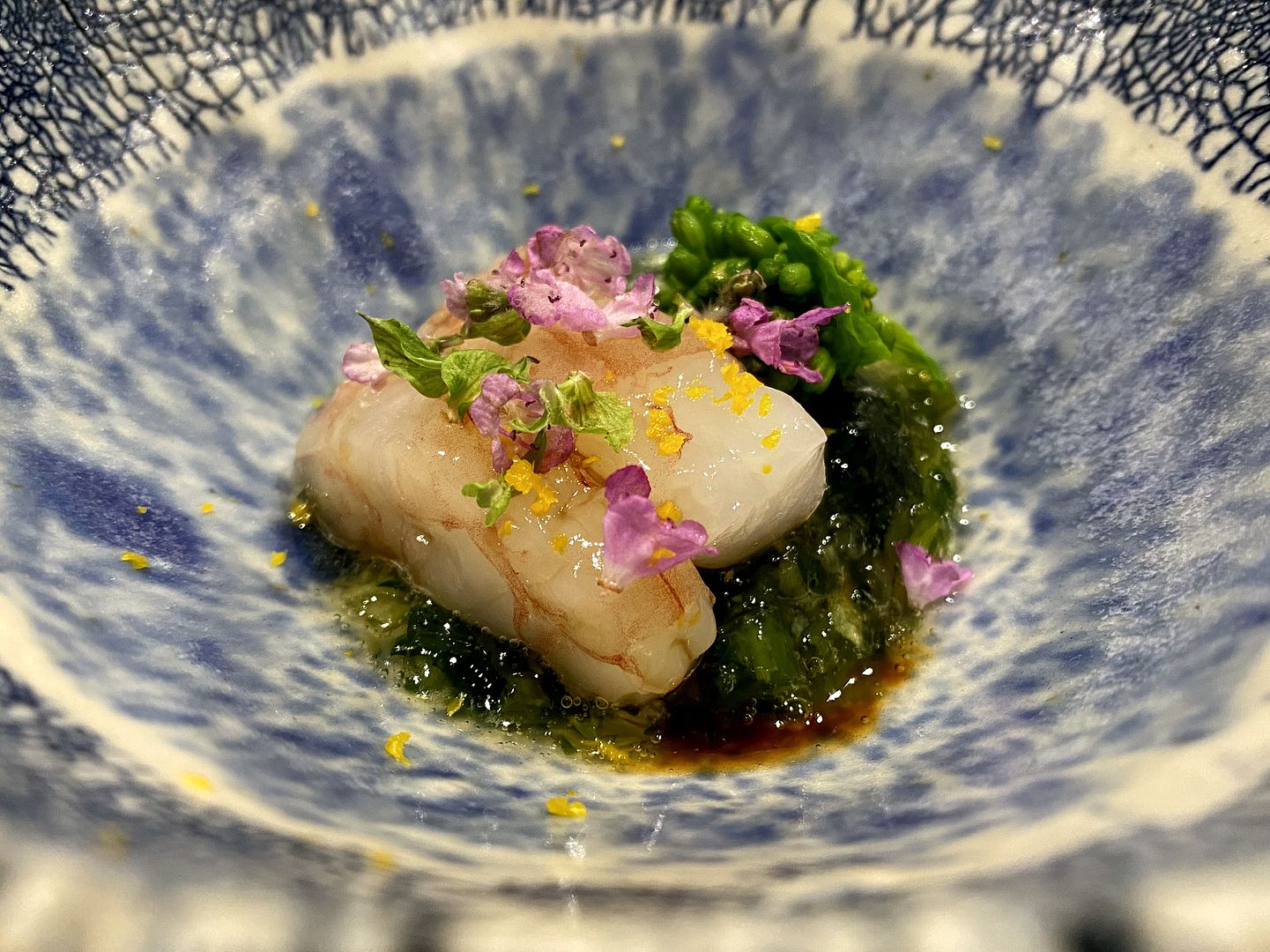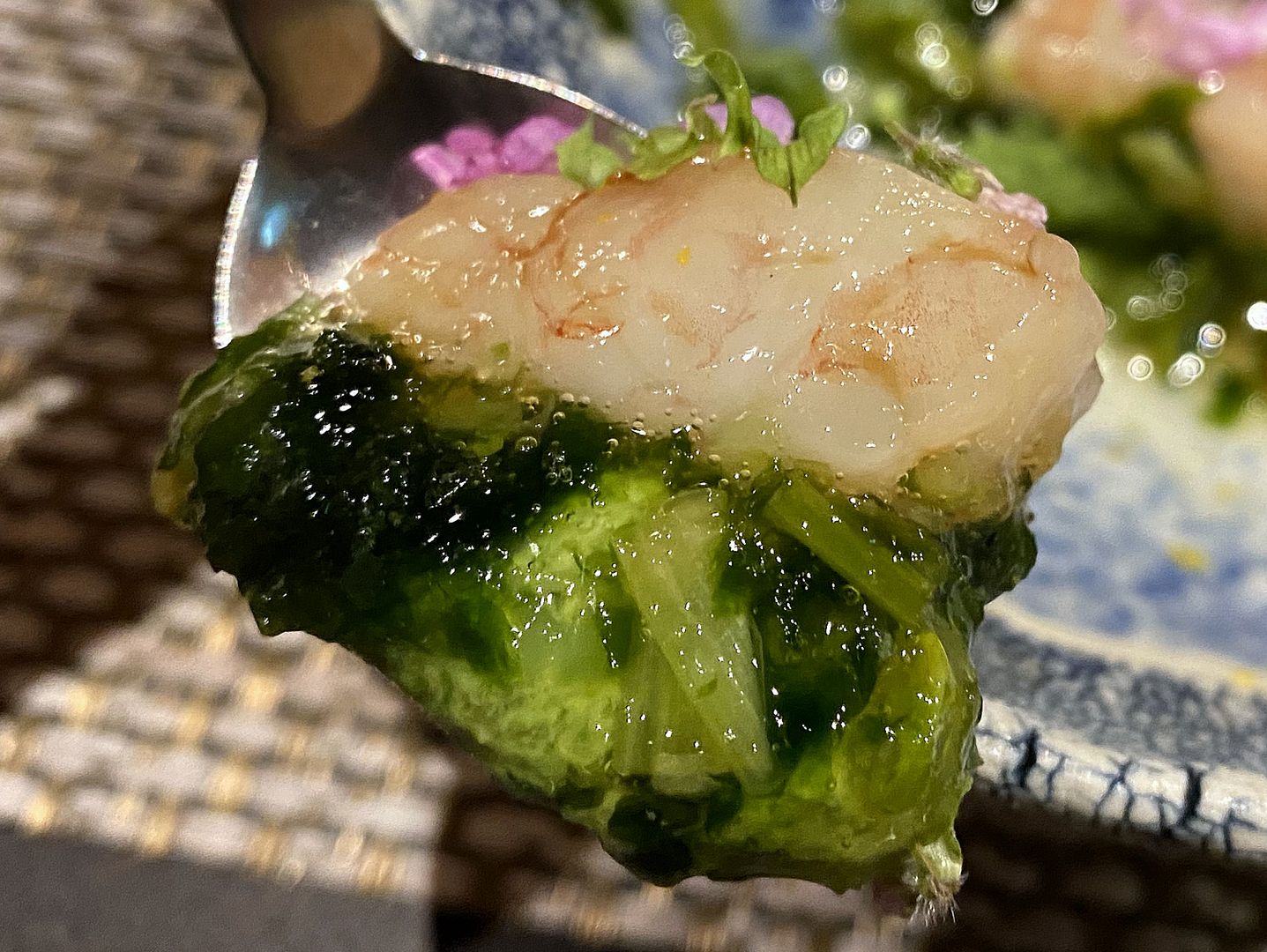 1) Cold appetiser (above) – Aka ebi, tosazu, nanohana pesto. I enjoyed this dish. Especially liked the sourness of the accompanying sauce.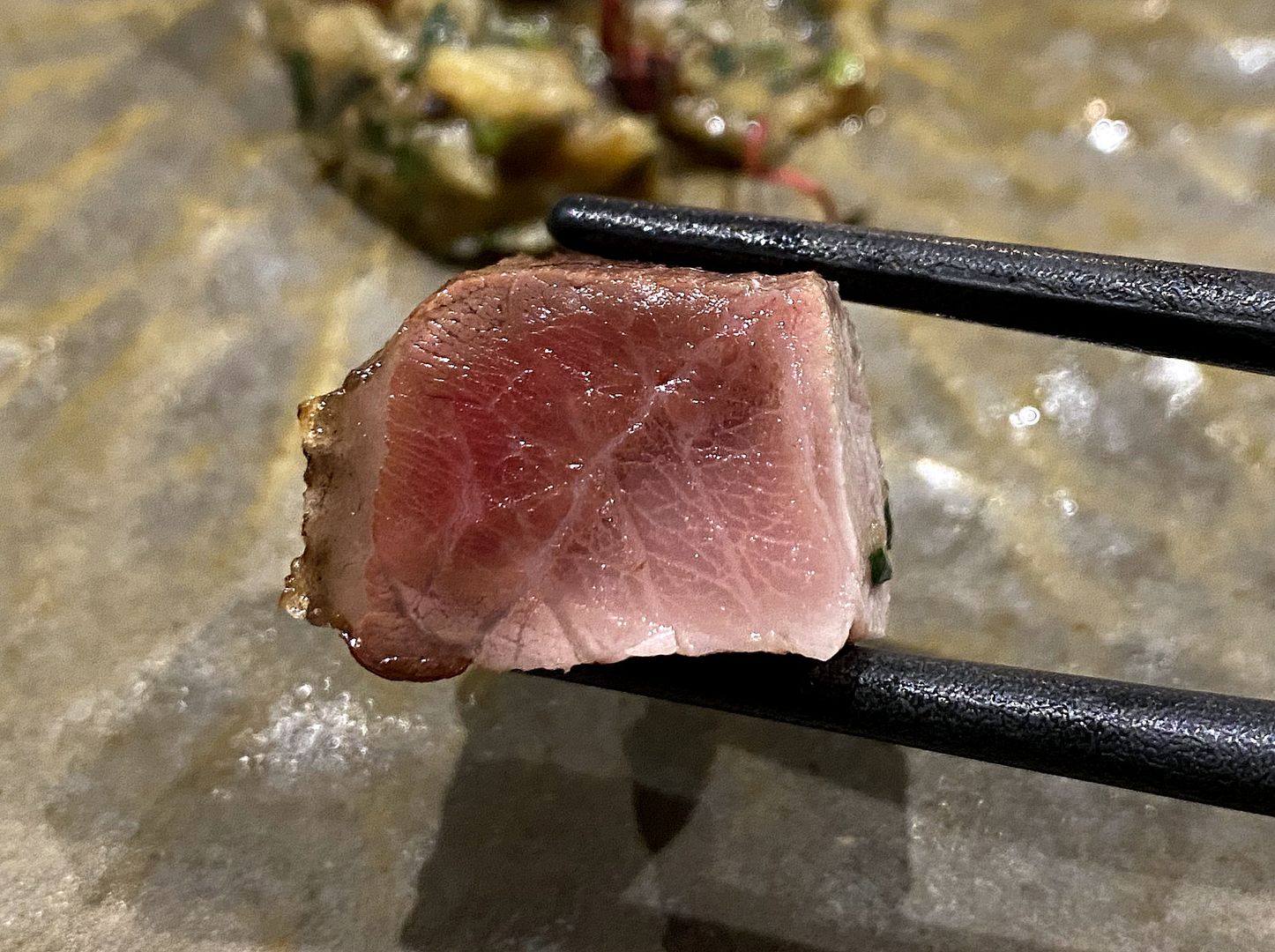 2) Sashimi (above) – Buri, moroheiya, nasu. Wished the yellowtail pieces were bigger. Everything was gone with just a few chews.
3) Shari (above) – Goma saba, vinegared rice. Didn't like this. The mackerel was fishy while the rice was a bit mushy.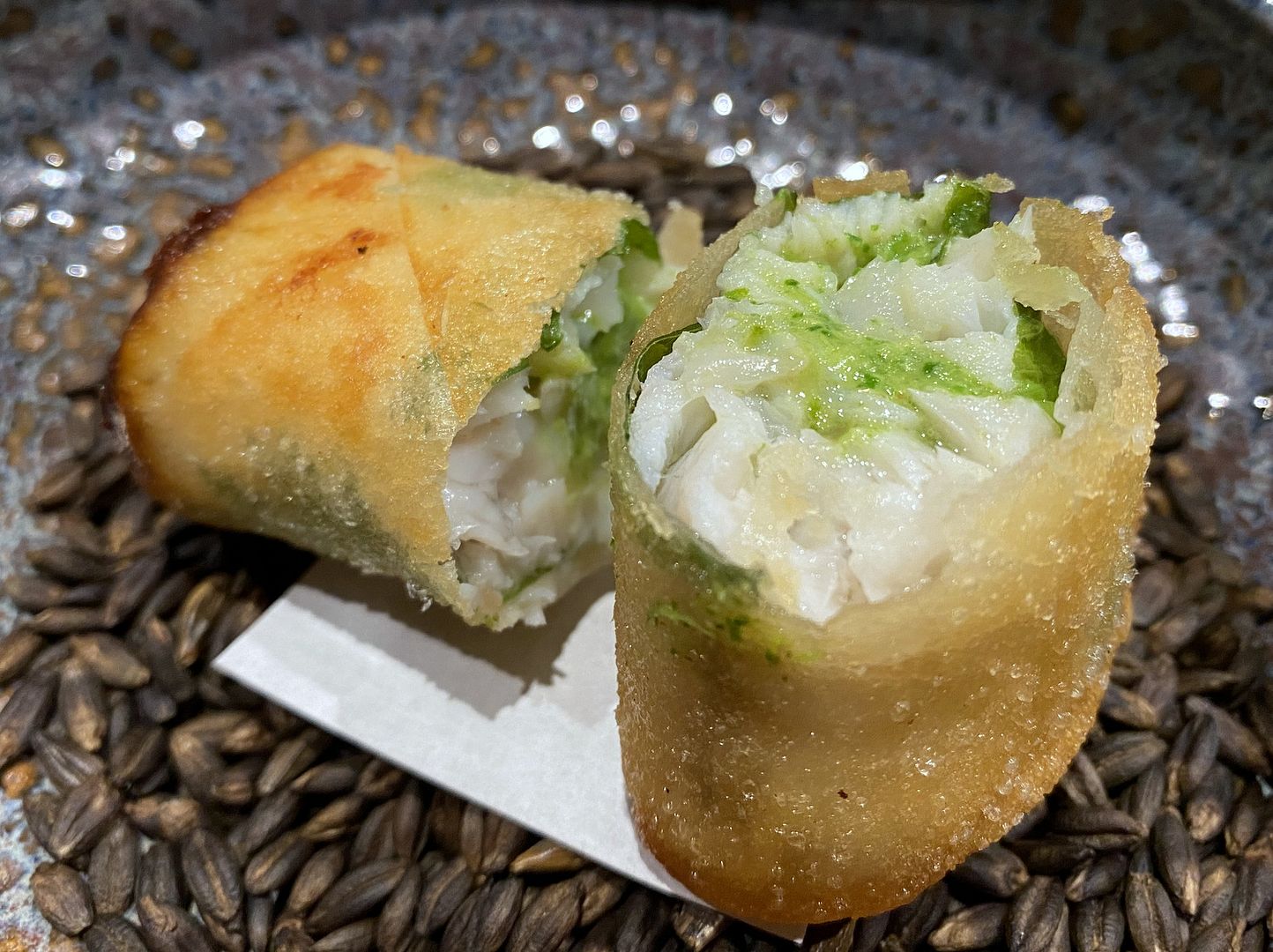 4) Tempura (above) – Suzuki, harumaki, oba.
5) Chawanmushi (above) – Black winter truffle, avruga caviar, tori dashi.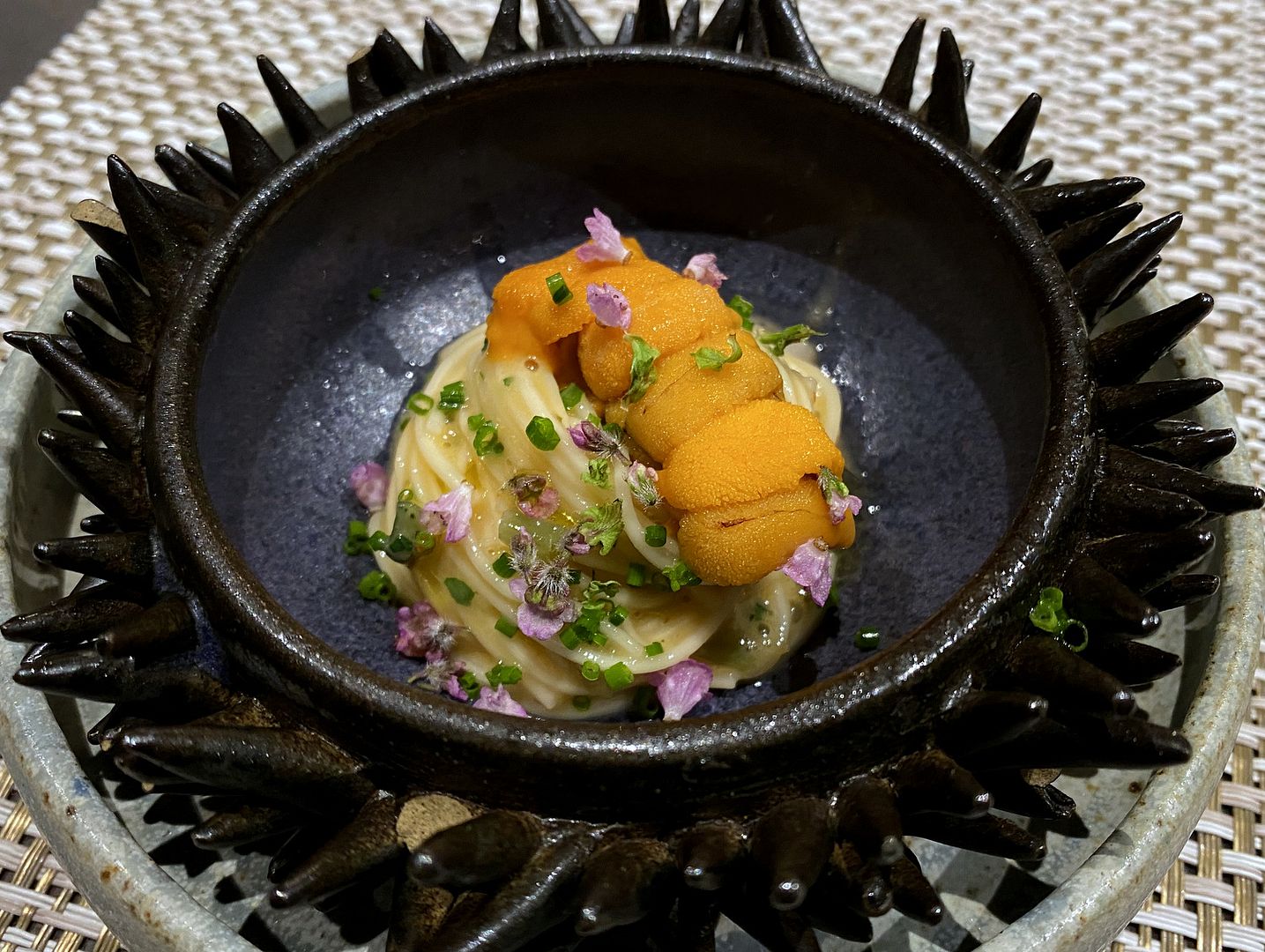 6) Signature (above) – Bafun uni, somen.
7) Grilled (above) – Tsukune, tori, hakusai, sansho.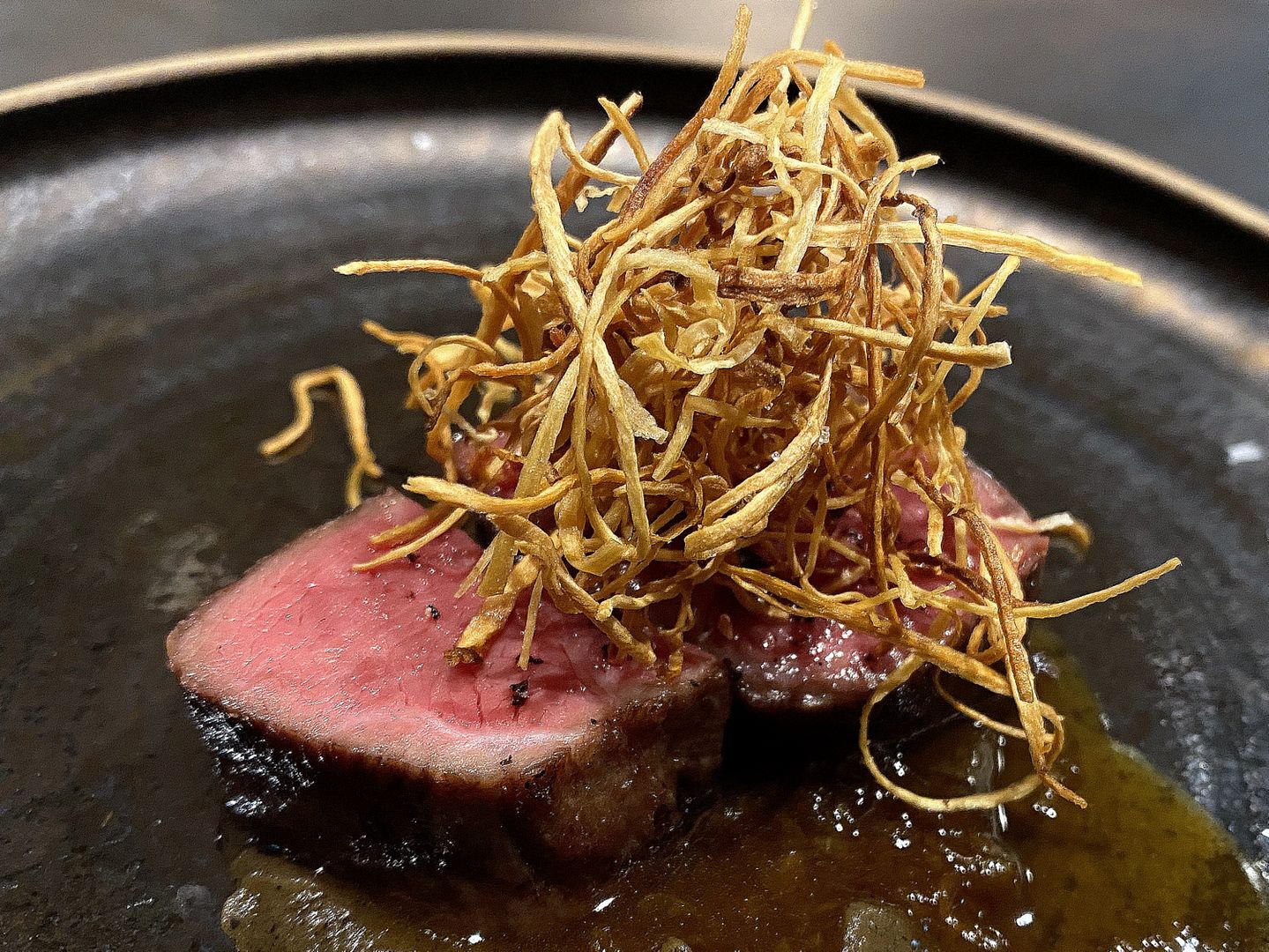 8) Grilled (above) – Iberico buta, presa, parsnip, gobo. One could choose between A5 Kumamoto wagyu or iberico buta. I went with the latter since I don't eat beef due to religious reason.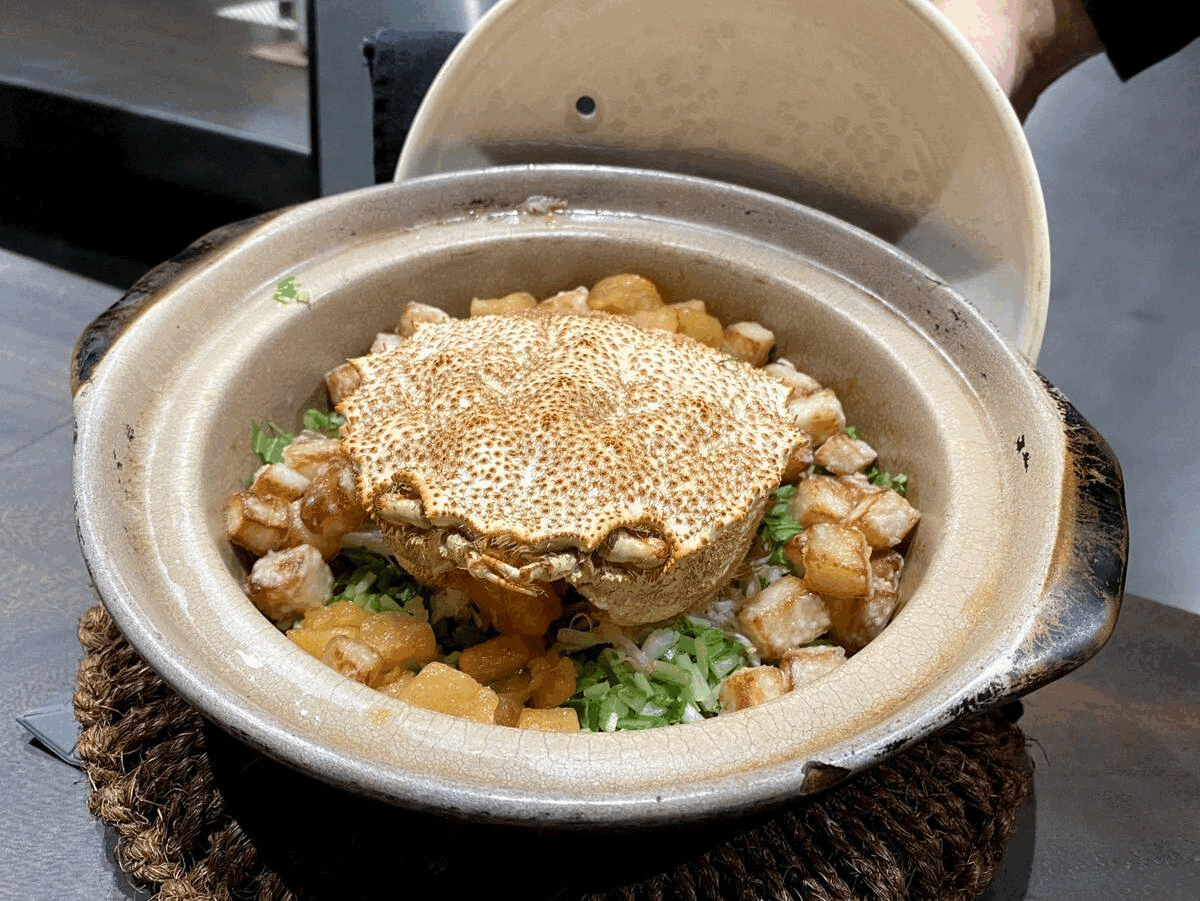 9) Donabe (above) – Kegani, ebi imo, yumepirika rice. 2 mouthfuls into the dish and I was thinking "Is this right?" to myself. So while I enjoy bits of scorched rice for the extra crunch, there was simply too much of it. I tried to separate the scorched rice from the normal rice, but it was impossible. The staff came round and ask if we wanted seconds. I said yes not because the first bowl was impressive, but because I wanted to give it another chance. And the second bowl turned out better because there was less scorched rice. Phew. And naturally, I paid more attention to the staff when they prepared the claypot dish for other groups. And the staff was scarping hard at the claypot… Okie, that explains.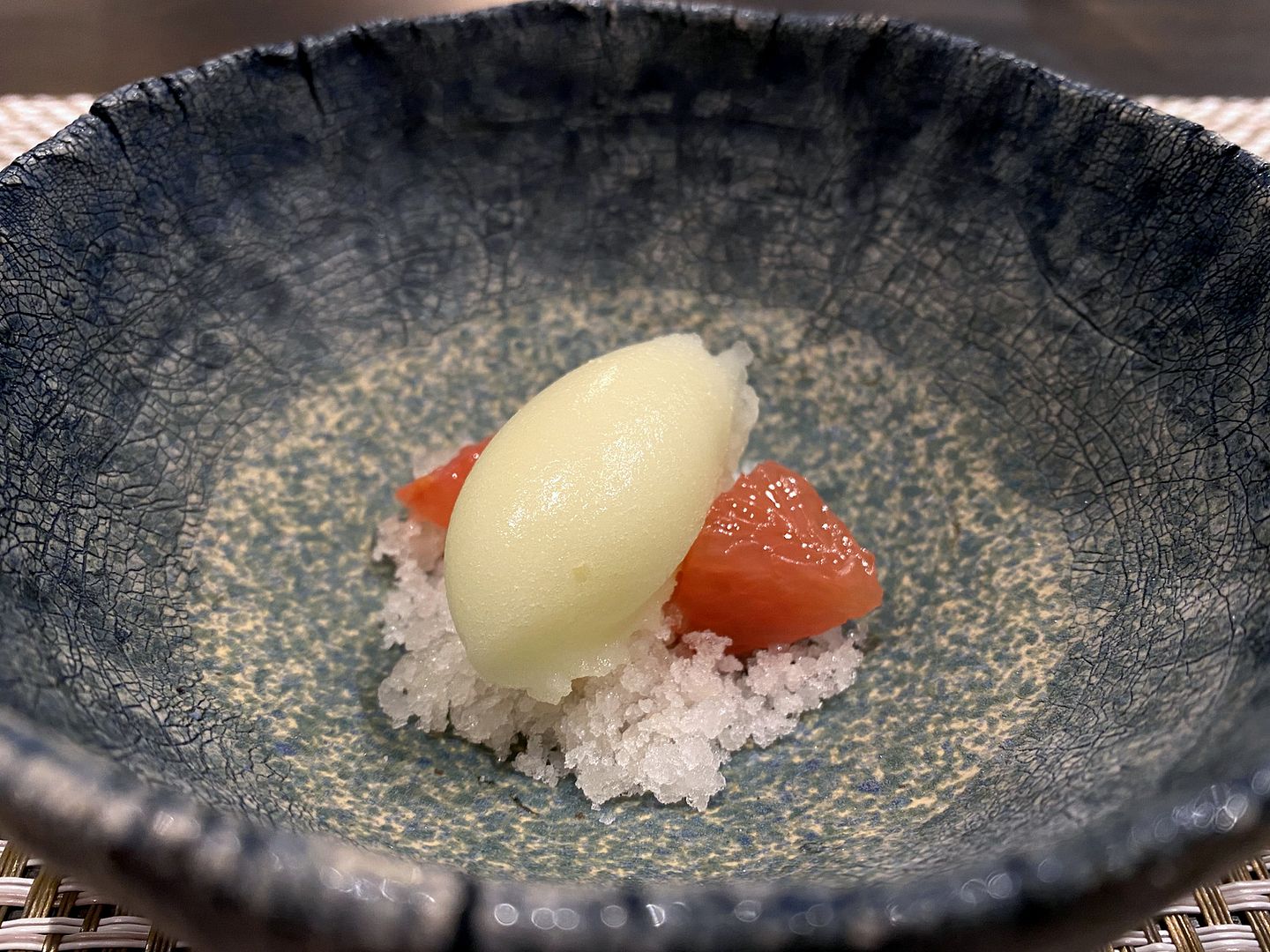 10) Palette cleanser (above)
11) Dessert with options of: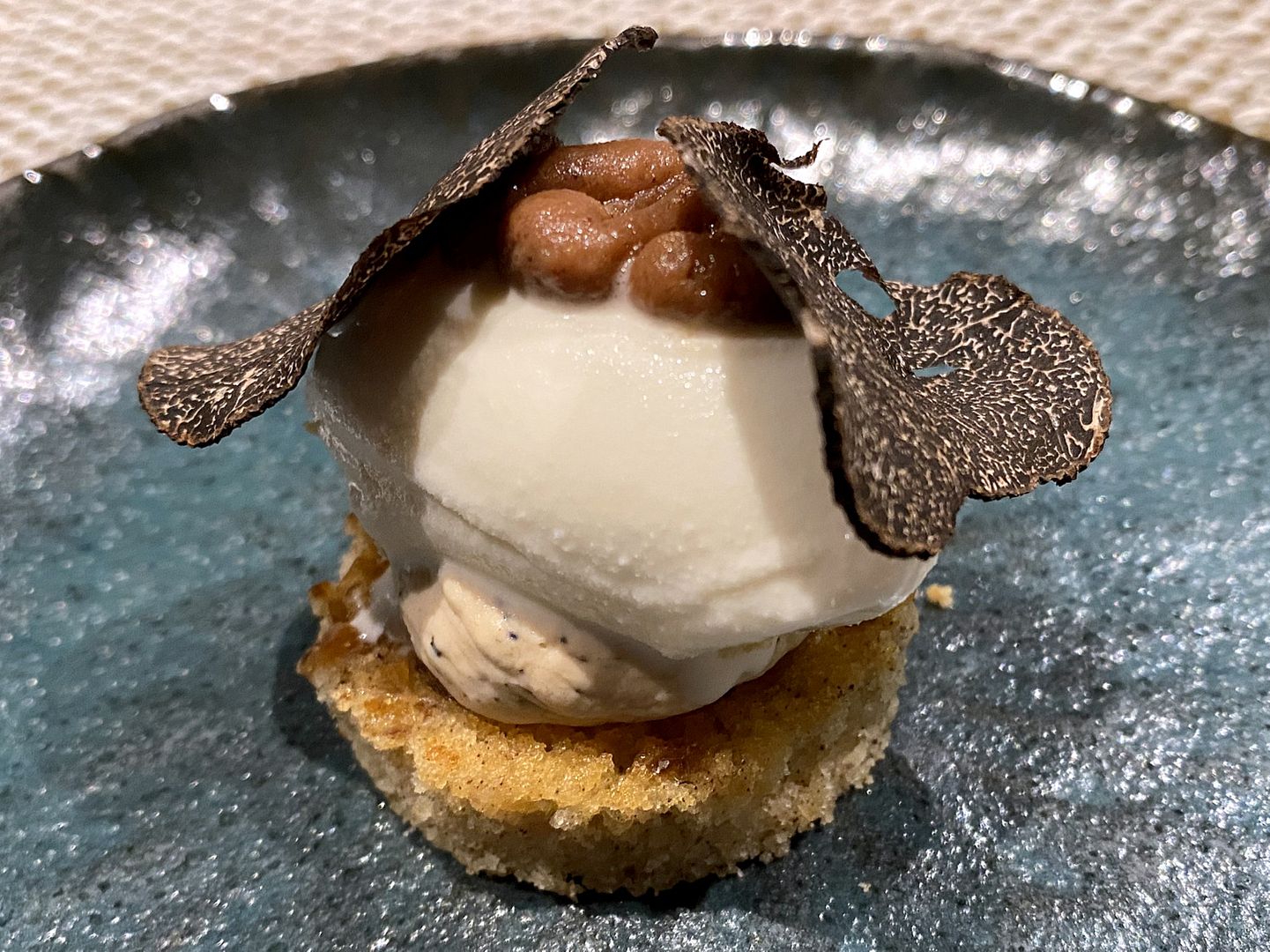 (A) Mont Blanc (above) – Marron, winter black truffle.
(B) Brioche (above) – Oolong, shio kombu caramel.
12) Petit fours (above)
While I wasn't blown away by the food, it was an overall pleasant dining experience. But there was something about the portions. Although we left IRU DEN feeling stuffed, my girlfriend and I were always commenting about how small portion each dish was throughout our meal. So while I know it's nice to give diners variety (ie, 10 courses), I felt in the case for IRU DEN, it would have been better if they did just 9 courses with slightly bigger portion. Cause you know… We diners feel better when we see substantial portion on our plate even if it's fine dining. Yes? No?
That said, I had to make a very last minute update to my girlfriend's dietary requirement (one day before our meal). Was very grateful that they were able to oblige despite our late notice.
Would I recommend IRU DEN? Hmm… I am on the fence. Would I see myself returning? Hmm… Probably not in the near future.
IRU DEN

27 Scotts Road, Singapore

Overall: 7

Opening hours:-

Food/Beverage: 7

Tues – Sun : 18:00 – 22:00

Ambience: 8

Value: 6

Service: 7

* Closed on Mon