Lunch @ Oshino | Sushi Restaurant in City Hall
February 5, 2022 in Japanese by thywhaleliciousfay
My first Japanese omakase meal since returning from my 2 years overseas stint was none other than Oshino. Erm… Was it a duh? Hee! Went to Australia in July 2019. Learnt Oshino was slotted to open in August 2019. Agreed to visit with my girlfriend when I am back for Chinese New Year in January 2020. Oshino's opening was delayed. COVID-19 happened. And the rest is history… Returned for good in July 2021. Visited Oshino a month later.
And because reservation had to be made at least 2 months in advanced, my girlfriend called the restaurant to book us in for a weekend lunch in August 2021. It was unfortunate we weren't able to get seats for the second seating (1.30pm); Past experiences (but at Shinji) have proven that first seating (12pm) was always rushed.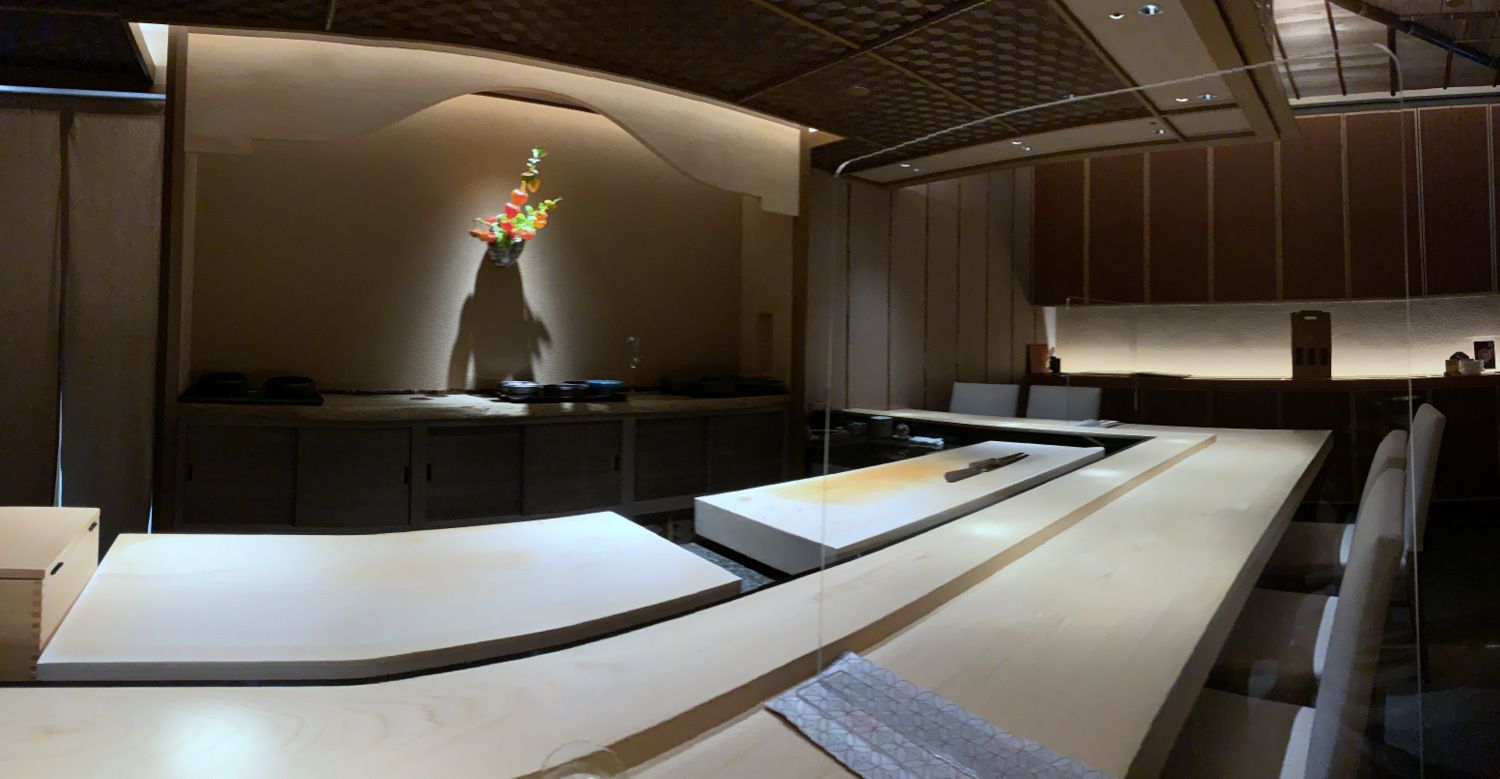 There's no physical menu at Oshino. My girlfriend reached before me and helped to place our orders first; Sushi Edomae menu ($180) for her and Chef Omakase menu (from $300) for me. Now… Because there was no physical menu and we don't have the habit of checking for an online menu, we didn't realise lunch omakase was from $300, rather than at $300.
So when chef-(co)owner Koichiro Oshino asked if I had any favourite fishes, I didn't think too much about it. I actually also forgot what it's like to be dining omakase-ing in Singapore. Haha. So yes… I mindlessly said "chutoro" and "uni" thinking that it will be within the budget of $300 if chef Oshino san was going to make any customisation, especially since I missed out the 'from $300′.
So with that, I commenced my chef (lunch) omakase, from $300 with:-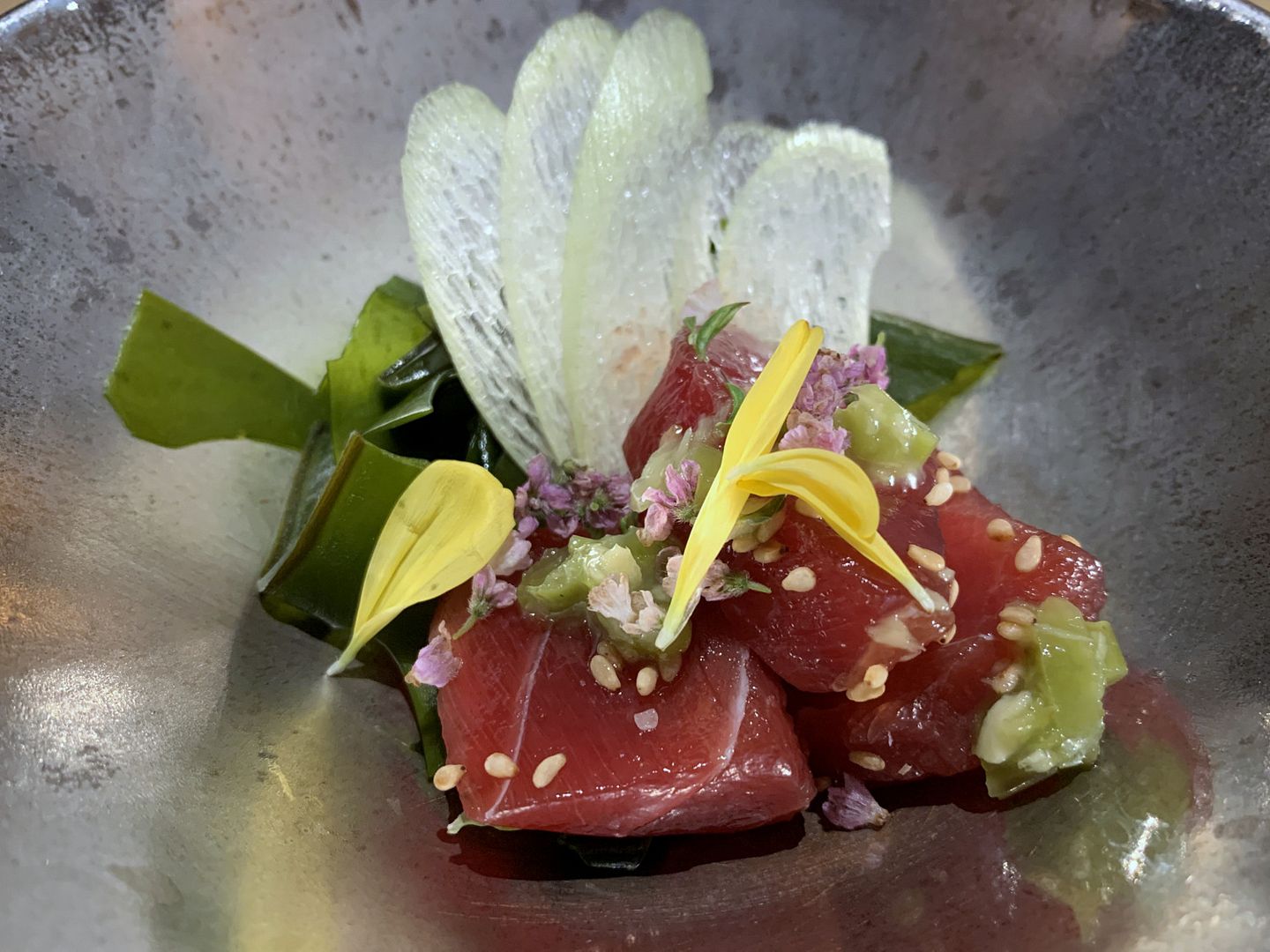 1) Dish #1 (above) – Marinated tuna (zuke maguro).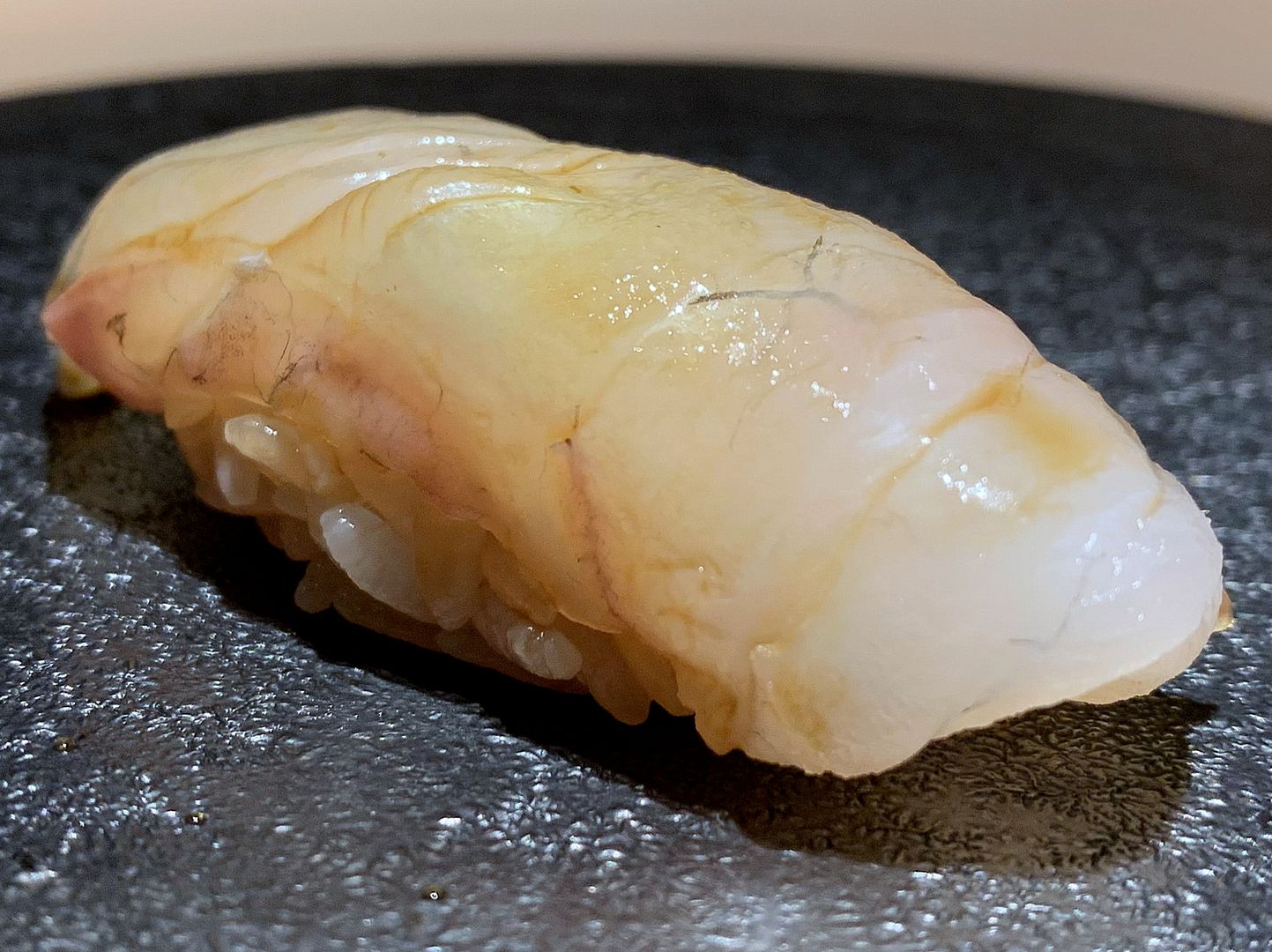 2) Dish #2 (above) – Flounder (hirame) with yuzu-flavoured soya sauce.
3) Dish #3 (above) – Squid (ika).
4) Dish #4 (above) – Mackerel (saba).
5) Dish #5 (above) – Baby white shrimp (shiro ebi) with caviar, and 2 types of sea urchin.
6) Dish #6 (above) – Rice with tiger prawn (kuruma ebi) and kailan.
7) Dish #7 (above) – Salmon roe (ikura).
8) Dish #8 (above) – Sashimi platter of yellow jacket (hope I didn't hear wrongly), rustling sweet shrimp (gasu ebi), giant clam (ishigaki gai) and medium fatty tuna (chutoro).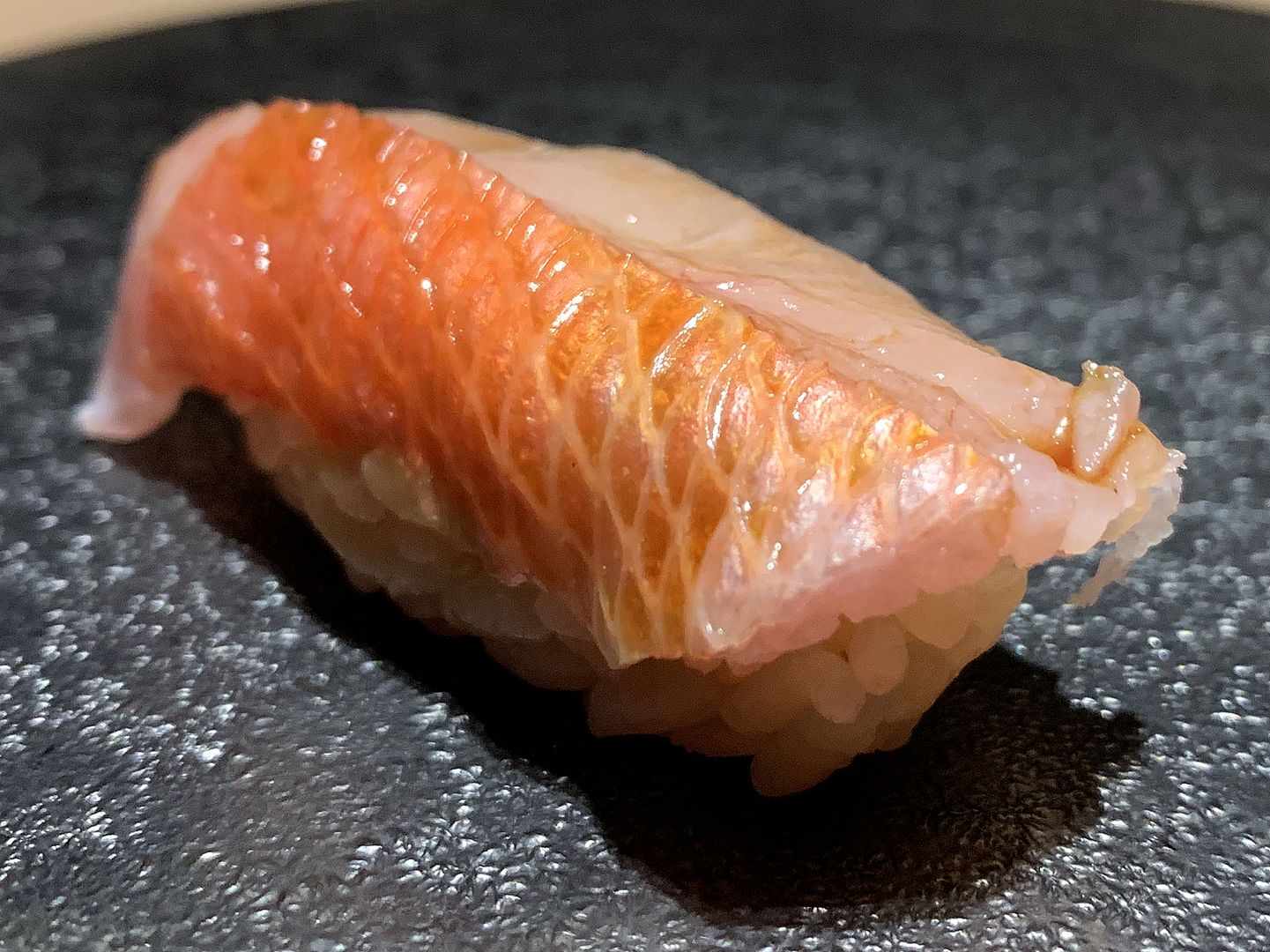 9) Dish #9 (above) – Big-eye snapper (kinmedai).
10) Dish #10 (above) – Spanish mackerel (sawara).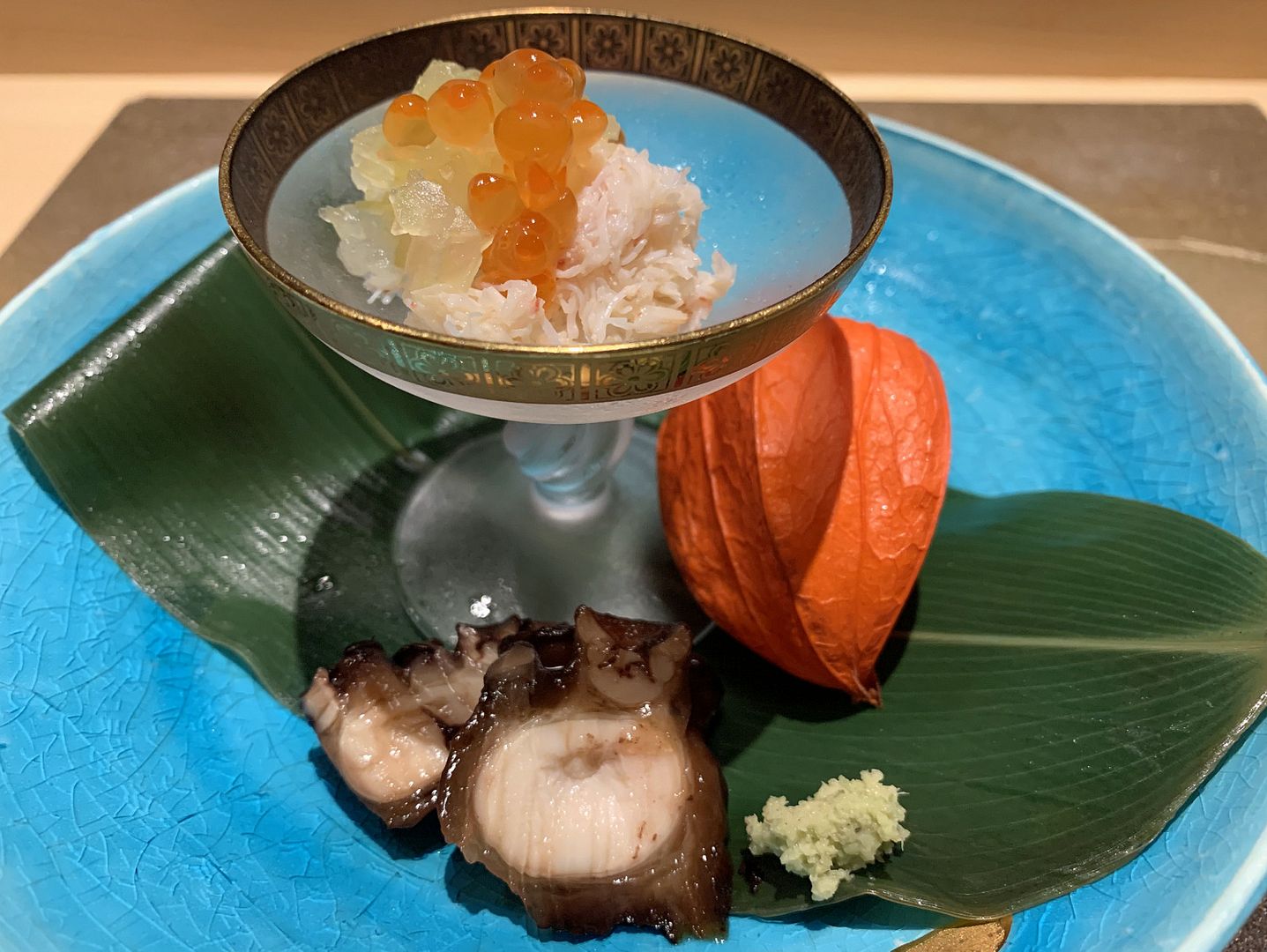 11) Dish #11 (above) – Hairy crab with winter melon radish, octopus, and gooseberry.
12) Dish #12 (above) – Baby tuna (meiji maguro).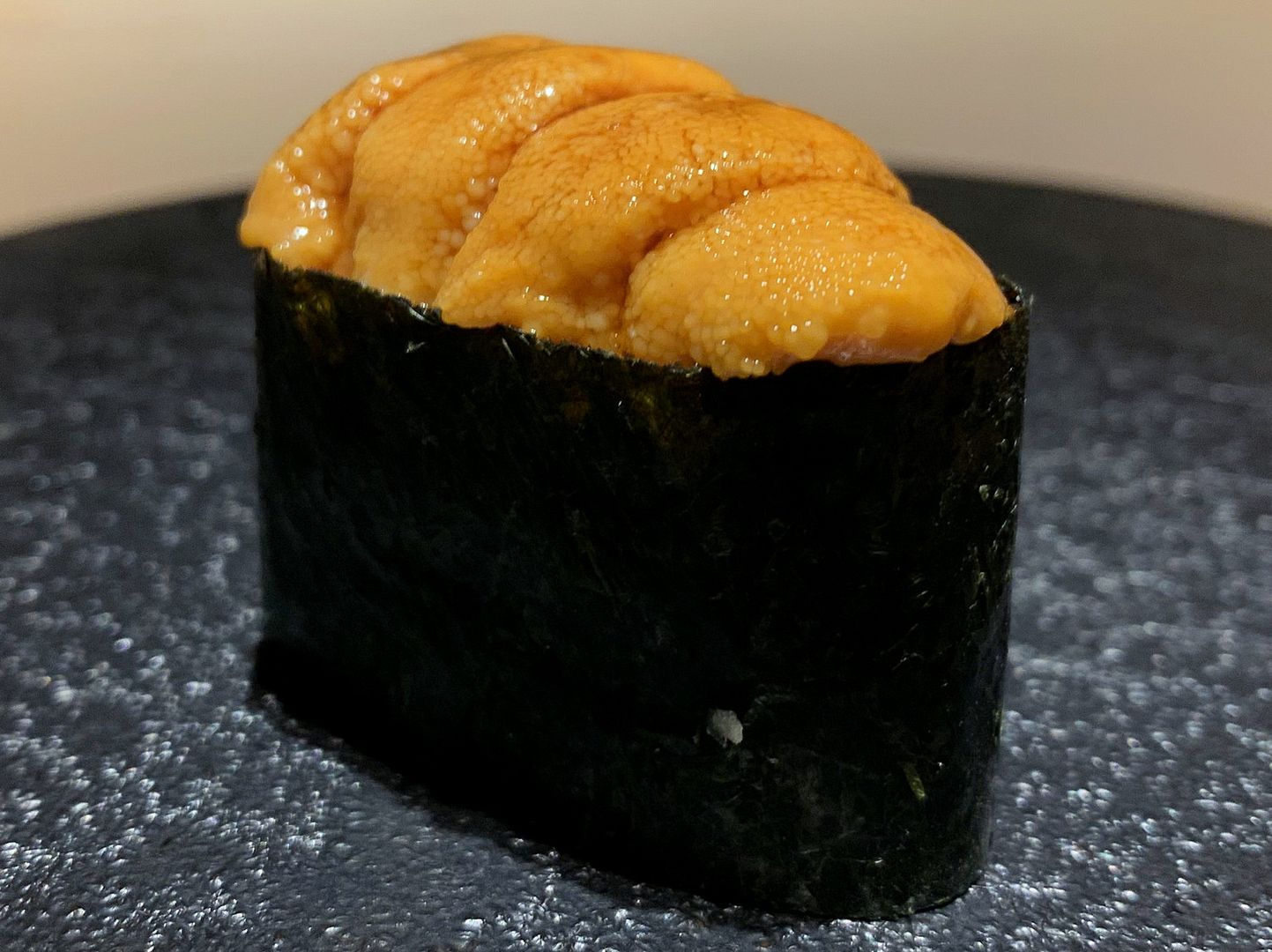 13) Dish #13 (above) – Sea urchin.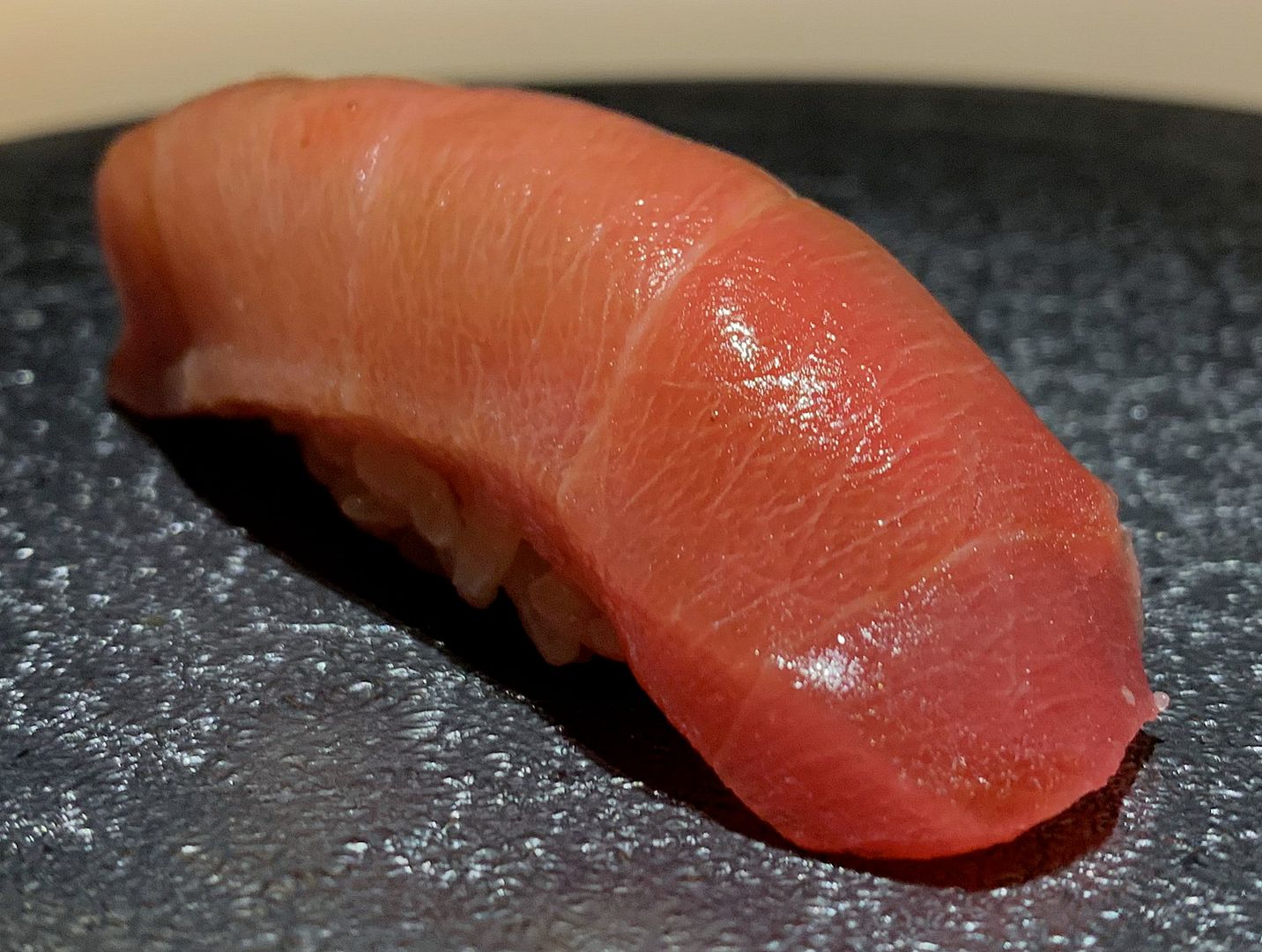 14) Dish #14 (above) – Medium fatty tuna (chutoro).
15) Dish #15 (above) – Premium fatty tuna (otoro).
16) Dish #16 (above) – Black throat sea perch (nodoguro).
17) Dish #17 (above) – Horse mackerel (aji).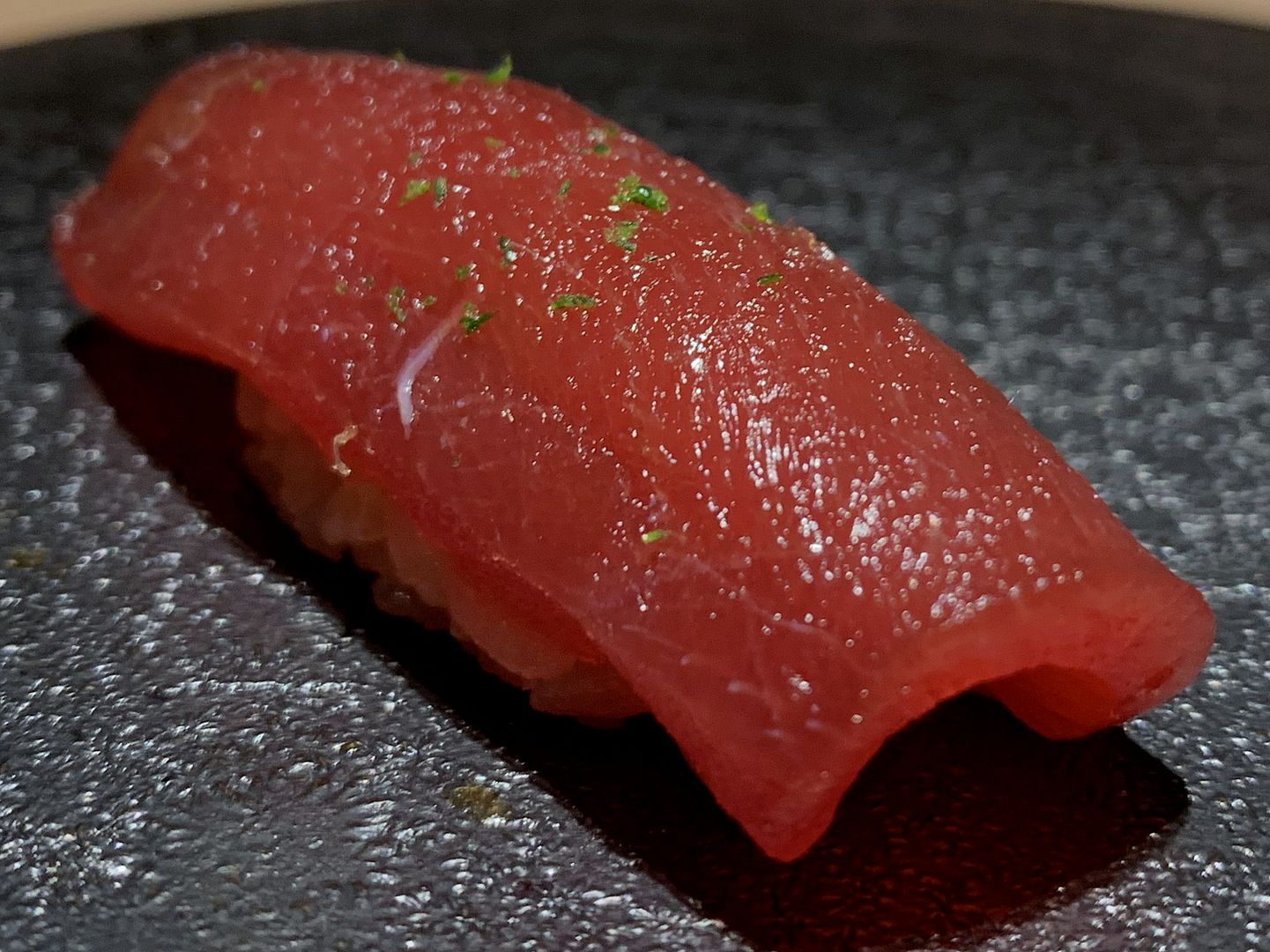 18) Dish #18 (above) – Marinated tuna (akami zuke).
19) Dish #19 (above) – Shredded scallop (hotate).
20) Dish #20 (above) – Egg omelette (tamago) and tuna maki-roll.
21) Dish #21 (above) – Miso soup.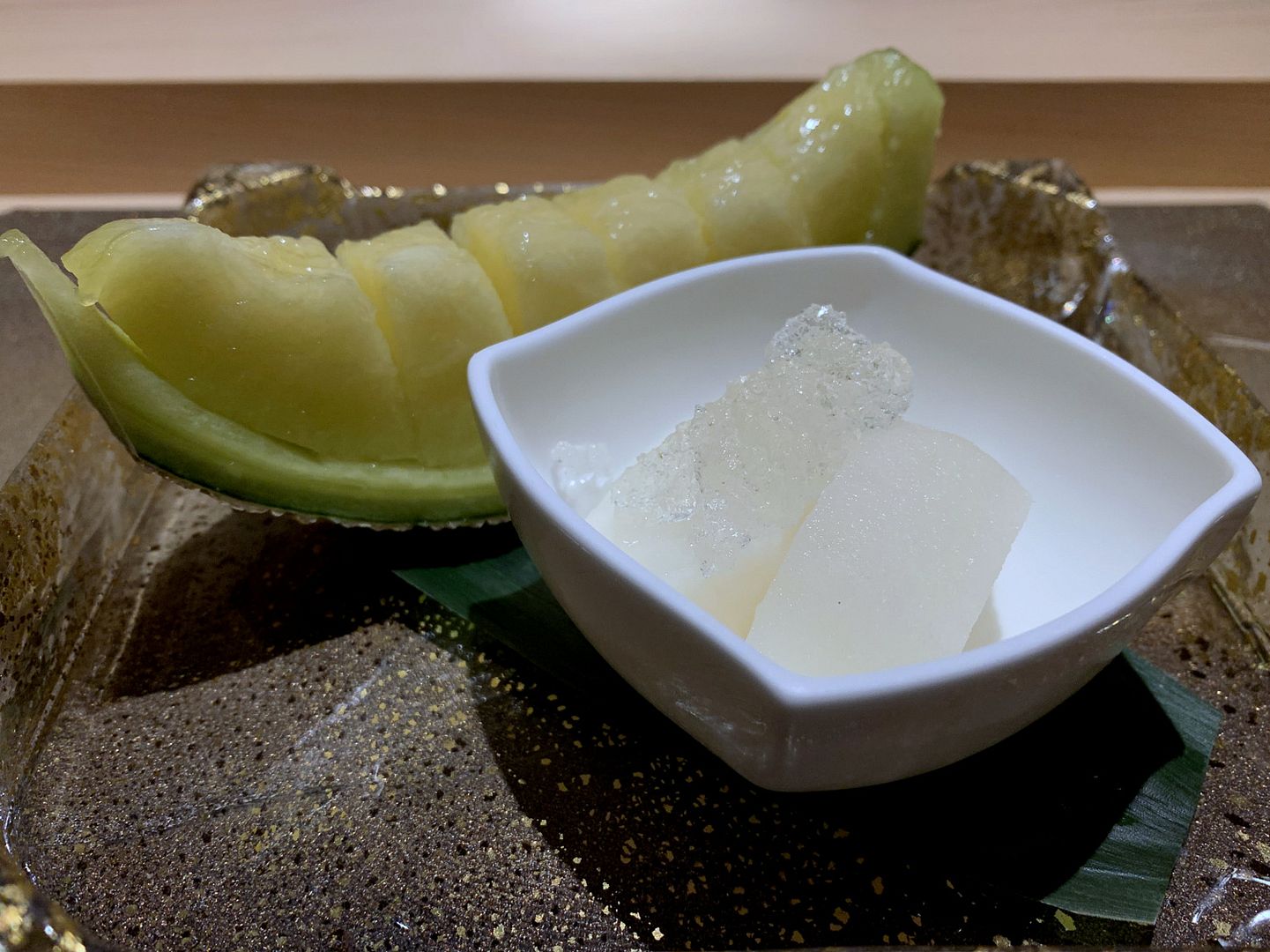 22) Dish #22 (above) – Musk melon, and pear with lemon jelly.
If I forget how rushed our lunch was, it was a beautiful meal. I guess everything tasted exceptionally well as it had been a while since I had quality fishes. Don't get me wrong. I enjoyed my omakase meals in Australia. But there's definitely a stark difference between fishes from Japan and from Australia. Sushi-yas in Australia mostly used fishes caught or farmed locally. And I was thrilled when chef Oshino san served uncommon fishes. Uncommon defined as what's not usually included in Australia's omakase scene. Like sawara, shiro ebi and ishigaki gai.
What's interesting was that chef Oshino san departed from the usual order of courses at Oshino. Something which my girlfriend also mentioned to me at the beginning of our meal (she noticed it during her previous meals at Oshino). Sushi-s were injected between other dishes. Somewhat reminded me of my meal at Nishiazabu Taku (Tokyo, Japan). But yes, I learnt chef Oshino san intentionally did it to allow us diners to better enjoy the sushi-s since most of us would be too full towards second half of the meal.
My lunch came up to $400 (before GST and service charge). Would I recommend Oshino? Well… Chef Oshino san certainly doesn't disappoint with the food. I don't remember walking away with a bad meal ever. Especially not when chef Oshino san is at helm. One can expect quality fishes, and I still very much enjoy his sushi rice (shari) although he has since changed his blend of sushi vinegar. I read that chef Oshino san now uses a specially sourced three-year-aged red vinegar in his marinate (link). But everything comes at a price. And it was a really expensive meal. Even 6 months after my meal at Oshino, when I have settled down and fully recalibrated myself to Singapore omakase pricing, I still find it over-priced. I don't think it's worth $400. Probably $300 to $325, maximum? =( I wonder if they had to charge premium price so as to differentiate Oshino from Shinji.
So yes. When I am feeling a little richer, I will return for the Chef Omakase menu. With some special dishes request too? Keke. If not, I will stick to the Sushi Edoma course. =) And since its establishment in February 2020, Oshino was also awarded 1 Michelin star by Michelin Guide Singapore 2021.
OSHINO

328 North Bridge Road, Raffles Hotel Shopping Arcade, #01-11, Singapore

Overall: 8

Opening hours:-

Food/Beverage: 9

Tues – Sat : 12:000 – 14:30 (Lunch)

Ambience: 8

Tues – Sat : 18:00 – 22:30 (Dinner)

Value: 7

Service: 7

* Closed on Mon