Lunch @ Sushi Sato | Sushi Restaurant in Dempsey
April 10, 2022 in Japanese by thywhaleliciousfay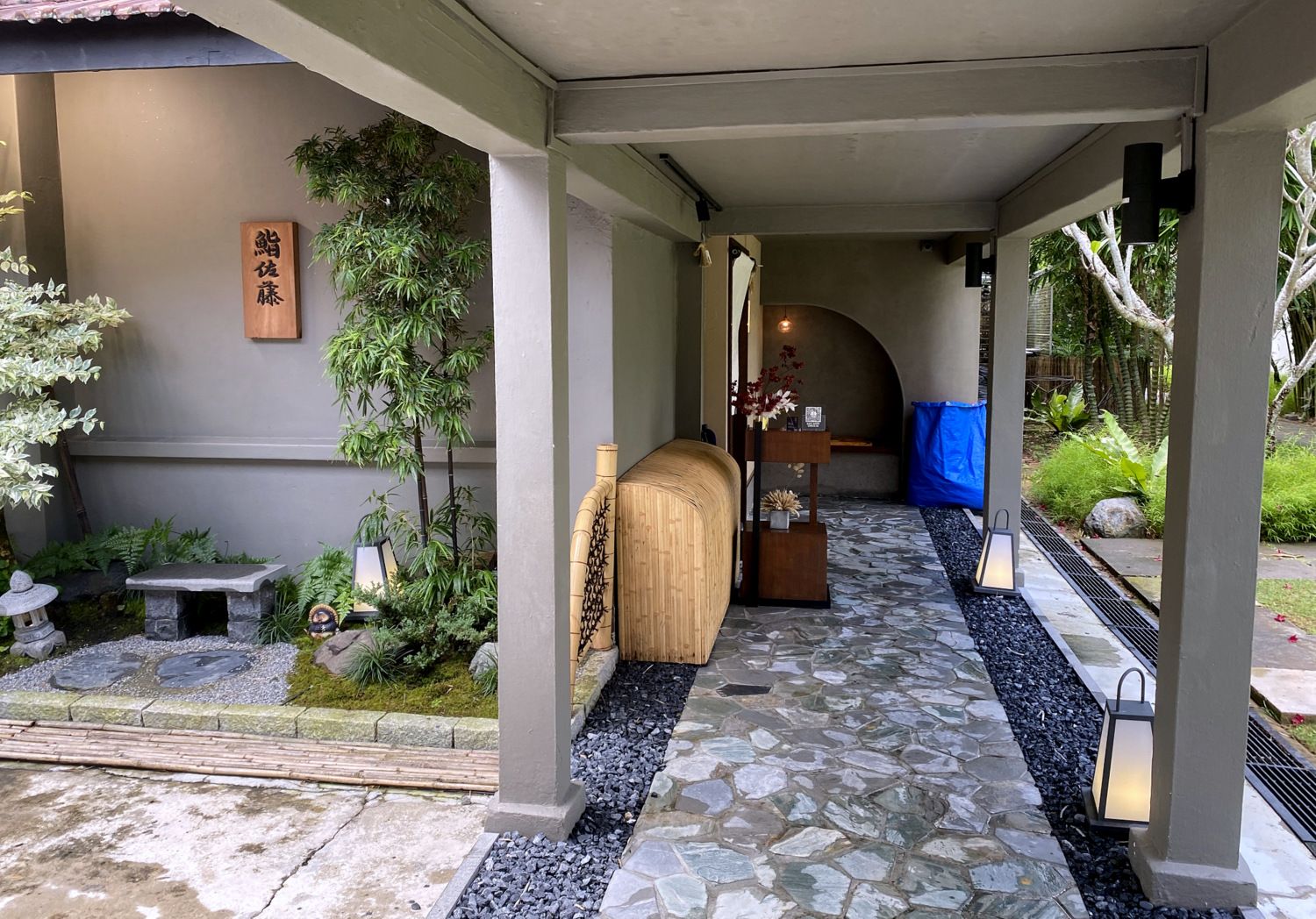 Opened fairly recently in November 2021, Sushi Sato has to be 1 of the hardest sushi restaurants to book to date. Seats for the following month are released on the first day of the month at 10am, on their website. Ie, seats for June are released on 1 April 10am. And seats are taken up… Within minutes?
My first attempt at booking was on 1 December for February 2022. Despite setting reminder in my calendar, I missed it because 1 December was a weekday. Had to work. Was in meeting… And during my 2nd attempt, I loaded the website only to see just a few weekday dinner and lunch slots left. Since I wasn't too keen on dinner, I booked myself for a Friday lunch. Yes, even if that meant taking leave.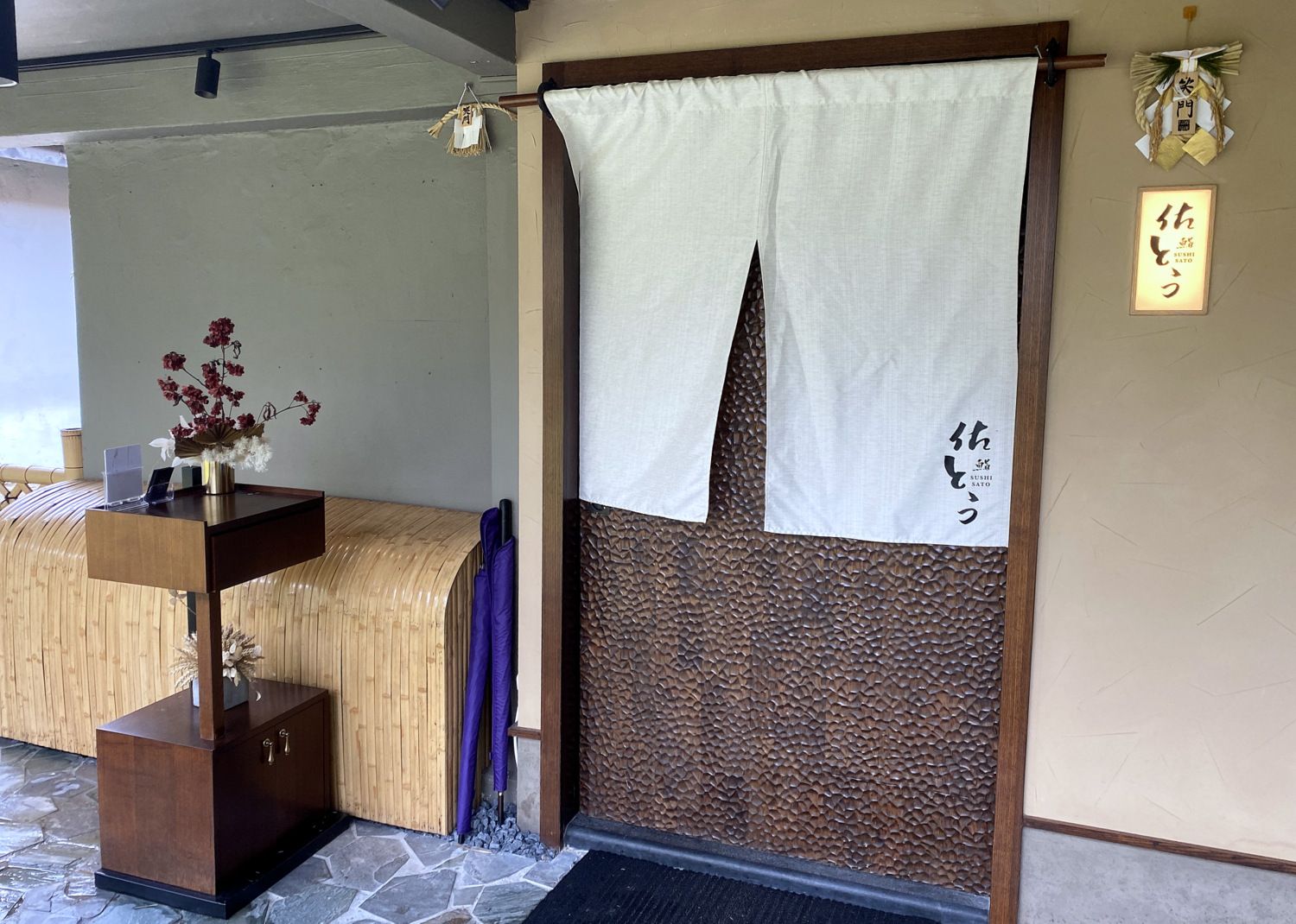 I reached the restaurant at 12.15pm for my 12.30pm lunch appointment. And seeing no one behind the reception desk, my first thought was "Oh, they only open at 12.30pm sharp." So instead of trying to open the entrance door, I obediently waited outside. It was only after a couple that reached minutes after me and let themselves in that I realised how silly I was. I of course waited a few minutes before entering after them… Ha.

Interior (Picture Credit: Link)
I walked past a private room before entering into the main space where chef-owner Yuji Sato was. The L-shaped counter could sit at least 10 people. But I was surprised to see I was the last to reach for the 12.30pm seating despite it being 12.20pm only. There are 3 options on the food menu. A friend happened to have lunch at Sushi Sato 2 days before me, and shared the difference between utsukushi menu ($280) and tomi menu (from $350) was that the latter had an additional rice bowl (donburi) with grilled fish and the sea urchin-salmon roe bowl was replaced with 2 sushi instead. So thanks to my friend, making my choice of menu was a straight forward decision.
And with that, I started my utsukushi menu, $280 with:-
1) Seasonal starter (above) – Firefly squid.
2) Chawanmushi (above) – Steamed egg with seasonal ice fish.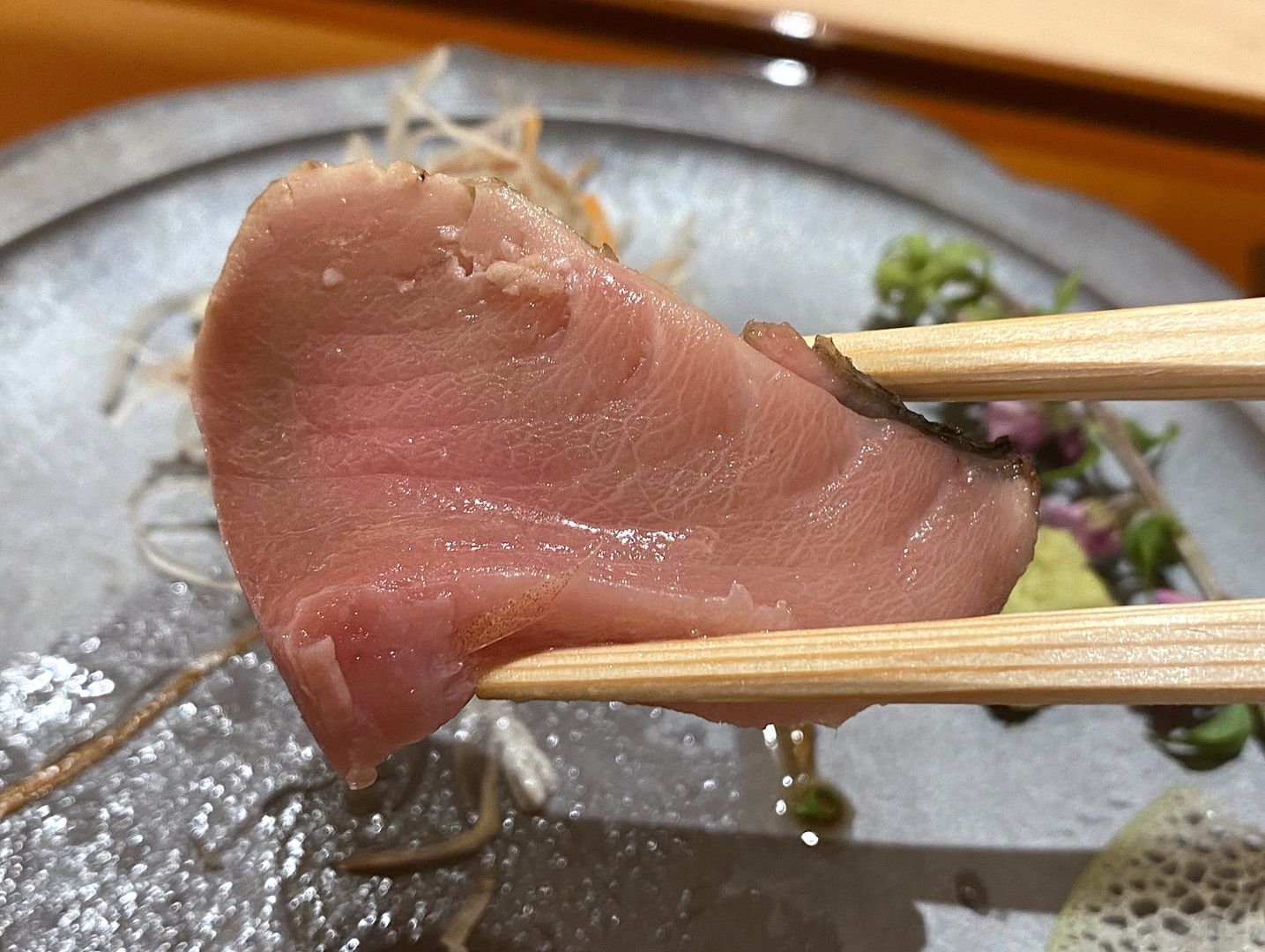 3) Seasonal sashimi (above) – Smoked medium fatty tuna (chutoro) and flounder.
4) Sushi #1 (above) – Marinated tuna (maguro zuke).
5) Sushi #2 (above) – Flounder fin (engawa).
6) Cooked dish #1 (above) – Mountain vegetable (burdock) tempura. This was very nice. The batter wasn't exactly paper thin, but I felt the thickness was necessary for it to be crunchy. And the batter wasn't just plain flour. I could taste it's seasoned. Good choice I say because while the burdock was juicy, it would have been bland on its own.
7) Sushi #3 (above) – Japanese spotted prawn (botan ebi).
8) Sushi #4 (above) – Gizzard shad (kohada). Head chef Sato san made a joke by saying "lizard" shyly. Haha.
After serving his first sushi, head chef Sato san checked with every customer if the rice portion was fine. I noticed mine was small. As though it was specifically made that way for female customers. Didn't say anything until after I had my fourth sushi.
His sushi rice was slightly acidic and stickier than usual, but went really well with his neta (sushi topping). But with only a small portion of rice, I was left with just the neta (in my mouth) after a few chews. It's as though I was eating sashimi instead of sushi. So yes, I requested for more sushi rice simply because I wanted to continue tasting the rice in my mouth! :) And I wasn't alone. The female customer beside me ask for more rice for her sushi too!
9) Sushi #5 (above) – Arctic surf clam (hokkigai).
10) Sushi #6 (above) – Ink squid (sumi ika).
11) Sushi #7 (above) – Smoked baby tuna (meiji maguro).
12) Cooked dish #2 (above) – Grilled squid legs.
13) Sushi #8 (above) – Adult yellowtail (buri).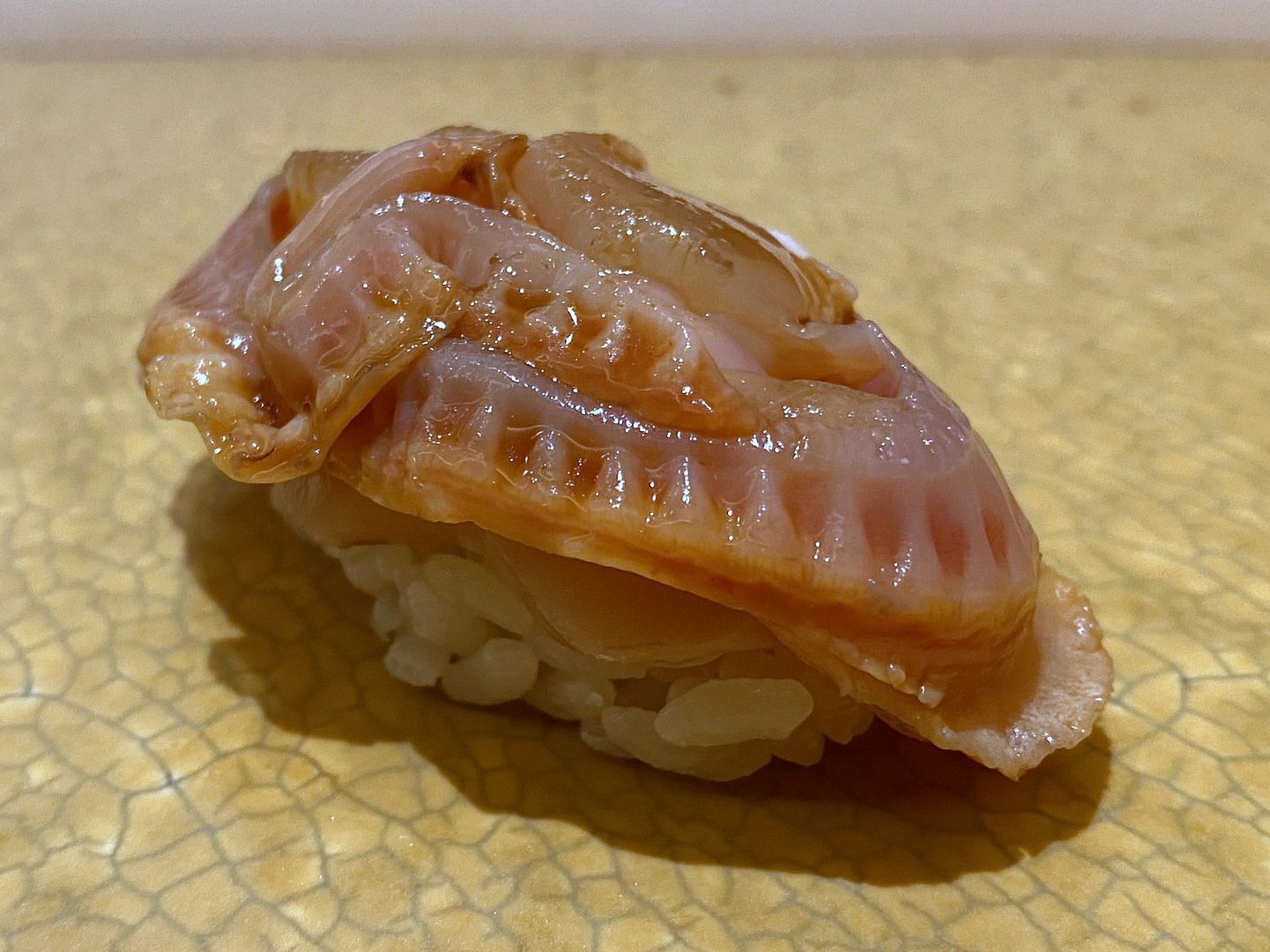 14) Sushi #9 (above)
15) Sushi #10 (above) – Chicken grunt (isaki).
16) Sushi #11 (above) – Scallop (hotate).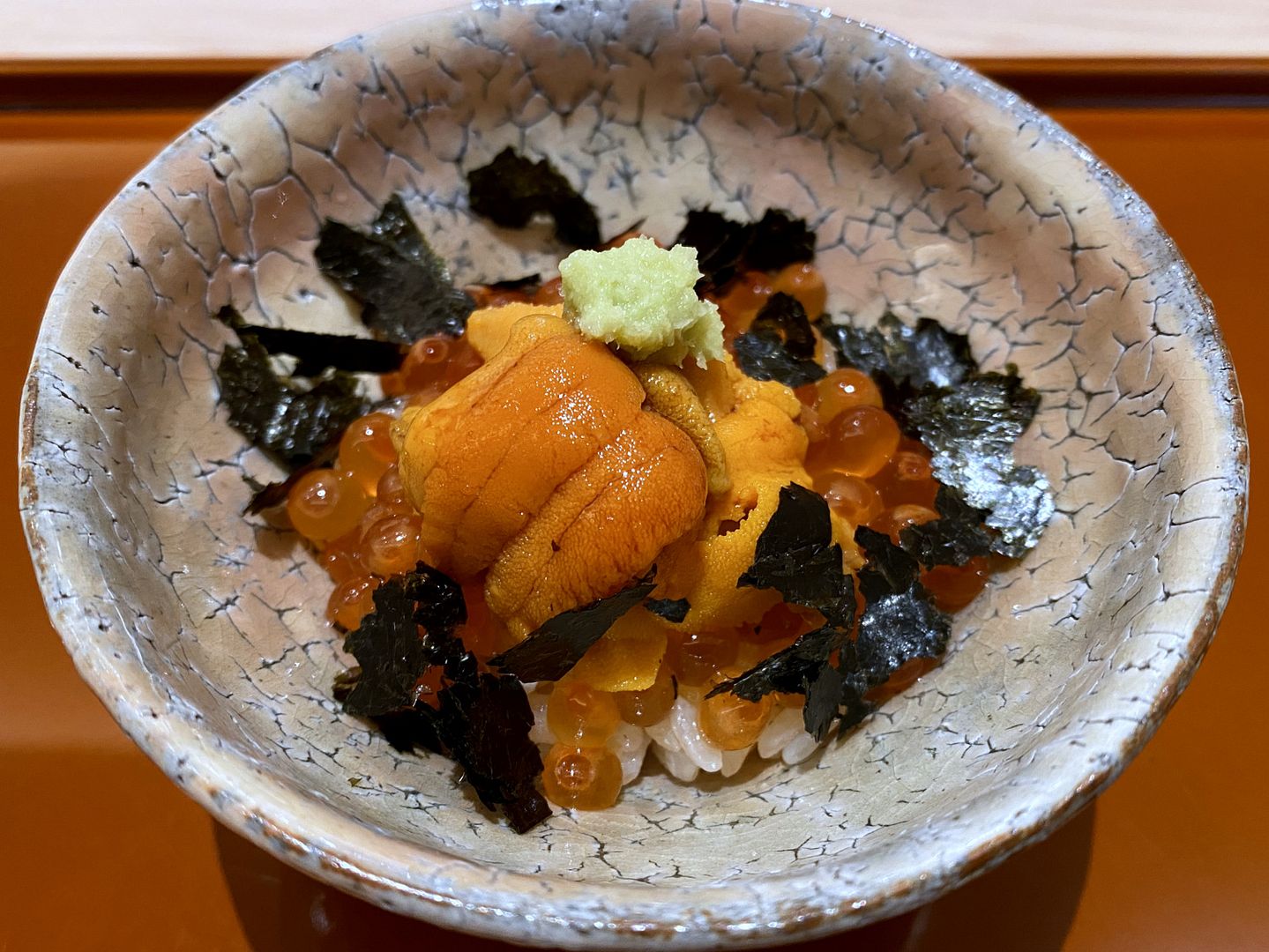 17) Rice bowl (above) – Rice bowl of sea urchin and salmon roe.
18) Soup (above)
19) Sushi #12 (above) – Premium fatty tuna (otoro).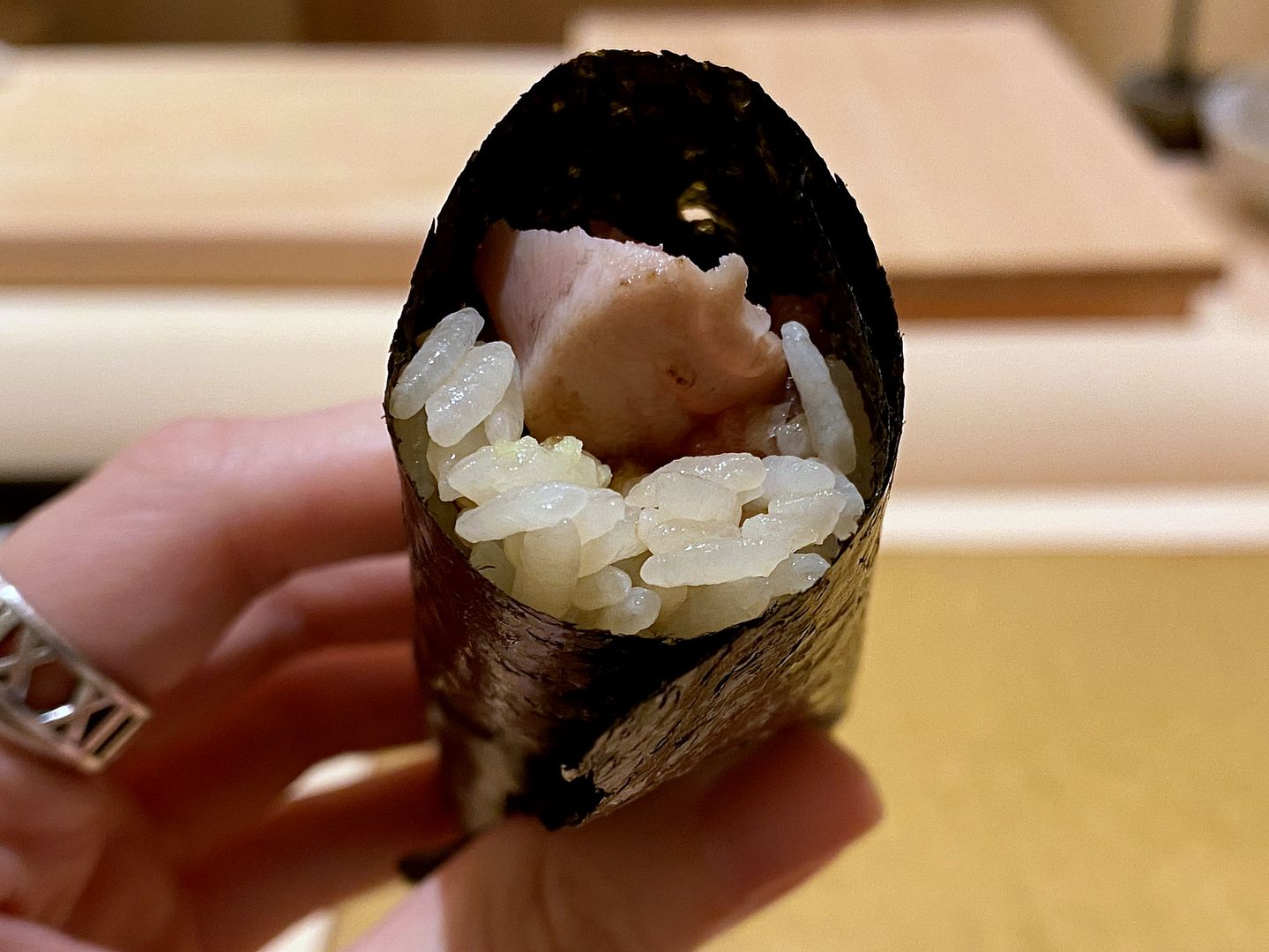 20) Hand roll (above)
21) Dessert (above) – Strawberry, orange and warabi mochi.
I left the restaurant feeling really satisfied. The food was very on point! I especially enjoyed his sushi rice. It complemented the sushi toppings very well. In fact, I regretted not adding more sushi. My friend had mentioned the needlefish (sayori) was outstanding. But then again, it was a little tricky with my situation to 'steal' head chef Sato san's attention.
My fellow diners happened to be head chef Sato san's regulars. Like everyone in the room but me. I felt out-of-place because everyone were unconsciously (or consciously) making their presence felt by talking loudly, toasting head chef Sato san non-stop, making conversations with both head chef Sato san and the waiting staff, etc. In fact, I was thankful I wasn't offered the drinks menu because I would have ordered just a 180ml sake while the other groups were ordering bottle after bottle. Gasp.
Although the rowdier lunch group slightly marred my dining experience, I would still strongly recommend Sushi Sato. For $280, my meal was very value-for-money especially with the range and quality of fishes served. I would recommend lunch over dinner as I heard dinner menu ranges from $380 to $580. But if money isn't an issue, go for it I say! Though I reckon it's going to be a challenge for a long while to secure bookings at Sushi Saito.
Can't wait to be back!
SUSHI SATO

6B Dempsey Road, Singapore

Overall: 8

Opening hours:-

Food/Beverage: 9

Mon – Sat : 12:00 – 15:00 (Lunch)

Ambience: 8

Mon – Sat : 18:30 – 22:30 (Dinner)

Value: 8

Service: 7

* Closed on Sun